BetMGM Account locked? Here is what you need to do next
Betting at a sportsbook is meant to be a seamless, enjoyable experience. This doesn't always happen, and sometimes accounts can run into issues, and you can get your BetMGM account locked, suspended, or in some cases, closed down.
Although BetMGM only launched in 2018, this operator is now one of the best-known, most-used gambling apps in the United States. This isn't surprising given how rapidly it has been expanding these past few years. Currently, the BetMGM Sportsbook is available in over 15 US states, with others due to launch sometime this year.
Thousands of sports bettors and casino players have chosen BetMGM as their go-to sportsbook app when they want a wager. So, what do you do if you get the message Account Suspended when you try to log in?
If your account is blocked and you have no way to re-open it, you can always place your wagers with FanDuel or PointsBet, both have quick sign-up options and an awesome welcome bonus for new players.
$1,000 First Bet on Caesars
Huge new player offer
No withdrawal fees
$1,000 Free Sign Up Bonus
Bet on every sport
Competitive odds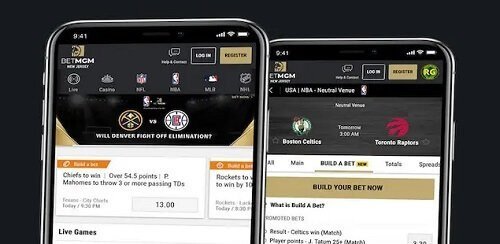 Why did BetMGM close my account?
This guide will take you through all the common reasons why BetMGM closed your account and how you can try to reactivate it. It could simply be an error, or your ID has expired, or maybe you've violated BetMGM's terms and conditions. Of course, there are many alternatives to BetMGM, and we'll highlight those further down the page, too.
True Identity
Licensed and regulated online sportsbooks and casinos have to be extremely cautious about money laundering and underage gambling, among other things. This is why BetMGM insists all customers must provide their true identities.
The name that you use to create your BetMGM account has to match your true and legal name, and it must match the name on your credit card or any other payment method that you use to fund your account.
Furthermore, this operator clearly states in its terms and conditions that it reserves the right to request satisfactory proof of identities, such as a passport or identity card, and proof of address like a recent utility bill or bank statement. Failure to comply with these account verification procedures can lead to BetMGM suspending your account. Make sure you provide your SSN when joining up, using a false one will result in your account being locked.

Having Multiple Accounts
BetMGM can also suspend your account if you are found to hold more than one. This is often a genuine mistake by customers who signed up a few years ago and they've forgotten their account details. Rather than going through the process of resetting everything, they feel it's easier to create a new account. However, this is forbidden.
If BetMGM finds that you have multiple accounts, or even if it suspects this, you can expect a swift suspension. Of course, this issue can be quickly resolved by contacting BetMGM customer support. They can help you reset your password and find your username.
You're Found to be an Unauthorized Person
Unauthorized persons are not allowed to open a BetMGM online casino or sportsbook account. This is quite obvious if you are directly employed by BetMGM; however, it also applies to employees of suppliers and vendors to MGM, Borgata, and GVC. Unfortunately, there is nothing that can be done to activate an account in such instances. Therefore, we recommend finding an alternative betting app to use.
BetMGM withdrawal on hold
When you first join a sportsbook, you need to confirm your details. Sometimes you can make a depsit, make a bet, and then initiate a withdrawal, and the withdrawal gets placed on hold. This is perfectly normal while an operator confirms your identity. As long as you have joined using all the correct info, you will have nothing to worry about. Whilst your withdrawal is pending and being checked, you will be sent a message to confirm your account is under review. You should only run into this once whilst your account is first being approved.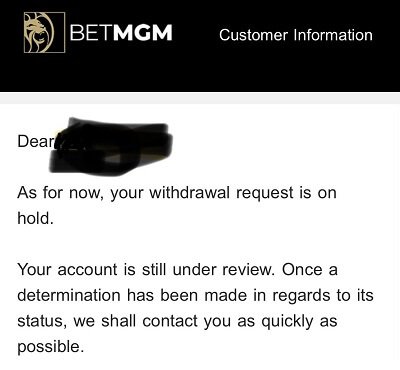 Inactive Account
It's possible that the operator places your BetMGM account on hold due to inactivity. BetMGM's policy is that if you haven't made a deposit or placed a bet within the last 180 days, it will be deemed as "Inactive" – thus, your BetMGM account is suspended. Furthermore, if the account remains inactive for 12 months, any funds are subject to forfeiture by the State where the deposit was originally made.
With the United States gambling laws as they are, this is one of the main reasons for suspended BetMGM accounts because many customers are tourists or in the state on business. Fixing this issue is easy enough, however. Reach out to support or go to your local book and ask them to switch you back to 'active' so you can deposit and wager again.
Expired Driver's License or other ID
Some US bettors have had their BetMGM account suspended because their driver's license or passport has expired. It's rather frustrating when this happens if you are not expecting it, as you only find out when you want to place a bet. It's straightforward to resolve this issue – you can visit a retail MGM sportsbook or go through online support. The downside is that you may miss out on the wager you wanted to place in the meantime.
Using / Suspected of Using a VPN
If BetMGM catches you or strongly suspects that you are using a VPN, it won't hesitate to suspend or permanently close your account. It's understandable that some customers may be tempted to continue betting using a VPN seeing as BetMGM is legal in some parts but not others; however, it's simply not worth the risk. Sportsbooks use geolocation software on your phone and computer that can confirm exactly where you are.
Many VPNs use the same servers over and over; therefore, once that particular server is known to be operating a VPN, it's put on a block list. There is nothing you can do to restore your account if found guilty of this, which is why we say not to do it.
Self-Exclusion
As a responsible gambling operator, BetMGM takes self-exclusion very seriously. Players who have self-limited or are listed on a state-wide self-exclusion database will have their account suspended with immediate effect. Of course, this could be a case of mistaken identity. In which case, reach out to the State governing body and tell them that this self-exclude gambler is not you. Then, you'll be able to ask for your details to be removed. This will take a few days at least, though.
Are you a Big Winner?
We're often asked, 'Does BetMGM close winning accounts?' The answer is that it's unlikely to close them completely, but they may go into the BetMGM account restricted category. Naturally, things like this are not publicized by the operator, but it's fairly common across most of the top sportsbooks that successful bettors can suffer this fate. It's important to note this isn't a suspension. However, if you wager hundreds or thousands of dollars each bet, and your account is restricted to a few bucks, it amounts to the same thing.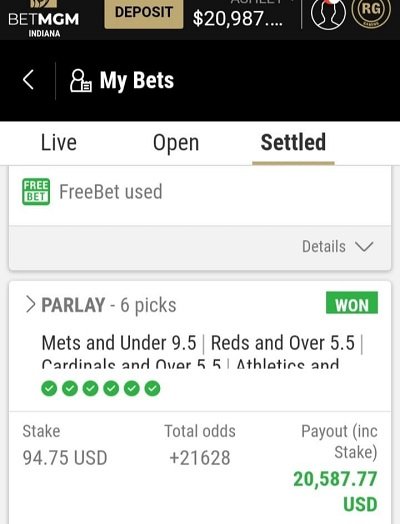 How to reactivate a suspended BetMGM account
A suspended account is different from your BetMGM Sportsbook not working. There are no magic fixes, like trying a different device or changing your internet connection, that will make things work.
The first place to start is with BetMGM support. They will be able to explain the reason. From there, you'll know what action needs to be taken to get you back in the game. You can email them at support.nj@betmgm.com (this will work for all states no matter where you are). You can also contact support over the phone at 1-609-248-9531.
Alternatives operators to BetMGM
The good news is that there are several exceptional alternative sportsbook apps now available in the US states where BetMGM is licensed and regulated. It only takes a few minutes to get signed up, and each sportsbook has its own welcome bonus and regular offers.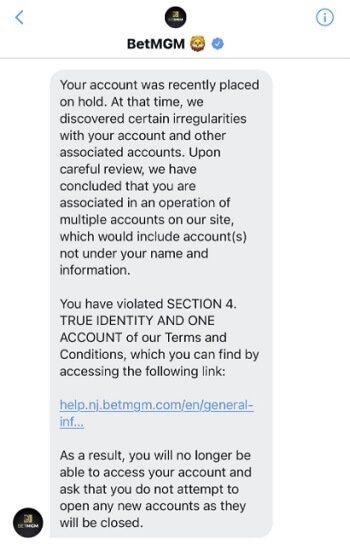 If operators notice any irregularities with your account, they will have no problem locking it, so you can no longer bet with them. Fraud is rife online, and fraudsters targeting sportsbooks are no exception, so this is just the operator covering their backs with extra checks. As long as all your details are true and correct, you will have no problem restoring your account or opening one with another operator.