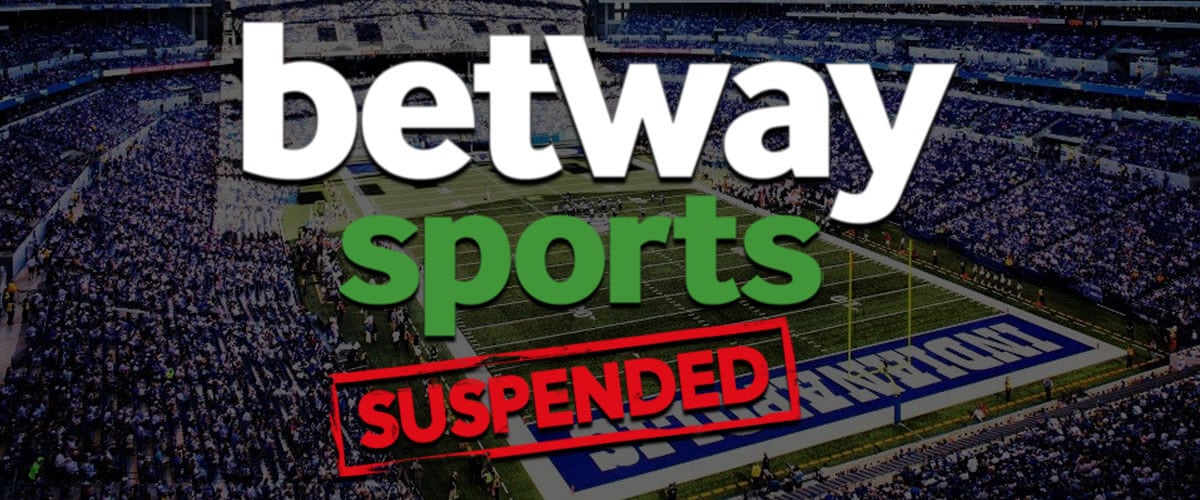 Betway Account Locked or Suspended: How to Restore Your Locked Account
The Betway online sports betting and casino service is becoming one of the country's most popular online gambling platforms because of its large number of casino games like online slots, poker, and table games, as well as numerous sporting events to wager on.
As Betway continues to gain popularity in the U.S., more and more users are joining the platform and creating a Betway account to start gambling online. While some are just joining the platform, some need help recovering their locked or suspended accounts.
If you have a suspended or locked Betway account, read below for more information on why your account might be locked or suspended and how to recover your betting account. If your account suspension cannot be reversed, don't worry, there are plenty of online gambling alternatives listed below that will give you welcome bonuses (including free bets) for signing up!
No Sweat First Bet Up To $1,000
Massive sports betting options
Trusted name
Possible Reasons for Suspended Betway Account
There are several different reasons you would have a suspended or locked Betway account, and sometimes you may need to realize that you've broken certain rules. If you try to access your account and it says your account "has been suspended" on the Betway website, then you've violated some form of their terms of service, or something went wrong during the verification process.
Please read below for some of the primary reasons why this may have happened to your account.
Multiple Accounts
Creating multiple accounts is strictly forbidden at any legal online casino or sportsbook for security purposes to deter fraudulent activity. If you manage to create multiple accounts (which is next to impossible), both your original and duplicate accounts will be permanently deactivated, and there will be no way to recover it or the money in the account.
Sometimes this may happen by accident, meaning the software that looks for irregularities in people's accounts may flag your account by accident. This traditionally happens when multiple users sign into their Betway accounts through the same IP address, meaning that if someone else was to use your phone or computer to place bets, you might be at risk of having your account locked.
If your account gets locked for this reason, it will be challenging to recover it or withdraw funds, so be very careful about letting friends place bets through your devices!
Suspicious or Inconsistent Activity
As mentioned above, Betway is constantly monitoring its platform to ensure fairness and legality, and this extends to suspicious activity by users. They do this because they want to deter people from using their platform for money laundering because it's possible to fund your Betway account through cash.
Betway also looks into suspicious activity to prevent automated betting, which can be identified through unusual betting patterns that occur consistently over a span of time. If your Betway account gets flagged for this reason, you will be notified that your account is under investigation, and you will lose access to it.
You may contact customer support to get updates on your account; however, if your account was flagged for suspicious activity, it is unlikely you will be able to recover it.
Wrong Account Details
When creating new accounts on Betway, users must enter some of their personal details, including their full name, address, date of birth, and the last four digits of their social security number. Suppose any of this information is incorrect or purposefully entered under false pretenses. In that case, the user will violate the terms of service and will be locked out of their account.
Luckily, this is a common occurrence, so if you made a mistake while signing up, it's possible to restore your account after completing the verification process!
Failed Login Attempts
Similar to other online websites, your Betway account may get locked if there are consistent failed login attempts. Betway does this for security purposes to deter users' accounts from being hacked and to ensure player safety.
Suppose your account does get hacked, or someone else has access to your login information. In that case, Betway can close your account by the user reaching out to customer support and explaining the situation. If it's not hacked and you just forgot your password, you can reset it very easily by clicking the forgot password button on the sign-in screen.
Access through VPN
While Betway is a legal online betting company in several states around the U.S. and countries worldwide, it's not legal everywhere due to anti-gambling laws in some areas. While users who don't live in legal betting areas cannot use Betway, some try VPNs to get around the geolocation software and place bets.
In such cases where your account is to be found using a VPN to get around local laws, your account will be locked indefinitely. A locked account means that not only will the user be banned and lose access to the money in their account, but the IP address where the bets were placed will also be banned.
Winning More than Losing
While this is less common than the rest of the reasons on the list, winning more than losing on your Betway account can lead to your account being suspended. While this may sound strange or even unfair, it's primarily to deter users from using a bot for gaming the system (which can be identified through unusual betting patterns) or to deter users from exploiting a loophole to gain an unfair advantage.
If your account is flagged for this reason, your account will be suspended pending further investigation.
Self-Exclusion or Taking a Break
Betway, like almost every other gambling site, features a self-exclusion option for an account holder that may have a problem gambling. While gambling is supposed to be for entertainment, it can lead to addiction and destroy people's lives, so local gaming commissions require legal operators to have what's known as a "self-exclusion period."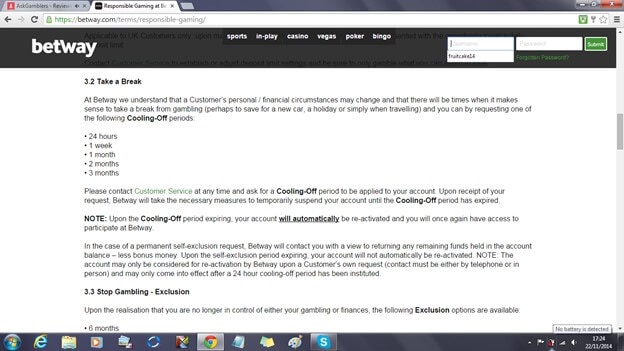 Self-exclusion is pretty straightforward; users can lock their accounts on purpose for a certain period of time to prevent themselves from overspending. If you did not do this to your account, contact customer service to fix this issue because while it's rare, it will sometimes happen by mistake.
Dormant Accounts
One of the most common reasons a Betway account would be temporarily suspended is a lack of activity for an extended period of time. While this is a strange practice, Betway reserves the right to suspend accounts for dormancy in its terms of service.
Remember to use your account somewhat regularly to avoid this issue!
Your Verification Documents Have Expired
As mentioned above, issues with your personal information will cause problems for users trying to access their Betway account, which includes a verification document that has expired over time. Suppose your ID or driver's license expires while using it as your form of identification. In that case, your account will be temporarily suspended until you upload a new photo of a valid ID.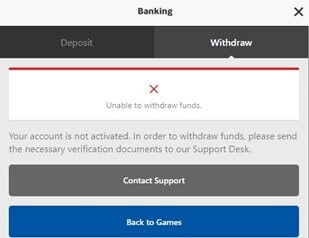 How to Restore Your Locked or Suspended Betway Account
If your account is locked or suspended, you will need to verify with customer service whether or not it can be restored and the steps you will need to take to do so. If your account can be recovered, it should only take a few hours; however, you will need to have your supporting documents on hand to verify any questions they may have.
If your account was locked for several incorrect login attempts, the solution is very easy and only takes a few minutes. All you need to do is reset your password, and you're good to go!
If your account is suspended for suspect activity, it may be banned permanently or for a certain period, meaning you will not have access to it until they allow it. If this is the case, consider looking into alternative betting sites in the meantime.
Will Betway Let You Register a New Account?
Absolutely not; as mentioned above, Betway is strictly against having two accounts, and it's next to impossible to get around this. Even if you were to use someone else's personal information to sign up for a second account, Betway would pick up the IP address, realize multiple accounts are being used on it, and immediately suspend your account(s).
While you may think you need to bet on this platform, there's no point risking your money to create a second account. If your account is locked, join a different betting platform and stay within their terms of service to avoid future issues.
Other Options if Betway Doesn't Restore Your Suspended Account
No Sweat First Bet Up To $1,000
Massive sports betting options
Trusted name
10 x $100 Second Chance Bets
Huge new player welcome bet
Loads of bet types available
If your Betway account is locked and you are entirely unable to use the platform, I have a few suggestions for alternatives to use along with their sign-up bonuses that blow Betway offers out of the water.
All of the platforms listed below are legal and licensed in the U.S. and can be joined in just a few minutes with the same information it takes to open a Betway account.
These are three of my favorite sportsbooks in the country, and all of them have phenomenal market depth, tons of banking options, great promotions for new and existing users, and are highly reputable. They also operate in 16-18 states around the country (and are constantly expanding), so if Betway is available in your area, these three will be too!
To get the offers listed above, click the link and sign up for an account on their website using a promo code if applicable.
Betway Account Suspended FAQs
Will I lose my money due to a suspended account?
Not exactly. If you have a suspended Betway account, your funds will be held indefinitely until the account is either recovered or locked forever. If the account is recovered, you will receive access to the funds in your account; however, if your account gets locked, your funds will be forfeited.
What to do if my Betway account is hacked?
If your Betway account is hacked, you need to immediately contact Betway customer support and explain the situation so they can close the account until you have complete access.
Can I close my Betway account?
Yes! If you'd like to, you can close your account through the self-exclusion screen, where users can suspend their accounts for either a certain period of time or forever based on their wishes.
Can you make over one account with Betway?
No. Having more than one account is expressly forbidden by the Betway terms of service and the local gaming commissions to prevent users from fraudulent activity.
Why is my Betway account suspended?
As mentioned above, there are several potential reasons for your Betway account being suspended include incomplete account verification, suspicious betting activity, using a VPN to get around geolocation, having a dormant account, and much more. If your account is suspended, contact customer support to find out why immediately!
How can I contact Betway customer support?
If your account is suspended and the account review is active, you will want to contact customer support to either get updates or recover your account. To do this, users can use Betway's live chat feature, toll-free phone number, or email address.

The chat feature is located on the Betway app or website while the toll-free number is 0861-787-250, and the email address is support@betway.co.za.
How to unlock a Betway account?
If you have a Betway suspended account, you will need to reach out to customer support for the next steps. Depending on what the suspension was for, you may be able to unlock your account within a few hours; however, if your account is suspended for something like having a duplicate account, it will be locked forever.