DraftKings Account Suspended or Restricted: How To Restore Your Locked Account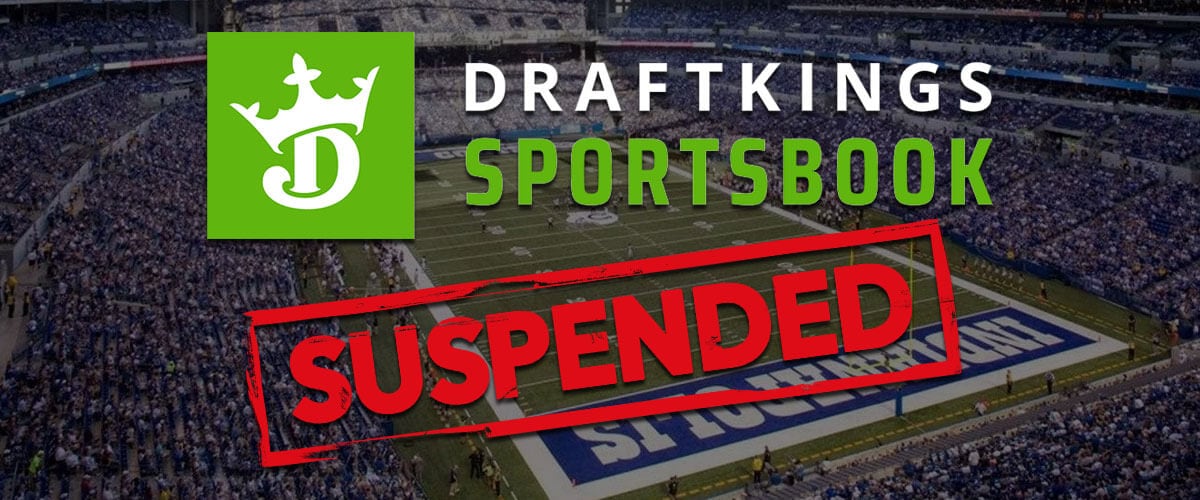 This article probably caught your attention because you use DraftKings Online Sportsbook or DraftKings Daily Fantasy Sports, but for one reason or another, your DK account is locked. Despite multiple attempts to log in, you cannot access the account you have created and use the money you have on deposit to make a single bet.
Instead, you are getting an error message saying, "DraftKings account restricted," or even worse, "account suspended." How frustrating it must be after taking the time to download the DraftKings Sportsbook App and complete the new customer sign-up process for what you hoped would be an enjoyable experience, only to have your DraftKings account locked. How could this have happened, you wonder. At this point, you would love nothing more than to know how to unlock your account, so you can make up for lost time and resume betting like the happy customer you used to be.
Actually, there are many possible explanations for why your DraftKings account might be locked. This comprehensive DraftKings account guide covers the most common reasons extensively, so you can quickly determine, if you don't know already, why you got that unsettling message.
We also offer some helpful tips to try to correct the problem. However, we cannot guarantee they will work, and there is a good chance you will not succeed in getting your account restored. If that is the case, why not sign up with FanDuel or BetMGM instead?  Both are excellent sportsbooks that offer a generous welcome bonus in the form of bonus bets up to $1,000 when you make your first deposit. Simply use our convenient link to claim this offer with the sportsbook of your choice.
No Sweat First Bet Up To $1,000
Massive sports betting options
Trusted name
First Bet Offer Up To $1,500 In Bonus Bets
Massive range of sports
Extensive banking options
Possible Reasons for Suspended DraftKings Account
Before we get into the most common reasons for having your DraftKings account locked, here is a helpful piece of advice. Don't blame the operator. Now that gambling laws allowing sports betting have been passed in many states, more people than ever before are taking advantage of the option and opening multiple accounts so they can play at different online sportsbooks. Accordingly, sportsbook operators need to have strict rules in place to maintain the integrity of the site and ensure the full protection of all of the personal information and financial transactions of every customer.
It is each customer's responsibility to know the rules of the sportsbook and abide by them, but even so, either knowingly or unknowingly, many infractions occur. Under the circumstances, sportsbooks are within their rights to restrict or suspend the account of any users found to be in violation of one of the stated rules.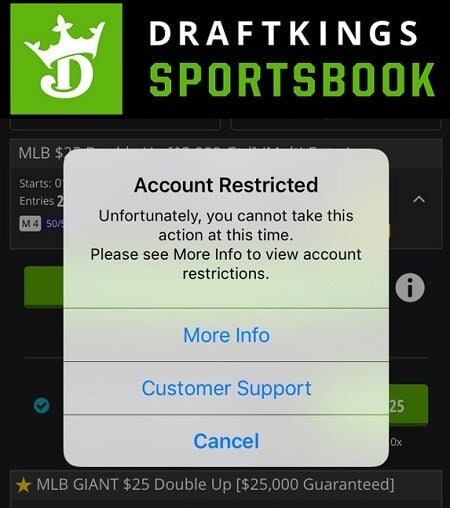 This unfortunate situation is by no means unique to DraftKings. It also happens with other top sportsbooks. For example, it is not uncommon for customers to have their FanDuel account locked or their BetMGM account locked.
If your DraftKings account is locked, there is a good chance, it is for one or more of the following reasons.
#1 Multiple DraftKings Accounts
DraftKings is without a doubt one of the top legal sports betting sites in the US, and one reason why is its plethora of special promotions. New users can currently choose either a 20% deposit match bonus up to $1,000 or $200 in free bets on DraftKings if they win their first moneyline wager of $5 or more.
The site has lots of special offers for existing customers, too, including such diverse opportunities as daily odds boosts on select wagers, survivor pool handicapping contests in multiple sports, and the very popular Refer A Friend bonus. Daily Fantasy Sports customers get their share of enticing money-making offers as well, including the annual Millionaire Makers Contest.
Except for the contests that accept multiple entries (with a separate fee for each entry), customers can only access a given promotion once. For example, the above-mentioned special offers for customers who are new to DraftKings are only valid for the first deposit and first wager, respectively. Likewise, each daily odds boost can only be used once, and an individual player is only allowed one entry into a survival pool.
The Refer A Friend offer is another one with restrictions on how often you can use it. For each referred friend who signs up and deposits $25 or more, the referrer and referee each get a bonus of $25, $50, or $100 (depending on the size of the new player's deposit). However, players are limited to only five referrals per offer period.
Some players try to get around these restrictions by opening more than one account. That way, they figure they can snag extra welcome bonuses, free bets, contest entries, and Refer A Friend bonuses.
Likely Consequences: Account suspended
Anyone who opens multiple DraftKings accounts is asking for trouble. Having multiple accounts is strictly forbidden, and once DraftKings discovers it – which it will – all of the player's accounts will be terminated immediately. Here is what the DraftKings website says on the matter.
"You may establish only one (1) Account per person to participate in the Services offered on the Website. In the event DraftKings discovers that you have opened more than one Account per person, in addition to any other rights that DraftKings may have, DraftKings reserves the right to suspend or terminate any or all of your Accounts and terminate, withhold, or revoke the awarding of any winnings and prizes."
#2 Suspicious IP Address or Inconsistent Activity
Before any new customer is assigned an account and allowed to bet for real money, he or she must complete an extensive verification process. This is how DraftKings can be reasonably certain that you are who you say you are.
Then, if they see someone attempt to sign into your account from a different computer or IP address, since they are not sure if it is you, DraftKings might restrict your account temporarily. This is for your own protection to keep hackers from gaining access to your account and taking your money.
You can prevent being locked out of your account for this reason by always logging in with the same device and from the same IP address. Also, never share your username and password with anyone. However, if you do receive a DraftKings restricted notification due to presumed suspicious activity, contact customer support without delay. Ask for a supervisor, who should be able to fix the problem.
#3 You Entered Wrong Account Details
On the other hand, providing false information on the registration form such as deliberately entering the wrong username or Social Security Number is a serious infraction that will probably result in your account being terminated. The instructions indicating each piece of information you need to provide – name, DOB, mailing address, cell phone number, email address, and the last four digits of your Social Security Number – are very clear. You must also affix your signature to a statement that, to the best of your knowledge, all of the information you have given is true and accurate.
If you're an existing customer and certain personal information such as your mailing address, email address, or phone number has changed, notify customer support immediately. A representative will assist you in updating your account.
#4 Accessing from an Excluded State
DraftKings is legal in many states but not every state.
DraftKings DFS States
As of this writing, except for the following states, DraftKings DFS is permitted to operate anywhere in the US.
Hawaii
Idaho
Montana
Nevada
Oregon
Washington
DraftKings DFS was available in Oregon previously, but the company pulled the plug voluntarily in 2021 to focus on maintaining its monopoly as the only legally operating sportsbook in the state. DraftKings's chief competitor, FanDuel, continues to offer DFS in Oregon but not a sportsbook.
DraftKings Sportsbook States
DraftKings Sportsbook is not as widely available in as many states as its DFS platform, but it is currently operating legally in over ten states, including all of the following:
Arizona
Colorado
Connecticut
Indiana
Illinois
Louisiana
Kansas
Louisiana
Michigan
New Jersey
New York
Oregon (mobile and online only)
Pennsylvania
Tennessee (mobile and online only)
Virginia (mobile and online only)
Washington (retail only)
West Virginia
Wyoming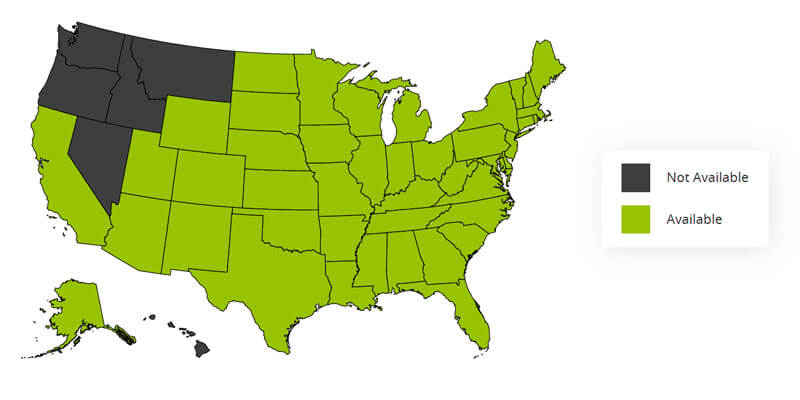 If you are wondering whether DraftKings Casino is legal in Indiana, it's not. Currently, you can only play there from NJ, PA, MI, and WV. Nonetheless, you can play at sweepstake casinos instead of DraftKings online slots.
What will happen if you try to bet in an excluded state?
If you live in an excluded state, keep checking because even if DraftKings Sportsbook is not an option now, it could be in the future. Meanwhile, you do not necessarily have to live in a state where DraftKings is available to open an account, but you do need to be physically located there at the time of your play. Any violation of this rule will be picked up immediately by the state-of-the-art geolocation technology that DraftKings has in place. As a result, your account will be temporarily restricted, and you will be unable to play until you resituate yourself within the borders of a state where betting with DraftKings is legal.
Whereas simply trying to bet from an excluded state could be inadvertent (i.e., you didn't know you were in an excluded state, or you are close to the border), using a VPN or proxy is treated as a more serious offense. There is software in place to detect these activities, too, and once that happens, your account will probably be closed.
#5 Wrong Login Information
It is understandable if you don't want to have the same username and password for multiple sites, but remembering them all and which ones you selected for which sites can be a daunting task. Even one incorrect character will deny you access to the site.
Not just DraftKings, but every sports betting site you use, requires all customers to log in with their correct username and password before they can access their account for betting purposes. In addition, all New Jersey and Connecticut sportsbooks are now required by law to have all customers complete an additional verification process called two-factor authentication (also known as multi-factor authentication) as a condition for use. DraftKings may require it for customers in other states. At both DraftKings and FanDuel, this entails immediately copying a special code that the sportsbook texts to your phone. You have to be very quick and copy the code exactly as you see it before it disappears from your screen. The purpose of two-factor authentication is to provide an extra layer of security. However, people with limited vision or poor manual dexterity might have a lot of difficulty completing this task.
Unfortunately, if you enter your username, password, or two-factor authentication code incorrectly, you only have a very limited number of chances to try again before having your account locked. One suggestion to minimize the likelihood of that happening is to keep a record of all of your usernames and passwords in a safe place (not stored on your computer) that only you know about. However, if you forget your DraftKings username or password, or for any reason, your attempt to log in fails, rather than keep trying, the best thing to do is contact customer support and let them help you with a username and/or password reset if necessary.
#6 Tampering with the Fairness and Integrity of the Site
If you win fair and square, DraftKings will not restrict or suspend your account. It will only do so if your betting pattern or other DraftKings behavior is strongly suggestive of prohibited practices intended to give you an unfair advantage. The following are a few examples of things you cannot do and that will probably result in permanent suspension.
Betting both sides of the same game to try to satisfy wagering requirements for a bonus
Collusion or syndicate play
Using bots, robots, or other automated methods to try to access advantageous information from the website or another user
Tampering with any of the computer programs
Obtaining other users' information and spamming them
Bonus abuse or abuse of the Refer A Friend program or any other offers or promotions
Any other deliberate violation of rules and terms of use
#7 Requesting Chargebacks
If you have been charged for a contest you did not enter or a losing bet you either didn't make or believe you won or pushed, you have the right to dispute those charges. DraftKings will investigate your claim further, and if you are correct, you will be issued a refund.
Also, if you're a new customer and make a DraftKings Sportsbook deposit but then decide not to use it and that signing up with the betting site was a mistake, you can ask for your money back. Or if you're an existing customer and you deposited more money into your account than you need, you can request a withdrawal.
However, requesting a chargeback on a deposit after claiming a bonus and/or using the funds to wager is strictly prohibited. Not only will your account be stripped of both the bonus and any resulting winnings, but DraftKings has the right to close your account permanently.
#8 Excluded Players
Lastly, DraftKings has strict rules regarding who can and cannot play on its site. The minimum age for DFS players is 21 in Arizona, Iowa, Louisiana, and Massachusetts, 19 in Alabama and Nebraska, and 18 in all other applicable states. The minimum age to bet at the sportsbook is 18 in New Hampshire but otherwise, 21.
In addition, no DraftKings employee or employee's family member can use the site, and athletes and team personnel and their immediate family members are prohibited from wagering on the sport with which they are associated.
Any attempt by a registered player to use the site on behalf of an excluded player will be grounds for account termination.
DraftKings also supports responsible gaming and gives consumers who might have a gambling problem the option to agree to a specified cool-off or self-exclusion period. While the cool-off or self-exclusion is in effect, any attempt to log in or make deposits or wagers will be blocked, and withdrawals can only be done under customer support supervision.
How to Restore Your Locked or Suspended DraftKings Account
Whether or not you will be able to have your locked DraftKings account restored will depend on the reason why you are unable to use it. As a general rule, if you receive the error message that your account is restricted, the problem is temporary and fixable; you an see here how to fix problems with the DraftKings Sportsbook of that nature. However, notification of a suspended DraftKings account is more serious, and in all probability, it will mean, in effect, that you are barred from the site permanently. You could plead your case, i.e., if you opened a second account and were unaware of the one account to a customer rule, you can explain that to a DraftKings supervisor. However, you might not be successful.
In any case, you won't know until you try, so your best recourse, if you are unable to use your account for any reason, is contacting DraftKings customer support for assistance. Unfortunately, DraftKings does not offer support by phone. However, you can email them at support@draftkings.com. You won't get an immediate response, but you should hear back within 48 hours.
Customer support might request additional information to verify you, such as a self-certified photo ID and a PDF copy of a financial statement showing your most recent DraftKings transaction. So, be sure to have these documents available. If any of your verification information (such as your email, mailing address, or phone number) has changed since opening your account, it is your responsibility to notify DraftKings promptly and submit acceptable evidence that the new information is correct.
Obviously, if you requested a self-exclusion or cooling-off period and it is still in effect, you cannot arbitrarily decide you are ready to resume playing. You have to wait until the period is over. Only then, contact customer support to request that your account be reinstated.
Other DraftKings problems you can fix on your own
On the other hand, some problems resulting in DraftKings restricted messages have a common solution that you can try yourself. For example, if you forgot your password and you think that is the only reason why you cannot access your account, simply resetting your password on your own will probably solve the problem. Visit My Account – Passwords and select the "change my password" option.
Or the problem could be that the geolocation feature on your device isn't working, so make sure it is turned on. If you have VPN on your device, it must be turned off for the geolocation feature to work.
Will DraftKings Sportsbook Let You Register a New Account?
Although DraftKings has the right to immediately terminate a player's account without prior notice, it will only do so as a result of flagrant violations of the terms of use. However, if you consistently receive an account restricted message from DraftKings Sportsbook or DraftKings Casino and the problem isn't corrected in a timely manner, DraftKings might also suspend your account.
Unfortunately, once your account is suspended, that's it. DraftKings will not let you open a new one. DraftKings will also revoke your password and permanently deny you access to all of the betting platforms on the DraftKings app and website – sportsbook, casino, and DFS.
Other Options if DraftKings Sportsbook Doesn't Restore Your Suspended Account
If your DraftKings account is suspended, there is no point in beating a dead horse. Learn from your mistakes and move on. Use our convenient links to open an account at another reputable online sportsbook like FanDuel, BetMGM, or Caesars. All three offer a generous welcome bet with your first deposit, great offers for existing customers, and live betting and early cashout options.
No Sweat First Bet Up To $1,000
Massive sports betting options
Trusted name
First Bet Offer Up To $1,500 In Bonus Bets
Massive range of sports
Extensive banking options
$1,000 First Bet on Caesars
Huge new player offer
No withdrawal fees
DraftKings Account Suspended FAQs
Why did DraftKings Sportsbook restrict my account deposit privileges?
There are multiple reasons why your ability to make deposits might be restricted. For example, your verification information might not be up-to-date or you are currently self-excluding or in a cooling-off period.
What should I do if DraftKings Sportsbook won't restore my account?
If your DraftKings account has been terminated, accept it, and open an account at another reputable online sportsbook.
Why can't DraftKings Sportsbook identify my location?
If the geolocation feature on your device is not turned on or if VPN is running, DraftKings will not be able to have your location verified.
What is the minimum age for placing bets at DraftKings Sportsbook?
The minimum age for placing bets at DraftKings Sportsbook either online or via the mobile app is 21.
If my DraftKings Sportsbook account is suspended, will I lose my money?
Yes, you will lose the money that is in your account since you will be unable to access it to make a withdrawal.