How to Bet on Sports in Indiana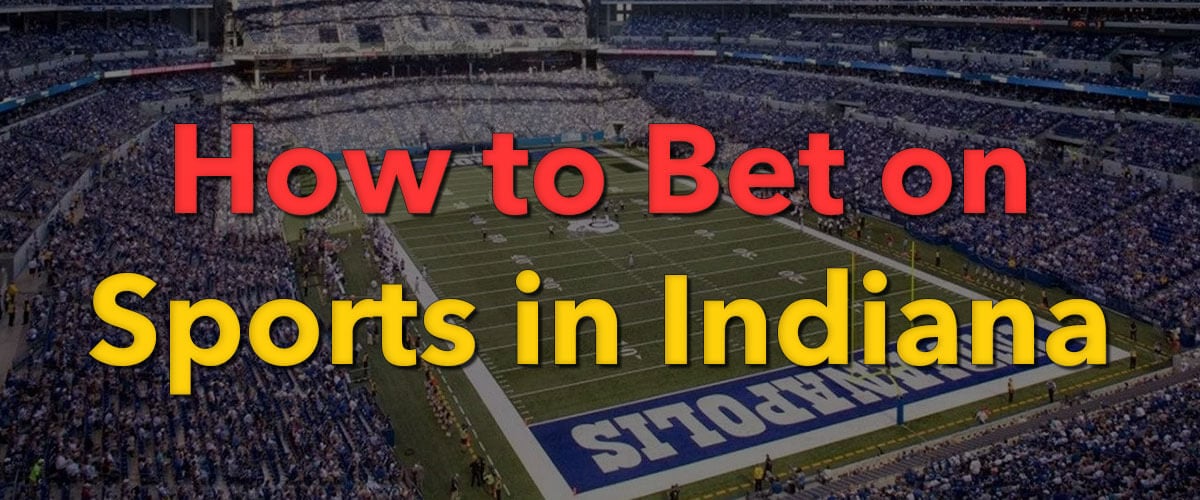 Indiana is home to many popular sports teams. Among them are the Indianapolis Colts, Indiana Hoosiers college football team and college basketball team, the Notre Dame Fighting Irish and Purdue Boilermakers NCAA football and basketball teams, respectively, and in the NBA, the Indiana Pacers. Of course, Indiana is also home to the Indianapolis 500 motor speedway races.
Clearly, professional and collegiate sports in Indiana are a big thing, and over the last few years, they have become more popular than ever. That's because you can finally place sports bets in the Hoosier state legally. Best of all, your many diverse sports betting options include not only 15 retail sportsbooks but also 13 mobile and online sportsbooks.
If you're an avid sports fan and you have access to the Indiana sports betting sites but you're not sure how to get started, you have come to the right place. This article will tell you everything you need to know about how to bet on sports in Indiana. We will also introduce you to the best Indiana online sportsbooks and give you the full lowdown on how to open a sports betting account and take full advantage of what each of these outstanding sports betting apps listed here has to offer.
Is Sports Betting Legal in Indiana?
On May 8, 2019, Gov. Holcomb signed a sports betting bill that made retail, online, and mobile sports betting legal in Indiana. As a result, Indiana became the ninth state to legalize sports betting following the Supreme Court's May 2018 ruling declaring PASPA unconstitutional and giving individual states the right to pass their own sports betting laws. Indiana was also the first state in the Midwest to legalize sports betting.
The first legal retail sportsbooks opened for business on September 1, 2019. The first online and mobile sportsbooks for Indiana bettors, BetRivers, launched a month later, on October 3, 2019. Later that day, DraftKings launched in Indiana as well.
Legal online casinos and poker are still not an option in Indiana. However, land-based casinos have been operating in the state legally and successfully since 1993. Indiana was able to use its 25 years of experience in casino gambling to its advantage in completing the legalization of sports betting faster than some other states that had no legal casinos. Unlike the states that wanted to offer sports betting but had no casinos and therefore had to start from scratch, Indiana had many of the regulations needed to implement sports betting already in place.
Complete List of Indiana Sports Betting Sites
The agency in charge of licensing and regulating all gambling in the State of Indiana is the Indiana Gaming Commission. One of its rules from the get-go with regard to sports betting in Indiana has been that it could only be offered by already existing casinos. Therefore, all online and mobile sportsbooks are required to partner with a land-based casino as well. Each casino is allowed to have up to three mobile platforms or skins. This means, in effect, that even though mobile and online sports betting is currently an option at 13 Indiana sports betting sites, the door is open for many more.
The following table lists all of the currently operating mobile and online betting sites in Indiana together with their land-based casino partners.
Two additional Indiana sports betting sites that were previously operating closed down early in 2022. TwinSpires decided to discontinue all of its sports betting operations in order to focus exclusively on horse racing. MaximBet abruptly closed down on November 16, 2022, less than two months after its launch in Indiana, reportedly due to financial difficulties.
However, at least four new Indiana sports betting sites – FoxBet, Tipico Sportsbook, Prophet Exchange, and Betr Sportsbook – are expected to launch in the near future.
How to Place a Sports Bet Online in Indiana
In order to place a bet on any of the Indiana sports betting sites, you must be at least 21 years of age. Indiana residence is not required, but whenever you are placing a bet, you need to be physically located inside the state. Assuming you can meet these requirements and know which Indiana sportsbook you would like to join, there are still some additional steps you need to follow to be able to start betting.
Step 1: Register with an IN Betting Site
Step No. 1 is to visit the sportsbook where you wish to play, either online, or with the site's Indiana sports betting app, and open an account by completing the registration form. You will find the form in the upper right-hand corner of the homepage.
The information you will be probably asked to complete (though the order may vary from one sportsbook to another) includes all of the following:
First and last name
Gender
Date of birth
Username and Password
Mailing address
Email address
Cell phone number
Last four digits of Social Security Number.
The sportsbook will review all of the information you have provided and determine your eligibility to use the site.
Step 2: Verify your Account
In order to provide an extra layer of security and for the Indiana online sportsbook to verify that you are who you say you are, you may also be required to answer certain security questions and/or copy a special authentication code sent to your phone.
Step 3: Make a Deposit
As soon as the sportsbook opens your account, you should fund it with one of the many accepted deposit methods. Most online sportsbooks include a generous welcome offer for first-time depositors so be sure to claim it, entering the applicable bonus code if necessary, so you don't miss out.
Most Indiana sportsbooks accept the following deposit methods:
ACH (eCheck)
Online Banking
MasterCard and Visa credit and debit cards (assuming your bank accepts them for gambling purposes)
Play+ branded prepaid card
PayPal
Skrill
PayNearMe: Cash deposit at participating 7-Eleven, CVS, r Family Dollar stores
Cash deposit at the affiliated Indiana casino
Step 4: Choose a Sport and Select the Odds
Indiana sportsbooks give you no shortage of betting markets to choose from, so if you are new to sports betting, be selective. Focus on one sport only and stick to basic moneyline or point spread bets. Wait until you are more acclimated to the sports betting process before branching out into parlays, props, and in-play bets. Also, once you make a bet, you can't take it back, so make sure you are getting competitive odds. If you have an account with more than one sportsbook, shop around for the best possible numbers.
Step 5: Confirm Your Bet
After selecting the odds, the games will be automatically added on your betslip. You can bet on a single game (moneyline), add multiple teams (parlay), or choose a safer round-robin bet. Variation is provided depending on which of the best IN sportsbooks you'll join, but the betting process remains as outlined above.
Double-check your selections and confirm your bet.
Step 6: Cash Out
After a winning bet is settled, you have the option to either leave the money in your account for future bets or cash out with one of the sportsbook's accepted methods for withdrawing funds. Not every deposit method can also be used for withdrawal. Most Indiana sportsbooks allow the following withdrawal methods:
ACH (eCheck)
Online Banking
Play+ branded prepaid card

PayPal

(only if PayPal is also used for the deposit)
Skrill
Cash deposit at the affiliated Indiana casino
Check by mail
IN Sports Betting Markets
Along with the proliferation of online sportsbooks, the long list of sports betting options that Indiana bettors can choose from probably includes every competitive college and professional sport they follow and then some. Of course, you can bet on NFL, NBA, NHL, MLB, and NCAA football and basketball games, but as the following list shows, those sports betting markets only scratch the surface of what you can legally bet on in Indiana*.
Aussie Rules Football
Baseball
Boxing
Cricket
Cycling
Darts
Football
Golf
Handball
Hockey
Lacrosse
Mixed Martial Arts (

MMA

)
Motor Sports
Olympics
Rugby
Snooker
Table Tennis
Tennis
*Specific offerings at different sportsbooks might vary. Not every Indiana sports betting market listed is available at every Indiana sportsbook.
As if all of the above doesn't provide enough betting action, in January 2020, the Indiana Gaming Commission made wagering on the Academy Awards legal, too.
Betting on the following is not legal in Indiana, however:
Amateur sports involving players under the age of 18
eSports
Elections
Props in college games
Indiana Teams to Bet Online
Here's more good news. If you want to bet on any of the following Indiana teams you can:
Indianapolis Colts
Indiana Pacers
Indiana Hoosiers (college football and basketball)
Notre Dame football
Purdue Boilermakers basketball
Indianapolis motor speedway racing
Best IN Sportsbooks to Bet At in 2023
Having so many legal online sports betting options to choose from is very advantageous. You can compare what the different Indiana sports betting sites offer to see which ones best suit your needs. Of course, if you sign up with more than one, it not only means more extra money in your pocket in the form of bonuses and free bets but an opportunity to shop around for the best odds.
Furthermore, the sign-up process is very quick and easy. You don't need to visit a brick and mortar casino to open an account. You can register as a new user, make your initial deposit, and claim your welcome bonus all from your desktop or mobile device.
You won't go wrong choosing any of the 13 currently operating Indiana online sportsbooks, but we consider the following six a cut above the others. These are our picks for the best online sportsbooks in Indiana:
DraftKings Sportsbook
Caesars Sportsbook
BetMGM Sportsbook
BetRivers Sportsbook
FanDuel Sportsbook
PointsBet Sportsbook
DraftKings IN Sportsbook
Long before sports wagering became legal in many states, including Indiana, DraftKings existed as a leading site for Daily Fantasy Sports (DFS). However, once online sports betting also became an option, the company wasted no time in expanding its services not only to become a full-scale sportsbook but to offer virtually every type of legal sports bet available. The DraftKings sports betting app is currently available in 19 states.
At this time, DraftKings has two welcome offers for first-time depositors.
Receive a 20% deposit bonus up to $1,000 on your first deposit*.
Receive $50 in free bets on any first deposit of $5 or more*.
*See the DraftKings website for additional terms and conditions.
Most online sportsbooks only offer a risk-free bet with the first deposit, so a straight deposit match bonus that is not contingent on losing the previous bet is hard to come by. However, a 20% match is not very generous. In order to get the maximum bonus of $1,000, you would need to deposit $5,000, which not many bettors can afford. On the other hand, the opportunity to win $50 in free bets even if your deposit is as little as $5 is an excellent offer. As with any free bet offer, if you win, you only get to keep the winnings from the bet, not the cost of the bet.
Other great features
Lots of special promotions for existing customers, too
Quick Start section for players who are new to sports betting
Extremely wide range of betting markets and bet types
Daily odds boosts
Extensive live betting options
Early cashouts
Separate DFS platform
FanDuel IN Sportsbook
FanDuel, like its No. 1 competitor DraftKings, began as a site exclusively for DFS but subsequently added sportsbooks in many states once that option also became legal. FanDuel is now one of the biggest and most successful sports betting operators in the country, with online sportsbooks currently available in 17 states.
FanDuel periodically substitutes a temporary welcome offer for their regular one. Therefore, you will need to double-check their website to know what their current offer is. Their regular offer is as follows:
No Sweat First Bet: If your first bet not exceeding the amount of your deposit loses, FanDuel will give you a site credit in the same amount that you have up to 14 days to use on other bets. Any winnings from the site credit but not the site credit itself are then yours to keep.
FanDuel is a very user-friendly site that should appeal to experienced and novice sports bettors alike. It is also a great site for anyone looking for fun ways to try to boost their sports betting bankroll at little or no personal cost. Most of the special promotions for existing customers center around parlays. Other popular promotions include a Refer A Friend bonus and free-to-enter contests with a chance to win big prizes.
Other great features
Sports Betting Guide for beginners
Extremely wide range of betting markets and bet types
Competitive odds and daily odds boosts
Extensive live betting options
Early cashouts
Separate DFS platform
No Sweat First Bet Up To $1,000
Massive sports betting options
Trusted name
Caesars IN Sportsbook
You would have to be living in a cave not to have heard of Caesars. It is not only one of the biggest and most widely known gambling brands in the world but also one of the most highly respected. Caesars Sportsbook is currently available in 16 states and Washington, D.C. It caters to sports bettors of all sizes and playing preferences. As at any top-of-the-line sportsbook, you have no shortage of betting markets and types of bets to choose from, and specialty bets such as parlays, props, and live bets are welcome. But the one area where Caesars really shines and sets itself apart from most other sportsbooks is its loyalty rewards program, Caesars Rewards.
Anyone who joins Caesars Sportsbook in Indiana is eligible to start earning both Reward Credits and Tier Credits for their play from day 1. Moreover, all of the Reward Credits and Tier Credits earned at Caesars Online Sportsbook in Indiana are combinable with those earned at any other participating online or offline Caesars sportsbook or casino. Reward credits can be redeemed for free play or used for comps at any participating Caesars Entertainment property. The number of tier credits you earn in a given calendar year determines your tier level; the higher your tier, the more special rewards and benefits you receive.
But first, Indiana sports bettors making their first deposit will receive the following special welcome offer at Caesars:
A risk-free bet not exceeding the amount of the deposit up to $1,250
1,000 Reward Credits and 1,000 Tier Credits
Keep in mind that a risk-free bet is not the same as a free bet. If and only if your first bet loses, Caesars Sportsbook will give you a site credit in the same amount to try again. The site credit is valid for up to 14 days, but you must use all of it on a single bet. Then, if that bet wins, you get to keep the winnings but not the cost of the bet. On the other hand, every new player gets the free Reward Credits and Tier Credits as a gift for joining.
Other great features
Lots of innovative promotions
Parlay boosts
Customer support by phone
$1,000 First Bet on Caesars
Huge new player offer
No withdrawal fees
BetMGM IN Sportsbook
BetMGM is another big player in the sports betting industry. BetMGM Sportsbook is currently available to online and mobile bettors in 17 states and Washington, D.C.
First-time depositors receive the following welcome offer by BetMGM:
A risk-free bet not exceeding the amount of the deposit up to $1,000
This offer is similar to the welcome offer at Caesars but with a slightly lower cap. Also, the site credit is given in the form of a single bet only if the losing bet is for less than $50. Otherwise, it is awarded as five equal-sized bets. Either way, the player has only seven days to use the site credit. Unfortunately, if the first bet wins, BetMGM has nothing extra for you.
Like Caesars, BetMGM also offers an excellent player rewards program. Everyone who signs up with the BetMGM Indiana Sportsbook is automatically enrolled in the nationwide MGM Rewards program. All of your activity on this site along with any other BetMGM online or offline sportsbook or casino counts toward earning both Reward Points (that can be redeemed for free play or comps) and Tier Credits.
Other great features
User-friendly promotions
Wide selection of betting markets
Wide range of prop bets
Pre-built parlays
First Bet Offer Up To $1,500 In Bonus Bets
Massive range of sports
Extensive banking options
BetRivers IN Sportsbook
BetRivers Sportsbook is owned by Rush Street Interactive. Indiana is one of 13 states where this rapidly growing sportsbook is currently available. In fact, out of the 13 online sportsbooks currently operating in Indiana, BetRivers was the first to open, on October 3, 2019.
New players receive a special welcome offer called 2nd Chance Bet up to $500. If your first bet not exceeding the amount deposited loses, BetRivers will match it 100% up to $500 in the form of a free bet. This is basically the same welcome offer that Caesars has except with a lower cap and nothing extra from the sportsbook if the first bet wins. Players have up to 14 days to use the free bet.
Regardless of whether you benefit from the 2nd Chance Bet offer or not, you will have plenty of opportunities as an existing customer to access other special promotions, including free bets, odds boosts, profit boosts, same game parlay (SGP) contests, and more.
In addition, by signing up with BetRivers Sportsbook, you are automatically enrolled in their Rush Rewards player loyalty program. All of your activity on the site counts toward earning both Bonus Store Points (redeemable for merchandise, invitations, or other rewards) and loyalty points. The number of loyalty points you earn determines your tier level and eligibility for additional perks and privileges.
Other great features
Wide range of betting markets and bet types
Same game parlays
Extensive live betting options
Early cashouts
Up To $500 2nd Chance Bet
Easy to use app & site
Top welcome bet offer
PointsBet IN Sportsbook
PointsBet Sportsbook, which is very popular in Australia, is a relative newcomer to the US. While presently it is only available in 12 states, more are expected to join the fold in the near future.
PointsBet is not for everyone. But along with all of the traditional bet types (moneylines, point spreads, and totals with fixed odds), PointsBet offers a unique form of betting not available anywhere else that many sports bettors will undoubtedly find both appealing and exciting.
When you bet on a point spread, you can choose either the favorite or the underdog. If you bet on the favorite, in order to cash your wager, the team not only has to win but the margin of victory must be bigger than the point spread. However, if you back the underdog, as long as the team doesn't lose by more than the point spread, you win your bet.
Ordinarily, it doesn't matter whether the team beats the spread or loses to the spread by one point or 30 points; you win or lose the same amount either way. However, with a PointsBet wager, it is a whole different ballgame. The amount you win or lose depends on the number of points by which your wager beats or loses to the spread, respectively. In other words, as the website states, "The more you're right, the more you win. The more you're wrong, the more you lose."
The upside of this form of wagering is that if the betting line is way off, even a small bet can give you a big win. The downside is that it is a very risky form of wagering, particularly in football and basketball, where lopsided scores are common. If you are on the wrong side of a final score that deviates markedly from what the point spread suggests, it can cost you dearly. You must have sufficient funds in your account to cover the maximum possible loss you agree to accept.
We recommend PointsBet only for highly skilled players. If you think you're up to the challenge, this is your two-part "Second Chance" welcome offer::
If your first fixed odds cash bet loses, get a free bet in the same amount up to $500.
If your first PointsBet cash wager loses, get a free bet in the same amount up to $1,500.
 Other great features
Same game parlays
Booster bets with enhanced payouts
Live betting
Early cashouts
Free bets based on PointsBet reward points
10 x $100 Second Chance Bets
Huge new player welcome bet
Loads of bet types available
Best Bets to Make in Indiana Sportsbooks
The best bets to make in Indiana sportsbooks are on sports and teams that you already know something about and where you are receiving favorable odds. If you are new to sports betting, we recommend sticking to basic bets. If you are an experienced bettor, it is okay to be more adventurous, but it is still important to be selective and bet responsibly. When betting on Indiana teams, do so because you think your bet has a good chance to win, not simply because you are a fan.
Bet on Sports with These IN Betting Bonuses
Sportsbook betting bonuses can come in any of the following forms:
Deposit match bonus: The sportsbook matches the player's deposit of up to a certain amount with a bonus, ideally dollar for dollar, but it can be for a lesser percentage. Once the player meets the specified wagering requirements, both the bonus and any resulting winnings are withdrawable.
Free bet: The player receives a site credit to use within a certain window of time for a free bet. If the bet wins, only the winnings from the bet and not the cost of the bet become withdrawable.
Risk-free bet: This offer is similar to a free bet except that it is contingent on the player having lost a qualifying cash bet first. The sportsbook then gives the player a "second chance" to win with a site credit in the same amount. As with free bets, the player gets back only the winnings from the second chance bet and not the cost of the bet.
Key Takeaways
While this article gives you lots of helpful guidelines regarding the best places to bet on sports online in Indiana, when picking the best Indiana sports betting site for you, your personal needs and preferences will also come into play. All of the sportsbooks offer Indiana bettors a wide array of betting markets, a generous welcome offer for first-time depositors, fair gaming practices, and a safe online playing environment. All Indiana sportsbooks are licensed and regulated by the Indiana Gaming Commission.
FAQ's
Can I legally bet on sports in Indiana?
Yes, sports betting became legal in Indiana when Governor Holcomb signed the state's sports betting bill into law on May 8, 2019. The first retail sportsbook in Indiana opened on September 1, 2019, and the state's first online and mobile sportsbooks opened on October 3, 2019.