Arch Madness Set to Begin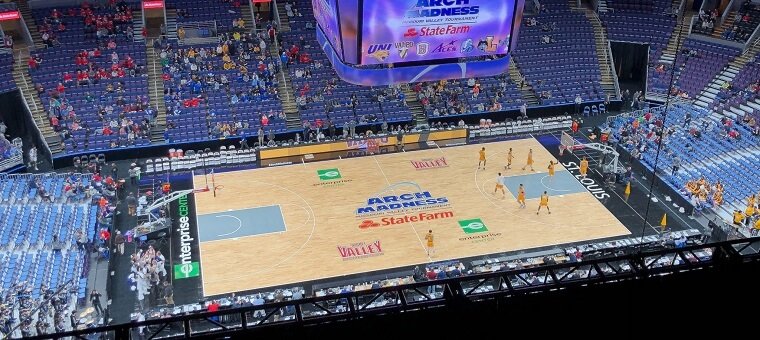 The 2021 Missouri Valley Conference men's basketball tournament is set to begin this week, and three teams from the Hoosier State will be in action.
"Arch Madness" will kick off on Thursday, and a champion will be crowned on Sunday.
Indiana State is the number four seed in the MVC Tournament, and it will take on fifth-seeded Evansville on Friday afternoon. Valparaiso has locked up the number six seed, and it will face Missouri State on Friday evening.

All three teams from the state of Indiana will need to win Arch Madness if they want to punch their ticket to the NCAA Tournament. The Missouri Valley Conference could be a two-bid league this year, but Indiana State, Evansville, or Valparaiso don't have a shot at the at-large route.
Loyola-Chicago is the top seed in the field this season, and it could be waiting for the ISU-Evansville winner in a game that would take place on Saturday. Drake is the number two seed and could be a potential semifinal opponent for Valparaiso.
Conference tournaments have started throughout the country, but this is one of the biggest and best mid-major events each year. Bradley is the two-time defending champion at Arch Madness, but it enters this tournament as the eighth seed.
Tickets Available
The Enterprise Center in downtown St. Louis is once again the site of Arch Madness, and fans will be allowed to attend the games. There will be a limited number of fans allowed for each session, but it will be the first time that most MVC schools have played in front of a crowd this season.
Single-game tickets are now on sale at Ticketmaster.com, and tickets are sold in pods of two, three, or four. Tickets will be available on a mobile device, and paper tickets will not be distributed.
There will be 500 upper deck tickets available for all games that take place beginning on Friday, and those will come on a first-come, first-serve basis. These tickets are $25 on Friday and then $30 for Saturday/Sunday.
Fans are encouraged to purchase tickets from their favorite school's website to ensure that they are sitting with fans of the same team. There is a select number of tickets available for each school, and these will be re-distributed as teams are eliminated this weekend.
Key Named to All-MVC First Team
Indiana State senior Tyreke Key was named to the All-MVC First Team for the second straight season. This is the first time since Jake Odum that Indiana State has had a player land on the All-MVC team for two straight seasons.
During conference action, Key averaged 18.6 points per game to move up to number six all-time on the career points list at Indiana State. Key averaged 17.4 points and 5.3 rebounds per game overall in 2020-21 to earn the honor.
Loyola-Chicago forward Cameron Krutwig was named Player of the Year in the Missouri Valley Conference after leading the Ramblers to the regular-season title.
For more sports news and legal sports betting in Indiana, check out more stories on our blog.
Relevant news