Colts and FanDuel team up for awesome ticket & credit promotion
Categories:
News
|
Published by:
Corey Scott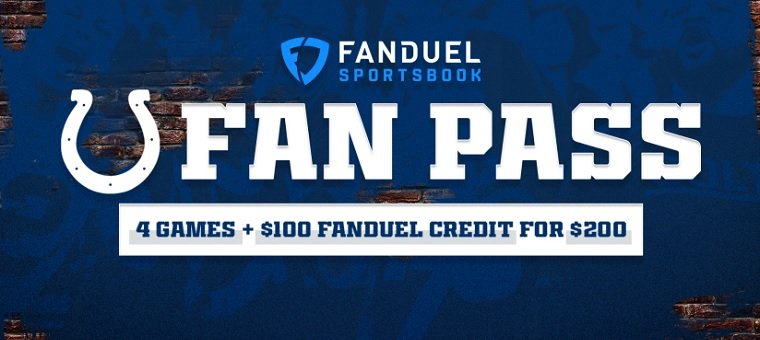 The Indianapolis Colts and FanDuel Sportsbook are two of the biggest names in the state of Indiana, and they are teaming up for a great promotion.
Fans of the Colts can now look to purchase ticket packages that will allow them to bet at the sportsbook.
By teaming up for this new deal, the Colts, and FanDuel have formed the first-ever offering of this kind. This out-of-the-box thinking and promotion should increase the excitement for the Colt's season and will also increase business at FanDuel.
This new offering is being called the "Colts FanDuel Fan Pass," and it allows fans to purchase tickets to four games. The total cost per ticket is $200 for this offer, but there is also a FanDuel credit built-in.

Fans over the age of 21 will have to stump up $200 for the offer, but for that, eligible fans can purchase one of the two following four-game ticket packages:
Pack A, including Seattle, Tennessee, the New York Jets, and New England.
Pack B, including the Los Angeles Rams, Houston, Jacksonville, and Las Vegas.
Customers that purchase the Colts FanDuel Fan Pass will receive a $100 site credit at FanDuel Sportsbook. This is a game-changing promotion for the NFL and for the sports betting industry, and it is likely one that will be copied by other teams.
There are two different options when looking to purchase this pass, and the games have already been selected by the Colts. This is still a great option for Colts fans, especially those that are already doing their sports betting on FanDuel Sportsbook.
The Indianapolis Colts have previously had sports betting partnerships with both FanDuel and PointsBet, but the PoitnsBet deal was just for one season. The Colts could still look to renew that partnership, but it appears as if they are going all-in with FanDuel.
The National Football League has allowed teams to seek deals with sports betting operators and companies, and a number of teams have taken advantage. Online betting is available in the state of Indiana, but there isn't currently a retail sportsbook set up at Lucas Oil Stadium.
FanDuel Eyeing Top Spot
There are currently 12 different online sports betting options in the state of Indiana, but FanDuel has emerged as one of the clear leaders. The problem for FanDuel is that it has been surpassed by DraftKings, but this type of promotion could change the narrative.
In June, DraftKings accounted for $75 million of the total sports betting handle in the state to lead the way. FanDuel came in second place with $64 million, but the gap between the two leaders has started to increase over the last few months.
The one area that FanDuel does continue to lead all other sportsbooks is when it comes to the total gross revenue for each month. Last month, FanDuel had more than $9 million in adjusted gross revenue, which was almost $4 million more than DraftKings.
Both of these companies are expected to see a huge jump in handle and revenue when the 2021 NFL season kicks off in September. The problem for DraftKings is that it doesn't have a partnership in place with the Colts, and FanDuel is set to reap the benefits.
There could be as many as eight new online sportsbooks launching in Indiana later this year, but FanDuel and DraftKings will continue to lead the way.
For more sports news and updates on legal sports betting in Indiana, check out more stories on our blog.
Relevant news