Colts Agree New Deal With Darius Leonard
Categories:
News
|
Published by:
Corey Scott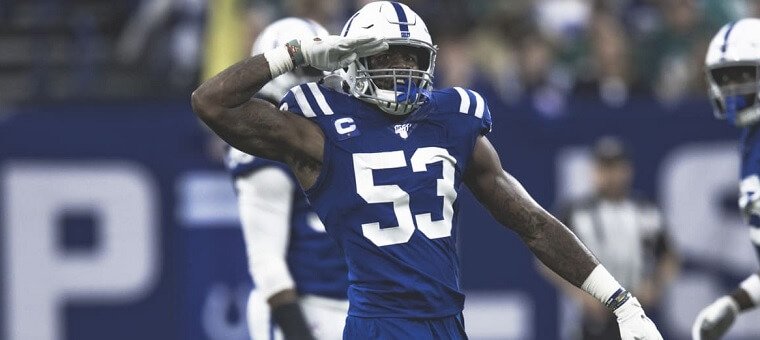 Indianapolis Colts linebacker Darius Leonard has proven that he is one of the best defensive players in the NFL, and he has now been rewarded as such.
On Sunday, the team announced that it had reached an agreement with Leonard that will make him the highest-paid inside linebacker in league history.
This new extension is for five years, and Leonard is set to receive $98.5 million. This extension surpassed the deal that the San Francisco 49ers gave to Fred Warner earlier this summer.
This news was announced as Leonard is still trying to make his way onto the practice field after having offseason ankle surgery. The Colts remain hopeful that Leonard will be on the field for the season opener, and that should occur as long as there are no setbacks.

Leonard was a second-round selection of the Colts in 2018, but he has played like one of the best players in football since his arrival. The linebacker went on to win Defensive Rookie of the Year in 2018 and hasn't stopped racking up the accolades.
Last season, Leonard was named to the All-Pro team for the second time in his career, and he will likely be a strong candidate for that team for the duration of this new deal. In his first three seasons in the league, Leonard has tallied 416 tackles, 15 career sacks, and seven interceptions.
When asked about being the highest-paid inside linebacker in league history, Leonard said, "o have my name at the top, that's something I don't take for granted. I have to continue to go out and prove that."
The Colts are clearly looking to spend some money this offseason as this is the second contract extension that they have offered to a player. Offensive tackle Braden Smith was also offered a deal during Training Camp, and his signing should solidify the offensive line.
Colts Have a Tight QB Race
The Colts appear to be out of the market for a new starting quarterback, at least one that would come to them from another team. Jacob Eason was expected to be the starting quarterback after an injury to Carson Wentz, but that might no longer be the case.
Eason immediately began taking most of the reps with the first team, but Sam Ehlinger has now started to share the reps. This could make for an interesting decision for head coach Frank Reich, but neither choice is as good as having Wentz under center.
Ehlinger was selected by the Colts in the sixth round of the 2021 NFL Draft, and Indianapolis was simply looking for depth at the quarterback position. There won't be many rookie quarterbacks making a start in Week 1, but that could be the case with the Colts.
Eason did not take a single snap during the 2020 season after being selected in the fourth round. This leaves the Colts with two completely inexperienced options, but the hope is that Wentz won't be out of the lineup for long.
Things are heating up ready for the new season which is only a few weeks away. If you are looking to have a bet on football this season, we have tried and tested all the best NFL betting apps so you can see which book you should be using.
For more sports news and updates on legal sports betting in Indiana, check out more stories on our blog.
Relevant news