Fans Can See Colts Home Opener
Categories:
News
|
Published by:
Corey Scott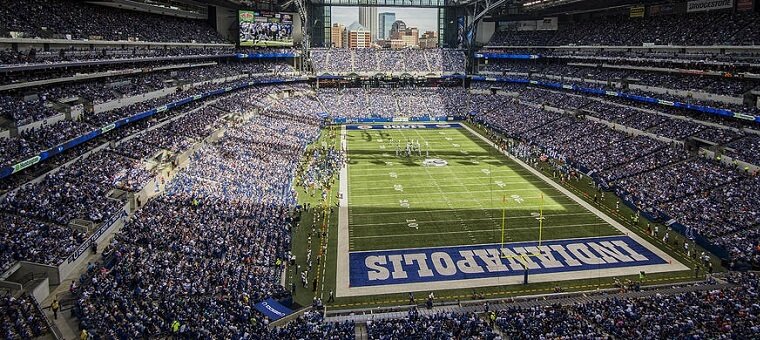 The Indianapolis Colts have announced that a limited number of fans will be allowed to attend their home opener.
Indianapolis hosts the Minnesota Vikings in Week 2 of the regular season, and fans will be allowed to attend the game. Finally some good news given the number of sports canceled due to the pandemic.
Just 2,500 fans will be allowed inside of Lucas Oil Stadium on Sept. 20, but this is much better than other teams that will not allow fans at all. The 2,500 fans will be around five percent of the normal capacity, which is what the health department in Indiana will allow.
The Colts actually proposed to the local health department allowing at least 15 percent of normal capacity inside of the stadium in Week 2, but that request was denied. The state is looking to keep the COVID-19 numbers down, so they are not allowing the Colts to have a large number of fans in attendance.

The Colts are expected to meet with the health department again next week in hopes of allowing more fans in the stands for their Week 3 home game. It's unclear what will come of this meeting, but the Colts are prepared to host a large number of fans.
Indiana has done a great job of slowing the spread of COVID-19, but the state health department is worried about the effects of allowing a huge crowd at a Colts home game. The state is relying on the Colts to bring in more revenue, but that can't happen with less than 3,000 fans in attendance.
The Colts will continue to monitor the situation with hopes to allow more fans as the season goes along.
Kelly Signs Huge Deal
Multiple sources are reporting that center Ryan Kelly has agreed to a massive deal to stay in Indianapolis. According to Adam Schefter of ESPN, the Colts have agreed to a new contract extension with their center worth $50 million over the next four years.
Kelly had been rumored to join a few other teams during this offseason, but the Colts eventually were willing to spend the money to keep him in Indianapolis. Kelly is from Cincinnati, and this new deal will allow his family and friends a chance to watch him play.
According to Schefter, the Colts are set to pay Kelly $34 million guaranteed, and this deal is worth $50 million. Indianapolis is looking to provide protection for new quarterback Phillip Rivers, and Kelly is a huge part of that equation.
Kelly will become the highest-paid center in the NFL after this deal is completed, and it gives him a strong chance to finish his career in Indianapolis. The center has been looking for a deal to stay in Indianapolis, and he was able to secure a deal with less than 10 days until the season opener.
Indianapolis selected Kelly with the 18th overall pick in the 2016 NFL Draft out of the University of Alabama. Kelly has started in all 51 games he has appeared in the NFL and has also been named to the Pro Bowl in his career.
For more sports news and legal sports betting in Indiana, check out more stories on our blog.
Relevant news