Hard Rock Casino Could Sit Empty
Categories:
News
|
Published by:
Corey Scott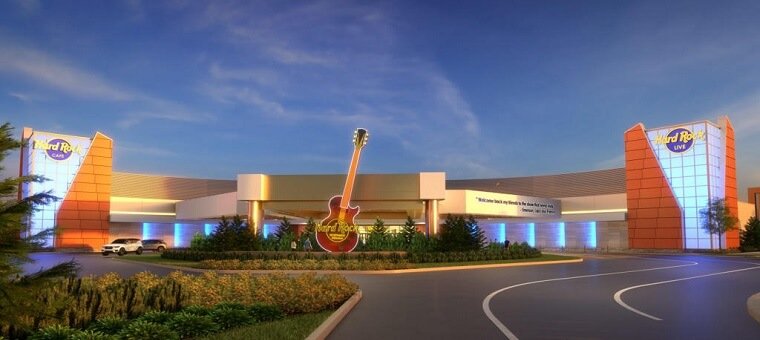 Gary, Indiana, was expected to have a brand new Hard Rock Casino built and opened this spring, but that might no longer be the case.
A legal dispute is underway, and it could leave the newly constructed property empty for months, according to the Indiana Gaming Commission.
The Majestic Star Casinos in Gary have been informed that they should plan on staying open until at least June, but there was hope that a move in-land would come months before that date. All of this stems from Spectacle Entertainment investor Rod Ratcliff having his gaming license temporarily suspended by the Indiana Gaming Board.

Ratcliff filed a lawsuit against the Indiana Gaming Commission in June, and this is expected to be a long legal battle before a final resolution is announced. During that time, the casino operations will not be able to move in-land and use the brand new Hard Rock Casino Northern Indiana.
The Hard Rock Casino has already started the process of hiring and training new employees, and the company plans to continue to move forward with this plan. Hundreds of new jobs have been created due to this casino being built, and it will help some residents of Gary, Ind., find financial relief after dealing with the effects of the COVID-19 pandemic.
This new property is located alongside interstates 80/94 and is expected to bring in customers from Indiana, Illinois, and Michigan. The Hard Rock name alone will attract bettors as it is one of the biggest names in the industry.
Billboards and the company's website are still announcing a Spring 2021 opening date, but that appears highly unlikely at this time. Leaders of the new Hard Rock Casino have reached out to the Indiana Gaming Commission in hopes of coming up with a resolution that will allow the original plans to remain.
This new property is set to become much more than another casino in the state of Indiana, and it will provide a huge revenue boost for the entire Gary area. A 2,000-seat concert venue is also part of the plan, and there will be at least six restaurants and a sports bar on site.
Spectacle Situation a Mess
Spectacle Entertainment has been wrapped up in a federal investigation since 2020, and former vice president John Keeler was indicted in September. The charges claim that Keeler helped to illegally funnel money as a part of campaign donations and did not submit any documents while doing so.
Ratcliff has not been indicted in the federal investigation, but the Indiana Gaming Commission continues to claim that he was a part of the scheme. The IGC is looking to permanently strip Ratcliff of his gaming license, but he is not going down without a fight.
Ratcliff has played a large role in the growth of the Indiana gaming industry, but his role in this crime could end up costing Gary and the Hard Rock Casino millions of dollars. Ratcliff has stepped down in his roles with Spectacle, but the IGC maintains that he has still continued working with the company.
For more sports news and legal sports betting in Indiana, check out more stories on our blog.
Relevant news