Indianapolis 500 To Run With Limited Capacity
Categories:
News
|
Published by:
Corey Scott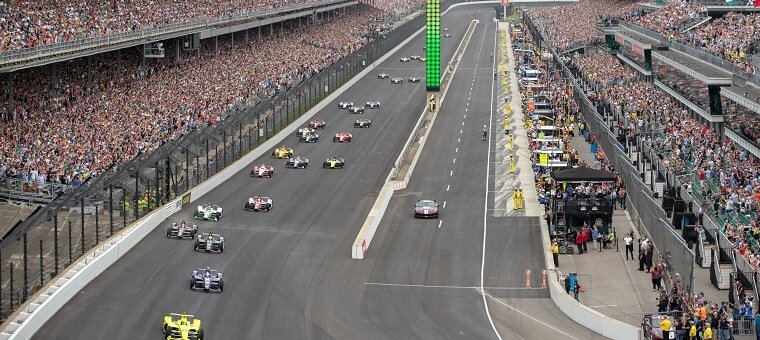 Sports have started to return throughout the United States, and a majority of these events have taken place without fans in attendance.
The Indianapolis 500 will be run in August, and fans will be allowed to be at the race. Its been a long wait for US sports fans as most action has been stopped due to the coronavirus pandemic, which has affected nearly all sports. The good news, they are slowly on the way back.
On June 26, an official announcement was made that the Indy 500 would be run in front of just 50 percent of normal capacity. The Indianapolis Motor Speedway announced at that time that there could still be close to 175,000 people in attendance with this restriction.
The Indy 500 is commonly referred to as "The Greatest Spectacle in Racing," and this will be the 104th running of the annual event. Traditionally held in May, the event was pushed back to Aug. 23 due to the coronavirus pandemic.


Indianapolis Motor Speedway officials have been working closely with state and local health officials to develop protocols to keep fans safe during the event. All fans will be forced to wear a mask during the duration of the event, even when they are in their seats.
The race track also sent out an announcement encouraging anyone at high-risk for developing chronic symptoms of COVID-19 to skip the race set to take place in August. The race will still be blacked out to local television markets in Central Indiana as it has been in the previous few years.
Only 25 Percent Expected to Attend
Even though state and local health officials are allowing the Indianapolis Motor Speedway to hold the event in front of 50 percent capacity, expect a much smaller crowd at the 104th running of the Indy 500. The track announced on Tuesday that they expect the number of fans to be closer to 85,000, which would be right around 25 percent normal capacity.
The race track has been reaching out to ticket holders for the event to see how many are likely to show up. It's unclear what the return policy is for guests that have already bought tickets, but it appears that a large number of fans are willing to skip out in an effort to remain safe.
There have been several groups speak out about the plan to host the Indy 500 during the ongoing pandemic, but the race track has been given the green light by health officials. Governor Mike Holcomb is also on board and believes that it will be a great event and a way to help out the struggling economy.
The track is set to release their 95-page health and safety document to the general public on Wednesday, and that could encourage some more fans to purchase tickets. Each fan will be given a face mask and hand sanitizer when entering the track, and guests will be spaced out around the 2.5-mile track.
Indianapolis Motor Speedway is also planning on conducting temperature checks for each guest, and those that have a certain temperature will not be allowed inside the race track. Ticket sales will close on July 24, and the track will have a better idea of how many fans will attend later this month.
Relevant news