IU athletic department Removing COVID-19 Restrictions
Categories:
News
|
Published by:
Corey Scott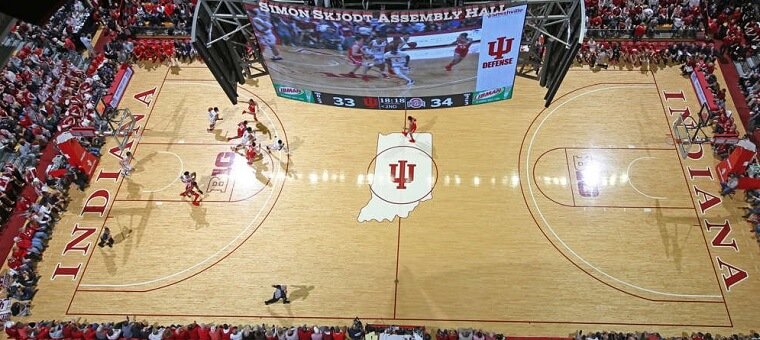 The University of Indiana's athletic department made a major announcement last week, and it will bring back a return to normalcy for Hoosiers athletic events.
According to the statement, full capacity will be allowed at all athletic events next season, beginning with football in the Fall.
The entire 2020-21 athletic season was played without any fans at Hoosiers athletic events, and that was a plan that was released by the Big Ten Conference. COVID-19 restrictions were not as strict this Spring, but fans were still unable to attend any events.
Athletic director Scott Dolson said in the statement, "This is one of the most exciting days for our department and for me personally as we announce our plans to welcome our fans back this fall." Dolson and his staff have been working closely with the IU Medical Advisory Group, and the decision was made to remove the restrictions.

This decision also came after the Indiana University Restart Committee made recommendations about what should be done during the fall semester. That group determined that all fall sporting events should be returned to the pre-pandemic level, but it was still up to the athletic department.
In this statement, it was also announced that specific COVID-19 protocols for both indoor and outdoor sporting events would be announced at a later date. It is expected that masks will be required for all unvaccinated individuals, but a final plan will be released.
The school also announced that season tickets for the 2021 season are now on sale, and it should be another great season for the Hoosiers football team. Indiana returns 19 starters from the 2020 season, and that team was ranked as high as 7th at one point.
Notre Dame Requiring Vaccinations
The University of Notre Dame actually announced its plans for the fall season a few weeks ago, and a more complete plan was revealed. Not only has Notre Dame announced plans for the football games this Fall, but it has also made plans known for students returning to campus.
Notre Dame Stadium will have full attendance this Fall, and it will be a welcome sight in South Bend. Fans were able to attend games last season, but it was only a limited number of fans at each game.
Notre Dame Stadium holds close to 78,000 people, and every single seat will be available for purchase. As usual, the Fighting Irish are expected to be playing in front of a sold-out crowd for every home game during the 2021 season.
The University of Notre Dame will require all faculty, staff, and students to be fully vaccinated prior to the Fall semester, and it is encouraging fans to do the same. This would remove the mask mandate that was in place last season and should create a normal atmosphere.
Season ticket holders have already been contacted about renewing their tickets, and new season tickets will be released in the coming weeks. Notre Dame will continue working with St. Joseph County health officials to determine if changes will need to be made leading up to the season.
For more sports news and updates on legal sports betting in Indiana, check out more stories on our blog.
Relevant news