New Gary Casino Nearly Ready To Rock
Categories:
News
|
Published by:
Corey Scott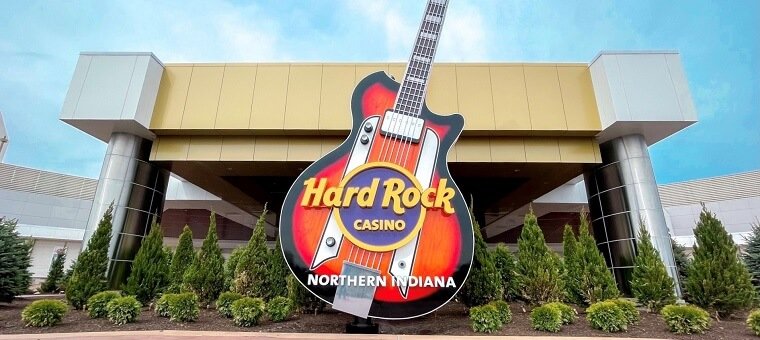 The Hard Rock Casino Northern Indiana has officially announced an opening date of May 14, and things have started to take shape at that location.
The Hard Rock is located in Gary, Ind., and it will become a popular destination for residents of both Illinois and Indiana.
This opening date will complete the $300 million project that will add a 200,000 square foot gaming floor, a sportsbook, and a number of bars and restaurants. Anticipation for this Indiana casino has been growing over the last 12 months, but it hasn't always been smooth sailing in the planning and construction of this casino.
There is no Hard Rock Sportsbook available online or mobile in Indiana yet, but Hoosiers do have access to one of the widest choices of sports betting apps in the US.
Spectacle Entertainment will maintain its role as part-owner of this property, but that group is still under investigation from the Indiana Gaming Commission. The Seminole Tribe of Florida will operate the new Hard Rock Casino in Gary.
The opening of this new casino also means that the Majestic Star Casino in Gary will be closing at some point next month. This was part of the agreement when Hard Rock International was granted permission to build the new casino.

Earlier this month, the Hard Rock Casino unveiled the massive guitar set to greet patrons at the front entrance, and the LED lights have been turned on. There will also be memorabilia on display inside the new property, and those artifacts have started to be delivered.
This new property is set to transform the Gary, Indiana community, and the casino is looking to add some local vendors as well. A recent informational session was set up for potential vendors, and there will be more of these opportunities available as the opening date gets closer.
Indiana Grand Getting Upgrade
One of the most popular destinations in Central Indiana is also getting an upgrade in 2021. The Indiana Grand Racing & Casino in Shelbyville has a $32.5 million expansion planned, and that will begin in April.
There has already been a celebration and ceremony at this location to mark the start of the project, and it will make it one of the top casinos in the state. Much of the project will focus on improving and expanding the gaming floor.
This property is owned by Caesars Entertainment, and that company has a large presence in the state of Indiana. A poker room with at least 20 tables will be added to Indiana Grand in this expansion, along with more than 25,000 new square feet of gaming floor.
Not only will this be a boost to casino gamblers in the state, but it will also add more than 100 permanent jobs for the Shelbyville community. An official completion date has not been announced, but it is expected to be completed at some point in 2021.
At the conclusion of this project at Indiana Grand, Caesars is also planning to upgrade the Hoosier Park location in Anderson as well. Caesars is committed to improving the casino gambling industry in Indiana, and sports betting options are also available at each location.
For more sports news and legal sports betting in Indiana, check out more stories on our blog.
Relevant news