Notre Dame-Wake Forest Game Postponed
Categories:
News
|
Published by:
Corey Scott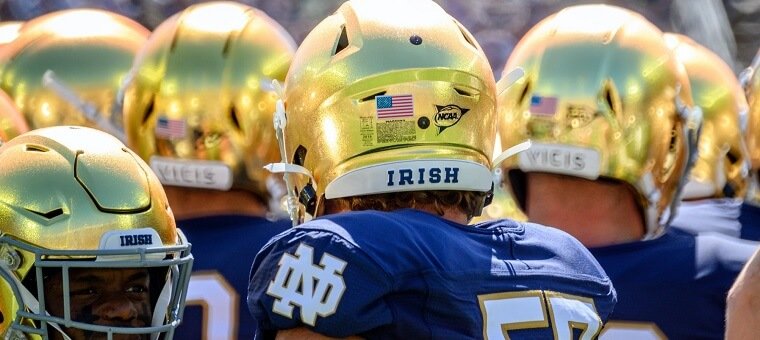 While Indiana and Purdue wait another couple of weeks to begin playing college football games, the University of Notre Dame is already off to a 2-0 start.
Notre Dame was set to take on the Wake Forest Demon Deacons on Saturday, but that game has now been postponed.
Notre Dame announced on Tuesday that 13 players are currently in isolation due to COVID-19, forcing the postponement of this ACC matchup. Notre Dame has also paused all football-related activities as the school attempts to stop the spread of the virus.

The school tested 94 players and staff members on Monday, and it was confirmed that seven players have contracted the virus. Combine that with the results from last week, and 10 players are in quarantine with another three in isolation.
Head coach Brian Kelly issued a statement on Tuesday stating that the health and safety of the student-athletes is the number one goal and primary concern for the school. Notre Dame expected COVID-19 to affect the season at some point, and it took less than three weeks for a game to get postponed.
Notre Dame and Wake Forest are looking to reschedule the game, and they are targeting Oct. 3, as both schools are currently open on that date. The schools will have to work with the ACC before an official announcement can be made.
The ongoing COVID-19 pandemic has already forced the postponement of four ACC games this year, and it has wreaked havoc on other schools and conferences around the company.
Notre Dame had to pause football activities in August after five players tested positive during two rounds of testing. The Fighting Irish have moved up to No. 7 in the Associated Press Top 25.
Injuries Affecting Colts
The Indianapolis Colts were able to pick up their first win of the season on Sunday, but the win came at a price. Indianapolis was forced to place one key member of the offense and defense on injured reserve after the win on Sunday.
Wide receiver Parris Campbell suffered a knee injury in the win over the Vikings, and he will miss a few weeks, according to head coach Frank Reich. Campbell is expected to make a return to the field at some point this season, but his absence will be felt.
Safety Malik Hooker was not quite as fortunate as Campbell, and he will miss the rest of the 2020 season. Hooker tore his Achilles in the victory, leaving a big hole in the secondary for Indianapolis.
Tight end Jack Doyle was forced to miss the game on Sunday with knee and ankle injuries, but the team is hopeful that he will be able to make a return soon. Cornerback Rock Ya-Sin also missed the game on Sunday after not being on the injury report all week.
Rookie running back Jonathan Taylor got his first start on Sunday and carried the ball 26 times for 101 yards. Taylor took over for Marlon Mack, who suffered a season-ending injury in Week 1.
For more sports news and legal sports betting in Indiana, check out more stories on our blog.
Relevant news