UFC 249 to Be Held on May 9
Categories:
News
|
Published by:
Corey Scott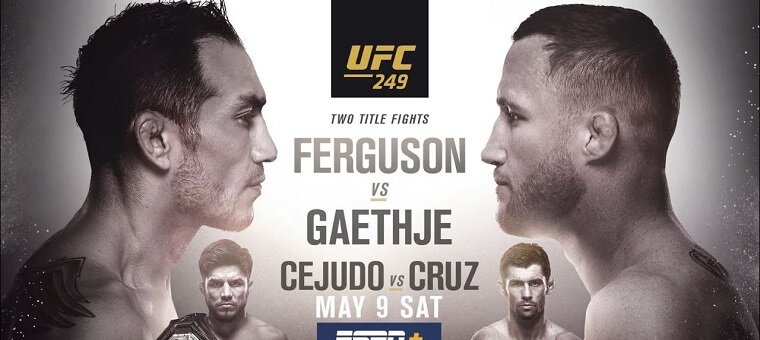 UFC President Dana White has been forced to postpone and reschedule UFC 249 several different times over the past few weeks, but he finally has a firm date.
The event will take place on Saturday, and it is set to be one of the best events in the history of the sport.
Even though a few of the top fighters have been forced to withdraw from the event due to travel restrictions, White has still managed to put together a great fight card. There are a handful of title fights on the preliminary and main card, and other featured fights as well.
UFC 249 will take place at the Vystar Veterans Memorial Arena in Jacksonville, Florida, and the event will be available through Pay Per View. Fans will not be allowed to attend the event, and several other safety precautions must be followed. If you are planning on having a bet on the event, why not check out our top-rated Indiana Sportsbooks.

One of the biggest reasons that this fight had to be pushed back several times is that White was unable to get a state to commission the event. Florida Governor Ron DeSantis finally agreed to allow fighting to take place, and the fights will be commissioned.
White has thrown out the idea of buying a private island to host UFC events, but he was able to secure a location this time around. Vystar Veterans Memorial Arena will also host a pair of UFC Fight Nights that take place next week.
Tony Ferguson is set to take on Justin Gaethje in an interim lightweight title bout that will be the main event. Ferguson is considered to be the top challenger in the lightweight division, while Gaethje is number five.
Khabib Murmagomodev was supposed to try and defend his lightweight title against Ferguson but was unable to get to the United States from his home country of Russia. The winner of this fight will take on Khabib at a later date.
Henry Cejudo will look to defend his bantamweight title against Dominick Cruz in the co-main event. Donald Cerrone will also be taking on Anthony Pettis in a highly anticipated bout on the preliminary card.
Extra Safety Measures Put In Place
Holding UFC 249 without fans will make this event extremely different, but there are other safety measures set in place that will also be noticeable. One of the most notable changes is that post-fight interviews will not take place in the Octagon, which is the norm at UFC events.
The broadcast team will also be sitting at separate tables while broadcasting this event. All fight personnel will be equipped with personal protective equipment, including N95 masks and gloves. UFC officials are also working closely with state health officials to determine the best way to sanitize the mat in between each fight.
Joe Rogan will once again be a part of the broadcast crew, and he will be conducting the post-fight interviews. Instead of heading inside of the Octagon, the fighters will be taken to an isolated area and will put on a sanitized headset for the interview.
Since fans will not be in attendance for this event, UFC is planning on focusing more on the discussion between the fighters and their coaches for this event. Mics placed above and around the Octagon will also allow viewers a chance to hear the punches and kicks that are landed. You can bet online in several states across the US at DraftKings Sportsbook.
Everyone that plans to participate in UFC 249 as a fighter or broadcast team member will be tested for the coronavirus before checking into the hotel. Everyone will then be quarantined and isolated at the hotel until they head to the arena for the fight.
Relevant news