Carson Wentz Injured Again
Categories:
News
|
Published by:
Corey Scott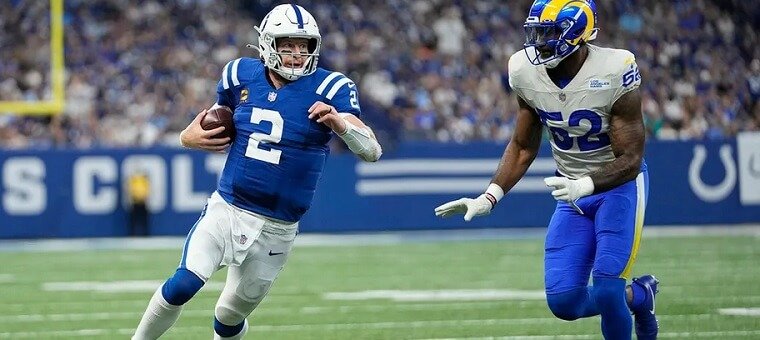 It has only been two weeks in the 2021 NFL season, but Colts quarterback Carson Wentz already appears to be set to miss some time.
According to head coach Frank Reich, Wentz has sprained both of his ankles, and his return to the lineup for Week 3 is questionable.
With just under eight minutes left in the game in Week 2, Wentz went down with a sprained ankle after being taken down by Aaron Donald. Wentz was already nursing a sore ankle on the other foot in the first half, and the team shut him down to afford a further injury.
The Colts feared during Training Camp that they might have lost Wentz for a long period of time after it was announced that he needed foot surgery. Wentz was able to get back on the field much earlier than expected, but he just continues to have injuries plague his career.

Through two weeks, Wentz has gone 45-of-69 for 498 yards, and three touchdown passes. Wentz has thrown just one interception up to this point but is still looking for his first win in a Colts uniform.
Indianapolis has allowed their quarterback to be sacked six times through the first two games, and that is a trend that will need to change regardless of who is under center. Wentz was the most-sacked quarterback in the NFL a season ago, and that played into the low numbers that he put up.
Reich has made it clear that a decision facing Wentz has not yet been made as the team is waiting on some additional information. Wentz is expected to make a push to the team to get back on the field, especially as the Colts take on the Tennessee Titans in Week 3.
Any Other Options?
When it was announced that Wentz would undergo foot surgery this summer, fans of the Colts immediately believed that the team would bring in some new quarterback options. Nick Foles of the Chicago Bears was one of the players mentioned, but those conversations never really materialized.
If Wentz is not able to make a start in Week 3, then Jacob Eason would likely be the person that is given that job. Eason has been the backup for the first two weeks of the season, but Sam Ehlinger impressed the coaches with his play during training camp as well.
The NFL is not like some of the other professional sports, and there aren't usually many midseason trades that take place. There is a chance that the Colts can swing a deal before the Trade Deadline, but the team is hopeful that Wentz will be back to 100 percent soon.
The Colts have not started off a season with an 0-3 record since 1998, but they are going to have to pull off an upset to keep that from happening this year. Indianapolis knew that the first part of the schedule was going to be a challenge, and playing any games without Carson Wentz was never going to be easy.
For more sports news and updates on legal sports betting in Indiana, check out more stories on our blog.
Relevant news