100% Deposit Bonus Sportsbook: Sites That Will Match Your Deposit Dollar to Dollar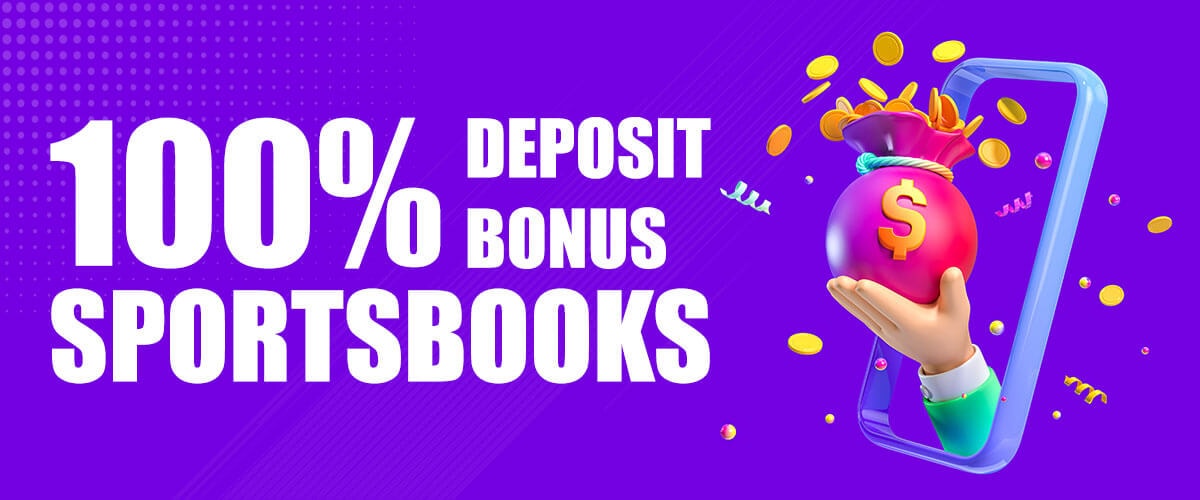 Virtually every sportsbook that is an authorized betting site for US customers offers welcome bonuses for new users. But some deposit bonus offers provide much better value than others.
The 100 deposit bonus is becoming harder and harder to find at legal online sportsbooks. That's not the case with casinos, which universally provide this offer. The reason behind this shift in sportsbooks' marketing practices lies within the lower edge they have. Handing out thousands in free money made it increasingly harder to make profit. As a result, they have mostly switched towards risk-free bets, which work similarly but only reward bettors who lose.
Below, we highlight the few 100% deposit match bonuses still available at US betting sites. You can learn how these offers work, how to claim them, and tips to win real money betting.
Best Sportsbooks with 100% Match Bonuses
$1,000 Free Sign Up Bonus
Bet on every sport
Competitive odds
No Sweat First Bet Up To $1,000
Massive sports betting options
Trusted name
The best initial deposit bonuses are 100% bonuses–those that match the player's deposit dollar for dollar. However, you are much more likely to find this offer at online casinos than at online sportsbooks. In fact, after an extensive search of reputable list of state-licensed online sportsbooks, we could only find one that offers new bettors a 100% bonus on their first deposit.
Keep reading to learn all about the Tipico Sportsbook 100% deposit bonus up to $250 for new customers. Alternatively, you can tap on the above links to claim one of the deposit match or free bet offers available for new US sportsbook players.
Tipico Sportsbook: 100% Deposit up to $250
Tipico is still a relatively new brand in the US sportsbook market. But it is an internationally known provider of online sports betting and is currently the leading sportsbook in Germany. Tipico has been in business since 2004.
Two years after the repeal of PASPA paved the way for many US states to legalize online sports betting, Tipico Sportsbook finally made its first US appearance on September 28, 2020, with the opening of a New Jersey sports betting site. Tipico Sportsbook is now available to bettors in four states: New Jersey, Colorado, Iowa, and Ohio.
New Jersey bettors also have access to Tipico Casino.  In fact, new customers making their first deposit at the New Jersey site have a choice of where they want to use their 100% deposit welcome bonus – for sports betting or casino games. The same welcome bonus – a dollar-for-dollar match of your first deposit up to $250 – is available for both sports bettors and casino players.
How to Claim the Tipico Sportsbook 100% Deposit Match Bonus
This welcome bonus offer is open to legal residents of the United States ages 21 and older who open a Tipico sports betting account in one of the four states in which this sportsbook is currently available. You don't necessarily have to reside in New Jersey, Colorado, Iowa, or Ohio to be eligible for this offer, but you do have to be physically situated within the state where you sign up to place bets for real money.
The offer is valid only for new sportsbook account holders who have not received another welcome bonus from Tipico Sportsbook. If you are eligible, here are the steps you need to follow to receive this bonus.
Download the Tipico Sportsbook app for iOS or Android onto your mobile device. The mobile app for iPhones and iPads is available from the App Store, while the app for Android phones and tablets is available from the Google Play Store.
Complete the registration form found in the upper right-hand corner of the homepage.
Alternatively, if you prefer, you can complete the registration form online. However, the only way to place any wagers is with its sports betting apps. Tipico Sportsbook does not support online wagering at this time, so as soon as your account is opened and you are ready to start betting, you will need to download the appropriate app if you haven't already.
Meet the additional two-factor authentication requirement if necessary.
As soon as your application is approved and you are assigned a sports betting account, make a single deposit of $10 or more using one of the sportsbook's accepted deposit methods. You will then automatically receive a welcome bonus in the same amount as your deposit up to $250 in the form of site credits posted to your account. No special Tipico Sportsbook bonus code or promo code is required.
Tipico Sportsbook 100% Deposit Wagering Requirements
Before you will be permitted to withdraw your deposit, the bonus, and any resulting winnings, you will need to clear the bonus by betting the bonus and deposit combined 2x. Therefore, if your first deposit is $250 to qualify for the maximum bonus of $250, you need to wager $1,000. Qualifying wagers include only games and parlays with odds of -200 or greater. Players have up to 30 days to satisfy the wagering requirements.
DraftKings 20% Deposit Match Bonus up to $1,000
DraftKings Sportsbook also offers a deposit match bonus to first-time depositors. But despite the much higher cap of $1,000, the Tipico Sportsbook initial deposit bonus is far superior. DraftKings only offers a 20% deposit match, which is not a high match percentage bonus. It means, in effect, that to qualify for the maximum bonus of $1,000, you will need to deposit $5,000 of your own money.
The DraftKings bonus playthrough requirements are also much greater. For every $25 wagered, only $1 of the bonus is cleared. So, a player receiving a $1,000 bonus would need to wager a total of $25,000. A player who receives a $250 bonus after depositing, not $250 but $1,250, would have to wager $6,250 to clear the bonus as compared to $1,000 at Tipico Sportsbook.
How a 100% Matched Deposit Bonus Works in Sportsbooks
The best deposit match bonuses are 100% bonuses. However, online sportsbooks rarely offer them and only to first-time players, never to existing customers. The offer at Tipico Sportsbook is a good illustration of how such bonuses work.
A deposit bonus is different from the much more common welcome offer at online sportsbooks for free bets or risk-free bets. All three types of welcome bonuses are awarded to players in the form of "use or lose" site credits. The sportsbook only gives you a limited specified amount of time to wager the site credits and may impose additional restrictions such as minimum odds on the types of wagers that will qualify. However, unlike free bets and refunds given on losing risk-free bets, deposit bonus site credits are awarded before any of the deposited money is wagered. The amount of the bonus depends solely on the amount deposited.
A 100% deposit bonus is for the same amount as the deposit up to a specified maximum. Some online casinos offer new customers a 100% bonus with a very high maximum (i.e., $1,000 or more), but when a sportsbook offers a 100% bonus for first-time depositors, you can expect the cap to be much lower.
All sportsbook bonuses, including 100% deposit bonuses, come with certain specified wagering requirements. In other words, you will need to wager or play through the bonus, or in some cases the bonus + the deposit, a certain number of times within a certain time period. While this playthrough is still in progress, the bonus, deposit tied to the bonus, and any winnings therefrom are all temporarily locked into your account.
However, unlike with free bet and risk-free bet bonuses, once you complete the required wagering, as long as it is before the sports betting bonus expires, you get to keep not just your winnings but the bonus funds, too.
Terms and Conditions with 100% Deposit Bonuses
The terms and conditions associated with a 100% deposit bonus vary at different no risk matched betting sites. Therefore, before you decide to accept the offer, make sure you read the description of the bonus carefully, including the wagering requirements and other bonus terms and conditions.
Most importantly, you need to know the minimum and maximum deposit, your choice of deposit methods, wagering requirements to clear the bonus, permitted and not permitted bet types, and the time frame for completing the wagering. Keep in mind that cash deposits made via PayNearMe or at the affiliated land-based sportsbook or casino usually don't qualify for a bonus. Some sportsbooks also impose minimum odds requirements on wagers you can make to clear the bonus and/or exclude certain bet types altogether.
If any of the terms and conditions relating to accessing and clearing the bonus are not completely clear, before proceeding further, be sure to contact customer support. It would be a shame to miss out on the bonus because of a misunderstanding of the requirements.
How to Claim a 100% Sportsbook Deposit Bonus
If the sportsbook where you wish to play offers a 100% deposit bonus, make sure you sign up during the valid time period. Since the offer is for new users only, if you have already accepted a different welcome bonus from that sportsbook, you will not be eligible.
Only your first deposit will count towards determining the size of your bonus. As long as it is at least the specified minimum but not more than the specified maximum, the sportsbook will match your deposit dollar for dollar. So, within that wide range, you have a lot of leeway. For example, the minimum deposit at Tipico Sportsbook is only $10, and the maximum is $250.
Since you are being offered a full 100% match on your deposit, we recommend depositing the maximum as long as you can afford it. If you deposit less, you are shortchanging yourself. On the other hand, depositing more than the maximum that you will receive as a deposit match bonus is pointless because then the bonus is no longer a 100% bonus.
If the sportsbook requires using a bonus code or promo code to claim the offer, make sure you enter it as instructed. However, no bonus code or promo code might be necessary, in which case simply making a qualifying deposit will suffice to receive the bonus automatically.
Deposit Match Bonus Playthrough Requirements
Every deposit bonus comes with playthrough requirements. The bonus is not free money that you can simply withdraw right away without wagering it. However, what the specific betting requirements are and how much time you have to satisfy them vary with the individual sportsbook.
At any given sportsbook, the bigger the bonus amount, the bigger the wagering requirements. On the one hand, getting the maximum bonus is very desirable, particularly if it is a 100% bonus. On the other hand, you won't have access to any of this money until the bonus is fully cleared.
Therefore, you should make sure beforehand that the wagering requirements, which could be substantial, won't put a strain on your budget. In order to clear the bonus, you will have to risk some of your own money along with the bonus money, and you could lose both.
100% Deposit Bonus Sports vs. Risk-Free Bets
No Sweat First Bet Up To $1,000
Massive sports betting options
Trusted name
Most top online sportsbooks offer new users a risk-free bet rather than a 100% deposit bonus. These offers work to the advantage of the sportsbook rather than the player. However, big bettors find them tempting because the cap on the offer is often very high. For example, FanDuel Sportsbook offers a "No Sweat First Bet" for up to $1,000, and at some sportsbooks, the maximum bet they will cover is even higher. You will never see a 100% deposit bonus at a sportsbook for $1,000.
A risk-free bet bonus offer only kicks in when your first bet loses. If your first wager up to the specified maximum (but not for more than your first deposit) loses, the sportsbook will issue you site credits for the full amount of the qualifying bet. You then have a specified period of time to use the site credits on other wagers. Some sportsbooks require site credits to be used for one free bet only, while others either require or allow them to be used for multiple bets. However, if a free bet wins, the player is only paid the winnings from the bet, not the cost of the bet.
So, the best that a player who loses his or her first bet can do with the free bet is get most of the money back. It is impossible to make a profit or even recoup the entire loss because the player is still out the vig. For example, if your first bet for $1,000 at -110 odds loses and then your free bet for $1,000 at -110 odds wins, you will only get back $909 of the $1,000 you lost on your first big bet.
Meanwhile, players who win or push their first bet don't get any bonus at all from the sportsbook.
100% deposit bonuses that are not contingent on losing your first bet are better because getting the bonus on top of your deposit gives you extra ammunition to bet with and possibly not only win but win big. But the downside is that instead of only betting the bonus once, as you would do with a free bet, you have to bet it multiple times. As a result, instead of winning, you could incur a substantial loss.
Other Sportsbook Bonuses
Some sportsbooks, rather than offering new users a risk-free first bet will offer free bets to anyone who makes at least a token first bet, win or lose. For example, new customers signing up with DraftKings Sportsbook can temporarily select the following offer in lieu of the previously described 20% deposit bonus.
Bet $5 or more on any sport and, win or lose, get $200 in site credits to be used on eight free bets for $25 each. Players have seven days only to make these bets. If you win a free bet, you will receive the winnings from the bet but not the cost of the bet.
Such offers are usually ideal for bettors who are on a budget. That's not the case with risk-free bets or 100% deposit match bonuses, catering mostly to high-rollers and experienced sports bettors.
FAQ's
What sportsbook has a deposit match?
Tipico Sportsbook is the only one that offers new players making their first deposit a 100% deposit bonus. DraftKings Sportsbook offers new bettors making their first deposit a 20% deposit bonus.
What does 100% deposit match mean?
A 100% deposit bonus sportsbook will match your deposit up to a certain specified amount dollar for dollar. However, as with all sports betting bonuses, before you can withdraw these funds from your account, you will have to clear the bonus by wagering it a specified number of times within the designated time frame.
What sportsbook has the best match bonus?
Tipico Sportsbook has the best match bonus. It is currently the only one with a 100% deposit bonus.