TVG app
As far as US racebooks go, TVG is one of the most well-known names in the industry. TVG, otherwise known as Television Games Network, is a horse racing betting site that offers players real legal money betting on horse races. The racebook is licensed, regulated, and even has its headquarters here in the states. TVG is legal in most states and has dedicated sites in individual states.
TVG has been providing racing fans with a safe and secure place to wager online for many years. TVG now has awesome free horse racing apps available on the iPhone and a mobile site for Android users.
TVG Mobile app download
These days to be a hit, all good racebooks needs a mobile app. The good folk at TVG have released a dedicated mobile app. You can download the TVG app by following the following steps:
How Do You Download the TVG iPhone App?
As far as the iOS device compatibility is concerned, you will need to own either an iPhone or iPad running at least iOS 7.0 or above. Go to tvg.com and register for your new account. Follow the link found in your account to go to the App Store, where you can press GET and install the TVG mobile app to your iPhone.
How Do You Download the TVG Android App?
As of now, there is no downloadable Android app for the TVG racebook. You can still place wagers at the racebook; you will just need to use the mobile site at tvg.com, which is compatible with all Android devices and mobiles. The operator is not alone. At the minute there are not a lot of legal horse racing apps for android. This is not a huge issue as you can just use the mobile site on your Android smartphone.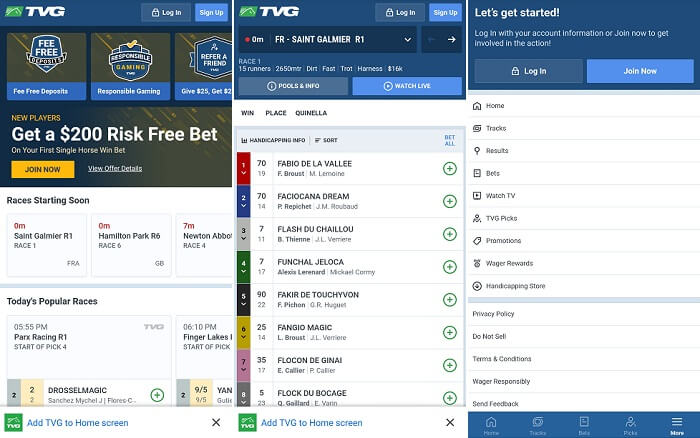 About TVG Racebook
If you get an account with TVG, you will have access to around 175 racetracks across the US and others from across the globe. TVG racebook offers horse racing fans loads of information for you to make informed choices when placing a bet. Every day, you can select from horse races taking place worldwide and place any bets as if you were at the racetrack in person. You will get updated odds on every bet you place at the online racebook because your wagers are merged with the bets placed by everyone physically present at the racing track.
TVG racebook is up against familiar names such as BetAmerica racing, TwinSpires, and Equibase, vying for horse racing betting fans' business.
You can take benefit of a set of handicapping tools, updates, and commentary from pro players. There are all the tools that you can use to get those winning wagers in! You could argue it is better to bet online than it is to do it in person. Even though you are not there and can watch the horse race in person, you get access to the latest stats, betting tips, and more on the TVG site. And of course, live streaming is available, meaning you can watch your horse gallop to glory from the comfort of your home. It is horse racing wagering at its best!
Online horse betting is growing in popularity across the US in lots of states. Betting on racing has always been a popular pastime, but now we can wager straight from our smartphones, it has become even more popular.
Joining TVG Racebook
Creating a TVG online betting account is easy. You can sign up at tvg.com on your mobile or a desktop device. Press on the yellow "Join Now" button, and you will need to enter your full name, email, set a secure password, add your mobile number, date of birth, and address. You do need to set a secure password and a couple of security questions to secure your account.
Your welcome bonus code will be entered automatically to claim a $300 free wager when using our link. Scroll and press complete registration, and you will be ready to go. We found that sign up took around 5 minutes in total and was seamless to complete.
You can sign up for TVG from any state but need to be located in one of the states where TVG operates before you can place a bet. Once you have your TVG account details, you can use the TVG login portal to access your account and then place your bets.
TVG Touch Mobile App
Most bettors' these days bet using their mobile device, So, it should come as no surprise that TVG Touch has designed a mobile app to give horse racing bettors the option to bet while on the go. There is a dedicated TVG mobile website at tvg.com that you can use on any mobile device.
There is a native app available to download for iOS devices, but no official mobile app for Android is available. If you use an Android mobile, you can bet straight from the TVG mobile site. It is the same design as the iPhone app, so you are not missing out on anything.
For iOS users, open the TVG app, and you will be met with a nice, easy to use design. There is a menu on the bottom of the screen, giving you quick access to Home, Tracks, Bets, Picks, and More. If you press on the More tab, you can see more options for results, Promos, Wager Rewards, and plenty of other areas on the app. You can access and watch live racing here with the TVG Watch TV option. The layout is straightforward to follow and is perfect for betting on any horse race. As far as mobile racebooks are concerned, TVG is up there as the best.
Betting at the TVG Racebook
As is common on a site or mobile application, you will need to get a TVG wagering account before placing any bets. You will need to enter your name, current address, contact details, etc. when you sign up at TVG. Once confirmed and your account is ready, you can then view all the racetracks, that day's horse races, and the full line-up of information.
You can look through the full track list or click on the "upcoming races" option to see a list of everything they have open. Choose a specific track or individual list, and the TVG website will show you all the betting options for that race.
A real plus point with TVG, which, if you are a horse racing fan like I am, is excellent, is streaming the races live online. You do not need the TVG direct TV channel to do this, just a valid betting account. This is available on the website as well as a mobile application.
Other racebooks you can consider are from AmWager and the BetAmerica Racebook.
Types of Bets Available at TVG
There are usually three types of bets you get when it comes to placing bets on horse racing. These are a place bet, a winning bet, and a show bet. A place bet, put simply, is a wager on which horse will finish first place, second place, or third place. A win bet does precisely what it says on the tin; you are betting on which horse will win the race outright, although you will only get winnings if that horse does finish first.
A show bet has three different winning outcomes; a horse that finishes first in the race also has show in it. TVG is serious about horse racing, meaning that all these bets are available on the TVG site and even on their mobile platform.
Of course, the higher the risk of a bet, the higher the reward will be. So, you will win more money if you wager on a winning bet instead of a show bet, and the racebook odds will reflect this.
Kentucky Derby on TVG
The Kentucky Derby is debatably the most famous race meets on the planet and is watched worldwide. TVG and the Kentucky Derby are named tantamount with the race. TVG usually has the best-priced odds for the Derby.
Churchill Downs and the Louisville, Kentucky both host the race each year, and if you ever get the chance to go, make sure you do! The Kentucky Derby has been running strong since 1875 and is submerged in history and tradition. There are three main bet types bettors usually go for during the race: 'win,' 'place,' and 'show' bets.
Overview
There is no doubt that TVG wanted to make it easy for horse racing enthusiasts to place a bet. So, they launched the TVG mobile app. Betting via the TVG Android app & iPhone app is easy and straightforward; all you need to do is download the TVG mobile app and sign-in/sign-up.
Once you have completed the first registration step, the next course of action will be to find a horse race. Whether you are selecting the horse race by time, favorites, or looking for a specific track, it will be the same. When using TVG, you will be able to bet on the biggest and most prestigious US horse races, such as the Kentucky Derby, in a few clicks. Following this, you need to select the racer, input your chosen stake, and select the type of bet you want to place. Confirmation is then required, and if you are happy with your bet, it will be processed and live.
You can watch races in the live video section inside the app or on the site if you want a bigger viewing screen. If you are not a great watcher, you can check back later for the horse racing results. There are a number of race tracks you can choose from, such as Churchill Downs and Turf Paradise.
There are also many famous races, including the Kentucky Derby, Belmont Stakes, and the Pegasus World Cup.
Where Can I Wager With The TVG App?
The TVG app for iOS contains lots of great features and options, but not everybody will download and utilize it. With the regulation of gambling in some US states, the app does have limited availability. Yet, horse racing fans who enjoy a wager from 32 of the 50 states can download the TVG app for Android, or iPhone and enjoy placing those bets.
The TVG mobile app is available in New Jersey and has a mobile app and website called 4NJBets. TVG also has a dedicated app and website in the state of Pennsylvania, which is called PABets.
Below is a quick list of the states where TVG is legal and available to wager and download:
Arizona (AZ)
Arkansas (AR)
California (CA)
Colorado (CO)
Connecticut (CT)
Delaware (DE)
Florida (FL)
Idaho (ID)
Illinois (IL)
Indiana (IN)
Iowa (IA)
Kentucky (KY)
Louisiana (LA)
Massachusetts (MA)
Michigan (MI)
Maryland (MD)
Montana (MT)
New Hampshire (NH)
New Jersey (NJ) (under 4NJBets))
New Mexico (NM)
New York (NY)
North Dakota (ND)
Nevada (NV)
Ohio (OH)
Oregon (OR)
Pennsylvania (PA)
Rhode Island (RI)
South Dakota (SD)
Tennessee (TN)
Vermont (VT)
Virginia (VA)
Washington (WA)
West Virginia (WV)
TVG Mobile App
In terms of the design and feel of the TVG app, it is remarkably like their website. It appears that the designers and app developers felt that users would feel comfortable with something they are already familiar with. As mentioned above in this TVG app review, when using the app on Android devices, it is just a mobile version of the TVG website accessed through a web browser.
The TVG app is easy to use for betting, and we never really wondered where things were or got lost. The TVG app has all the features that you would expect from using a modern-day betting app, from alerts, notifications to live streams, and more.
If you are a fan of the TVG website, you will undoubtedly be a fan of the TVG app.
It is not just us who are supporters of their offerings; Horse Racing nation has put down TVG as their chosen racebook.
One of the many features that we enjoy about the app is getting 'race alerts' sent directly to our phone. You will get sent a notification 5 minutes before any races are due to start and then another announcement when the result has been made official.
As well as the leading site, you need to tap 'live,' and the stream will appear as a pop up at the top of your screen while you can scroll through the races and place bets in the lower portion.
Using the TVG mobile app is a great way to check tips and get your bets quickly. You can use the racebook app to check all the Churchill Downs results and picks and place your wager from nearly every state. The TVG racebook app is also an excellent tool for checking all the latest horse racing news.
TVG Bonuses and Promotions
New players can take advantage of the two-part welcome offer from TVG. For this offer to be triggered, you will need to be registered and fulfill the requirements of the promotion. The welcome offer is a risk-free bet. To qualify for the free bet, players must place an eligible bet within 15 days of opening their TVG account.
Sign up at tvg.com to get your account up and running.
It must be a single wager; there will be no unusual bets eligible for the offer. If your bet loses, the amount wagered will be reimbursed as a free bet – up to a total of $200. You will then have 30 days to use the bonus funds to place another wager before it becomes invalid.
If you need some additional funds while using the TVG mobile app for Android or on the iPhone, it is worth your while taking advantage of the TVG welcome offer. Register as a user via the TVG app and claim your $200 risk-free bet new player TVG sign up bonus. TVG offers some great free bet promotions that run regularly. Hence, it is always worth checking for new bonuses available to existing players.
Other TVG Promotions
Have you heard of the TVG Super 8 contest? Well, if you haven't, it's an amazing free contest where you can win up to $100,000. To play, all you need to do is pick one horse to win from each of the 8 selected races. If you get all 8 right, you win $100k!

TVG also offers an awesome rewards scheme for customers. All you will need to do to get involved is click on the "enroll" button found on the wager rewards page.
Where could they improve the TVG Mobile App?
One of the main issues for the TVG mobile app is the lack of options for Android users. Given that turning to a web browser nowadays is outdated and looks unprofessional. While it is more than usable, it is not the same slick, fast version that iPhone users will experience.
There is also a shortage of withdrawal options.
We have heard a few players question why is the TVG mobile app not working? If you are suffering any issues with the app, we recommend you make sure you are using the most updated TVG app. Check the App Store to check if you need to update the app.
TVG Customer Support
The TVG customer service operators will always do all they can to solve any queries or issues you bring to them. You need to click the contact button from the account section, which can be found by clicking on the more option. Then select which question is the most suitable for you and your issue.
If you are in a hurry for a fix, a quick call to the TVG phone line is usually the best option. Simultaneously, you can always email their team or get in touch via their social media teams on Facebook or Twitter.
Banking Options
There are not many deposit or withdrawal options available at the TVG sportsbook, but here is a list of available. To deposit funds:
Debit Card
Credit Card
TVG prepaid card
BetCash
PayNearMe
PayPal
There are only two TVG withdrawal options currently available on the TVG horse racing app: a bank account transfer and BetCash. We hope that the operator will be adding some more options very soon.
How Long do Withdrawals take at TVG?
Withdrawal times can vary depending on your withdrawal method, but they are quick compared to rivaling racebooks!
Visa Debit Withdrawals – Processes in under 25 hours
PayPal – Processes in under 30 hours
BetCash (ACH) Transfer – Processes in under 5 Days
TVG Prepaid Card – Processes in under 30 hours
Bank Wire Transfer – Arrives Same Day or Next Working Business Day
Check Withdrawal– Arrives in 7-10 Working Business Days
Overnight Check – Arrives in 2-4 Working Business Days
Cash Withdrawal at the Track – Instantly
The maximum that you can withdraw in a single transaction is $10,000 for a card. If you need to withdraw any more than $10,000, a bank wire transfer withdrawal is more suited.
Most of the withdrawal methods are usually free, but there is a small charge for using a TVG Prepaid Card.
Is TVG Legal?
Yes, they are legal in the majority of  US states. Horse Racing is now legal across most of America. It is treated very differently from sports betting, which is still not legal in many states. In every state that TVG offers its services, they do so in a legal fashion and within the relevant state laws. You can legally use the TVG touch mobile app in all these states as well.
It is required by law that you must be over 18 to open a new account at TVG in most states. However, there are some stricter states where you will need to be at least 21 years old to open a new account; these are Arizona, Indiana, Iowa, North Dakota, and Washington.
FAQs
Is TVG Racebook Safe To Use?
Yes. TVG is one of the most significant and best online racebooks you will find in America, so that can make you feel safer betting on those horse races at TVG!
Who Can Bet with TVG?
If you are over the age of 18, and it is legal in your state, you can bet with TVG either on the leading TVG site or the TVG mobile offering.
Is TVG Legal?
TVG racebook has been operating for over two decades and is entirely legal, depending on which state you are based in, of course. Please make sure you check your state's online gaming laws before attempting to place a bet.
What Channel Is TVG On Direct Tv?
The TVG Network airs on channel 602 on Direct TV

Risk Free Bet Up To $300
Get Bonus