The must-claim $1,000 Risk-Free Bet Offers at US Sportsbooks

As online sportsbooks are molding their way into everyday American life, they are offering more and more amazing bonuses and promotions to entice new bettors into the action. If you are yet to sign up for the best sportsbooks, lucky you; Some unmissable offers are waiting for you!
You no longer need to visit Las Vegas and physical casinos to bet on an NBA playoff game or claim a free play offer. Legal online sports betting is thriving in the US.  Prospective bettors have lots of generous bonuses to choose from as online gambling is so competitive. One of these offers is a risk-free bet.
New players are rewarded with various bonuses but the 1000 free bet is among the best around. As a new customer, knowing that your first wager doesn't have as much pressure on it is important, as you can ease yourself into the online sports betting world.
A risk-free bet is becoming the most popular type of bonus that sports bettors can take advantage of. Typically across the last 12 months, sportsbooks were offering $500 as a risk-free bet, but it just keeps getting better and better! Look inside for an opportunity you don't want to miss; a handful of licensed online sportsbooks now offer a massive $1,000 risk-free wager.
What is a $1,000 Risk-Free Bet offer?
$1,000 free bets without risk are definitely not to miss; if you are skeptical of what a risk-free bet consists of, let us explain. Firstly a risk-free bet is about as good as you can get for a sign-up sportsbook promo, especially if you have a good sporting brain that can work out your best opportunities to earn some cashback.
However, it can not be said that "risk-free" betting is entirely risk-free. In reality, the term is coined to ensure that if your "risk-free" bet loses, then you will receive your wager back as site credit to place on another bet. These site credits can vary in increments but will always add up to the amount you have wagered. Please note that site credits are a cash equivalent and can only be re-wagered to earn cash and can't be withdrawn or exchanged.
Rare at first, but after the Barstool sportsbook risk-free bet set the standards, the bigger and bigger risk-free wagers became. $1,000 risk-free is simply mind-blowing; we know that you may not all be looking to wager at this amount, but it sure is worth signing up with our legal sports betting operators and claiming the risk-free bet if you are planning on betting $20 or more.
Compared to other ongoing promotions in the sports betting world, risk-free bonuses are perfect for people who have placed a couple of bets before. Other examples of welcome bonuses like no deposit bonuses are yet to reach the size of $1,000, so if you are looking for the biggest bonuses around, then we have the perfect online sportsbook for you. There will be no need for a FanDuel sportsbook promo code!
Inside, you will find the best four online sportsbooks that are legal and safe to use, offering $1,000 as a risk-free bet. Although the free bets may look homogenous, each sportsbook may have varying qualifying factors or different processes around their free bets. Please ensure that you read each section to ensure that you qualify for the risk-free bet and that you know how your site credit will be paid out if you lose. A risk free betting site is worth its weight in gold and if you can find multiple risk free bets, even better!
Best Risk-Free Bet Promo Codes at Legal US Sportsbooks
You can be assured that your best opportunities to claim new promotions are listed below, with some additional promo codes listed on Reddit! That's right, not one opportunity, we said opportunities; why not take advantage of all of the promotions across the listed online sportsbooks, its completely legal!
FanDuel sportsbook $1000 risk-free bet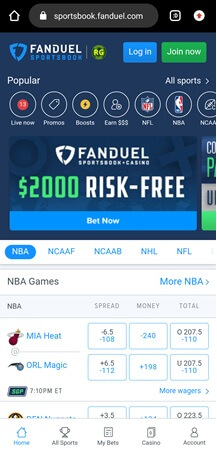 FanDuel sportsbook app is a force to be reckoned with in the online sportsbooks world. FanDuel New York has recently launched, offering New Yorkers numerous markets on significant events like the NBA finals and the Super Bowl. Having made its way to the peak of sports betting apps, FanDuel sportsbook is one of the nation's favorites. We sure understand why! Right now at the FanDuel sportsbook site and on the FanDuel sportsbook app, you can claim a massive $1,000 risk-free bet. Unfortunately, you cannot claim this offer if you have already signed up for the FanDuel sportsbook. This offer is for new customers only.
Unlike other sportsbooks, FanDuel sportsbook ensures that this offer is as clear as day! If you win from your risk-free bet, then you can withdraw your winnings straight away; this often isn't the case with other sportsbooks that we have investigated. The promotion period on FanDuel sportsbook is set to end on the 31st of December; you may not be able to claim this offer after this time!
It gets even better… Instead of wasting energy and searching for, FanDuel's $1000 risk-free bet Reddit or FanDuel 1000 promo code; you can claim the offer right here and click the link below!
DraftKings sportsbook $1000 deposit match bonus -free!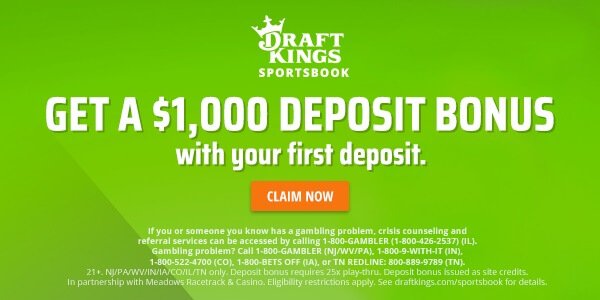 DraftKings is a premium online sportsbook that I'm sure a few of you recognize. DK offer some of the best odds for big sporting events, ranging from the NBA playoffs to the World Series. Customers can bet on their favorite team or choose to back individual players with a player prop bet. Having caused a storm back in 2012 with the release of their daily fantasy sports, the DraftKings app has consistently been pushing for the top spot as the best online sportsbook in the US.
If you don't fancy risk-free sportsbook bets, then DraftKings is the place to go. Right now, the DraftKings promo code is offering an exciting deposit bonus of up to $1,000.
This means that as soon as you sign up and deposit into your Draftkings sportsbook account, they will match your deposit with bet credits up to $1,000. You can literally double the amount you have to bet with!
We think this option is much better for novice bettors as it ensures that you don't have to put all your eggs in one basket with an initial risk-free bet to receive credits, and you will be able to spread your bets about more easily!
You could use your bonus to place a prop bet on a player in matchup or an anytime TD scorer in an NFL game.
Follow this link to claim this rare offer now:
BetMGM sportsbook $1000 bonus bet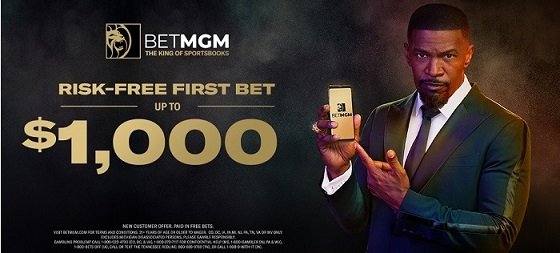 If you're already a sports fan, I'm sure you have heard of the internationally famous MGM grand arena or the star-studded MGM casino resorts. It's no surprise that this international sporting family is offering a premium online sports betting service with a welcome bonus alongside first-class parlay bets and odds boosts.
BetMGM is a massive player in the sports betting game, and they are sure giving the FanDuel sportsbook app some fierce competition. Just like FanDuel's online sportsbook, the BetMGM sports app is offering up to a whopping $1,000 as a no sweat bet for new customers! What's different is that if your first bet loses, you will be refunded your stake back as site credits in denominations of 20% (your total credit split into five free bets).
The BetMGM app as excellent NFL coverage, so you can use your BetMGM promo to bet on Thursday Night Football and bet on the games involving likes of the Philadelphia Eagles, Denver Broncos, New York Giants, or Detroit Lions.
All you need to do to claim the BetMGM bonus code offer is follow this link:
Caesars Sportsbook offers an even more generous sign up bonus worth up to $1,250. You can use this offer to net on a regular NFL week of games, Thursday Night Football, or any of your favorite teams in the NFL.
Risk-free bets go one of two ways
Scenario 1:
You win your bet; this means you will get no free bets back, but you are in the money!
Scenario 2:
You lose your bet; this means that you will be credited back your wager in free bets or site tokens/currency. These have no actual cash value, but you can bet these again to win real cash.
$1,000 Risk-free bet Tips
You can maximize your odds with risk-free bet offers, as with our tips on how to use them to your advantage.
Play it safe
Make sure you give yourself the best chances possible with your free bets and play it safe. Only bet the amount that you are comfortable with. Usually, we would recommend backing favorites or selections that are around the -150 to +150 mark; Unless, of course, you know something that we don't!
Read through the terms and conditions rigorously.
Things to keep an eye out for
Opt-in; Please don't assume that you automatically receive these promos; follow the provided links and click opt-in!
Minimum odds; Lots of promos have a minimum odds requirement that you must bet on; most often, it is around the -150 mark.
If your first bet wins, then you will not receive any free bets for risk-free bets. This is why a deposit match can be considered more substantial for some bettors.
Free bets / Site credit expiration limits; most free bets and site credits will have a time limit on them before they expire. Last-minute panic betting is never recommended! Manage your time well and make sure you use them within a reasonable time.
Risk-free bets can not be used in conjunction with other promos (site dependent); one that always catches people out is cashing out; your risk-free bet will be voided if you cash out; cashing out is classed as a win.
You will not get your free bet value returned if you win with it, you will only get the amount of the winnings from your free bet.
Use your free bets to test the water.
If you are new to sports betting, tend to only bet on money line bets or a few different lines; there has never been a better opportunity to test out different bet types than using your free bets. Free bets are an excellent opportunity for you to expand your knowledge and test your skills out for various betting markets that you may want to use again in the future.
Claim multiple offers
In the world of sports betting, we always recommend that you sign up with multiple sportsbooks. This will allow you to claim several welcome bonuses and risk-free bets. Not only will you be able to claim welcome bonuses, but within each online sportsbook, you will unlock exclusive odds boosts, parlay app bonuses, and promos. Besides our recommended $1,000 free bets, a handful of sportsbooks are offering $500 risk-free bets too!
Some sportsbooks may require a promo code. For example, you might need a FanDuel promo code or a Barstool Sportsbook promo code to claim their $1000 risk free bet.
$1,000 Risk-Free Bet FAQs