How to Bet on FanDuel Sportsbook
Online sports betting is taking the US by storm, and the FanDuel Sportsbook app (and online website) is one of the best places to bet legally in more than 12 states.
Whether you're looking to bet on NBA, MLB, NHL, or NFL, FanDuel has it all. You can also wager on college football, college basketball, NASCAR, soccer, golf, and many other sports.
Of course, if this is your first time betting online or on a sports betting app, you could be thinking, 'How do I bet on FanDuel Sportsbook?' This guide will answer that question and provide you with all the basics for a successful betting experience.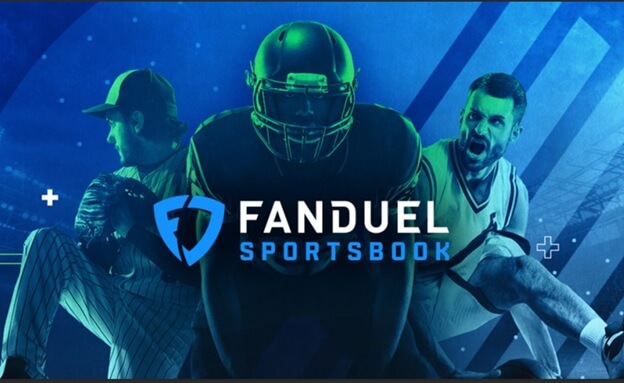 Betting On FanDuel Sportsbook (for Beginners)
Unlike land-based sportsbooks, where you can just walk in and place your wagers, you must create an account first when betting online. This is the starting point for how do you bet on FanDuel app for beginners.
To register an account, you can join at

fanduel.com/sportsbook

.
Complete the sign-up form and enter any FanDuel promo code that you have.
Verify your account using the link/code that FanDuel sends to you.
Ensure that the web platform or app is set to the correct state (where you intend to bet from).
Add funds to your account and claim the free bet bonus or whatever offer FanDuel is promoting.
If you are facing any issues with FanDuel app, you can check out our page for guidance.
How to place a bet on FanDuel Sportsbook
Now that you have an account, you can proceed to place a bet. Just follow these instructions:
1. Make sure you are logged into your account
Sign in to the app or online site and make sure you have funds in your account
2. Select your sport
You can click the "All Sports" option at the bottom of the screen or use the sliding menu at the top of the screen to navigate to the sport you want to bet on
3. Find your game and market
Now you have selected your sport, you can scroll to the game or games you want to bet on. On the main page, you can find the option to bet on the spread, moneyline, or total. If you want to see more markets, tap More wagers.
4. Making your picks
Choosing what to wager on is as simple as tapping the odds box to add the choice to your selection. You can make one or multiple selections and add them to your bets slip.
5. My Bets
When you have finished with your selections, click My Bets, then betslip. Here is where you add in the amount you want to bet. Add in your chosen amount in the wager box and you can see how much you will win if your bet comes in.
6. Submit bets
Press place bet and your wager is now on. You can keep track of your bets in the My bets sections. After the game or event has happened, your bets are usually settled within a few minutes.
FanDuel Betting Basics
Before jumping in and placing a bet, it's recommended that customers have at least a basic knowledge of sports wagering. Essentially, we can split this into three categories, namely betting markets, bet types, and odds. Let's look at each element in more detail in this sports betting guide: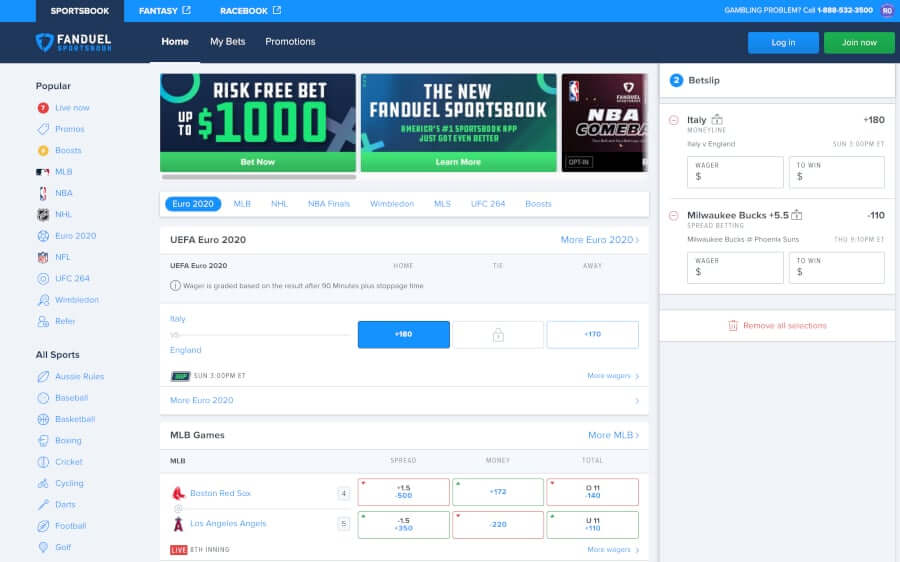 Markets
There are loads of different betting markets available, and, of course, you'll find variations between sports, such as the scorer of the first touchdown in an NFL match compared with the first team to hit a home run in the MLB. That said, some markets cover all sports and events.
Moneyline
The FanDuel moneyline is a straight-up wager on the outcome of an event. As the moneyline is typically a 2-way bet, the favorite is shown with the minus symbol (-) before its odds, and the underdog has the plus symbol (+).
Spread
Betting the spread is a popular market at FanDuel Sportsbook. Unlike the moneyline, which is a wager on who will win; the spread is a bet on how many points they will win by.
Here's an example of the spread for Minnesota Timberwolves vs Golden State Warriors.
Timberwolves – spread is +5.5. Odds are -110
Warriors – spread is -5.5. Odds are -100
Effectively, the spread has neutralized the difference in the betting odds; however, one side is given a points handicap (Golden State – 5.5.) while the opponent has a points advantage (Timberwolves +5.5). So, if you bet on the Timberwolves at +5.5, you basically begin the match with a 5.5 point head start.
Let's say the final score is the Warriors 110 – Timberwolves 105; you win the bet because the +5.5 spread is added to the result (110 – 110.5).
Total
Also known as over/under, this is a bet on the combined total number of points/runs/goals scored in a game by both sides. For instance, the over/under on the LA Lakers vs the Celtics could be 210.5. An under bet wins if the combined totals (in regular time) are lower than 210.5. An over bet wins if the combined totals are more than 210.5 points.
Different bet types with FanDuel
Now that you have a grasp of the main betting markets, our FanDuel tutorial introduces three popular bet types.
Straight-Up
A straight-up bet is a single selection on any match and market. You can bet on a team on the moneyline, to cover the spread or go over/under on a total. If your wager slip only has one bet on it, it's known as a straight-up.
Parlay
A FanDuel parlay is a single-stake wager, but it involves two or more selections on your ticket. You can combine different sports and different markets with a parlay bet. For example:
Boston Celtics to beat Detroit Pistons (moneyline)
Green Bay Packers -5.5 to cover the spread against San Francisco 49ers (spread)
Miami Heat vs Chicago Bulls – over 202.5 (total)
With this three-selection parlay, each pick must win. For this increased risk, the odds are multiplied together, so the payout is more than it would be if you placed three straight-up bets.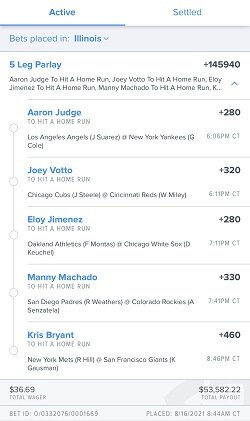 Teaser
Teasers are popular because bettors can adjust the spread to their liking. A teaser bet must have two or more spread bets. These are combined into a single bet, and then the customer sets the spread total. However, the spread is fixed (at the same mark) for each selection in the teaser.
Reading the Odds
It goes without saying that you need to be able to read (and understand) the odds to find good value in the markets and hopefully place successful bets.
American (US) odds use minus (-) and plus (+) symbols. If the symbol at the front of the odds is minus (-), the odds reflect how much a bettor needs to wager to win $100. If the symbol is minus (+), the odds reflect how much a bettor would win if they wagered $100.
For example, in the NCAA Men's, Wisconsin are -315 and Nebraska are +250 on the moneyline. Therefore, you need to bet $315 on Wisconsin to win $100. However, if you bet $100 on Nebraska, you'd win $250.