BetMGM App
With the recent news that BetMGM has launched its sports betting app in Indiana, we thought it would be a great time to provide you with a full and detailed review and guide of how to use the overall mobile app and what it offers. We will tell you how to download the BetMGM app, how to bet, the banking options available and also what we think of the overall experience. We will also of course go into detail on the range of mobile sports betting options available. You can now bet on sports using the BetMGM app in the states of New Jersey, West Virginia and of course, Indiana. Players in New Jersey can also take advantage of casino games through the BetMGM casino which is part of the app.
To download and install the new BetMGM Sportsbook app (in any state) just follow these simple steps:
How do you download the BetMGM Sportsbook Android app?

Go to betmgm.com and select your state. Use the Register button to sign up for your account. Then from the main menu on the left, select Sports and then Android app. Tap on the Download button and press OK to let the betMGMSports.apk download. Press install, open the app and then log in.

How do you download the BetMGM Sportsbook iPhone app?

Getting the app is really easy to do. Head to betmgm.com and select your state. Use the Register button to sign up for your account. Then from the main menu on the left, select Sports and then iPhone app. Tap on the Download button and you will be taken to iTunes, where you can press GET and install the app
BetMGM Overview
We are pretty sure that you have heard of MGM before. They are one of the most well-known and respected gaming and gambling brands in the world. They pretty much own the majority of the Las Vegas strip and have Casinos, hotels and resorts all around the globe. MGM have partnered up with online heavy weights GVC to bring to market their mobile Sportsbook app initially to New Jersey bettors, and now also to West Virginia and Indiana. Now with the app, you can wager anywhere in the state of Indiana, West Virginia and New Jersey, all from your smartphone! Before you can wager any money, you will need an account, and to get one only takes a few minutes. Just go to betmgm.com and click the register button.
When you join the BetMGM online sportsbook, you will have to give some registration details such as your name, cell number, address, date of birth, email and you will also be asked for your last 4 digits from your Social Security number. Don't worry, BetMGM are fully licensed by the Indiana Gambling Commission (and also in NJ & WV too) so you know when you give your SSN that your information is 100% safe & secure. Then all that's left to do is choose a username and a password; make a real money deposit and you are ready to go!
One of the great things about BetMGM is that through one account you can play at the New Jersey Sportsbook and also use the online Casino (when in NJ that is), and online Poker room, using just the 1 log in. You can go back and forth wagering on sports or playing Texas Hold 'em or even playing slots or craps.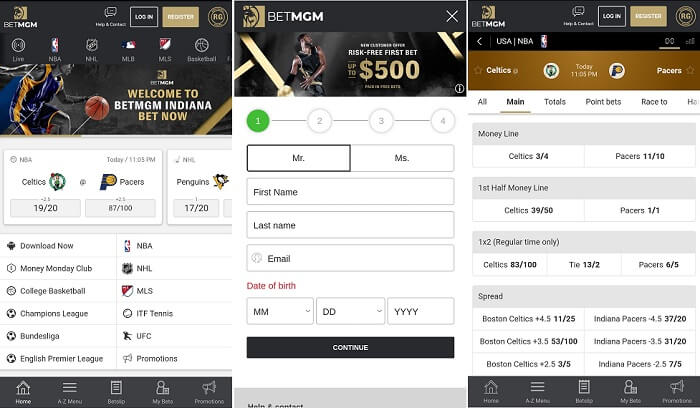 BetMGM Sportsbook features
Since its initial launch back in 2018 (formerly known as PlayMGM), a whole host of improvements have gone in to making the BetMGM sportsbook app a whole lot better. This includes an improved, better design with far better usability. When it was first launched, it was pretty bad. It has improved a lot over the last 8 months. The app is identical in design regardless of the state you use it in (apart from the missing casino in IN & WV). The app is also identical on Android, iPhone and also the mobile site. So no matter which platform you want to wager from, you get the same top draw experience. A powerhouse like MGM weren't going to let Draftkings & FanDuel steal all the limelight after all. The re branding has also seen a whole host of exciting new features including Edit My Bet, in game visuals and Track your bet. This is now the app that the playMGM mobile should have been all along, so a great call all round to make the improvements.
The BetMGM online sportsbook is set up very much the same as the desktop version with pretty much all the same offerings. The normal website is also available in Indiana, as well as being accessible in all states, you can only wager in one where MGM hold a license. The mobile app lets you bet on all the same sports and events, just not tied down to your laptop or PC. The new design is so much better than the fist version. Featuring a white background, the text is in black making it easy to read and then there are gold accent colors, it works well. There is a lot of information available via the sportsbook mobile app, and it is still very easy to navigate even on smaller device screens as well as larger devices. Registering, signing in and managing your account is all easily done. The mobile app really does away with the need to ever use your laptop as you can manage your whole account on your cell.
There is a range of betting tools and features to help you maximize your wagering with BetMGM Sportbsook, including Cash out and Live in Game or In Play betting. Cash out for the majority of testing we did was reliable and we didn't face any issues in leaving the bet early if we didn't think it would come in. The In Game betting is OK but is an area that needs more sports adding to it, something we hope the operator does soon. Soccer betting options are done quite well and there are always several game props to choose from. A great new feature, called Track Your Bet gives bettors Live scoreboards and visuals where you can track your bet in real-time across many of your favorite sports. You will also fins a feature called Edit My Bet. This option gives you more control over your wagers by allowing you to change any straight, or parlay bet that has Cash Out available. If you don't like how your bet in panning out, then hit the edit my bet feature to change it.
When you open the app or mobile site, you will see there are 2 main menus. Navigating your way around the BetMGM sportsbook app is easy. The top left menu will give you access to the Sportsbook Home, Help, Responsible Gambling info, T&C's, House Rules & Contact info. The secondary menu holds Live (for live in-play betting), Boosted Bets, MLB, Football, NHL, Basketball, Soccer and a handful of other popular sports. You can find a full A-Z in the bottom of the page as well as area dedicated to your bets, aptly called My bets. Lastly, there is the Betslip where you can add all your picks and sections to, then set you wager. Overall, the design of the mobile app is simple but effective.
BetMGM Sports mobile betting
The BetMGM online sportsbook app gives players a huge variety of sports to bet on, including:
Football
Hockey
Soccer
Baseball
Basketball
Tennis
Formula 1
Boxing
Cricket
Combat Sports
Aussie Rules
You can find and bet on all the most popular sports and competitions. We are very impressed with the range of options and sports on there and you will never be short of something to wager on. The NFL, NHL, MLB, NBA and Soccer are well represented. Soccer in particular covers a really good range of markets and leagues, with great coverage eon the MLS but coverage over the pond for The Premier League, Champions League and international tournaments all available for you to bet on.
BetMGM online Sportsbook also supports a good range of bet types and you can do all of these on the Sportsbook:
Round Robins
Spreads
Points Spread
Futures
Moneyline
Parlays
Like any regulated Sportsbook in the US, you must have location enabled on your mobile in order to use the BetMGM sportsbook app. This is essential to prove you are in a state where sports betting is legal. You can sign up and register for the book anywhere across the country, you can even fund your account, but you can only legally wager if you are in one of the allowed states. If you try and use the BetMGM sportsbook app outside of state borders, your wager will not go through. The Geo Locating software can pinpoint your location to the dot and then prove you are in a legal state line. You can download the BetMGM app from anywhere in the globe and even register, but you must physically be in the state to wager.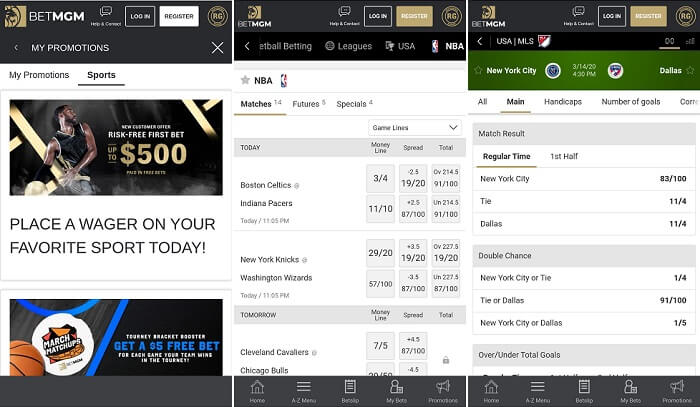 Market choice across the sports with the BetMGM sportsbook is exceptional. Especially on Football and Soccer. You will find thousands of wagering opportunities in the palm of your hand every day. The BetMGM sportsbook is well known in the industry for having prices for wagers that are above average. We have always found that odds are also posted very early on which helps when trying to make informed bets for the day. There is live betting available on the app, allowing you to bet on events as they happen, we will cover this in more detail below. Research suggests that they offer more proposition bets than other online New Jersey sportsbooks do in relation to live betting. Making the BetMGM sportsbook app a very attractive sports betting option.
Soccer fans won't be disappointed with the offering on live betting with BetMGM sports. The app goes above and beyond other sportsbooks, offering such wagers as Asian Handicaps and 3-way bets. There is also a Boosted Bets feature where you can get increased odds on various events for an even greater pay-out should that wager land. This is not available on all sports but is available across Football, Basketball and Soccer currently.
On the BetMGM Sports home, you will see many of the days big events coming up, and you can see those events with different odds formats too. For example, for football games, you will see the spread and totals as well as the moneyline pricing. They will have events on the main page and then at the top a link to all the games for that sport that has current odds posted.
This latest version of the sportsbook app from BetMGM gives you complete control over your account. You can add funds, withdraw and update your details all from within your account. Check scores, see team line ups and sections, see game times and more. Its a great all round sportsbook app and one worth definitely considering if you are in IN, NJ or WV placing your wagers.
BetMGM Sportsbook bonus information
Like nearly all Sportsbooks BetMGM offer a new player bonus. Through the BetMGM online sportsbook app, you can take advantage of some great bonuses and promotions. A brilliant sign up bonus is available to all new users at BetMGM. The offer provides a matched betting bonus up to $500. Basically, if your first bet loses with the book, your bet will be refunded in the form of a free bet up to $500, making it a nice risk-free bonus. This is one of the best online betting offers currently available in Indiana and also available to players in West Virginia and New Jersey as well.
BetMGM also run several other sportsbook bonuses and promos as well. They are always changing and will depend on what sports season it is. For example, during the summer, they have bonuses for MLB, and for the fall, they roll out bonuses for NFL, college football, and soccer, plenty of chances for you to place a risk-free bet. We have always found BetMGM to be one of the better online Sportsbooks for bettors when it comes to generous bonuses and promotions for bigger events. When bigger sporting events are happening (think Super Bowl, March Madness etc), there are more bonus options. The World Series also get the bonus treatment so its always worth looking on the promos tab to stay up to date with the offerings.
What could be improved on the app?
When the online Sportsbook was first launched in NJ, it didn't tick a lot of boxes. Layout was pretty awful and it was clumsy and difficult to use. The same applied for the app. It was not one we anted to wager on, or to recommend. Luckily, MGM fixed this and this new version of the BetMGM app (Mobile, Android & iOS) has ironed out all the issues, so there isn't that much we don't like. We wanted like to see a Live chat customer support option option was a feature we were after, and low and behold, the new version has one. We have always preferred a live chat facility to solve any issues in a quick and timely manor. Live sports streaming through the BetMGM sportsbook app was another feature we wanted to see, and  the good news is that this has now been added too.
At the minute, there inst a huge amount of Indiana mobile Sportsbook app competition so BetMGM will sit quite comfortably as one of the books we recommended. Will it give the likes of BetRivers and DraftKings a run for its money? We are pretty sure it will!
Support
There is a good level of support available with BetMGM sportsbook. You can get in touch with them via the app, mobile site and of course on the website. They are available via Live Chat, email and also phone support. You can find some handy FAQs and guides built in to the site so most of your questions can probably be answered there. Information about deposits, withdrawals, Geo location questions and many more Q&As are available.
Cashier & Banking Options
The BetMGM sportsbook offers a wide array of banking options for both deposits and withdrawals; available on the full website and on mobile. Deposits and withdrawals can be taken care of through the Android & iPhone mobile app exactly the same as the desktop site. Make sure you are logged in then access the cashier facility built into the site via the account area. The minimum deposit at the book is only $10, and the maximum deposit amount will differ depending on your deposit method. This may be increased if you contact the BetMGM customer service department.
Options available include:
ACH/E-Check
Bank wire transfer
Cash deposits at select PayNearMe stores and at 7-11's stores
Visa & MasterCard
Neteller
Cash deposits at the cashier window at the Borgata Casino in Atlantic City
Withdrawal times will also vary too depending on what method you choose.
BetMGM Sportsbook app verdict
Indiana bettors looking for a new Sportsbook with a great range of sports and betting options can do a lot worse that this offering from BetMGM. The app is easy to use, well laid out and in terms of lines and offs, good pricing too. Will it be enough to get you to use them over a firm favorite like DraftKings? There is only one way to find out! So why not download the BetMGM mobile app today, sign up and see how you get on.
FAQs
Do you have to be in Indiana to use the BetMGM sportsbook app?

You can now use the BetMGM sportsbook app in Indiana, New Jersey and West Virginia, however you have to be within that state's border to do so.

As long as you are aged 21 or over, BetMGM provides legal sports betting on their online sportsbook app in Indiana, West Virginia and New Jersey.

How do I place a bet on the BetMGM Sportsbook app?

BetMGM mobile betting is really easy on the app. Just tap on the odds of any sporting event you would like to wager on, and the odds will appear in a betting slip on the app. Then just type in the amount you want to wager and tap 'place bet'.
A great new addition
The BetMGM sportbsook is a welcome addition to the state. Offering up some great feature in a easy to use, well designed app. Great odds and markets are available on your cell.
STANDOUT FEATURES
Great design
Money back offers
Excellent markets & coverage

Place A Risk Free Bet Up To $500
Play Now