Sportsbooks With Cash Out
In Game, or, In Play Cash Out is one of the best features introduced to a sportsbook. There is now a range of Indiana Sportsbooks that offer this awesome feature – online and on mobile betting apps.
With Indiana online sports betting being a relatively new concept, many may not be aware of the benefits of creating an account and playing at an online sportsbook. One of the major plus points of using online sportsbooks is having the ability to utilize sportsbook cashout. A cash out bet is sometimes referred to as 'buy out' and has become one of the most popular features for bettors using online sportsbooks.
In this sportsbook cash out guide, we will look at the cash out meaning and how sports bettors in Indiana can benefit from this feature. We will name the current online sportsbooks that offer cash out in Indiana, so you maximize the potential of those risk-free bets that they offer.
Best 8 US Sportsbooks with Cash Out Feature
If you want to use an online or mobile sportsbook in Indiana for cash out, the best operators to use are
As well as being able to cash out real money, the above Indiana sportsbooks will also offer various promotions and bonuses. Players in Indiana can access a DraftKings promo code and a FanDuel sportsbook promo code to get their bankroll off to a great start. There are other books in the state who also offer a new player free bet offer to players, ranging from $1,000 risk-free bets to football betting promo codes.
Unlicensed books such as Bovada may offer Bovada cash out in Indiana, but the risk of losing money is more significant as they are not regulated. If you are new to sports betting, you may want to have a look at our guide to signing up to an Indiana Sportsbook.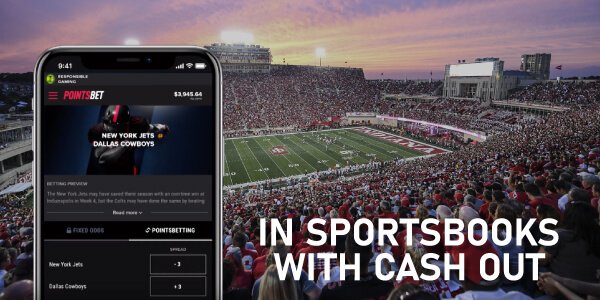 What Does Cash Out Mean?
If you are interested in online sports betting, it is worth knowing how you can maximize the potential of you winning some money. Any advantage you can gain when it comes to betting is massively beneficial. The term cash out maybe a new one for sports bettors in Indiana; however, it will be familiar to lots of people worldwide. Cash-out is a fantastic option for bettors who are not confident that their bet will win or want to mitigate potential losses on a wager.
Using the cash out or "In Play cash out" feature allows players in Indiana to get money from their bet before the event has finished. You will have to accept a payout that would have been less than the full potential win; however, you guarantee yourself some returns no matter how the event or competition ends up.
As a cash out bet occurs during a live event or competition, they can also be referred to as 'live' or 'in-game betting.' Cash outs could also be offered on longer-term bets like Futures bets. For example, if you were to be on baseball, you might place a bet on the World Series winner at the beginning of the regular season.
If you are still wondering, what is a cash out? Let's use an example. You want to bet on an NFL game and place a wager at odds of +100. Naturally, being in Indiana, you decide to get behind the Colts to beat the Jaguars. If you place a classic bet, the most you can win is $20, as you would get a $10 profit and the initial stake back. However, let's explore the scenario where the Colts are up by 3 points with 2 minutes left on the clock, and the Jaguar's offense is on the field. You are still set to win the bet; however, you are also concerned the Jaguars might score points on this drive. You don't want to risk losing the bet and winning nothing, so you choose to use the cash out feature.
How to use Cash Out Option
The cash out feature is only available for online sports betting and on an Indiana betting app, so you can use this option on the best sports betting books via a computer or mobile device. Players can access the active bets section of their sportsbook account to view the current cash out price. You should also be able to see the cash out offer on your live football betting slips or any other sports you have wagered on. If cash out is an option, players may click the relevant button and buy themselves out of a bet by accepting the sportsbook's price.
Once that has been done, the money will appear in the player's online account. Before you start betting, you should be aware that not every bet will offer cash out as an option. Sportsbooks approach cash out in different ways, so make sure you read what bets have cash out available before betting. For bet-specific guides, you can also read here on how to bet on DraftKings and how to place BetMGM sports bets.
Should you use the Cash Out Feature?
With sports betting in Indiana become more mainstream, sportsbooks are likely to offer cash out as an option as more go live in the state. If you are using the DraftKings app in Indiana, you can lock in some profit before the action is over. With In Game cash out now being offered by most sports betting platforms globally, should you use it? A lot of factors need to be considered before you come to your decision.
There are two significant benefits for sports bettors in Indiana if they decide to bet cashout. First, bettors can get at least some winnings firmly secured in their online account without worrying about how the event may end up. Sports fans know that anything can happen in the final minutes of a match, especially if it is close, so you reduce the variance by using cash out. This gives you an element of control over your bet, a rarity for live betting. Losing a bet is frustrating, but if you can take some consolation from a sportsbook in the form of some money back, it is not a total loss.
Sports betting cash out comes with a lot of give and take between the bettor and the sportsbook. If you choose to buy yourself out of a winning bet for a profit, the amount you receive will naturally be lower than if you let the bet come to a natural conclusion. So, the bettor is giving the sportsbook something back, while also reducing their own risk and ensuring they win some money no matter what. This is where the give and take comes into play.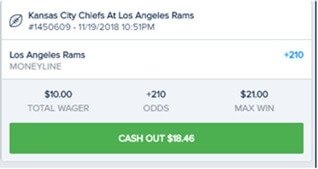 If you are using an Indiana online sportsbook that offers cash out, the final decision will ultimately come down to how confident you are when betting and how much you are willing to lose.
How is Cash Out Calculated?
A 'cash out calculator' is based around the odds offered on any single bet. The sportsbook will determine a value or price based on individual factors and then provide the customer with an offer. With this cash out offer, the sportsbook believes the final price is the wager's current value. For example, if you were using Caesars, the Caesars sportsbook odds will change, reflecting what is happening in the live event you are betting on.
As live and in-game betting continues to gain momentum in the licensed US betting market, sportsbooks are becoming efficient with the live odds that they offer. As a result, Indiana sportsbooks will be proficient in the prices that they provide for cashouts.
Traditional betting types, such as point spreads and moneylines, determining the value is straightforward. However, other types of bets, such as futures and parlays, can be more complicated. Future bets are long-term, so it will be a while before they get settled, and plenty can change in that time. Parlay bets have several legs, so if only one has finished and there are still more to go, it becomes tricky for the bettor to decide if they should cash out or not. A cash-out bet is determined by live odds and mitigating the risk based on the original wager amount.
Why do Indiana Sportsbooks Offer Cash Out?
If you are betting in Indiana and choose to use cash out, there are benefits to both the bettor and the sportsbook. The one clear advantage for the bettor is that they can guarantee themselves some monetary return or minimize losses, and the same applies to the sportsbook. If a sportsbook in Indiana offers you the opportunity to buy yourself out of a winning bet, it won't be for the total amount, so the sportsbook saves some money. If the best is losing and the customer chooses to cash out, the sportsbook guarantees their own win while the bettor remains engaged and won't look to use other platforms.
Moreover, there are numerous free play bonuses from sportsbooks how bettors can use these offers to their advantage with cash out. For example, if you use sportsbooks in Indiana, such as FanDuel and DraftKings, they will offer fantastic odds on future bets. If you were to place a wager on the team to win Super Bowl at the beginning of the regular season, and that team reaches the playoffs with a healthy winning record, you can use one of those sportsbooks to cash out and lock in a nice profit.
Although you won't receive the total amount of the bet, you will still get something back. Moreover, as football fans will be aware, things can change dramatically in the playoffs, so even though your bet may look healthy, it could lose in the first round of the playoffs, and you end up with nothing. Thankfully, there are a lot of football cash out betting sites in Indiana too.
Sports betting sites will always offer incentives and bonuses, such as risk-free bets to keep players coming back. You can also select cash out betting apps catering for specific markets, including NFL betting apps, NBA betting apps, MMA betting apps, and soccer betting apps.
Can you go Back on a Cash Out bet?
Any cash out offered by sportsbooks in Indiana is final. Once you have chosen to use cash out, the bet will be settled at the current value. If you regret your decision and feel you may have been hasty, you cannot go back to the sportsbook and try and claim the original bet amount. This emphasizes the risk and reward element of using the cash out feature. The odds are changeable, so you need to ensure you maximize the value at the correct time.
Sportsbooks With Cash Out FAQs
What is cash out, and how does it work?
Our guide above on how to approach cash out with sports betting in Indiana contains information on how to use this feature. You can elect to buy yourself out of an active bet before it is finished to lock in some money or reduce your losses. It makes watching live sports more exciting, and cash out is available with some Indiana sportsbooks. You can learn here how to cash out or place bets on FanDuel.
When can you cash out a bet?
While the event is still happening and hasn't finished, you may use cash out. A single game cash out occurs before the event ends; however, cashing out a parlay bet must happen before the last game is over. You can cash out of a futures wager until no bets are allowed to be taken for the event.

So now you know what Cash Out is and what sportsbooks in the state offer it, there is no reason not to use this awesome feature to get the most from your wagers.