FanDuel Sportsbook App vs. DraftKings Sportsbook App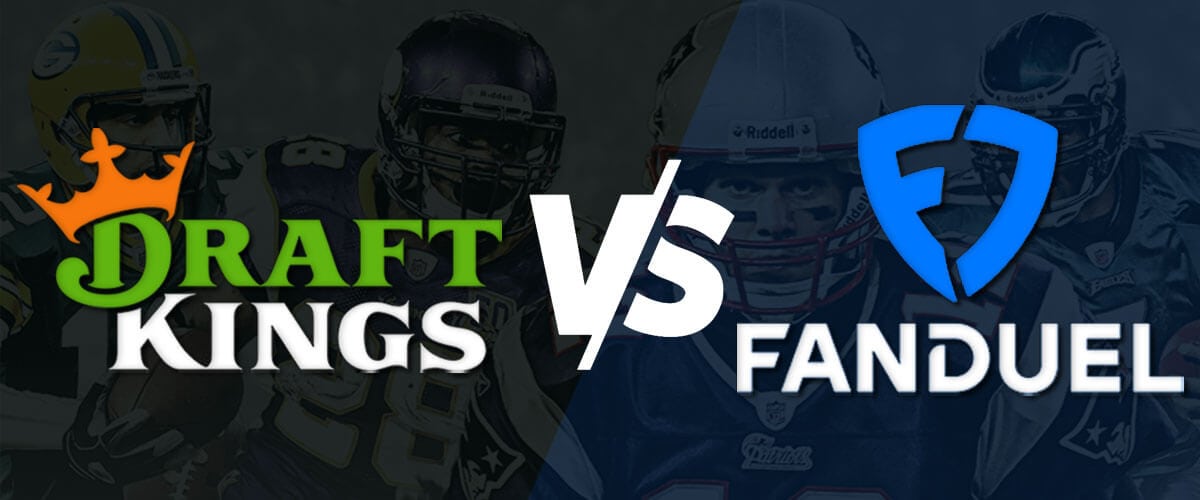 After the launch of online & mobile sports betting in the United States, two sports betting operators have emerged as clear market leaders. They are undoubtedly the two most prominent names in sports betting when people are looking to wager online or a mobile app.
The two companies in question, FanDuel sportsbook, and DraftKings sportsbook have managed to corner specific states successfully, and together they lead the way. Both have amazing sports betting apps, but which operator really offers the best mobile sports betting experience? DraftKings app, or the FanDuel app? Let's take a look.
The key question that always comes up is, which sportsbook app is better? Should you choose FanDuel or DraftKings for football? Is it easier to make money on FanDuel? We thought it would be good to put DraftKings and FanDuel apps head-to-head to determine which is the option for you.
We have conducted a detailed FanDuel sportsbook review along with its major competitor. Consequently, the primary aim of this article is to compare them in different categories to give you all of the critical information when you come to decide which one to use.
One thing we must establish before we get into the details is that no matter how the argument is presented, the result is always going to be subjective. Everyone has their favorite sports teams and their favorite book to bet with one of the big two or DraftKings and FanDuel alternatives. However, that is not to say that our background and knowledge in online and mobile gambling can't provide you enough to make an informed decision.
$1,000 Free Sign Up Bonus
Bet on every sport
Competitive odds
No Sweat First Bet Up To $1,000
Massive sports betting options
Trusted name
App showdown: DraftKings Sportsbook VS FanDuel Sportsbook
Taking all things into consideration, we feel there are seven significant categories when it comes to judging a sportsbook: Odds, betting app appearance, sports markets, payment options, welcome bonus, mobile app, and customer service. We completed our review of the DraftKings sportsbook or indeed a DraftKings competitor; these are the critical criteria we would examine.
Of course, people will want to know which are the best daily fantasy sportsbooks, and should I go with Draftkings or FanDuel for football betting? Additionally, if you are playing in Indiana, are both included in the list of live IN sports betting apps?
Before we get stuck into the virtues of both, it would be wise to see where you can actually use FanDuel and DraftKings. The good news is they are largely available in the same states. Both apps and online sportsbooks are live in Indiana, New Jersey, Pennsylvania, West Virginia, Virginia, Michigan, Colorado, Iowa, Illinois, Tennessee, Michigan, and Wyoming.
We have no FanDuel insider information or bias in this fight. Both are fantastic betting options for online sports, and we would recommend either. With that said, let's look at the differences of both to help you decide whether you should use the DraftKings sportsbook or FanDuel sportsbook.
Odds
The difference in the amount of money you can win is always going to be vital when you are deciding which online sports betting platform to use. In terms of FanDuel VS DraftKings, the first thing to say is both wouldn't have enjoyed the success they have if they didn't offer good odds. However, determining who offers the best in this specific department is challenging.
From our research, we feel that the best value comes with the DraftKings sportsbook. This is because DraftKings uses renowned sportsbook provider Kambi, known for its fantastic pricing of markets. We need to point out too that odds are the same on the mobile app as they are on the desktop betting site. You will find there are mobile-specific offers available from both operators, including price boosts and enhanced odds that you won't always get on the regular site.
That does not mean to say that there is a FanDuel ripoff regarding odds and prices. However, they are slower to react and update the odds. This can be put down to the fact that Kambi is unrivaled when it comes to setting odds. Additionally, FanDuel seems to juice up the lines more than DraftKings.
Winner: DraftKings sportsbook app
Best for: Those looking to get the maximum return on their wagers
Mobile app appearance
What users don't want to see when they visit a sports betting app, or even an online sportsbook is a cluttered, messy appearance where you can't locate daily fantasy sports contests or major markets. Unfortunately, sports betting sites like FanDuel have launched in the US in the last few years with the intention of providing excellent wagering options but can make it difficult for the customer to use with an illogical interface.
The good news is that the general appearance and user interface of FanDuel and DraftKings are among the best in the business, but they differ.
DraftKings app comes with its classic dark background and green and white text in keeping with its brand. The result is a striking and straightforward feel. The sportsbook is easy to use; everything is laid out nicely and is entirely logical. One of the best aspects of the sportsbooks the 'popular sports' tab positioned across the top of the screen, which saves time if you need to get that last-minute bet on quickly. For example, 'DFS NBA' would be listed under this tab.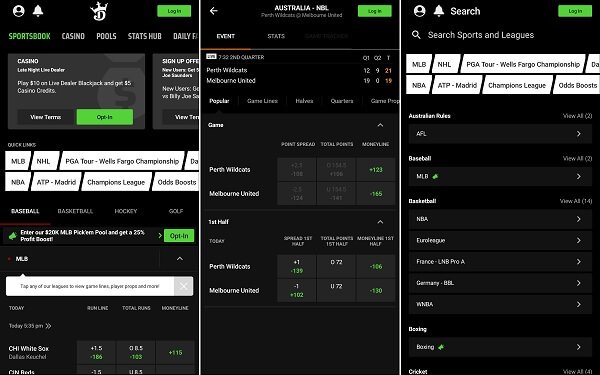 The menu is easy to use on the DK app and finding your way around is easy, no matter if you are a rookie or have been in the betting game for an age. The app is fast and navigating between events and markets is easy. Generally, we have never had any real problems with the DraftKings sportsbook app, but when we have they have been easy to rectify. The main menu on the footer of the screen makes it easy to jump to home, In-Game wagering, My Bets, All sports, and the all-important promos tab.
Switching over to FanDuel's app, the two couldn't really be any different in colors. Whereas DK is dark, FD's interface is very light. On first appearance, we feel more comfortable with the lighter design, it's a tad easier on the eye. FanDuel opts for the main menu on the footer of the app, the same as DK where you can get around and fine home, all sports, my bets, refer a friend, and account access. We would like to see a promos tab here to find all the latest offers but we can live without it.
There is a secondary menu at the top of the page to access live betting, promos, boosts, and quick links to all the popular sports including NFL, NBA, NHL, and free game access. We like this second option and it's always easy to get to the big games happening soon. The FanDuel display is highly polished with a very modern feel and getting around the app is kids play. Even your mom could easily find a game, select the odds and put down a wager.
You can clearly see the influence of parent company Flutter Entertainment here. They are responsible for European betting companies Paddy Power and Betfair, so they have extensive experience designing a sportsbook with the user's requirements in mind. Although the dark background of DraftKings falls in line with the 'dark mode' function that is noticeable in several social media apps, the navy blue/white combination of FanDuel is fantastic and easy on the eye.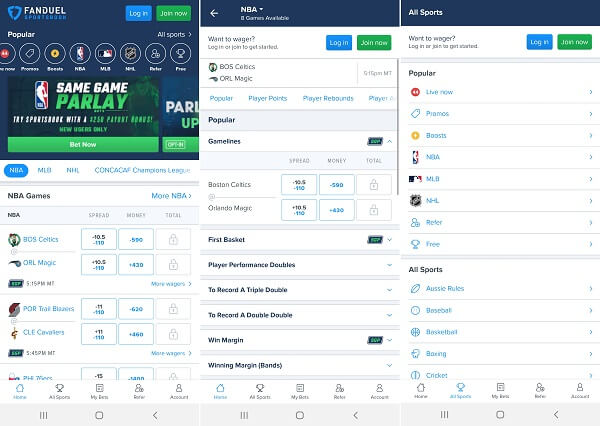 User interface is crucial. A sportsbook's appearance and ease of use go hand-in-hand. FanDuel has set the bar incredibly high in that regard.
Winner: FanDuel sportsbook app
Best for: Players who want a slick and fast mobile betting experience.
Mobile app usability & functions
It's all well and good having a car that looks amazing but you drive it and its like drives like a Pontiac Aztek. We have already said we prefer the look of FanDuels design, but does it do the job under the hood too?
As have mentioned above, FanDuel offers a fantastic user interface and a superb level of functionality. These two essential factors mean the app is easy to navigate and makes for a pleasant wagering experience on the go. The app is very stable and actually putting down a bet is easy. The my bets option tracks all your bets on the bet slip and it's easy to do multiple bet types on the app. We have had problems with the FanDuel app in the past, but most of these were sorted with an update to the latest version.
For example, upcoming bets or live bets are easily accessible through three well-designed tabs. Additionally, the layout of the app is identical to the desktop site, which means there is nothing that will surprise you when you download the app if you are familiar with the desktop site.
The DraftKings mobile app offers everything we have discussed and is also extremely reliable. However, in a straight Fanduel VS DraftKings sportsbook mobile battle, we give the upper hand to FanDuel. Finding odds and markets is so easy, and its clean layout means amateurs will discover using the FanDuel app more straightforward than the more cluttered DraftKings alternative.
Winner: FanDuel sportsbook app
Best for: Bettors looking for a super-fast reliable mobile betting platform.
Sports Betting Markets
If you visit the DraftKings sportsbook desktop site and scroll to the bottom of the page, you will discover a link titled DraftKings vs. FanDuel. Here, DK states that they have the upper hand in a few areas over the FanDuel sportsbook. In addition to DraftKings contest types, one of the suggestions is there are more sports to bet on with DraftKings.
As we have mentioned above, DraftKings uses Kambi to set markets and odds. Therefore, their declaration does carry some weight in that their partnership with Kambi means they can offer markets on even the most niche sports. The football markets are pretty awesome and they cover everything you could want to wager on. This makes them our favorite NFL betting app when it comes to wagering on football.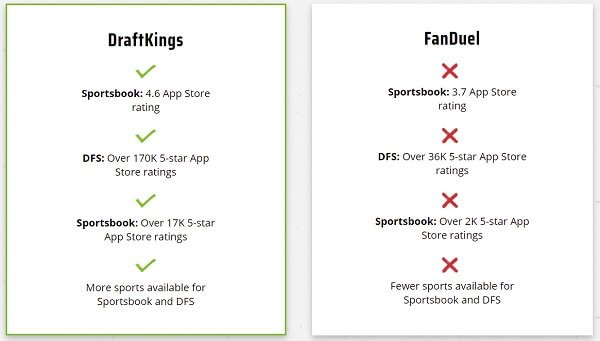 We must say, though, that FanDuel offers bets on every major sport that would appeal to the average punter. Additionally, there are all of the most typical FanDuel types of bets, including money lines, props, spreads, parlays, and teasers. Kambi enables DraftKings to have more variety and more options than just the standard wagers you would find on other sports betting sites. FanDuel and DraftKings offer a huge range of markets, but DraftKings is the better option in terms of variety.
Winner: DraftKings sportsbook app
Best for: Players who want to bet on a wider range of markets and sports.
Payment Options
Trustworthiness is arguably the most important factor to a bettor when choosing an online sportsbook. However, payment options are also right up there, so we thought it was worth comparing the two betting sites on payment options available.
DraftKings Sportsbook Deposit Options (Differs by state)
VISA/Mastercard
PayPal
ACH
Online bank transfer
DraftKings PrePaid Card
Cash at Cage
Check
FanDuel Sportsbook Deposit Options (Differs by state)
VISA/Mastercard
PayPal
ACH
Online bank transfer
DraftKings PrePaid Card
Cash at Cage
Check
Clearly, both offer more than enough options for you to fund your account from the list above. However, in this instance, we are giving the edge to Fanduel as they offer some methods that DraftKings does not. For example, the PayNearMe option gives customers a convenient way of depositing funds at their local convenience store.
Winner: FanDuel sportsbook app
Best for: Customers who like to vary banking methods and want their winnings back quickly.
Welcome Bonus
As the online sports betting market is full of competition, a new bettor will be looking for a generous welcome bonus. The promos FanDuel and DraftKings offer are attractive, substantial, and appealing. Although both are equally appealing, they differ in how they work, and each has its upsides and downsides.
The FanDuel welcome promo is presented in the form of a risk-free bet. In this instance, players make their first deposit (up to $1,000) and place their bet as usual. If the bet wins, they will get their money back as usual. The critical thing to note here is the risk-free element, as this means, if the bet loses, the sportsbook will cover the bettors' first deposit amount, and they will be refunded in site credits (within 72 hours) for them to use again. Consequently, a player is guaranteed to receive at least some money from their first bet, regardless of the outcome.
The DraftKings opening package is a 20% deposit bonus. This means the company will give you a $2 bonus for every $10 wagered (up to $1,000). If you want to get a $100 bonus, you must deposit $500. Additionally, to get the maximum $1,000 on offer, you will need to deposit $5,000. There is no need to use a DraftKings sportsbook bonus code to claim the offer.
Essentially, both promos offer the same amount. However, because the FanDuel offer comes with the added benefit of being risk-free, we believe that one is more appealing. Also, we must mention that you should look out for promo codes for free bets for both sites.
Winner: FanDuel sportsbook app
Best for: Bonus hunters who want the most value from a free bet welcome offer.
Customer Service
A massive component of ranking any sportsbook is how they treat their customers. If you need some assistance regarding a payment or the unavailability of a market, a good customer support team is essential. When browsing social media sites such as Twitter, we can see which brands are active in addressing customer issues 24/7. This is great to see, but being active on social media doesn't necessarily mean they are good at communicating via the standard methods.
Bettors at DraftKings have three ways to get in touch, including direct message, email, and post.  Support is available 24/7 but not via telephone. FanDuel has a live chat function which is open 24/7, email, post, and a telephone line open between 10 am-8 pm.
Both websites contain considerable FAQ sections. We would like to see DraftKings introduce a telephone option, as sometimes just speaking to someone directly is far easier than over an email, and it provides people with a level of comfort.
Winner: FanDuel sportsbook app
Best for: Players who have any problems and need to request support.
Who wins overall?
We have been using both DraftKings and FanDuel sportsbooks and apps since they were legalized in 2018 and finding a clear outright winner is a real toughie as both shine in different areas. It's like comparing Brady to Manning. Both are amazing in their own right and everyone will have their favorite. But, if we had to choose just one app to wager with, it would be FanDuel.
Overall winner: FanDuel sportsbook app
Download the app today on iPhone & Android at sportsbook.fanduel.com

Other sportsbooks you may want to consider besides these two, are the BetMGM app & the Caesars Sportsbook app, both of which also off an excellent mobile betting app and great overall betting experience.
FAQ's
Is DraftKings better than Fanduel?
As we mentioned at the beginning of this article, ultimately, the answer is subjective. It depends on what you are looking for. For example, we feel DraftKings has more betting variety, but the payment options are superior at FanDuel. We can confidently say that both sportsbooks are fantastic.
Are FanDuel and DraftKings the same company?
There was talk of both companies merging together, but that did not happen. Instead, different companies currently own them.
How does DraftKings make money?
DraftKings makes the majority of its money by taking a cut from sports betting, playing tournaments, and adverts on its platform.