Indiana Horse Racing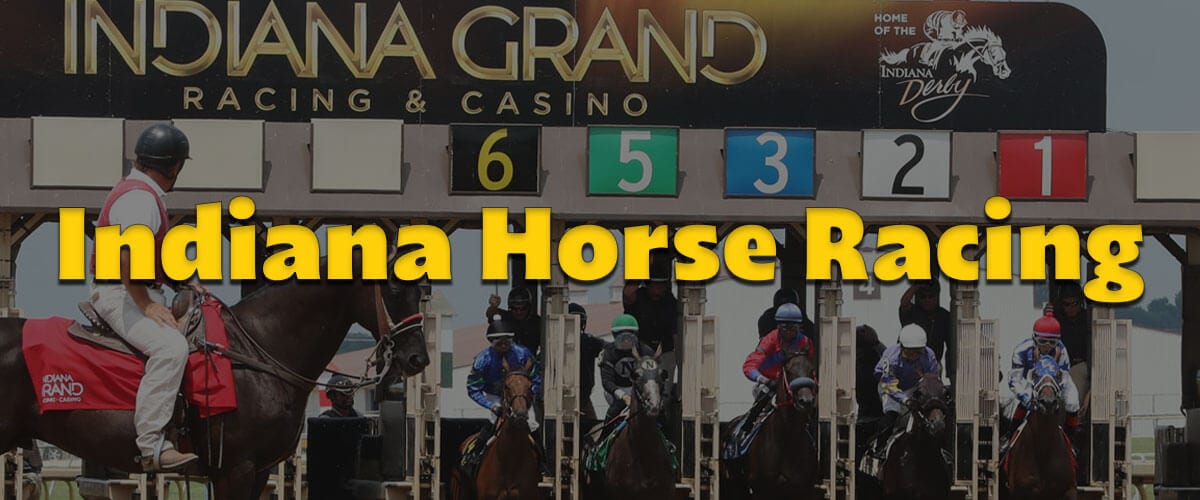 Horse Racing in Indiana is big business. It is one of the most popular sports to bet on, not just in Indiana, but across the whole of the US.
There are two major horse racing tracks in Indiana. The first being Harrah's Hoosier Park, located in Anderson, and the other is the Indiana Grand (previously known as Indiana Downs), located just outside Indianapolis in Shelbyville. Each of these horse racing venues is relatively new to the racing industry. Still, they have developed into state-of-the-art facilities, which are well supported by horsemen and Indiana horse racing enthusiasts.
Harrah's Hoosier Park is the older of the two tracks, having been established in 1994. It is the venue for several stakes races, including the Indiana Stallion Stakes, The City of Anderson Stakes, The Indiana Breeders' Cup, the Indiana Futurity, and the famous Indiana Derby. Hoosier Park Racecourse hosts both standardbred horse racing and thoroughbred horse racing events. Indiana Downs Horse Track also accommodates Standardbred and Thoroughbred horse racing and was founded later in 2002. It is a racetrack that boasts two courses, most noticeably a turf course that measures at seven furlongs in length, with the main course being a mile long.
Is betting on horse racing legal in Indiana? Yes, it is. You can bet in one of the race tracks located in the state, or by using a mobile app like BetAmerica, or the TVG Racebook.
All Indiana horse racing, including these two establishments, is overseen by the Indiana Horse Racing Commission. The Indiana racing commission ensures that thoroughbred, quarter horse, and standardbred horse racing adhere to the rules of racing, that all wagering is conducted to a high standard. That horse racing is developed and promoted positively.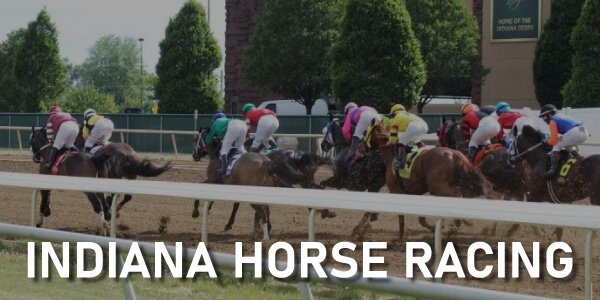 Indiana Grand Racing In Shelbyville, Indiana
The Indiana Grand Racing and Casino venue are in Shelbyville, Indiana. The IND racing track and casino are about 25 miles southeast of Indianapolis and is accessible off Exit 109 on I-74. The Indiana Grand gaming hall is the closest one to any other Indianapolis casino.
The Grand features a horse racing track, an off-track betting facility, and one of the biggest casinos you will find in Indiana – over 230,000 square feet of gaming space to be more specific. Indiana horse race tracks are one of the most popular ways to get involved in racing across the state.
Indiana Grand Racing and Casino have been in operation since 2009. The facility was initially named Indiana Downs and the Indiana Live! Casino. It was rebranded to Indiana Grand in 2012 and then was acquired by Caesars Entertainment in 2018. It is one of the best horse racing tracks available in Indiana.
Horse Racing At Indiana Grand
Indiana Grand is one of the only places in the Hoosier State that offers live thoroughbred and quarter horse racing. The Indiana race track hosts live racing seven months of the year.
The race track hosts the Indiana Derby every July. The Indiana Derby is a Grade III race for three-year-olds, ran on a 1-1/8-mile dirt track with a $500,000 prize pot.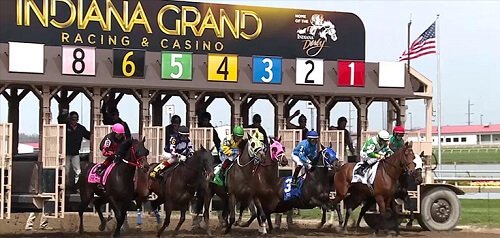 Not only do they host their own horse racing events, but they also stream live racing all national horse racing events using the TVG network on top of showing all the results from the day's horse races, eliminating the tedious task of looking up the Saratoga results if you placed a bet for that race track. If you want to bet on Horse Racing in IN, then the TVG horse racing betting online is the fastest and easiest way to get your bet down.
What Bets Are Available At The Indiana Grand?
You can place many bets while at the Indiana Grand racetrack. These include:
Win, place, and show
Exacta
Superfecta
Trifecta
Pick 5: Minimum bet for this bet is 50 cents
Straight Fire Pick 6: Minimum bet of just 20 cents; the mega jackpot carries over until one ticket wins.
You can additionally place bets on races from other tracks around the States while at Indiana Grand. The Indiana Grand simulcasts races from many tracks such as Saratoga NY, Gulfstream Park FL, and Parx Racing PA; you can use one of the kiosks found at the track to place a bet. Bear in mind that the Pick 5 and Straight Fire Pick 6 bets are only available on horse races at Indiana Grand and not on any simulcast races.
FastBet Wagering
The FastBet Wagering system lets you place bets on Indiana Grand horse races through your smartphone or tablet. You can get started with FastBet Wagering in just a few steps:
Create your free account with FastBet.
Fund your FastBet account with one of many available deposit methods.
Evaluate the horses available for wagering using the FastBet system.
You can then place your bets on whatever races you are interested in at the racetrack.
The system lets you complete your wagers without the need to wait in line for a kiosk or teller.
The ability to place bets using your smartphone and tablet also makes the research of the horses a lot easier. Using popular horse racing websites such as Equibase and DRF in conjunction with the FastBet Wagering can make selecting a winning horse just that much easier. They provide you with horse racing entries, insights, and tips for the day's horse racing, a weapon you certainly need in your arsenal if you are looking to make serious money on horse racing.
Winner's Circle Pub and OTB Parlor
You can even place bets on horse racing and other sporting events even when there is no action at the racing course. The Winner's Circle Pub and OTB Parlor feature numerous monitors displaying the latest horse races from around the country.
The Winner's Circle features a sportsbook run by Caesars Online Casino and sportsbook. You can review the latest betting lines on all your favorite sports from around the world. The Winner's Circle has screens to showcase the biggest games, including all NFL games under their NFL Sunday Ticket package.
At this Indiana sportsbook and OTB, you can visit kiosks where you can place your wagers and review the latest odds. You can cash in your winning ticket through these kiosks.
The Winner's Circle opens every day at 11 a.m., with betting becoming available shortly after. Horse Racing and wagering are available until 11 p.m. on Tuesdays through to Saturdays.
What the Indiana Grand Casino Has on Offer
There are over two thousand games at the Indiana Grand Racing Casino property. The casino features many games, including these:
Video and reel slots
Video poker
Blackjack
Craps
Roulette
Three-card poker
Texas Hold 'em
The casino also has video table games, including video roulette and craps tables with lower table minimums.
Earning Rewards
You can earn rewards while placing bets on horse racing or playing casino games at Indiana Grand Casino. The Caesars MyRewards system lets you earn points that can be spent on hotel stays, restaurant reservations, and other rewards at any Caesars property. It is also completely free to set up your MyRewards account.
Harrah's Hoosier Park in Anderson, Indiana
Harrah's Hoosier Park Racing & Casino has recently made a name for itself as Indiana's best up-and-coming racino. When sports betting was legalized in Indiana back in 2019, Harrah's Hoosier Park instantly staked a claim as one of the top operators in the Hoosier state, with over $4.5 million in revenue even though it does not handle quite as many bets as the FanDuel and DraftKings associated sportsbooks in Indiana.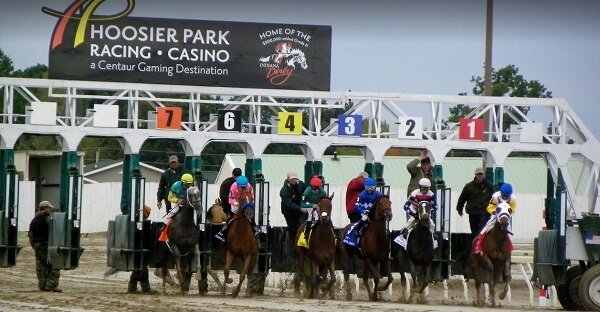 Harrah's offers players over 2,000 different slot machines and a wide variety of gaming activities. Its crown jewel is The Book, a state-of-the-art sportsbook that is located adjacent to the Terrace Showroom. The Book has luxury seating for 40 guests, eight LED odds boards, and an entire wall dedicated to live sports.
Horse Racing At Harrah's Hoosier Park
The racetrack found at Hoosiers Park is a 7/8-mile dirt oval that is very straightforward and simplistic in design. There is no turf course available at present, though if support increases, this could be a feature in the future. The first Indiana Derby was run on the track in 1995, and the track has hosted several thoroughbred stakes every year since. These include The City of Anderson Stakes, the Richmond Stakes, The Indiana Breeder's Cup Oaks, the Indiana Derby, The Merrillville Stakes, the Indiana Futurity, the Indiana Stallion Stakes for fillies, and the Indiana Stallion Stakes.
Mobile Betting At Harrah's Hoosier Park, Indiana
Harrah's Hoosier Park does not offer a state-wide mobile sportsbook like some of the bigger competitors, but it does offer a very convenient app for all of its in-house mobile sports betting, so guests do not have to move from their seats to place a bet. This app is compatible at Harrah's Hoosier Park, Indiana Grand Casino, and any Winner's Circle off-track betting facility. When using the app, you can craft any single game or parlay wager you want with guaranteed up-to-the-minute odds. Players can even collect their winnings on the go.
Off Track Betting in Indiana
Horse racing has a rich history in Indiana. However, although many states legalized pari-mutuel betting early, Indiana only introduced this in 1993. The first racetrack in the Hoosier State appeared a year later, and the first thoroughbred race accepting wagers took place in 1995.
Nowadays, racing in Indiana is thriving with a packed calendar. There are numerous ways you can bet on horses via simulcast races from tracks around the country at OTB betting locations. You may be wondering, 'what is off-track betting'? This page covers all of the OTB Indiana locations, including off-track betting online sites and how you can wager on the action from around the world.
Off Track Betting Locations In Indiana
If you cannot visit the tracks for whatever reason, you can bet on races from Indiana and tracks from various other states from OTB (Off Track Betting) venues. All OTB's are licensed to accept wagers and provide odds. Additionally, they can show simulcast live footage of the races. Some of the larger OTB venues may also have entertainment options for you to enjoy.
There are three OTB locations to choose from in Indiana:
Winners Circle OTB: Off-track betting Indianapolis Indiana is located at the heart of the city and offers a daily racing calendar and sports broadcasting. In addition to wagering on racing, this OTB Indianapolis location has a pub and grill, including the Triple Crown Club lounge, which requires membership. Opening hours are 11 a.m. to midnight Sundays to Thursdays, and it is open until 1 a.m. on weekends.
Winners Circle OTB: The off-track betting Clarksville Indiana, location sells itself as a Vegas-style lounge. Customers who visit will discover plenty of big screens to follow the action. There is a bar and other concessions also available. Opening hours are 11:30 a.m. to 11 p.m. Sundays to Thursdays, with the venue closing at midnight on weekends.
Winners Circle OTB: There is an off-track betting Fort Wayne venue named the New Haven Sports Bar. This quirky location offers a bar providing regular and craft beers and is home to a New Orleans-style restaurant called Voodoo BBQ & Grill. It isn't open as long as the other venues, from 11 a.m. to 10 p.m. Sundays to Thursdays, with closing time at 11 p.m. Fridays and Saturdays.
In addition to the locations above, both the Indiana Grand and Hoosier Park racetracks allow OTB on races around the country, including screens for simulcast racing.
We have all been there. Wanting to place a bet, but can't make it to the track. Luckily in Indiana, there are several OTB (Off Track Betting) venues available. If you don't know what an OTB is, this is a venue where not only can you bet on the races, you can also view the action live on screens and TV's as well.
Not only can you watch and bet on the action, most of the venues offer entertainment and also food and drink. The off track betting at Fort Wayne New Haven Sports Bar is one of the most popular places in IN to watch and bet on racing in the state. The venue also goes under the name of Voo Doo's BBQ Grill and Offtrack Betting.
Best Horse Betting Sites In Indiana
TVG
The TVG online horse betting site allows wagers on both domestic and international races. Bettors can use an app to bet on the move or visit the site via a desktop.
What Bets Are Available At Hoosier Park Racecourse?
You can place many bets while at the Harrah's Hoosier Park Racecourse. These include:
Win, place, and show bets
WPS bets that cover all three choices
Exacta
Quinella
Trifecta
Superfecta
Pick 5
Straight Fire Pick 6
FAQ's
When Does Horse Racing Start at Indiana Grand?
Horse Racing at the Indiana Grand typically runs from mid-April through to early-November.
Is Horse Racing Betting Legal In Indiana?
Yes. If the Indiana Horse Racing Commission licenses the operator you decide to use; you can legally bet on horse racing in the state of Indiana.