Run down of the best apps for Parlay Betting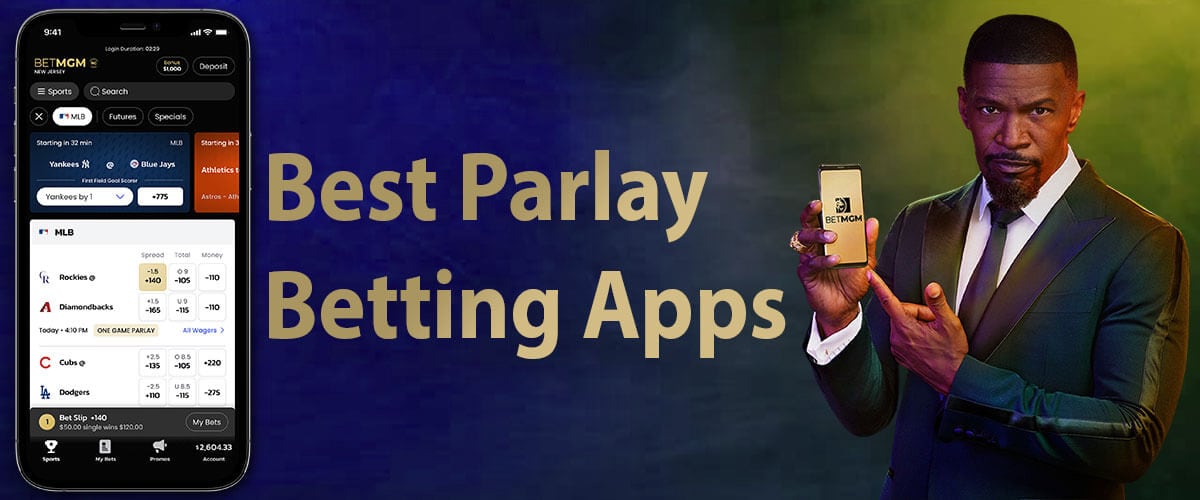 Parlays are taking the online sports betting world by storm. This is no surprise; their huge odds and fully customizable format make them one of the most enjoyable forms of sports betting.
There are plenty of apps and sites that offer parlay betting in the US, however finding the best ones to use can be difficult. Huge winnings are sportsbooks' worst enemies, so bookmakers often try to restrict the width of the markets for parlays; this makes finding the best site or apps for parlays even more difficult!
It's a good thing we have done all the hard work for you and selected the best parlay sports betting sites to use across sites and apps alongside a dumpster load of useful information and tips.
The best sports sites for Parlay betting
First Bet Offer Up To $1,500 In Bonus Bets
Massive range of sports
Extensive banking options
No Sweat First Bet Up To $1,000
Massive sports betting options
Trusted name
$1,000 Free Sign Up Bonus
Bet on every sport
Competitive odds
#1 BetMGM Sports
Without a shadow of a doubt, BetMGM is one of the best online sports betting operators that the US has to offer. Formed from the famous MGM family, BetMGM sportsbook offers a great standard of Parlay options.
One thing that stands out is the ease of being able to access the Parlay; simply add your selections to the betting line and above click parlay instead of a single. It clearly shows you which bets are valid for Parlay and which are not, something that can become frustrating on many sites!
The ease of access stands out on BetMGM sportsbook; they even have a search bar for you to find your desired fixture instead of scrolling through all the options.
If you are struggling to think of a parlay, then let the Parlay generator give you some inspiration or do all the work for you! Alongside this, the EasyParlay options can get you on your way to building your perfect parlay options on the MLB, NFL Pre-season, NFL, UCL, and much more.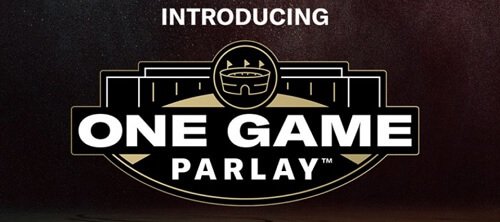 BetMGM sportsbook offers a range of boosts and promotions; keep an eye out for one-game parlay insurance bets and Parlay boosts that are sure to increase your winning odds considerably; your best chance to hit the megabucks!
#2 FanDuel Sportsbook
The FanDuel sportsbook is the most popular sports betting site in the US. Their constant stream of quality parlay-based promos is great for any player. Fan Duel has previously promoted several parlay insurance promos making sure you are in the best position to get your money back if a leg lets you down.
They were well ahead of the game when it came to Parlays offering a same game parlays before any other sites. Check out their single-game Parlay for the best sports betting experience you can get inside one fixture.
FanDuel Sportsbook is a great site to use when it comes to Parlay sports betting; the easy-to-follow skin and informative user faces make a parlay bet as easy as you like; don't forget their huge offering of a $1,000 risk-free bet!.
FanDuels parlay betting system is the most reliable, and without a doubt, they have the best single-game parlay options around! For this reason, they made it into our best app and website parlay sports betting sites.
#3 DraftKings Sportsbook
The old reliable. If you're looking for top-class sports betting, then you can never really go wrong with DraftKings Sportsbook. Draftkings catalog of sports betting is vast; they offer a huge amount of sports to create parlays with.
Why not create your ultimate future parlay! We have called: Wilder to win vs. fury; The US to win the Ryder Cup, and the Chicago White Socks to win the MLB: Totaling @+4268. Worth $20, right?
We chose Draftkings as one of our best online sportsbooks due to their consistency in the market; they always have extremely competitive odds and a solid amount of promos for you to sink your teeth into. They also offer game parlays on a great selection of sports betting lines.
A great feature that DraftKings used was their Parlay insurance. If your Parlay fails by one leg, then you can get your bet refunded to you as a free bet! This is not a current promotion but keep your eye out for it soon!
The best sportsbook apps for Parlay betting
No Sweat First Bet Up To $1,000
Massive sports betting options
Trusted name
10 x $100 Second Chance Bets
Huge new player welcome bet
Loads of bet types available
Up To $500 2nd Chance Bet
Easy to use app & site
Top welcome bet offer
#1 FanDuel Sportsbook app
Already ranking in our best parlay sports betting site, FanDuel Sportsbook is back again! As previously mentioned, its single-game Parlay is the best around, and the rest of its parlay options are great too.
Combine this with a user-friendly, aesthetically pleasing app; that allows you to keep track of your money, place your favorite bets, and scroll through large markets with ease; what's not to love?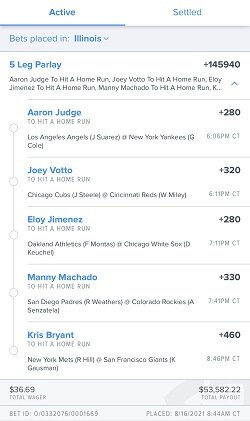 To make life even easier, they have a separate app for the FanDuel fantasy, meaning you can completely separate your sports betting experience from your fantasy sports betting; make managing your betting easy!
Out of all the sports betting apps, FanDuel lists itself as number one; we find this increasingly difficult to disagree with. It is so easy to use FanDuel sportsbook as your hub of sports betting, with other sports betting apps appearing to be playing catch up with the FanDuel app.
If you haven't tried FanDuel out yet, then get to it and claim up to $1,000 as a risk-free free bet.
#2 PointsBet app
In the world of sports betting, pointsBet is well established and renowned for being a reliable source when you want to make great sports bets. Points bet is a fantastic sportsbook, and their Parlay options are first class. PointsBet app is leading the way with its easy-to-use mobile platform for Android & iPhone.
From our experience, we found that PointsBet provided one of the easiest to navigate sports betting apps on the market. Alongside its ease of use, the PointsBet betting app provides so many dam good offers and a solid foundation of parlay options.
Every day on the PointsBet app, you can boost the odds of a Parlay; that is one hell of an offer. Another impressive feature is the Single game Parlay feature, available on the NBA, NFL, and MLB, which allows you to mix and match outcomes from a single game for some quick cash.
#3 BetRivers Sportsbook app
Another very well-respected sports betting app, BetRivers, has a solid betting app with a great selection of lines and decent odds. With a cool interface, a strong loyalty system, and numerous promotions across the board, BetRivers is a fantastic sports betting app for the iPhone or Android that you should definitely consider if you haven't already used it.
BetRivers has a completely unique feature called the Jackpot Parlay; this action-packed, crazy creation is found only at BetRiver's online betting sites and mobile app. It allows you to choose eight random selections across all sports and teams and combine them together to form a whacky parlay.
If this is not your style of online sports betting app and you think it sounds too out of control, then you can reign in the selections that you wanna use; Restrict what sports you want to bet on, choose the time period the Parlay plays over, choose the number of bets that you want to choose and change your stake.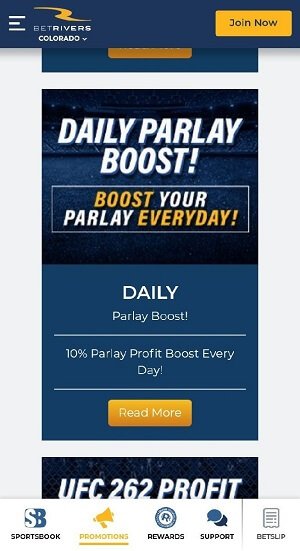 The all-rounder award (Best sportsbook app and site)
Let's take a look at what is the best all-round operator for fans of parlay betting.
FanDuel Sportsbook
After appearing in both our best sports betting sites and sports betting apps, it's no surprise that FanDuel sportsbook takes its deserved place as the best all-rounder sportsbook app.
Out of all the sportsbook apps, this is our go-to! FanDuel sportsbook is used as our comparison site quite often when it comes to promos and betting lines available; it is a very good marker to see if other sports betting apps are keeping up.
Why not try it out and claim up to a $1,000 risk-free bet.
The Cash-King (highest odds)
BetMGM Sports
Out of all of our experience of sports betting, BetMGM sportsbook always finds its way to the top of the pile somehow. BetMGM sportsbook provides the highest individual odds on sports betting and, as such, provides parlays that will take your stake out of this planet!
If you can catch a good promo, the BetMGM sportsbook will be unbeatable on odds for parlays, and you might even earn yourself a small fortune. Why not hit up their risk-free bet up to $1,000 dollars to test out your parlaying skills.
Some other notable apps that provide a good range of parlay options include Caesars, Fox Bet, Bally Bet and Barstool Sportsbook.
What is a Parlay?
A Parlay is a combination of two or more single bet selections into one wager. This means that your odds will increase heavily, but in most cases, if one leg lets you down, then you will lose the entire bet.
You can combine up huge amounts of single sports bets, with up to 20x legs available at BetMGM. Create your dream sports bet from your fingertips with mobile sports betting apps. For example, you could bet on several NFL teams from the New England Patriots to the Green Bay Packers in a playoff parlay bet in the run up to the Super Bowl. If you are a baseball fan, you can wager on the several games leading up to the World Series.
Don't think that you are restricted to betting on one sport, one outcome, or one league at a time; Parlays can be made up of numerous amount of options to create one of the biggest paying bets you will have been offered!
Parlays a very similar to a round robin bet. The difference is that with round robins you can still win cash if all of the teams in the wager don't cover, the payout will just be less.
Money-line Parlay
Money line parlay is the simplest and most popular form of Parlay. It's made up of the results of a tie; choose the winner or a tie for several fixtures and add them together to create your Parlay. These fixtures can take place at the same time or can be spread across days or weeks; there is no limit.
Same game parlay /One Game Parlays
SGP's or OGP's are a type of sports bet that allows you to combine multiple outcomes from the same event or game.
Some of the best parlay bets you can create are, without a doubt, one-game parlays. Finally, you can cast your judgment on how your favorite team is going to perform.
As a huge soccer fan, I like to choose two goalscorers, who's going to get carded and the match result to create some juicy odds for a single game.
We love to use a one-game parlay when you know the game is going to be really dynamic and full of action! Even if you have a crazy idea that you want to bet on in the game, you can request your own bet with sportsbooks like PointsBet.
Future Parlays
Future parlays are a super popular sports betting format in the US. If you want to predict the winners of different leagues and combine them; or even choose multiple season-long outcomes from one league, then future parlay bets are available for you across multiple sportsbooks.
Mixed Parlay
Mixed parlays are exactly what they say on the tin. A mixture between several types of parlays creates a mixed parlay. Go crazy and create huge sports betting Parlay!
Parlay Calculator
If you want to calculate your own Parlay and work out your odds in no time, then check out our free parlay odds calculator. Our calculator is easy to work with and will get you combining your desired sports betting odds as smoothly as possible.
Tips for Parlay
If you're looking to get the best online sports betting experience, whether using sports betting app or an online sports betting site, then there are a few pointers that we want to share.
These tips will get you thinking like a true sports betting expert.
Choose more than one sportsbook
Using multiple betting apps is always our most recommended legal sports betting tip. There is nothing wrong with shopping between online sports betting operators to ensure you are getting the best price.
Although the best sports betting apps will always try and keep you from switching between apps, it is always useful to have a good selection of sports betting apps in your armory.
Bonuses
Personally, we hold accounts with nearly all available sports betting apps; firstly, this is to claim as many free bet or risk-free bet promos we could get our hands-on.
These offers are sometimes too good to miss, so we always keep our eyes out for any risk-free promos that enhance our chances of winning some decent cash.
Shopping between online sports betting operators means that you can claim bonuses on each site that may only be available on that site. Don't be afraid to take advantage of the online sportsbooks generous offers.
Odds
To make sure you get the most for every $ you spend on Parlays, try the same selections across a few different sports betting apps.
You make think that the individual odds differences are small but wait until you multiply them together in a parlay. You could be missing out on A few dollars to a few hundred!
Selections
Finally, each sports betting app or operator may not have the same selection.
Each online sportsbook will have slight variations in its market selections. If you are very well prepared and are betting well in advance, the sportsbook may not have even loaded the selections that you are after yet!
Benefits of Parlay Betting Apps
Being able to download a mobile sports betting app improves accessibility. As a sports bettor, having the ability to simply find the app on your device, and then sign in with one click is quick and efficient. It is a process that millions of people have become used to with most people using apps in everyday life, so using it for sports betting purposes is no different.
A parlay app is also aesthetically pleasing. For example, the Caesars Sportsbook app (formerly William Hill) is known for its clean design allowing users to navigate their way around without any issues. Once you are logged in to the app, you want to go to the parlay section quickly and people like a clear and uncluttered design.
User experiences are typically more pleasant with a dedicated app. Simple tings like navigating around the sportsbook, entering a promo code, playing daily fantasy sports or creating a parlay bet are easier to use. It is also straightforward to download parlay apps. If you own an iOS device you can download directly from the App Store, while Android users can do the same from the Google Play Store.
Parlay Betting Apps FAQs
Which states are online sports betting legal in?
Online sports betting is legal in a growing number of states, including Indiana, Colorado, Illinois, New Jersey, Pennsylvania, Michigan, Tennesse, Virginia, West Virginia, Arizona, New Jersey, and several other jurisdictions. Parlay betting sites are available in all of these states.

However, only certain sports betting operators are available in each state.
Are online sports betting sites safe?
All of the online sportsbooks that we recommend are safe to use. Be careful of some of the counterfeit sportsbooks out there. Stick with our trusted recommendations.
How much does a Parlay pay?
Parlay wagers payout a variation of odds. Some can be standard, and some can be huge; it just depends on the lines and amount of legs that you combine.
What is Parlay Insurance?
Sportsbooks offer parlay insurance to encourage bettors who are close to winning on parlays to try again. Parlay insurance works because if all but one part of your parlay hits, you get a refund. There are two types of parlay insurance: cash-back or free bet insurance.
What's the biggest parlay ever hit?
31,847-1. A New York sports bettor turned a $6.90 16-team parlay ticket into $219,746.19 at Caesars Sportsbook. The New York state bettor picked the money line on nine baseball games and one running back line and had four NHL playoff games and two more NBA playoff games. He had six misfits on his card.