FanDuel Sportsbook
The FanDuel Sportsbook app has gone down a storm in Indiana since it was launched in 2019. FanDuel has always been known as the master of the daily fantasy sports game, but, with changes to the sports betting regulations in the United States, they're now able to offer sports betting in the state of Indiana! The online sports betting site and FanDuel Sportsbook app are one of the best available to Indiana sports bettors and one which will keep them at the top for years to come.
After successful launches in other US states, FanDuel Sportsbook Indiana offers online sports betting to customers in the Hoosier state. Available online and on dedicated apps for Android & iPhone, we take a closer look at this new Indiana Sports betting app with our detailed download guide, sportsbook app review & bonus information.
FanDuel Sportsbook app
Downloading and installing the latest Sportsbook app is easy; just follow these quick steps.
FanDuel Sportsbook Android app
To get the new Sportsbook app, head to www.sportsbook.fanduel.com and use the Join Now option. Create a player account if you don't have one already. Then on the promos tab, click Mobile & then select Download for Android. On the popup box, say OK to keep the FanduelSports.apk Let the file download & then click Install. If you need to, allow Unknown Sources in the security setting. Open the app and proceed to log in and place your wagers.
FanDuel Sportsbook iPhone app
To download the latest Sportsbook app, head to www.sportsbook.fanduel.com and use the Join Now button. Create your playing account, then select mobile in the main menu. Use the Download for iPhone option to go to iTunes and press GET to install the app. Log in and, browse the markets, place your wager.
Please Note: Google & the Google Play Store will not allow any type of real wagering or gambling apps to be in there in the US, in any state. It means you need to download the FanDuel Sportsbook APK direct from the operator. It is normal and safe to do. Google will hopefully allow the app in the store in the future, but for now, this is the only correct and official way to get it on your device.
They are fighting with fellow DFS operator turned sportsbook, DraftKings to grab the sportsbook crown in the state. Can they do it? We take a look at their offerings.
Sportsbook Overview
The first time you open the Sportsbook FanDuel app, you will be asked to allow location settings on your cell (or tablet) this is normal procedure, so don't worry. As legal gambling is not allowed in every state in the US, you need to prove that you are within a regulated state, and the only way to do this is by geolocating your device. This way, you can accurately show you are in the state borders and can place a bet. If you have any issues with FanDuel geolocation, check out our location settings guide.
You can still download and install the FanDuel app outside of Indiana; you can even sign up and fund your account, but to place a wager, you need to be in state lines. Legal wagers can also be placed across over 18 states. You also need to be aged 21 or over to comply with legal gambling laws.
If you have a DFS account with FanDuel already, you can download the sportsbook app and log straight in. If you need to create an account, you can do so at www.sportsbook.fanduel.com. You will need some details to join, including name, address, email, last four digits of your SSN, and date of birth. You also need to pick a username and set a secure password.
It is effortless to join, and you can also use a quick join feature here you can sign up with your Facebook details for added speed. You can enter a free contest when joining and need to input a few details to be involved, but overall the sign-up process is quick and hassle-free. Then it's a simple matter of funding your account and picking out your sports to place a wager on. If you need help in signing up for a sportsbook, check out our guide.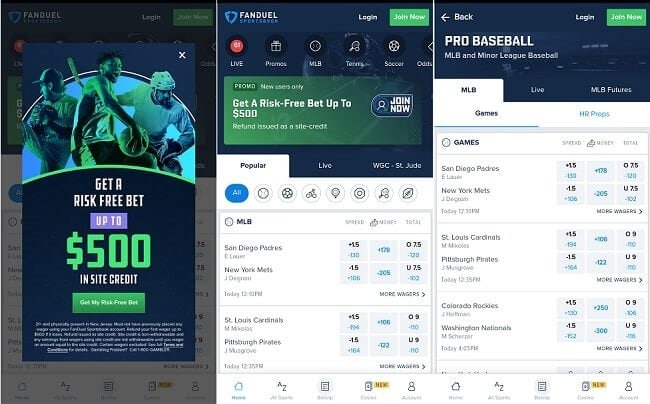 One of the best upgrades that FanDuel Indiana online made in recent months is the fact that you can transfer funds over from your daily-fantasy account right on over to the sports betting side. What better way is there to spend your Sunday afternoons during the NFL season than to switch over between the two accounts?
As well as mobile and online, you can also use the FanDuel Sportsbook will at the Blue Chip Casino Hotel & Spa in Michigan City. NFL Hall of Famer Brian Urlacher was the lucky guy who made the first bet in the casino. There is also a second Indiana book located at the Belterra Casino Resort in Florence, Indiana. Ken Anderson, who played for the Cincinnati Bengals placed the first bet at this location in September 2019.
As nice as it is visiting the Sportsbook in the casino, you can't beat the convenience of wagering on your mobile! If you go out of state and like to bet in a physical sportsbook, we can also recommend the FanDuel sportsbook at Meadowlands in NJ.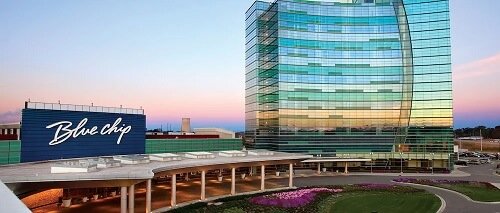 FanDuel Sportsbook Indiana Mobile
Just as the case is in most states, you'll need to be located within the Indiana state borders to place your wagers. The Geo-locating software will make sure that happens, so all of the residents of nearby Kentucky, Ohio – and even you, Wisconsin – will need to be within the state borders of Indiana to place your bets. As well as downloadable apps for Android devices (Samsung, HTC, Nokia, Motorola & others) and the iPhone & iPad, you can access the Sportsbook on the mobile site too.
It is available to access worldwide, but remember, you must be in a legalized state to place a wager. Just go to www.sportsbook.fanduel.com on your device, and you can browse all the markets, see the lines, and what is available to wager on, check scores, and more. But to get that bet on, make sure you have 2 feet in The Hoosier State. Bet anywhere across the state on your mobile, even from Indy sports park.
The mobile site looks identical to the apps available on iOS and Android. The benefit of using an app is speed. Want to get that Football wager on quickly? It is far easier to tap an app icon on your screen to launch the app, than to type in or search for the site. But if you don't want to use an app, you won't miss out on any of the features. We look at these and the betting tools further in our review.
The range of sports available to wager on the FanDuel Sportsbook app IN for Android & iPhone in Indiana is outstanding, and you can bet on:
Australian Rules
Baseball
Boxing
Cricket
Darts
Football
Golf
Hockey
Motor Racing
Rugby
Soccer
Tennis
There are also lots of bet types available with the Sportsbook app; these include:
Straight Wagers, Player Propositions, Game Propositions, Parlays, Teasers, Live Wagers, Half and Quarter Wagers, Round Robins, Futures, and also Spread Wagers. You do get a lot more bet types with the Sportsbook, especially when compared to the BetRivers Indiana sportsbook.
As far as sportsbooks go, they offer a complete online package. Feature-wise, it is up there with the best of the Indiana Sportsbook apps, and we will break down each feature below.
Bonus Information
With a wide choice of wagering options now available to Indiana bettors, sportsbooks need to offer a stand-out promotion to get your attention. New bettors signing up with FanDuel Sportsbook Indiana can now get themselves a bonus bet of $1,000 when betting $10 or more. Join up at www.sportsbook.fanduel.com.
Also, there are plenty of other promotions that can be claimed on the app and website:
Multi-Sport Parlay Insurance: Place a parlay of 4+ legs in any sport. If you hit all legs, except one, get up to $25 in return.
$100 Risk-Free Casino Offer: New Betfair Casino customers only! Play your first day on FanDuel Casino risk-free up to $100 and enjoy the best FanDuel slot games. As part of Flutter Entertainment, Betfair is the sister company to FanDuel. (Not available in Indiana)
Daily Odds Boost: Increased prices on a range of different sports.
There are also several other betting apps with bonus bets available to customers in Indiana. BetMGM has one of the best new players offers available.
Sportsbook Features
FanDuel Sportsbook Indiana has one of the easiest and sweetest mobile app platforms to use on the market. Just as the case is with the daily fantasy platform, the same goes for the sports betting operation. Regardless of the device you are using, the platform is identical. The FanDuel live scoring is really on point and we often use the app just to check NFL scores.
Users in markets like New Jersey and Pennsylvania have expressed lagging connection issues during the first months of activity, but we can assure you that all of those have been fixed and are ready to rock in the Midwest.
In terms of style and outlook, it doesn't get any better. FanDuel's modern and stylistic feel have bettors energetic and engaged to use the site daily. There are plenty of menus on the application which navigates users on where to go, whether they're placing FanDuel straight bets, parlays, or doing a fancy player prop. Whatever way you want to wager, placing your bet is so easy to do.
What's most intuitive is the A-Z menu on the left-hand side of the screen. No longer do users have to search on and on about which sports they're going to choose; they can just find it simply right there on the left and make their choices.
We talked about promos earlier in this article, but FanDuel doesn't try to hide these aspects from their customers. Right on the main menu, select the promos tab, and customers can find some of the best promotions that FanDuel Indiana has to offer brightly lit with all of the glitz and glamour attached to it.
We know that sportsbooks are trying to get your business regularly, but FanDuel has always done a great job of making sure that customers have a competitive edge when it comes to placing wagers.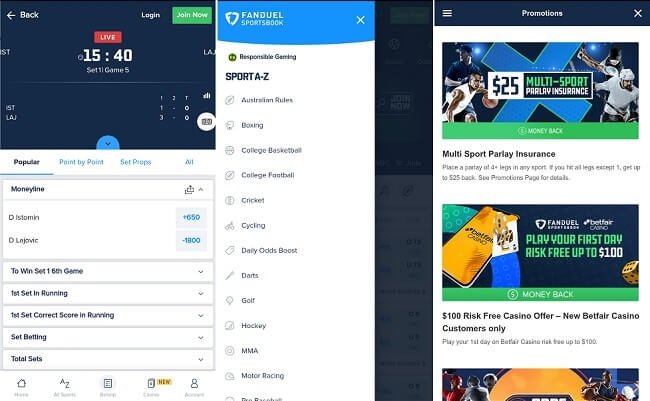 In-game wagering has become increasingly popular over the last year or so, and FanDuel has nailed this aspect. Unfortunately, most sportsbooks will make in-game bets in favor of themselves, but there are plenty of ways to get around this. Bettors may have been tempted in the past to use an offshore book like bovada, now that FanDuel is legal in Indiana, you no longer have to do this and can bet safely and securely.
Not only are there in-game outright/total options, but FanDuel also has different variations like player props, alternate scores, and things of that sort even after the game is underway.
Live betting is available on the mobile app and also online. There is an excellent range of sports to bet on. The coverage of Football and Soccer is particularly impressive. If you are looking for a reliable app to bet on the NFL, then FD ticks a lot of boxes.
Cash-out is a great feature that we are pleased to say is available with FanDuel. For those of you who don't know what Cash Out is, you can end your bet early if you feel that it won't come in for a reduced return. The FanDuel sportsbook Android app offers one of the fastest cash-out options going. You can read more on this awesome feature on our IN Sportsbooks with Cash Out guide.
You can find a handy bet guide located on the mobile site, website, and apps. Here is an excellent place for any new bettor to start. Here, you can read up on all the different bet types and see which sports you can use them on.
The app is packed with handy features and tools but how does it stack up against DraftKings? Well, you can find out in our FanDuel App vs. DraftKings App battle. Our guides on how to bet on DraftKings or how to place BetMGM bets are also useful to draw conclusions about whether FanDuel is, for instance, the best soccer betting app.
Where can you use the FanDuel sportsbook?
The FanDuel online sportsbook is now available in several states across the US, with more due to be available soon. As it stands, you can legally bet with FanDuel in the following states:
Arizona
Colorado
Connecticut
Illinois
Indiana
Iowa
Kansas
Kentucky
Louisiana
Maryland
Michigan
New Hampshire
New Jersey
New York
New York
Ohio
Oregon
Pennsylvania
Tennessee
Virginia
West Virginia
Wyoming
Where could the app be improved?
It is challenging to say what could be better on the app or website. The operator has thought of everything, and it all works as it should. We would love to see live streaming available with the book so that we can watch the Football, but maybe this will one day be available. We have always found the FanDuel super bowl odds or NBA lines to be lower than with other sportsbooks so I would advise you to check a few books before getting your bet on. We can back the DraftKings sportsbook when it comes to Superbowl odds and lines.
FanDuel points are not available with the sportsbook yet, only available with the DFS side. We would love to see this become available on the sportsbook app and for them to reward bettors for staying loyal.
Support
FanDuel has some of the best user experience and financial security that all bettors are looking for from an operator. Not to mention, if an issue ever does arise, their customer support aspect is second-to-none and will have those problems fixed in no time. Most of the issues we have seen have been in relation to the mobile app. We have looked into this and put this troubleshooting guide to fixing the FanDuel sportsbook app together.
If needed, there are several FAQs available on the website, or you can contact them via email at sportsbook@fanduel.com and by phone at 646-930-0860. If you are a Twitter user, you can also tweet them @FDSportsbook.
Cashier & banking options
FanDuel is the best place for bettors to wager, considering there are numerous ways for them to accept your money. Bettors can deposit money in the following ways:
Credit Card
Debit Card
VISA
MasterCard
PayPal
Online Transfer
Cash at 7-11
PayNearMe
ACH/e-Check
Sightline Prepaid Card
If you need help with any banking options, you can check out or IN sportsbook cashier guide. FanDuel is one of a handful of sports betting sites in Indiana that allow PayPal as a deposit and withdrawal option, and the only legal US sportsbook accepting Venmo.
Withdrawal times
FanDuel offers a range of options to withdraw your winning.
What about withdrawals with FanDuel? How long will they take? This is dependent on your withdrawal method but usually, it takes between 12 hours up to 7 days:
PayPal – FanDuel normally approves a withdrawal within 12 hours. Once the withdrawal has been approved, you should see the funds in your PayPal account within 1 hour
Prepaid Card – The withdrawal process can take up to 24 hours for it to be processed and approved. Once approved, you will be able to access the funds straightaway
Online Banking – This method is typically slower than others and can take between 3-5 business days to process fully
Check – Your check should arrive via the post within 7 to 10 business days
ACH/eCheck – This method is also rather lengthy and can take between 3-5 business days to process.
Thankfully, you can withdraw your winnings anytime through Check, PayPal, Prepaid card, and Online Banking. One thing to note is that you will not be able to withdraw using Online Banking, Prepaid Card, or via PayPal unless you have deposited using that method previously.
Conclusion
All in all, you'd be hard-pressed to hate what FanDuel has been doing in the sports betting game. From trend-setting bonus deals to make sure every customer is satisfied, this is where every recreational and advanced bettor alike wants to be. The FanDuel mobile app is sure to be one of the standout sportsbook operators in the state.
FanDuel Sportsbook Indiana has every sport, outcome, and prop bet that any bettor could ever think of. It's a wonder why anyone would want to go anywhere else. Since Indiana mobile sports betting went live in 2019, FanDuel has become one of the most popular sportsbooks available.
FanDuel Sportsbook FAQs
Is Cash out available with FanDuel sportsbook?
The operator has been offering cash out since 2018 and its a feature still available on the apps and online site.
Is FanDuel legit?
They sure are. Millions of players have been using FanDuel as a DFS provider for years. They are a huge brand and have a great reputation in the DFS world, the sportsbook is no different. You can bet in complete confidence. They hold licenses in all the states where they are legal to comply with local laws.
Is there a welcome bonus with FanDuel Sportsbook?
There sure is! The operator offers new players a $1,000 no sweat-free bet when betting $10 or more. This is one of the best $1,000 risk-free bets available.
Is FanDuel legal in Indiana?
Yes! FanDuel Sportsbook is legal and live for bettors in Indiana state.
In which states is FanDuel Sportsbook legal?
FanDuel sportsbook is legal & live in several states today: AZ, CO, CT, IL, IN, IA, KS, LA, MD, MI, NH, NJ, NY, PA, TN, VA, WV, and WY. They will be available in more areas of the country as sports betting becomes legal in other states.
TOP SPORTSBOOK
FanDuel is a firm favorite in the DFS world, and they are quickly becoming one of our favorite Sportsbook providers too. The new FanDuel Sportsbook app is packed full of wagering opportunities on a great designed, easy to use platform.
Standout features
Market choice
Top design
In Play wagering

No Sweat First Bet Up To $1,000
Get Bonus