PointsBet App
Now that sports betting is legal in the state of Indiana, residents of the state can enjoy the same great experiences that players in other states have been benefiting from over the last year or so. With the great wealth of sports betting apps now on the marketplace, customers have more than enough to choose from. However, the PointsBet app is one that'll surely have them coming back for more, considering every second of the game is now more meaningful than ever. The book has one of the best mobile apps available on Android & iPhone and of course a really awesome website at https://pointsbet.com
In our comprehensive guide to the online Sportsbook, we are going to show you how to download the PointsBet app to your iPhone or Android device, run you through the features available, talk you through the amazing new player welcome bonus and even tell you how to place wagers using the app. Its all the you need to know on using PointsBet in Indiana. Players in New Jersey can also download and use the app where it has been available since mid 2019.
So to get the Sportsbook app on your mobile, just follow these quick steps:
How do you download the PointsBet Android app?

Register your playing account first at https://pointsbet.com Once signed in, tap on the Download for Android button, then on the new page, click Download and let the the PointsBetAndroidApp.apk file download.  If your "Allow Unknown Sources" setting is off, switch it on in your security settings. Once you are on the installation screen, click Install and let the app install. You can then open it, log in and browse the markets.

How do you download the PointsBet iPhone app?

You can register first if you don't have an account at https://pointsbet.com Or, you can go straight to iTunes and download the app. You will be taken to iTunes, where you can press GET. Then just Sign up for your new account, Log in and browse the markets.
Please Note: As it stands, Google & the Google Play Store will not allow any type of real wagering or gambling apps to be in there in the US. This means you need to download the PointsBet Sportsbook APK direct from the book. This is safe and it's normal procedure to get an app outside of the Play Store. Google will hopefully allow the app in the store in the future, but for now, this is the correct and official way to get it on your device.
Sportsbook overview
Now that you have the app on your cell, you can log straight in and browse all the marketing and wagering opportunities. Joining PointsBet if you don't have a player account is very easy to do. Just like any regulated US sportsbook, you will need some basic information to sign up. This includes your full name, address, date of birth, last 4 digits of your SSN number, email and your cell number. You also get to pick a username and set a password. You can create an account with the book anywhere in the US but you must be in a regulated state where they operate before you can place a wager, these being Indiana, New Jersey and Iowa. Sign up now at https://pointsbet.com to get your account details and you can also claim one of the new player welcome bonuses too.
When you first open the app on either Android or iOS (or the mobile site for that matter) you will need to allow access to your location. This is to prove that you are inside Indiana state borders and legally eligible to gamble. You will only need to do this once, but if you update the app or clear your cache, you may need to do it again. If you are using a PC or laptop, you may need to use a extension on your browser to confirm your location.
With the app's unique style and features such as points betting, players are in for a real treat when wagering with the PointsBet sportsbook. It has already caught on here in the United States, but it'll be interesting to see if it ever gets as big as it is in its native country of Australia.
Pointsbetting explained
Here's how it works: Let's say you bet $100 on the Bears-Colts game, and the Colts are three-point underdogs (+3). If the underdog Colts end up winning the game by the score of 24-17, you'll earn $100 for each point you were right by. That calculates to $300 for the three-point spread they covered, and an additional $700 for the seven points they won by – a grand total of $1,000!
If you bet $100 on the Colts to cover the three-point spread on any other sportsbook, and the same outcome occurred, you'd only walk away with the typical winnings from that $100 bet – about $90, assuming there were -110 odds on the three-point spread.
It's important to note that PointsBet does have the traditional wagering options that most sports betting fans know so well; they're not tied down to this newer, unique method.
PointsBet Mobile App
As shown above, the PointsBet mobile app can be downloaded for iOS/Android devices. You don't need to download the app to access the mobile platform if you don't wish to do so. You can just visit https://pointsbet.com and use the mobile site which works in the exact same way as a downloaded app. The actual layout of the app is simply gorgeous, and it appears like many of the bugs and mishaps that were found when first launched in other states, have been ironed out a long time ago.
The black colour scheme with red icons works a treat and visually, the app is one of the best looking on the market. What is very impressive is how they're able to fit so many menus and options into the limited real estate screen space of a smartphone. It doesn't feel too crammed yet has loads of wagering options and sports to be on. The main menu, found on the left holds everything you need to get around, including Home, Promos, Betting academy, Blog, App download page, In Play options, Boosters and then a list of all the sports available to bet on.
Now in terms of sports available to bet on the app, bettors can find:
Aussie Rules Football
Baseball
Basketball
Boxing
Cricket
Cycling
Darts
Football
Golf
Hockey
MMA
Motor Racing
Rugby Union
Soccer
Tennis
Bonus Information
PointsBet have one of the most generous new player bonuses going. The same bonus is available for bettors in Indiana and New Jersey when signing up at https://pointsbet.com New players can get 2 Risk-Free Bets up to $1,500. How does the bonus work? Well you can get up to $500 Back If You Lose Your First Fixed Odds Bet, and also up to $1,000 Back If You Lose Your First PointsBetting Wager.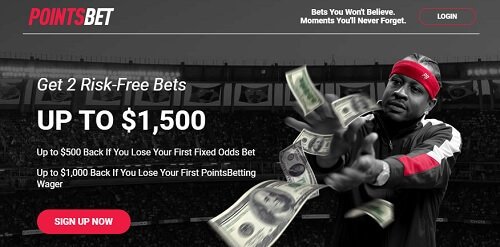 The promos with PointsBet are without doubt some of the best of an US sportsbook. They have offers every single day as well as regular bonuses for existing customers. Some of the most popular, standout ones are:
Make it rain: Place a $100 spread bet and get $3 in bonus for every 3 pointer your team makes. Available on bets including Knicks, Nets and 76ers.
Score first TD: If your team score the first Touchdown if the game you win!
105 Spread on All NFL games: PB will offer -105 spread on all NFL games this season.
As well as these offers above, there are daily boosts and offers available so make sure you check that promos tab daily to see whats available.
Sportsbook Features
PointsBet has some interesting features that really separate it from the competition and make them standout from what can be a crowded sportsbook market. No Juice NFL Lines give bettors more bang for their buck, allowing them to get the amount they wagered in return for winning bets. Random Booster Odds are available, giving bettors an even bigger chance to cash in on their bets – for instance, randomly making the odds on a bet go from +200 to +250. You can find the booster odds hub located in the main menu, just tap on the option and you can see all the boosts available which are normally available on several sports.
Early Payouts give bettors the chance to get a good chunk of their money on near-winning bets instead of waiting for the final buzzer. This is getting more and more popular in the US as bettors look for a way to claim some cash back from bets they don't think will come off.
PointsBet also support one of the more innovative ideas, which is the Name Your Bet feature. This is where you can tweet @PointsBetUSA with an idea for a bet you'd like to see on the board – if the people at PointsBet like your idea, they'll put it up there. It's a real handy tool for the more peculiar bets you may want to place.
One of the great features on the app is the Revis Betting Academy. If you aren't familiar with this, it is where former New York Jets/New England Patriots/Kansas City Chiefs cornerback Darrelle Revis breaks down everything you need to know about PointsBet. It is a great resource for new bettors to look at and can really help you narrow down your bets and answer those burning questions you may have about using PointsBet.
Where could the app be improved?
There aren't many complaints to mention from the PointsBet IN app, but the overwhelming amount of wager types and information could be too much for newer or traditional bettors. PointsBet will definitely be a huge hit with those coming over from the daily fantasy sports circle. However, those just looking to place a simple win/loss/spread wager might find somewhere else as an easier app. This is but a minor issue as most bettors who download and use the app will find it one of the best out on the market. If you compare the layout, set up, reliability compared to say some offshore books, PointsBet is one of the best ones to use.
Support
PointsBet customers will probably have a ton of questions, and we hope this review helps them out. However, if they'd like to chat with someone directly on the site, it's a fairly easy experience. At the bottom of the app (or even mobile site or normal website), users have a whole list of ways to get their questions answered by email, live chat and also help page where you can get answers to the most common questions bettors have.
Cashier & Banking Options
PointsBet doesn't have the most deposit and withdrawal methods, but it won't be hard at all for customers to find one that works for them. For starters, PointsBet has the most extensive list of banks available for debit card or ACH eCheck – if your bank isn't on this list, you might need to find a new one. Customers can also use credit card – VISA or MasterCard – which is convenient for most.
Lastly, there's a PointsBet Card that mirrors a prepaid debit card. You can fund it online with your own credit or debit card and then have your winnings put back onto it. You do have to apply for this card after logging into your account and going to the deposit screen.
Once you have applied, you can use a digital version of the PointsBet card until the physical one comes in the mail. When you have the card, you can use it anywhere VISA or MasterCard are accepted, including at ATMs.
FAQs
What states is PointsBet legal in?

Currently, you can legally wager with the Sportsbook in Indiana, New Jersey and Iowa. As more states legalize, this list will grow.

Its really simple to sign up with the book. Just go to https://pointsbet.com and hit the Sign Up Now button. You can register in any US state and even fund your account, but you need to be in IN, NJ or IA to place your bet.

Do PointsBet have a new player welcome bonus?

They have one of the best new player bonuses going. You can get up to $1,500 in risk free bets when you join at https://pointsbet.com.
A book with a difference
We love the PointsBet sportsbook. They always have great promotions and some of the best priced lines going. The app really looks the part, is real easy to use, fast and has everything the serious bettor could want in a gambling app.
STANDOUT FEATURES
Pointsbetting
Very fast
Amazing promos


Get 2 Risk Free Bets Up To $1,500
Play Now