PointsBet Account Suspended or Restricted: How to Restore Your Locked Account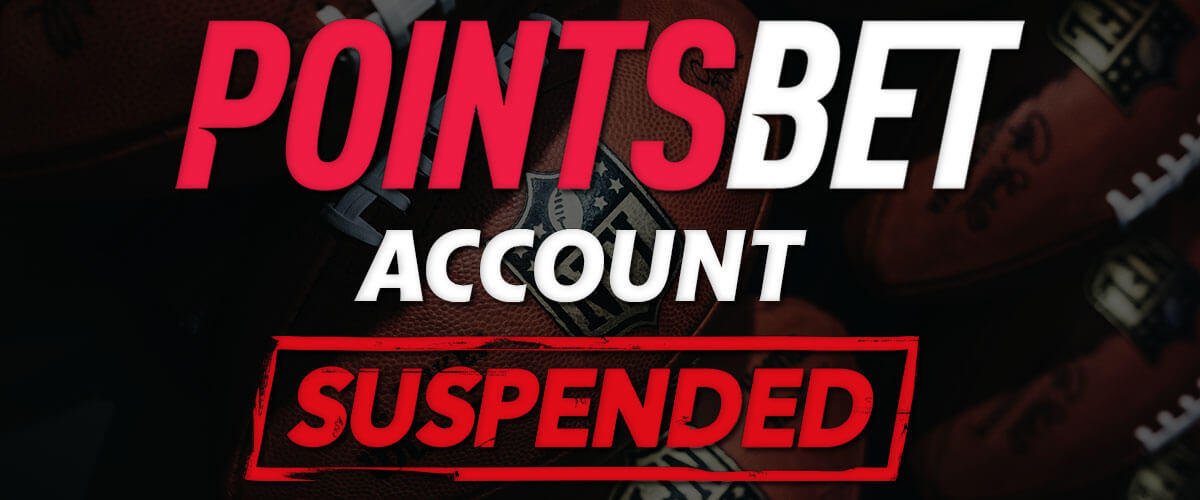 PointsBet is an up-and-coming gambling brand that provides brilliant sportsbook facilities for Indiana residents. The website is easy to use and features an extensive sportsbook with NFL, NBA, and MLB action for Hoosier state customers.
As a registered PointsBet customer, you may find that your account is suspended, and you cannot access the site or your money.
Don't worry; it is possible to get your account reinstated, and we will discuss how below. We also offer invaluable info relating to the PointsBet T&Cs, so you should never have this issue in the first place!
If your account is suspended for a valid reason, it may be tricky to get it back. Fear not – why not try out one of the below options? You can benefit from an exclusive promotion when you visit via our site, and their services and terms are known to be reliable and fair.
Possible Reasons for Suspended PointsBet Account
Sports betting sites want to protect their systems and prevent people from gaming the system. This is only natural. As a result, there is a long list of reasons why your PointsBet account may have been suspended.
Creating more than one account
You are unable to create multiple PointsBet accounts. This is a standard practice in sports betting sites as it prevents fraudulent activity.
Specifically, each PERSON can only have one account. Some sportsbooks go so far as to say that there can be only one account per household or unique IP address. However, this is not the case with this operator. If you and your partner wanted to create an account, that would be possible.
There is a caveat here, though. You cannot log in to anyone else's PointsBet account. Furthermore, you should never give your account details to anyone else. Access to multiple accounts is strictly forbidden per their terms and will result in a suspension.
In short, only ever have one PointsBet account, and never give your details out.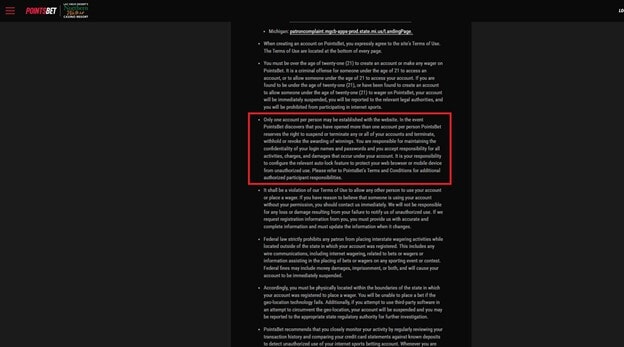 Fraudulent Activity
One of the most common reasons for account suspension is suspected fraudulent activity. Did you know that most sportsbooks, including PointsBet, monitor the activity of their customers?
PointsBet states that they have the right to terminate your account if they believe your gambling activity is suspicious, dishonest, or fraudulent. This could mean trying to game the system, using illegal software, or allowing someone else to access your account.
This should never be an issue if you play by the operator's rules!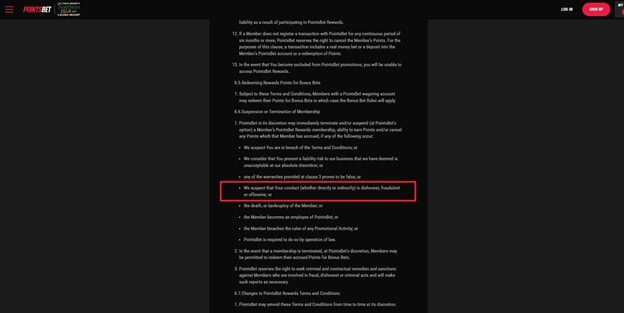 Accessing from an Illegal PointsBet State
Under no circumstance can you access PointsBet from a prohibited state. Remember that sportsbooks and online gambling is only legal in a handful of US states.
There are two clear sections in their terms and conditions relating to interstate gambling. Firstly, they state that interstate gambling is strictly prohibited. So, if you are currently in Michigan but registered your PointsBet account in Indiana, you wouldn't be able to legally use the account – even though sportsbooks are legal in Michigan too.
Secondly, it states that you must be within the boundaries of your state to spend money and place a wager. Therefore, don't think about trying to use geolocation software like a VPN to bypass physical limitations!
If you are found out, your account will be suspended, and they state that they may report you to the relevant regulatory authorities.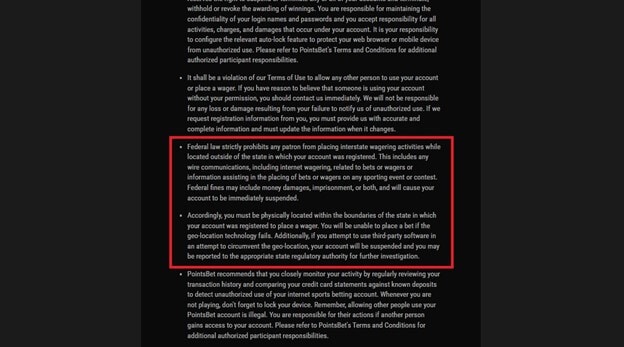 Failed Logins
If your PointsBet account is locked or suspended, it could be because of failed login attempts. Today, virtually any login system has a failsafe to protect against hackers and fraudulent activity.
The most common protective measure is that your account is locked if you enter your password incorrectly three times. Simply put, don't forget it!
In most instances, your account is only locked. However, repeat offenses could result in suspension. If you make a genuine error and mistype your login details multiple times, there may be a reset option. Alternatively, if you have failed too many times and locked it, just contact the customer support team – they should be able to resolve the issue.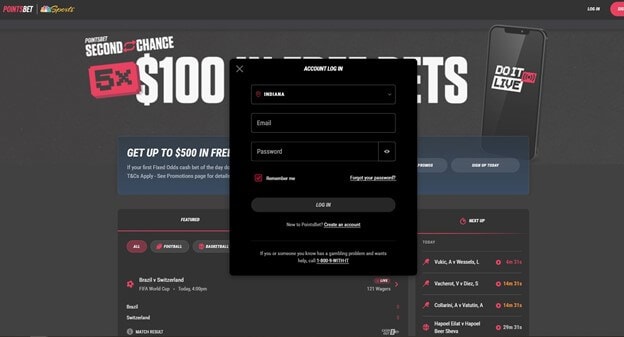 PointsBet states that if you enter your login details incorrectly three times, your account is locked for 60 minutes. Don't try and log in again until after this. This is an automatic locking process and cannot be stopped.
Not Following Terms & Conditions
PointsBet sportsbook has an extensive set of terms and conditions. These explicitly state what you can and cannot do on the platform. It covers all important aspects like bonuses, how to withdraw funds, and account usage.
Multiple times they state that they reserve the right to suspend your account if any of the terms and conditions are broken. When you complete the registration process, you automatically agree to these terms and conditions!
Therefore, we highly recommend taking the time to read through the T&Cs. That way, you are under no illusions and should never be one of those unfortunate customers who get suspended accounts.
Self-Exclusion or Taking a Break
Not all account suspensions are permanent. Indeed, some are self-imposed to help with potential bad gambling habits.
In today's modern gambling world, we expect online casinos and sports betting providers to offer responsible gambling support.
PointsBet does this by giving three different options to reduce playing time – time-based limits, cool-off periods, and self-exclusion.
If you have chosen the self-excluded option, your account is suspended for between 1 to 5 years, depending on what you choose. You can no longer bet from the account or even access it until the predetermined period is up. Any betting activity is canceled, and the money from outstanding transactions is returned to your account.
There is also the option to permanently exclude your account – if you choose this, it can never be reopened again.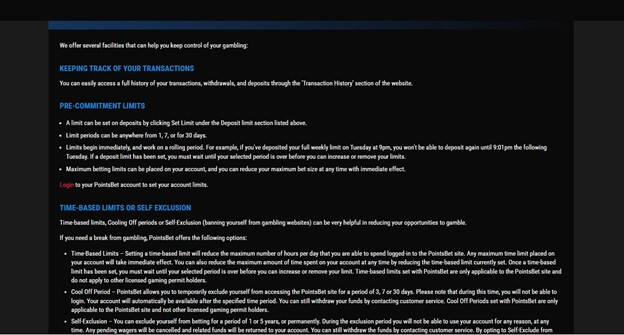 Inactive PointsBet Accounts
Most US sportsbooks have strict rules relating to inactive accounts. Inactive account regulations actually vary by state too.
For Indiana residents, PointsBet states that a customer account is considered dormant if there has been no login for three years. If this is the case, PointsBet must close the account as per Indiana gambling regulations (IC 32-34-1-20 and IC 32-34-1-2).
They will also close winning accounts, and any cash in the account is sent to the office of the Indiana Attorney General. If you do want to take a break from betting but don't want your account suspended, all you have to do is log in. This changes your account status from dormant to active.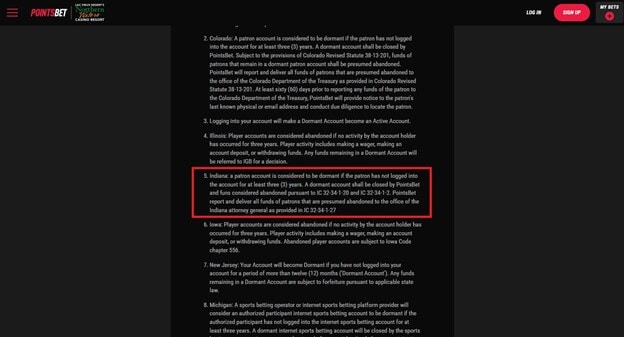 False Verification Documents
To create a PointsBet account, you must provide relevant US identification as per federal laws. For example, you can provide a driver's license or bank statement.
It's important that you give the correct information when submitting verification! Check carefully that any address or personal details match exactly with the details you entered when completing the account registration form.
Your account can be suspended if any details are different. For example, maybe your driver's license is out-of-date and has a different address than your bank statement.
Retrieving Your PointsBet Account
If you find your account locked or suspended, don't panic. The first thing you must do is contact the customer support team.
PointsBet has an active and readily available customer support team, and you can contact them via live chat or email. If you use the live chat, there is an initial AI bot, but you will be connected with a member of the customer support team shortly.
Simply explain to the online support that your account is suspended, and they will investigate. They should be able to tell you the reason quickly. Hopefully, it's a clerical error, and in this instant, they should reinstate your account quickly.
However, if it is a valid reason, the customer support team will explain. They should also tell you if it is possible to reverse the suspension and, if so, what you need to do.
If your account has been suspended due to fraudulent activity or you have breached its terms, it will probably not be reopened. If this is the case, we advise using a PointsBet alternative.
Will PointsBet Let You Register a New Account?
So, you've contacted the customer support team and fought your case. However, your attempt has failed, and they do not agree to reinstate your account. Surely you can simply register a different account using a new email, right?
Wrong. Generally, for sportsbooks and online casinos, you can only ever have one account. Even if your account is suspended and you can no longer use it, you are prohibited from making another.
PointsBet specifically states in its terms and conditions that each person may only have one account. If multiple accounts are discovered, they reserve the right to terminate the account and withhold any winnings.
PointsBet Sportsbook Alternatives
$1,000 Free Sign Up Bonus
Bet on every sport
Competitive odds
No Sweat First Bet Up To $1,000
Massive sports betting options
Trusted name
First Bet Offer Up To $1,500 In Bonus Bets
Massive range of sports
Extensive banking options
If you cannot re-open your customer account, don't worry – there are plenty of online sportsbook alternatives, and we have listed three great options below.
DrafKings Sportsbook
DraftKings is a brilliant gambling operator that has a sportsbook, daily fantasy sports betting, and an extensive online casino.
Their daily fantasy sports is the stuff of legend and thousands of US customers partake in the daily competitions and try to pick their favorite players from the NBA, MLB, and NFL. They have a range of daily fantasy sports modes including classic, pick em, leagues, and head to head.
Additionally, you can place wagers on multiple sports from around the world including American football, soccer, basketball, golf, ice hockey, MMA, baseball, racing, and even eSports games like DOTA 2 and League of Legends.
FanDuel Sportsbook
FanDuel is another amazing option for Indiana residents, and like DraftKings, you can create a Fanduel account for daily fantasy sports or sports betting.
Their sportsbook section has a modern interface that is easy to navigate. For example, down the left-hand-side you can see a list of popular sports and competitions like the NFL, MLB, NBA, and PGA Golf.
Aside from bets on popular American sports, you can follow competitions and matches from a wide variety of other sports like Aussie rules football, cricket, MMA, motorsports, snooker, tennis, and cycling. We like the simplicity of the bet slips too so you can easily see what active bets you have and their current status.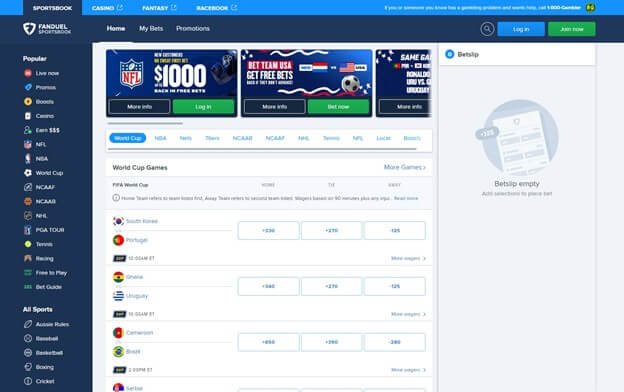 BetMGM Sportsbook
BetMGM is a superb pick, too, and is a viable alternative to Pointbet. They have a sportsbook, online casino, and even a dedicated poker site for card game enthusiasts. This has amazing poker tournaments to suit all skill levels.
Sportsbook customers can benefit from a whopping $1,000 risk-free first bet which offers some of the best value available. You can easily place wagers on all the top sports too including major leagues like the EPL, NBA, PGA Tour, and ATP Tennis.
For most sports they offer various bet types including things like spreads, number of goals (for soccer), and simple overall winner bets. If you want to try and win big you can also make multiple game parlays and accumulators across several matches.
FAQ's
Why has my PointsBet deposit been restricted?
Typically deposits are restricted or withheld due to suspicious activity on a PointsBet account. If you are the recipient of a suspension, PointsBet reserves the right to cancel any deposits and bonuses.
What to do if I am not allowed my PointsBet account back?
Don't worry! There are plenty of other companies that provide online gambling. We recommend a range of sportsbooks and online casinos as alternatives, including FanDuel, DraftKings, and BetMGM.
Why did PointsBet suspend geolocation?
Online sports betting is not legal in all US states. The PointsBet T&Cs clearly state that you must be a resident of the relevant state, i.e., Indiana, to play. Therefore, using any type of geolocation software like a VPN is strictly prohibited.
What is the minimum age for gambling on PointsBet?
You must be over the age of 21 to play on PointsBet Sportsbook as per US gambling laws.
How long does the PointsBet suspension last?
Indefinitely. Unless you are successful in your suspension appeal when contacting the PointsBet customer support team.