How to Bet on BetMGM Sportsbook: Beginners Guide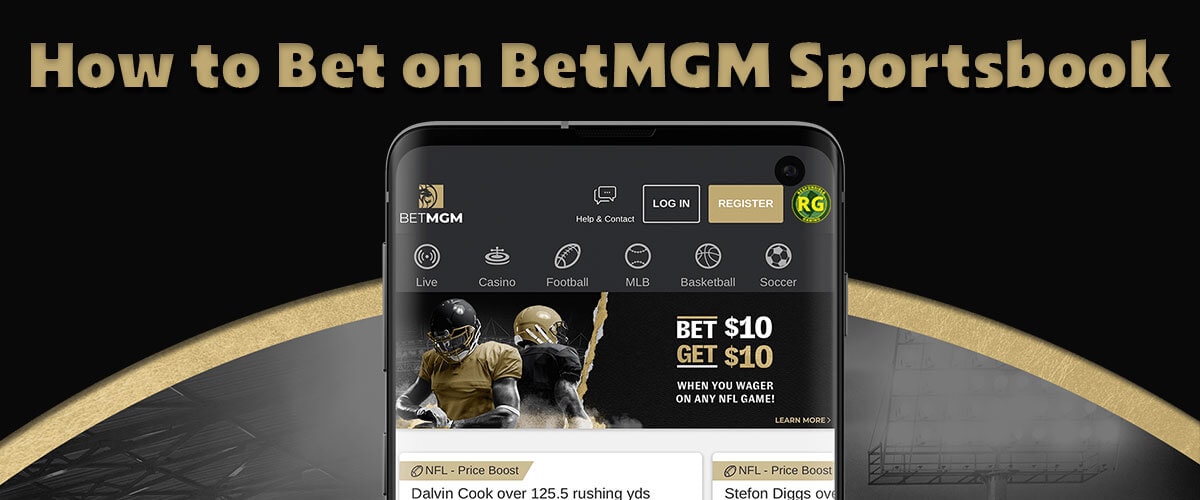 If you find yourself here, you must be looking for a beginner's guide for the BetMGM Sportsbook. Well, look no further!
The online sports betting industry has exploded in the United States. According to their advertisements running nonstop on television and in every sporting venue in the country, they're not going anywhere. If you clicked on this page, you must want to get in on the action, so I'm here to help!
The BetMGM Sportsbook is perfect for anyone looking to get into the new and exciting craze of online sports betting. MGM, the reputable casino conglomerate that they are, quickly opened sportsbooks around the US, bringing sports betting to several new places. While it's been around for a while, everyone has to start somewhere, as a beginner. Unlike everyone else, however, you have the advantage to help you win big because you've found this guide to navigating the sportsbook, as well as its mobile app.
How to bet on BetMGM
This guide will give you all of the ins and outs of this sportsbook, turning you from a rookie sports bettor into a pro-ready to bet on all of their favorite games. Included will be detailed instructions on account registration and making deposits on their sportsbook from your bank account or debit card.
There will also be information on the different options of sports bets that the book accepts. These include bets such as moneyline bets, over-under bets, parlays, and free bets (that's right, FREE). There will also be some tips on becoming a better sports bettor and how the BetMGM Sportsbook works on a general level. Numerous players have learned how to bet on DraftKings and place FanDuel bets through our respective guides and won, so you could be next.
Create a new sportsbook account
First Bet Offer Up To $1,500 In Bonus Bets
Massive range of sports
Extensive banking options
To begin betting on the BetMGM Sportsbook, you must first register and set up your account through the MGM sports betting app or website. If downloading the app, make sure that it is just titled "BetMGM Sportsbook" rather than "BetMGM Sports Nevada" or "BetMGM Online Casino," which all feature their signature MGM lion head logo prominently but do not offer access to the sportsbook (except when in NA in the case of the former).
When on the website or the sportsbook app, click on the golden register button to begin your account registration in the top right corner of the page. After this, you will need to provide some information. First, you need to sign up with an email address before creating your password. They chose a password between 8-20 characters which will need to include capital and lowercase letters and one or more numbers.
After you've created your password, you will need to give your gender and first and last name, followed by the last four digits of your social security number. They require this information to confirm your age and identity. After that, you will need to provide your date of birth before giving your phone number and address. After this, you'll need to review and confirm the BetMGM Sportsbook's terms of service agreement, that you are 21+, and that all of the information you provided is accurate.
After registering for your account, you'll need to deposit money into your BetMGM account before placing a wager. If the BetMGM app or sportsbook are not working, you should contact the customer support for help.
Make a BetMGM deposit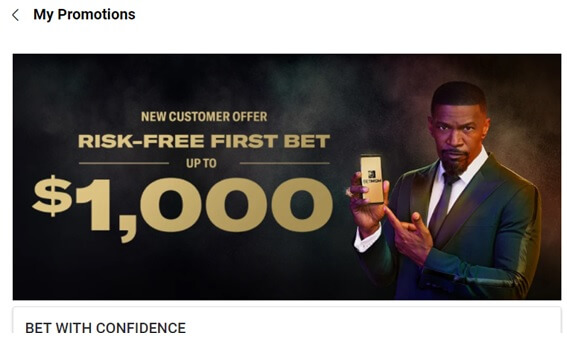 Sportsbooks are designed to want your money, so of course, they've made it easy for everyone to deposit it into their accounts to start gambling. Many sportsbooks provide sign-up offers for sports bettors who use promo codes found online when users make their first deposit; that can be a pretty sizable bonus, perfect to use instead of your own money. Other registration offers can give you free bets to start with, like BetMGM (use our code GAMBLEUSA), which provides you with a free chance worth up to an amount of $1,000.
Once you are registered and signed into your account, you will need to click the "Deposit" button , which will be located close to where the "Register" button was located. To start your deposit, you will need to choose an option to make the deposit. BetMGM offers deposit methods such as online banking, deposit by debit or credit cards, and their service called Prepaid Play+, a separate spending account used as a financial asset to help people deposit quickly and securely.
After choosing your deposit method and entering your information, you must select a deposit amount. Remember to gamble RESPONSIBLY and only place a bet with money you are willing and able to lose. After you make the deposit, you can choose whether or not to store the information you provided for the deposit for later use. After that, you're ready to start looking over your betting options and begin betting. For a better starting balance, you should accustom yourself to the BetMGM bonus codes and how they can help you place more bets with more money.
First Bet Offer Up To $1,500 In Bonus Bets
Massive range of sports
Extensive banking options
Select sports, events, games, and market
First and most importantly, what sports do you know best? BetMGM, like most other betting apps, has a vast selection of different sports or events with endless games in almost every sports market in several states. First, you'll choose the sport you'd like to bet from the categories at the top of the screen, such as basketball, football, soccer, hockey, fighting sports, tennis, golf, or racing!
Next, you'll choose the league you would like to gamble on in your bet. So, for instance, if you decided to bet on basketball, you'd be forwarded to a screen that contains three leagues, NBA, college basketball, and international basketball games, because MGM Resorts International owns and operates the book, allowing for international wagers!
BetMGM sports markets
With MGM Resorts International in charge, BetMGM Sportsbook has an insane total number of bets available for wagering on their site or betting app. A few things to look into are the different sports markets available on the app. This number will sometimes vary by state from time to time, but MGM resorts generally keep 21 markets available to bet on, while many other sportsbooks offer 30+.

While BetMGM offers fewer than the industry average, it is still a reputable book right for anyone looking for some extra edge on their favorite sports games. It also is home to a unique market most other books don't have, lacrosse. A long time ago, when I was a high school athlete, I played lacrosse and still love to see the sport grow to this day.
Types of bets at BetMGM sportsbook
Now that you're all set up and ready to place a bet, hop online or on the BetMGM betting app and take a look at the different types of bets available right at your fingertips. The way you make money on sports betting is by wagering your money on a line that gives you odds for the likelihood of the bet's chances. For example, a parlay is two or more lines that provide higher odds at a lower probability for you to win.
Odds work based on how good your chances are to hit the bet, but how do you read the numbers of it all? On each line, there will be a number below in a fainter, gray font featuring a +/- before. If the wager is favored or more likely to hit than not, it will have a – before the number. The +/- indicates that you will receive less money than you wagered. For instance, if you bet the moneyline of a favored team at -145, it means that to win $100, you'd need to bet $145. This means that betting on something at plus money does the opposite; if you bet the moneyline of an underdog at +145, betting $100 would win you $145.
Now that you have a basic understanding of how odds work in sports betting, it's time to learn more about the different types of betting options that BetMGM has to offer. Whether on BetMGM online or through the betting app, the options will remain the same.
How to bet Moneyline on BetMGM
Have you ever bet your friend on the Super Bowl or any game before? Well, it's pretty much the same thing, but with odds implemented to cover the sportsbook so that they can make money. Betting on the moneyline means that you're betting straight up, with no additional points or a spread; you're just betting on who will win. You can place moneyline bets on specific parts of the game, like the first quarter (or any other), or you can do it for the first or second half.
After the point spread and the game total, the moneyline button will be located on the far right (image below). The odds for moneyline favorites will always be less than the point spread, meaning that if you're not sure how much they will win by, but that they will win, bet the moneyline. Moneyline bets are perfect for parlays because a parlay will multiply your odds based on the number of legs in the bet slip.

You can even do this on games that are happening live! Live betting is one of the most innovative ways to ride momentum through the game and get your pick in during a momentum shift for the other team to increase odds. If the comeback seems to be likely, let it fly and hope the belief in your team pays off!
How to bet the Over Under on BetMGM
The over-under is a bet on whether or not the total number of points is over or under the total points predicted by the sportsbook. These buttons are located between the spread and moneyline buttons on the bet screen.
Like betting on moneyline, over-under bets have different bet types for point totals of each quarter, including the first and second half. You can also choose to bet on just one team's point total if you'd like. Alternative over underlines can give you better or worse odds depending on how much you stray from the set line, which is typically around -110. To find these types of bets, click on the event where it says, "all wagers."

Over-under bets on point totals are also available for live, in-game events, which will vary throughout the game as the teams or athletes score more or fewer points. Live bets, however, are accessed on a different screen rather than on the upcoming events page, so be sure the game is live, which you can identify by finding the red "live" icon in the bottom left hand of the event.
How to make Prop Bets on BetMGM
Prop bets are becoming one of the most popular types of sports betting on most sports betting apps, including BetMGM. Prop bets, or proposition bets, are a wager placed on whether or not something will occur during an event and can be found in the "all wagers" screen of an event (pictured below). The two types of prop bets available online or in the mobile app are player props or game props, which have many different subtypes.
Team prop bets can be the winning margin of a game or match where you only win by getting the winning margin of a game correct. This means that if you are betting on this prop bet for the MLB, you will receive options like New York Yankees by 1-2 runs, New York Yankees by 3-4 runs, Boston Red Sox by 1-2 runs, a tie, etc. You can also do this in fighting sports betting by choosing how someone will win and in what round, or by decision (unless betting on a tie).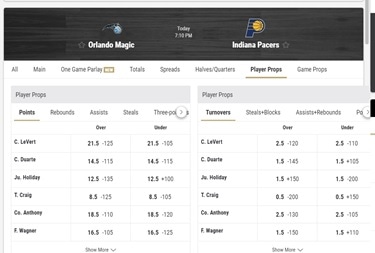 Other prop bets include over-under bets on different types of stats such as receiving yards, rushing yards, throwing yards (football), points, rebounds, assists, three-pointers made (basketball), or a goal scorer (hockey/soccer). Some even include a combination of the above stats for boosted odds. This is a very good bet for any big stat nerd who enjoys following player trends and averages because you'll have a better understanding of what to bet on. Prop bets can vary wildly by the odds, so make sure to do your research for good value bets!
How to bet Parlays on BetMGM
Parlays are by far my favorite type of sports betting because of how much the odds can potentially go up, letting you win more! First off, you need to find more than one bet to place on your bet slip to make a bet a parlay. Remember that the more legs in the parlay, the more difficult it is to hit. I enjoy placing 20 leg parlays, but I tend to think of them as lottery tickets or slots in a casino; I'm designed to lose. So, as I said before, gamble responsibly.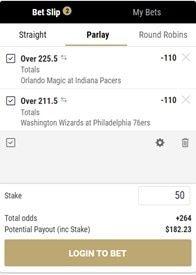 A parlay generator is featured on the MGM Sportsbook betting app and site that allows for AI to help you build a parlay based on what you want from your bet. They offer a variety of Moneyline bets, spread bets, and over-under bets in your selected sport(s) and market(s). The generator lets you choose the minimum and maximum odds per selection for the parlay to generate or win more than a specific dollar amount.
Parlays are a great way to get better odds by picking more lines you are sure of actually hitting. There is also the option for sportsbook cash out (not at all times) in certain situations where some of the legs have already hit, and you're able to cash out early for less money. The bet types allowed for combination in a parlay are the over-under, moneyline, spread, and prop bets (same game only).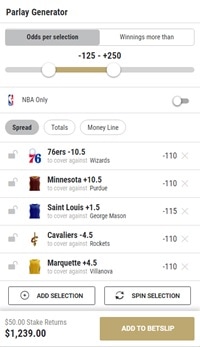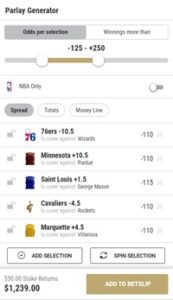 Winning tips to get started with the BetMGM Sportsbook
I've learned a few tips over my years of sports betting: to start slow, do your research, and use your bonuses and boosts. First of all, get used to and familiarize yourself with how the betting process works on the sportsbook before you start betting too much on things you don't understand. By reading this guide, you will already have a leg up on other new players, but you still want to work your way into it.
When I say do your research, DO IT. It is the most critical thing to do for any sports gambler who wants to win more than they lose. Researching player/team stats, key player matchups, player/team trends, and where the most money is being placed on the sportsbook app you're using is imperative to overall success. Of course, sometimes sports don't make sense, and a miracle happens like the Jacksonville Jaguars beating only the Buffalo Bills and the Indianapolis Colts in the regular season, but that's why we love sports!
Bonuses and boosts are significant to saving your own money and winning more of theirs. BetMGM offers several boosts and bonuses such as initial deposit boosts, free bets, odds boosts, and bet insurance. You can find these by going to the promotions category in the top right of the BetMGM site's banner.
How does BetMGM work?
First Bet Offer Up To $1,500 In Bonus Bets
Massive range of sports
Extensive banking options
The BetMGM Sportsbook, as I stated above, is owned by MGM Resorts International, one of the world's most successful resort and entertainment companies. As legal sports betting expands to different states around the US, so does the range in which you can bet on the BetMGM Sportsbook. Currently, the BetMGM Sportsbook is legal and available in 14 states:
Arizona
Colorado
Iowa
Louisiana
Michigan
New Jersey
New York
Nevada (separate betting app)
Pennsylvania
Tennessee
Virginia
Washington DC.
West Virginia
Wyoming
MGM Resorts will continue to expand their online sports betting empire as long as the industry continues to grow around not only the United States but the world. Like its competitors, this sportsbook app offers competitive odds and a very smooth interface, but its customer support is one of its best qualities.
If you need help with any problems that you may find in the app, BetMGM online offers some of the best customer support in the business. If you find yourself in a situation where the site or betting app did not record a bet's outcome correctly, you can get the chance to straighten it out and collect your winnings or find out why you did not win. Just click on the button in the top right corner!
The BetMGM Sportsbook is one of the premier sports betting apps in the US and is perfect for any beginner looking to explore the world of sports gambling. Now that you're briefed on the how-to of it all, you are ready to start gambling!
Enjoy and gamble responsibly!