As one of the most popular sports betting apps in the US, you would think the FanDuel app would also be one of the most reliable. Unfortunately, this is not always the case and a lot of bettors are reporting problems with their FanDuel app not working.
These issues are preventing customers from logging in to their account, the app crashing or not loading at all, difficulties confirming players' location, and other such problems.
FanDuel Sportsbook has very quickly become one of the most prominent names in the online sports betting business. Players located in states offering legal sports gambling, such as Indiana, New Jersey, and Pennsylvania, sign up to play their Daily Fantasy Sports Contests and take advantage of their numerous betting options. However, as good as the FanDuel mobile app is, there will be occasions where you will encounter technical issues which lead to the FanDuel sportsbook app not working. These problems can go further than live scoring down or a market being temporarily unavailable.
There is nothing more frustrating than logging into your account, excited to place a bet, and seeing a 'FanDuel not working' or 'FanDuel service unavailable; please try again later error message. This may lead customers to search the internet to ask is FanDuel down? or see if other users are also experiencing issues with the sportsbook.

In this guide, we will inform you of some fixes to get you back to betting. If the FanDuel sportsbook down or keeps crashing, it could be for several reasons: location services, login not working on the app, or a complete FanDuel outage. We know if you do come across issues, ultimately, you will just be interested in knowing when will the sportsbook be working again.
On this page, we provide a list of standard solutions that work for numerous operators and betting apps. It's always best practice for any serious bettor to use 2 or 3 apps just in case you have problems like this with 1 book, you always have a backup. BetMGM & William Hill both offer a fantastic mobile wagering app (and a new player bonus).
FanDuel provides some fantastic promos in the app and is always good for a bonus offer or free bet. However, the operator isn't foolproof and not without their problems. You will notice some of the things that happen with the DraftKings app as well. Let's look at the main FanDuel sportsbook app issues on Android & iPhone and how you can fix them.
What To Do When FanDuel Sportsbook App Stops Working?
The first thing to say is you are not alone. It is very common, and as we mentioned above, with DraftKings, it occasionally happens with most sportsbooks.
Step 1 – Is the FanDuel Sportsbook available in your state?
The good news is, FanDuel is available to download and wager in more states than most other US operators. However, they are not available in every state. Certain states only allow in-person wagering at a retail sportsbook, while others only permit one operator. Additionally, some states are yet to introduce sports betting, and betting is still illegal in others. To check if you are in a restricted location, head to www.sportsbook.fanduel.com. Please be aware if you are wondering how to get around FanDuel restrictions regarding location, this isn't possible.
FanDuel Legal States: Indiana, New Jersey, Colorado, West Virginia, Pennsylvania, Virginia, Tennessee, Michigan, Iowa, and, Illinois.
If you are not in one of the states where the sportsbook is available, you will see the error message "FanDuel restricted location".
Step 2 – Experiencing Location Issues
If you are constantly noticing the FanDuel location error, then you could be experiencing sportsbook geolocation problems. Sportsbooks use geolocation technology to pinpoint your location and prove you are physically in a legal betting state. You can open the app and create an account in a state with no legal wagering, but you won't be able to bet using the app. It is also going to settings, privacy, location services, and ensuring they are switched on.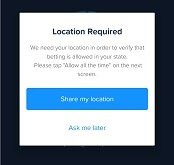 If you are still having problems, we have a guide dedicated to fixing geolocation problems that you need to check out.
Step 3 – Make sure you have good Internet coverage
Always check you have strong WiFi or cell coverage. You could test this by trying to browse the web to ensure your cell is sending and receiving data. You could be in a blackspot or that you have disconnected and are unaware.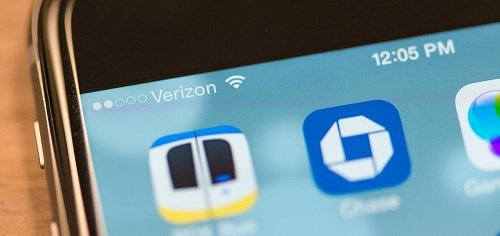 Step 4 – Is FanDuel down today?
The issue you are facing may not be unique to your FanDuel betting app. The whole FanDuel website and app could be down. Like any technology or website, this does happen. For example, FanDuel may be going through server issues, and if they are, unfortunately, you have not choice but to wait it out. This is one of the main reasons why it would be helpful to use two or three different betting apps, so if there is a problem with one, you have a backup. PointsBet and BetMGM are brilliant alternatives to FanDuel if you want a substitute choice.
Step 5 – Is the FanDuel sportsbook app running slow?
Apps running slow is now just a way of life. As we rely on them more and more we tend to notice when they are flagging or only chugging along. If you find your FanDuel app running slower than normal, force stop the app and all the apps you're running. Your phone may be low on memory. You may also be using an older version of the app which has since been updated to run faster.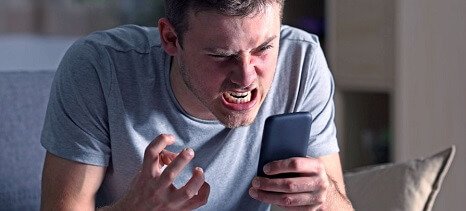 Occasionally there are more customers using the sportsbook than normal. When this happens (think Super Bowl, March Madness) there can be extra pressure put on the server causing the app and website to run slow. There may be a technical issue with the server or software the app runs on. You also need to check your cell signal and make sure it's not just your internet running slow.
Step 6 – Is your FanDuel account well maintained?
It may not be the app stopping you from being able to place bets, but rather your betting account. Can you login to the regular desktop site or mobile site? If you can't, then you need to get the FanDuel customer service number and get in touch with them. Head to sportsbook.fanduel.com and access the contact page.
Your account with the sportsbook could be closed for a number of reasons. There may be multiple accounts in your name, you may have signed up with some information that doesn't stack up, you may have requested for your account to be closed, or your account could have been compromised. It's always best to check with customer support.
Step 7 – Not able to get past the login screen
If you can load the app on your mobile device with any problem, get to the login page, enter the correct details, and you still can't get past the login page; this is an issue on the FanDuel mobile app or site. There is nothing you can do in this instance except ride it out.
Additionally, this may happen if you are trying to use a VPN to bet with FanDuel. The operator has technology in place to identify users attempting to use a VPN to try and spoof your location. Simply put, if you aren't in a legal state, then you can't bet. Trying to get around this can result in your account becoming suspended or suffering a permanent ban.
Although there is no official FanDuel  Sportsbook status page to see if the site or app is not working, it is worth checking social media platforms. The operator will likely keep customers updated on any problems via their Twitter handle. You can follow them at – @FDSportsbook
Step 8 – FanDuel not working on your Apple watch?
We have received numerous messages from people claiming that this is a problem. It can be caused by not updating your device with the latest iOS update on the app, your watch, or your iPhone. We recommend ensuring you are using the latest version of all 3, restart your devices, and try again.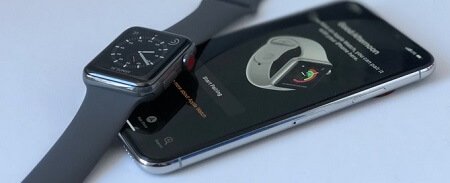 Step 9 – Make sure you are entering the correct username and password
We have all been there, trying to log into websites and forgetting our username or password. It is no surprise these days as many people have hundreds of passwords for various sites, apps, games, and online platforms. If the mobile app isn't working, as with any online setting, try a password reset and see if that solves the issue.
Step 10 – Are there funds in your betting account?
If you have a DFS and sports betting account with FanDuel, it may be that all of your funds are in your DFS account and not in your betting wallet. To correct this, log in and transfer your money over.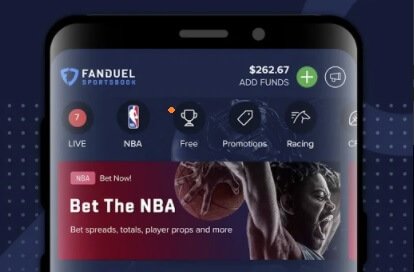 Step 11 – Do you have the latest version of the app?
Do you know if you are using the latest FanDuel Sportsbook Android or iPhone app? For iOS users, make sure you head to the iTunes app store. For Android customers, the Google Play Store now allows gambling apps so that you can check the status of your app there. You can also download the apps from the links on the FD sports betting site at sportsbook.fanduel.com.

FanDuel Sportsbook alternatives
If you have followed all the steps above and haven't managed to resolve your problem, then you may be ready to try a new sportsbook. We can highly recommend any of these operators below, all of whom yield hundreds of ways to bet legally, and safely each day. As well as offering up a great free bet promo offer to new customers, you can also wager on a massive choice of spots on several bet types, including in-game betting, props, and futures markets.
These problems are not unique to the FanDuel app. We also have guides to fixing the DraftKings app and one for issues with the BetRivers app if you have problems with these books too.
Working through this troubleshooting guide will cover 99% of problems with the FanDuel app and should get you back betting again soon.