Sportsbook Geolocation Problems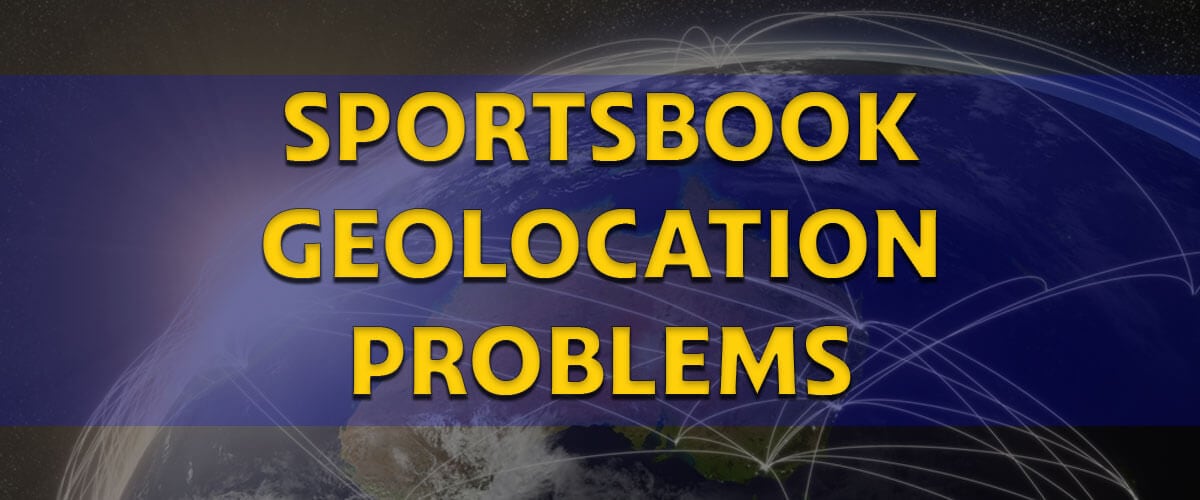 Online Sports betting is rapidly expanding across the US. As it is not yet legal in all states, before placing a wager, you need to prove that you are in a legal state. Step forward geolocating.
As more states legalize online sports betting, operators are looking to get in on the action by launching their online sportsbooks. Numerous brands have a mobile sports betting platform, such as the DraftKings mobile sportsbook and the BetRivers sportsbook app, and aim to provide a seamless betting experience for those who wish to place bets on the move.
However, although we rely on technology being fast and accurate, sometimes it can be faulty and cause the player some issues when trying to place a bet. There is nothing worse than signing up for an account, accessing the welcome bonus then facing issues when betting.
One of the most common terms you will now encounter when using a sports betting app or betting online is 'geolocation.' This technology is used to pinpoint your exact location to check if you can legally place a bet. For example, you may have downloaded a sports betting app in Indiana and completed the registration process. However, you travel across the country to a state where sports betting is not legal. While there, you log in to your sportsbook account but are blocked from placing bets. If you have a DraftKings account, for example, that is DraftKings geolocation working to not allow any betting in states where it is illegal.
Best Sportsbooks With Geolocation
So far we have found the below online sportsbooks and apps to have the most reliable and accurate geolocation software in place are:
First Bet Offer Up To $1,000 In Bonus Bets
Massive range of sports
Extensive banking options
5 x $50 Second Chance Bets
Huge new player welcome bet
Loads of bet types available
Some sportsbooks are better at providing location services than others. The 3 listed above are ones we have tried and tested in several states and had the least issues with. There is nothing more annoying than wanting to get a bet on and having this geolocation, or geofencing and location issues stopping you from placing a wager. How do we get around it? Well, we use 2, or 3 sportsbook apps, then if one is playing up, we always have a backup.
Let's take a look at some problems you may encounter with geolocation. One sportsbook we had particular problems with was FanDuel sportsbook. We often came across the FanDuel geocomply no token error message and would recommend using BetMGM, Caesars Sportsbook, WynnBET, or DraftKings over FanDuel.
One of the main errors we see is from DraftKings we cannot locate you. Fortunately, with the DraftKings sportsbook, this is an easy fix. On an iPhone, just make sure you have the location setting set to either 'While Using the App' or 'Always'. You can do this inside Settings>Privacy>Location Services>DraftKings Sportsbook App.
If you have this issue on Android, make sure you have the Precise Location enabled in Settings>Apps>DraftKings Sportsbook>Permissions>More>More>All Permissions.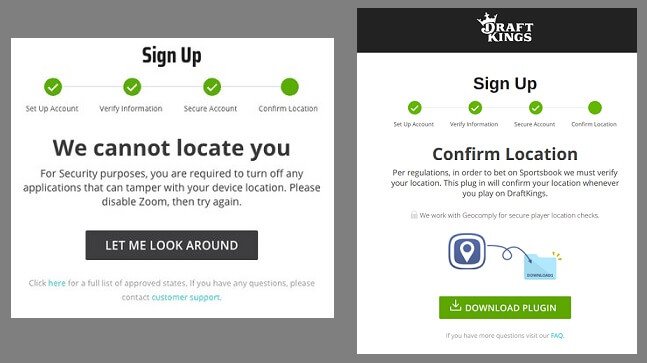 Current Problems With Geolocation
As with any modern piece of software or technology, some problems occasionally arise. Geolocation is no different, and each operator will have a list of troubleshooting tips to help you overcome them. For example, a bettor may come across some warnings when trying to place a bet such as 'geolocation not working,' 'DraftKings location not found,' 'Android location services not working,' or 'geolocation error.' You may also be wondering what is player location check as this too often appears on your screen. This can be frustrating for the player as they have launched the app and just want to bet but are being blocked.
Players may question why this is happening. This is common amid ongoing discussion about the growth of mobile and online sports betting. The rules on legal sports betting in the US dictate that sportsbooks must employ geolocation technology and are only permitted to accept wagers from those physically located within state lines or face hefty fines.
For the technology to work correctly, it requires the use of both software and hardware designed to "fence" devices. If you look at Indiana as a prime example, where mobile betting apps are legal, the state is virtually "fenced," meaning players can download apps and bet without hassle. Problems arise when you consider other states, such as Mississippi, where betting on sports on your mobile is legal but only on-site at a brick-and-mortar casino. Consequently, a different kind of 'geofence' needs to be adopted.
There are geolocation vendors around, such as GeoComply, that must be flexible to overcome common issues. For example, in a selection of states, sports betting won't occur in a casino but in smaller venues that are difficult to find. In such venues, hardware needs to be downloaded to stop players from placing bets until they are located somewhere with an interactive sportsbook.
If you are going to use your computer to place bets, make sure you download the Google Chrome geocomply plugin (available for Firefox, IE & Safari), as this will ensure any potential location problems are overcome. You can download the plugin for your browser here which is very good. This should cure the could not validate geo location error you may get.
How Sportsbooks Could Get Around Geolocation Issues
One option open for sportsbooks to get around problems such as bettors gathering in a remote location is to train route operators who service betting kiosks all about the technology and how it works. If the operators know how player location check geocomply works, these obstacles can be overcome quickly.
Additionally, sportsbooks could install multiple hardware pieces, so in the event, one breaks down, there is another still working.
Several state lawmakers have voiced concern about how geofencing will work in practice in their locations. The only way to get around this is that geolocation becomes even more accurate and will need to be valid to the inch to stop any potential breaches.
If you are scratching your head wondering Why can't DraftKings find my location? You are not alone. Our troubleshooting tips below will help you get this fixed.
What Should You Do If You Have Location Issues With A Sportsbook?
One of the most common questions we get asked why do we get geolocation warnings, and how can we fix them? If you are wondering why the sportsbook can't 'geolocate me,' there are a few steps you could use. You may encounter messages such as DraftKings not working; if you do, try these steps below:
Ensure you are physically located in a state with legal sports betting.
Make sure location services are turned on in the settings.
If the above has been done, but it still doesn't work, try restarting your phone.
If still having problems, uninstall the app and download it again.
Go into location services and click 'allow,' open the app, and log in.
Make sure your device is not Jailbroke. If it is, restore it to factory settings.
Typically toggling your location on and off, restarting your device will fix any problems you may encounter with sportsbook apps and geolocation settings. If you have a longstanding problem, you could contact the operator themselves. You can also try and force stop location settings from your security on your device.
If you get the geolocation expired message on FanDuel or any other sportsbook, sign out of your betting account, close down the app fully (force stop the app), then re-open and confirm your location. This issue seems to affect FanDuel sportsbook more than any other and sometimes no matter what you do, the issue won't go away for a few hours, which can obviously stop you from laying that bet. Even bet365 account suspended problems occur, though, so there isn't really a betting app bulletproof to geolocation issues.
How To Turn Location Setting On From Your Mobile
You may be wondering how to turn on geolocation from your mobile device. It is crucial that a sportsbook can access your location, whether you are in Indiana, NJ, PA, or any regulated state. It is straightforward to do this. If you have an iOS device (iPhone or iPad), you can locate this setting in:
Settings
Privacy
Location services (toggle on)
Access the app and confirm to share location
If you have an Android device, the location settings can be found in:
Settings
Location (toggle set to on)
App permissions
Find the app
Select Allow all the time or when using the app.
These may vary slightly from manufacture to manufacture for Android handsets.
Does Geocomply Always Work?
They are pretty much perfect, but some factors can affect them occasionally (such as a weak signal or the Wi-Fi failing). They can pinpoint your whereabouts to within a few inches when outside; however, walls and roofs can block the signal if you are inside.
Like any software or hardware, it is never 100% accurate and will always throw up some complications every now and then. We recommend having an account with at least two sportsbooks so that if one is causing you to get frustrated, we have a backup option where we can get on with betting. It's not just online sports betting where geolocation is a legal requirement. In states that allow online casino gaming, geolocation is used there too. Online casinos also have geolocation problems but luckily, the fix is identical for sportsbooks and casinos.
What to do when GeoComply stops working
Just like any software, apps and plugins can just stop working and leave you scratching your head as to why. The GeoComply app and plugin are certainly no exception. First of all, make sure you are not using a VPN as this will stop the plugin and app from working correctly. If you are having issues with GeoComply not working, uninstall the app (or plugin) then download the latest version. Most of the time, this simple uninstall, reinstall will fix the problem.
If you have tried to re-install the app and GeoComply will still not confirm your location, try another location app to see if your GPS receiver is ok in the phone (Google Maps is good enough). If you can confirm your location this way, try and move outside if you are indoors and see if that works.
Why Do Sportsbooks Need Geolocation
Online gambling is not legal in every state, so an online platform will need to prove you are in a state that does permit iGaming. The easiest way to do this is to use your location feature that is built into your mobile device. Geolocation (often offered up by Geocomply) is extremely accurate. Using a player location check plugin is currently the best and most accurate way to confirm your location.
However, when using a laptop or desktop computer, you will need o use a geolocation plugin (also called geocomply plugin) via your web browser. This confirms your location using your IP address.
This tech is still relatively new, so we expect it will develop and get better over time. As a result, we hope there will be fewer issues and frustration among players. We do not recommend using a VPN. Bettors trying to use a DraftKings VPN will be blocked from accessing the site's full features due to software detecting you are using a VPN.
What is player location check?
Player location check is a geolocation plugin that is used on Macs and PCs. It is also the system used by online sportsbooks and betting sites to confirm a player is in a location where they are licensed, and where sports betting is legal. For example, player location checks are needed in Indiana to prove a customer is located in the Hoosier state. As some neighboring states do not allow sports betting yet, you can not place a bet there as the sportsbook will know you are outside of a legal state.
These checks are different from the DraftKings verification checks, which are related to confirming your identity, which may require you to upload your documents. If you find that the GeoComply player Location check is not working, you need to follow the steps above to reconfirm your whereabouts.
We recommend using one of the sportsbooks we have listed on this page with the best and most accurate geolocation services.