Indiana Sportsbooks Banking Options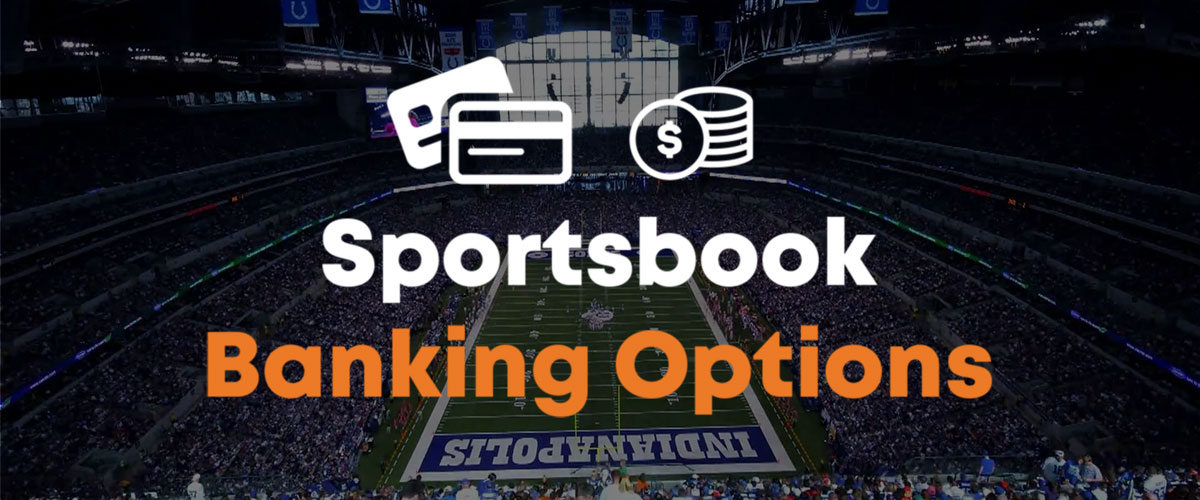 There is now a convenient range of payment options for players using Indiana Sportsbooks online and via mobile apps.
It's now quick and easy to deposit and withdraw to your online sports betting account. We will run you through your banking options available with IN sportsbooks.
Indiana Sportsbook with fast payouts
Easy Deposit Sportsbooks in Indiana
If you want to bet online in Indiana on a sportsbook that has fast payouts and easy deposits, we recommend the following operators:
For us, the best online sportsbook for withdrawals is BetMGM or Caesars Sportsbook who offers some of the fastest and easiest banking options.
One of the most critical factors in deciding which online sportsbook to choose is how easy it is to fund your account. It is crucial for players that making a deposit is a fast and hassle-free experience so they can move on to the fun part of placing some bets and winning money. Indiana online sportsbooks provide a wide range of payment methods from established and trusted payment processors, making depositing and withdrawing your funds a straightforward experience.
This guide will give you a breakdown of the most common payment methods and what to look out for. Luckily, there is a lot more bookmaker deposit options available to players now than there was a few years ago. Most sportsbooks take credit cards, however, some offer a range of options, such as ACH and bank transfers.
All of the sportsbooks listed are legal and approved in Indiana by the Indiana Gaming Commission so you can deposit, and withdraw in confidence. You are far safer using a regulated operator over an offshore sportsbook like 5Dimes or bovada.
Most Common Deposit Options for Indiana Sportsbooks
Let's start by listing the most common payment options you will see on an Indiana online sportsbook and sports betting app. It is likely all of the below payment methods will be available at the majority of Indiana sportsbooks; however, some may not be.
Visa/MasterCard credit and debit cards
VIP preferred e-Check (ACH)
Online banking transfer
Skrill
PayNearMe
Play+ Prepaid Cards
Bank wire transfer
Paper checks
Cash at the casino cage
The above list covers all of the most popular sports betting online payment methods, with Venmo sportsbooks also slowly appearing. They range from digital payment systems to traditional payment cards. An online sportsbook should provide a range of different options, so the player has enough choice to choose one that suits them. Once you have deposited at one of the books, you can usually claim a free sportsbook bet.
Fastest Deposit Methods at an IN Sportsbook
The biggest sportsbooks in Indiana will often have numerous payment options available for players. For those who are comfortable with technology, you can use an e-wallet, while for those who prefer a more traditional method, you can deposit in-person at a casino. Each player will have their reasons for selecting their preferred option; however, we feel speed and safety are the two critical factors.
PayPal
PayPal is widely used globally for processing online money transfers. This e-wallet is very popular in the United States, and most people feel comfortable using it. Moreover, it is likely that bettors will already have a PayPal account, so there will be no need to create a login and get to know the platform.
PayPal is extremely visible whenever you are dealing with an online financial transaction. Whatever you are purchasing online, you will almost certainly see PayPal as a payment option. One of the reasons for its success is that it is safe and has fast processing times. Additionally, as PayPal acts as a middle-man between you and the sportsbook, there is no need to provide sensitive information such as your credit card details. This will automatically put people at ease.
If you feel PayPal is the best choice for you, there are specific issues you should be aware of. First, make sure the email address you used to create your sportsbook account matches the one associated with your PayPal account. Next, any money you transfer to an Indiana online sportsbook must come from a personal account and not a business one. Finally, if you wish to withdraw funds using PayPal, you must ensure you deposit using the same method. You cannot deposit using a credit card and withdraw via PayPal.
Want to know more? Then see our guide on Indiana sportsbooks that use PayPal.
E-Check (ACH)
For those players that have a checking account, this is the best payment option for you. ACH stands for Automated Clearing House and acts as an electronic check. Some sportsbooks may refer to this method as an 'instant e-check' or 'VIP preferred.' This payment option involves using your bank checking account information to process a payment. The main reason why we recommend this option is that the processing times are instant.
E-wallets
E-wallets are digital payment providers that store our bank account information. There are several advantages to using them, giving users instant access to their bank accounts, and paying for things online quickly by simply entering your password.
As more people become comfortable using e-wallets, they have expanded their reach to facilitate payment processing using NFC and QR code scanning. If you decide you would like to use an e-wallet to fund your Indiana sportsbook app account, the most common options are PayPal and Skrill.
Skrill
Skrill is very similar to PayPal, but there are some subtle differences. Firstly, Skrill has longer payment processing times and higher withdrawal fees than PayPal. Furthermore, Skrill offers some benefits, including a VIP program for top spenders and a fantastic support network. Both have their plus points and are an excellent option to fund your sportsbook account.
Bank Payment Services
If you would rather not trust a third party for any online financial transactions, you can make it more personal and select your bank's payment services to deposit. As users will be familiar with using these methods, sportsbooks will offer them as an option.
ACH/E-Check
As we have mentioned, an ACH or e-check is one of our preferred payment options for any online sportsbook. Through these checks, the sportsbook has a direct connection to your bank account, which means processing times will usually be instant. However, please be aware, in some cases, it may take 24 to 96 hours for funds to be deducted from your balance. This payment method will be widely available at all legal Indiana online sportsbooks.
Online Bank Transfer
Online transfers are widespread in day-to-day life, and now sportsbooks offer this method. If you choose to deposit using an online bank transfer, you will be directed to your bank's online platform from the sportsbook. You will likely see a pop-up window appear with your bank displaying a message stating the transaction is being checked.
An online bank transfer is not too dissimilar to an e-check, but there are a few differences. First, transaction times are slower with a bank transfer. Moreover, you will need to log in every time you want to make a payment, which can be a hassle. Additionally, not every bank will offer an online transfer. Banks that support bill pay services can also make online bank transfers.
Some of the banks that offer online transfers include:
HSBC
Bank of America
Chase
Capital One
PNC
Santander
TD Bank
If users want an option that removes the need to enter information continually, online bank transfers are a good choice. As with PayPal, the only thing you need to do is log into your online banking and confirm the payment.
Wire Transfer
Using a bank wire transfer is another option to add funds to your sportsbook account. This method may be more suitable for high rollers who wish to deposit significant sums of money as the associated fees are on the upper side.
Credit/Debit Cards
Most Indiana online sportsbooks accept credit and debit card payments, and they are processed instantly. Using a payment card is popular as people use them for everyday purchases at a store or online sites such as Amazon. There are a couple of essential factors to consider before choosing to deposit with a credit or debit card. First, there is a chance your bank might reject a deposit to a sportsbook, as online gambling transactions are still a new concept in the United States.
Secondly, banks may see credit card payments to gambling sites as cash advances, so they will charge a fee. Legal sportsbooks will not charge any fees for credit and debit card deposits, but your bank may do. If you really want to use your credit card to deposit, it is worth calling your bank in advance to see if they will charge you an additional fee.
Prepaid Cards
Prepaid cards such as Play+ have become one of the most popular deposit options for legal online sportsbooks. Prepaid cards are a superb option for players who don't wish to use a bank account to fund their online sports betting experience. Since the introduction of these cards, sportsbooks and casino sites in Indiana have decided to offer their own branded cards.  If you choose to receive an operator-branded card, you will have access to higher transaction limits, and it is more likely that transactions will be approved. The only requirement is to transfer funds from the prepaid card to your sportsbook account, which we don't feel is too much trouble.
Of course, prepaid cards must have funds in them before you can use them at a sportsbook. That may seem obvious, but it is an easy mistake to make, as we know all too well! You can add funds to your card via a checking account or a Visa/Mastercard. Another bonus is that there is no need to wait for the physical card to arrive in the mail. Once you have registered for the card, you can use it immediately.
Depositing In-person
It may almost feel like you are defeating the object of playing at an online sportsbook if you do not wish to deposit online. However, most sportsbooks realize some customers may still feel uneasy about online financial transactions, so they allow you to deposit and withdraw in person.
Cash at the casino
Online sportsbooks in Indiana will have a land-based partner where you will be able to go and deposit or withdraw in person. Of course, with this comes the removal of any transaction fees or processing times. It is down to the individual to head to the casino with their ID and account number, and then fund their account or collect their winnings.
Below is a list of Indiana sportsbooks with their land-based casino partner where you can go and deposit or withdraw.
Sportsbook                                           Casino Partner
PayNearMe
PayNearMe is the industry's preferred method for those who want to deal primarily in cash. If you don't have a bank account or have a lot of money in hand, PayNearMe is a good choice. If you select this method via the online sportsbook, it will ask you to choose an amount to deposit and generate a payslip. You have the option to save this to your mobile device.
You can then visit a local 7-Eleven, Family Dollar store, or CVS and pay the amount in cash. It is a very straightforward option, and the stores that provide this service are everywhere.
Paper Checks
We couldn't leave out the good old-fashioned mail! If you are looking for speed, this is perhaps not the way to go, as it can take 7 to 10 days for the check to clear. Most, if not all, sportsbooks will allow you to withdraw with paper checks, but only some will allow you to deposit via this method.
Withdrawing Funds at Indiana Online Sportsbooks
It is a great moment when it comes to cashing out your winnings and seeing those funds added to your bank account. It doesn't matter if you have won by sheer luck or you carried out some research before betting, seeing those winnings climb and then requesting to withdraw them is a fantastic feeling.
Your options will be more limited when withdrawing than when depositing. Furthermore, processing times are also longer. Here is a rundown of the most common withdrawal options at Indiana online sportsbooks.
PayPal
This e-wallet offers fast transactions as well as being secure and protecting sensitive information. You must ensure you are withdrawing to the same account you deposited from.
ACH/e-check
Users can transfer funds directly from their sportsbook account to their bank account. All that is required is for the customer to provide their bank's routing number and account number.
Skrill
Another e-wallet option, but with slower processing times than PayPal. However, using Skrill, you have the opportunity to claim rewards, and there are lower fees. You can transfer money to any bank account which is linked to your Skrill profile.
Prepaid card
A prepaid card is very convenient as it can be used for ATM withdrawals like a bank-issued debit card.
Cash at the casino
If you live near the land-based casino partner of your sportsbook, you are in luck! No hanging around, you get paid in cash at the casino cage.
Paper check
The traditional mail system will take the longest time, making it a no-go for most people.
As you can see, no matter how you want to deposit, there is a range of banking options to suit any Indiana bettor. Now your account is funded, you can get to the fun part of placing your bets!
Now you know all the ways to fund and withdraw from an online sportsbook, if you need help in signing up, we can help with our IN Sportsbook sign up guide.
Indiana Sportsbooks Banking Options
Is it safe to deposit at an online casino?
Yes, it is safe to make an online deposit at a casino. Make sure you are playing at a licensed operator that is registered in the US, such as DraftKings, BetMGM, or FanDuel.