The top-rated Indiana sportsbook promos, free bets & bonuses
Now that sports betting is legal in Indiana for both retail and online wagers, you can claim some free sportsbook bets and bonuses from IN Sportsbooks.
The Indiana Gaming Commission has helped to create a safe and secure betting industry in the Hoosier State. As a result, many operators have launched online sportsbooks in the state giving Indiana bettors plenty of sports betting options. With competition in the Indiana sports betting industry high, online sportsbooks offer various bonuses to attract new players and keep them engaged. We take a look at the best sportsbook offers for new IN players.
Best Indiana Sportsbook Bonuses
Want to know which Indiana Sportsbooks offer the best sign-up bonus or free bet? Well, the best free offers come from the following operators:
Any online sportsbook in Indiana can maintain steady profit levels by offering players undervalued odds on their wagers. However, online sports bettors who are wise enough can turn any advantage the sportsbook may have and turn it around to their favor. One of the most straightforward and effective ways to do this is to take advantage of Indiana sportsbook bonuses, free bets, and promotional offers.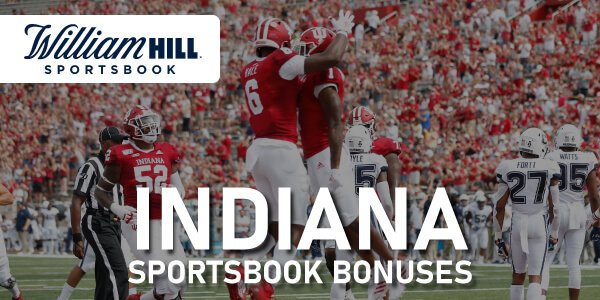 As land-based sportsbooks do not offer a great range of bonuses, players have turned to online Indiana sportsbooks where they will find a plethora of lucrative bonus offers. These bonuses range from a free bet no deposit needed to a deposit match and a risk-free bet. Bettors in Indiana have tonnes of choice to claim these bonuses, and in doing so, have more opportunity to make some cash. On this page, we will look at some of the best free sportsbook bets in Indiana.
Online football betting bonuses allow customers the chance to try and 'get one over' a sportsbook as they are playing with house money. This is a rare opportunity, so if you want to make some real money keeping your eyes peeled for the best bonus offers is worthwhile. Free bets for existing customers are very hard to come by and sportsbooks usually reserve the best offers for new players.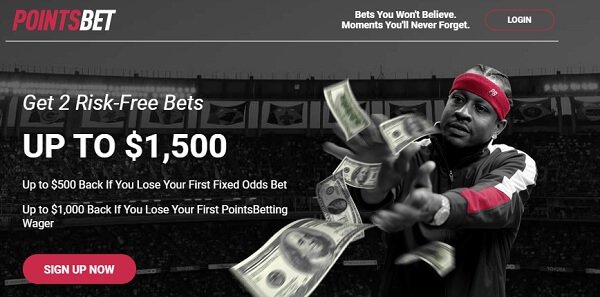 Every bonus will come with a catch or requirement, but Indiana's sports betting industry contains some excellent offers. Furthermore, the industry is safe and secure; the Indiana sportsbooks we have listed above have all been licensed by the Indiana Gaming Commission. Some new betting sites, such as mybookie and BetOnline, are not licensed, so carry greater risk. Signing up with an IN sportsbook is easy but if you are new to online or mobile betting, you may feel it can be complicated. Don't worry, we have a handy how-to join an IN Sportsbook guide just for you.
This article will look at bonuses in detail, what they mean for the player, and how to claim them. Any bonuses we mention are great deals for a player in terms of value, as we have carried out numerous reviews of online sportsbooks so we can pick ones that offer the best value for players. Not every bonus will be suitable for every player, so we have explained what all of the main bonuses mean to give you a greater idea if they are right for you. Claim the offers online, or on one of the Indiana Sportsbook apps.
What are Betting Promo Codes?
In some instances, to claim a bonus offer, sports bettors must choose to opt-in for a sportsbook promo code or bonus code. A promo code will typically appear in all capitals and be a short word such as 'BONUSNOW' or 'PLAYERBONUS.' A sports betting promo code is essentially a coupon, but instead of getting a discount on some goods in a store, players get more value on their bets.
Promo codes are most commonly used when a player is first registering for an account at a sportsbook. The majority of online sportsbooks will have a promo code box available on one of the online sign-up forms. There will typically be options to create a password and enter your details on a sign-up screen, and there will also be an option to enter a promo code. A lot of the codes can be used in conjunction with no-risk matched betting in the US.
Entering a bonus code will present players with one of the most lucrative promotions they will receive at an online sportsbook: a welcome bonus. As part of greeting new players, sportsbooks will offer a welcome package that is typically worth hundreds of dollars, and they are definitely not to be missed.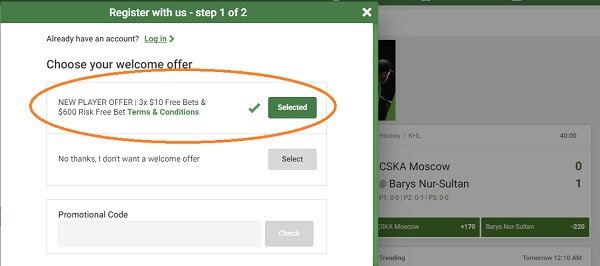 Wagering Requirements
Before we take an in-depth look at the range of deposit bonuses, $1,000 risk-free bets, and first bet options offered by Indiana sportsbooks, players should be aware of wagering requirements and how they work. We haven't come across many sports betting sites that offer bonuses without wagering requirements and specific terms and conditions. The more players grasp the concept of how these work, the more quickly they can judge if a bonus is worthwhile and adds any value to their betting.
First, we must stress the importance of reading the fine print that comes with any deposit bonus, as there you will find a section on wagering requirements or playthrough requirements. These are the same thing, and the concept is that you must bet a certain amount of money before withdrawing the bonus money or any subsequent winnings won by betting the bonus money.
So the lower the wagering requirements, the more valuable and better the bonus, the higher the wagering requirements, the less impressive the bonus is.
Always Look at Wagering Requirements
Using a straightforward example, you come across a 100% matched deposit bonus worth up to $200. If the rollover for this bonus states 1x, it means you would need to place bets worth $200 before you can withdraw the bonus money or any winnings that are linked to the bonus money.
Some rollovers will be as high as x20, which is why it is crucial to always read them as you may not feel it offers excellent value for you. Deciding which bonus is best for you will come down to your budget and your skill level.
Welcome Bonuses at Indiana Online Sportsbooks
Once you are familiar with how wagering requirements and terms and conditions of bonuses work, it is then vital to understand what different types of bonuses you will come across. Since sportsbooks in Indiana have launched, we have seen a wide range of promotions and bonus incentives to attract new players to their online sports betting platforms. Below you will find a list of the most common bonuses you will find with an online bookmaker in Indiana.
No-Deposit Bonuses
We will start with the most straightforward bonus to understand. There are fantastic for new players and anybody new to online sports betting as there is a small amount of risk for the player due to the fact you do not need to make a first deposit to claim the offer. The only thing a player needs to do is register for an account with the online sportsbook. A no-deposit bonus is also sometimes referred to as a free bet.
These bonuses are a dream ticket in terms of using house money to try and get your bankroll off to a great start. However, as we have mentioned, there will always be a catch or caveat, and no-deposit bonuses come with wagering requirements. Players won't have the option to immediately withdraw the bonus funds; they will be required to use them with the sportsbook.
Some online sportsbooks may ask the player to bet the bonus funds only once before withdrawing; others may ask for a high playthrough requirement of x10 or x20. You must read the terms and conditions before playing. Despite the wagering requirements, no-deposit bonuses are great to take advantage of as they are not tricky to clear and can be used to make real money without the need to deposit.
Another thing to look out for with a no-deposit bonus is if there is a time limit set. Some sportsbooks will state you are required to claim your bonus within a specific time frame. Once signed up, you may need to make a deposit in order to claim the bonus. To see more on cashier options, have a look at our Indiana Sportsbooks Banking Options page. There are lots of convenient ways to deposit, including several IN Sportsbooks that use PayPal.
First Deposit Match Bonuses
A first deposit match bonus is perhaps the most common type of promotion offered by online casinos and is now prominent in the online sports betting world. The idea behind these deposit bonuses is simple; Players sign up for an online sportsbook account and make a deposit. The sportsbook, then in return, matches that deposit via a certain percentage.
For example, a 100% matched deposit bonus gets doubled with the bonus money. If you deposit $100, you get $100 in bonus money, deposit $300, get $300, etc. Similarly, a 20% match bonus will add an extra $20 on a $100 deposit.
With these types of bonuses, the bigger the match rate, the smaller the maximum bonus. Bettors in Indiana may come across a 100% bonus worth up to a maximum of $200, but a 20% matched bonus may be worth up to as much as $500. These will vary across different online sportsbooks in the Indiana sports betting market, so it is worth doing some research to find the best ones.
Free Bets
Free bets are another common type of promotion offered to new players by many online sportsbooks in Indiana and across the country. There are no tricks here or complicated rules to follow. Players can make a bet on the house, and any winnings from those bets are instantly awarded as cash. Players must note that the initial free bet amount is not cashable.
For example, if a customer is given a free bet of $100 and bet on Seattle Seahawks to win the Super Bowl at +100, they would get $200 if it wins, not $400, which they would have done had they used their own money. Free bets will typically come in three different forms; No-deposit free bets matched free bets and deposit-matched free bets.
Free bets will usually come with some restrictions, as an online sportsbook will not want to be giving too much advantage away. Some betting sites may state that free bets can only be used on markets at odds greater than  -200 or -300. Furthermore, free bets will have an expiration date attached to them, so make sure you check when it runs out before playing.
Risk-Free Bets
Risk-free bets are relatively common in regulated online sports betting markets. The general idea behind a risk-free bet is that you must first create an online sportsbook account and place a wager with your own funds to qualify. If the first bet you make wins, you win the money, and nothing out of the ordinary happens. However, if your first bet loses, the sportsbook will refund the amount of the wager, up to a particular value. The refund will be in the form of site credit, so you cannot be withdrawn.
Although risk-free bets sound fantastic, you still have to bet with your own money, and players who win with their initial bet don't win any extra money beyond their winnings. In our opinion, they are not as favorable as free bets, but a risk-free bet is still a decent offer.
Odds Boosts
Occasionally, sportsbooks will take a popular bet or bets and boost the odds on those markets temporarily. These will not be Vegas odds or odds you will find on ESPN, but specific t the sportsbook. For example, if a team is priced at +2000 to win a particular game, and odds boost promotion will bump this up to +5000. One of the great things about an odds boost promo is that they don't come with lots of requirements and conditions. The only thing to consider is that there will be a strict limit on the amount you can bet on an event with enhanced odds.
With that in mind, if you come across a sportsbook that is offering a fantastic odds boost on a game and you will get the winnings in cash, it is a good idea to bet heavily on that game with as much money as the sportsbook will accept.
Other Promotions at Indiana Sports Betting Sites
Besides welcome bonuses, online sportsbooks in Indiana will offer daily or weekly promotions to keep their players engaged and coming back to bet. The below list outlines some of the most promos players are likely to find in the Indiana sports betting market.
Parlay Insurance
This is great for customers who enjoy a parlay bet. If you place a parlay wager and only one leg loses, you will get bonus funds back on your original bet. Parlay betting is very popular, especially on mobile. Most operators now offer parlay betting, you can check out this guide on the best parlay betting apps for more information.
Close Call Insurance
The general concept behind these promos is that if you bet on a team and they come close but still lose, you will receive a refund on your wager with cash up to a certain amount of bonus money. A typical example would be if your team is leading at halftime but goes on to lose, or loses in the last minute narrowly.
Early Payouts
These promos grade your pre-game wagers winners if the team you have backed does something specific in a game such as scores the first TD.
Cashback Bonuses
These are popular in the sports betting world as players can mitigate their losses. A sportsbook will advertise a particular bet, such as who will win the first game of an NBA playoff series. If the bet is successful, the player gets their money. However, if the bet loses, they will get a certain amount of wager back in the form of cash or a bonus bet. Money is obviously the gold ticket, but you are still getting something back on a losing bet even if you get a bonus bet.
So now you know which IN Sportsbooks offer the best sign-up bonuses. Get those bets on in time for the big game. Stay up to date with the latest sportsbook offers on our news blog.