Pulsz Bingo
Are you tired of not having a social bingo site where you can access limitless bingo rooms and chat with other bingo lovers? That was me a few months ago until I found Pulsz Bingo. This social bingo site is one of the best social casinos in the US that allows players to play all the different types of bingo cards – 90-ball, 75-ball, 30-ball – for free. Since most sweepstakes casinos only offer popular casino games like slots and table games, Pulsz Bingo is changing the game with its interactive and very rewarding online bingo rooms.
Owned by Yellow Social Interactive, players are offered 5,000 gold coins and 2 free sweepstakes coins as a no deposit bonus to start buying ticket access to bingo rooms. Pulsz Bingo is also putting social in social casinos with the inclusion of chat rooms where like-minded players can communicate.
In this review, we will be looking at all the features, promotions, and legality of the Pulsz Sister Casino, but before we do that, why  not check out our Pulsz Bingo overview:
5000 gold coins + 2 sweepstakes coins no deposit bonus
4 available bingo rooms
Players can win real money
180+ online slot games
Legal in the US except for WA, ID, and NV
Pulsz Bingo New Player Offer
| No deposit bingo bonus | 5,000 gold coins + 2 sweepstakes coins |
| --- | --- |
| How to claim | Use Links |
| First purchase bonus | 200% + 30 sweepstakes coins for $20 |
| Other promotions | Weekly prize pool tournaments, social media contests, daily prize drops, loyalty programs, etc. |
| Eligible States | All US states except Idaho, Nevada, and Washington |
As it's common with many sweepstakes sites, Pulsz Bingo offers players 5,000 gold coins and 2 sweepstakes coins as a signup no deposit bonus. You do not need a Pulsz Bingo promo code to be eligible for this bonus.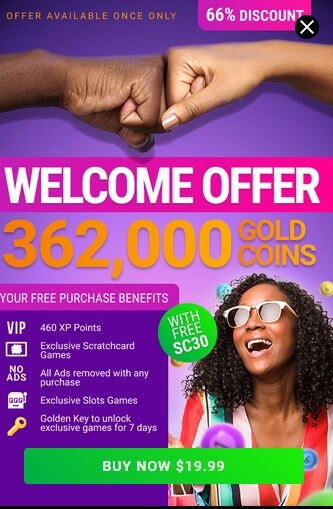 Instead, to claim, you must use our secure links when creating an account. The 2-in-1 bonus allows players the option to play for fun using gold coins and chances of winning cash prizes when you use the promotional sweepstakes coins to enter games.
In addition to the no-deposit bonus, new players are offered a first purchase bonus of 200% and an exclusive offer of 30 sweepstakes coins for $20 if you sign up from this page.
Promotions for Existing Players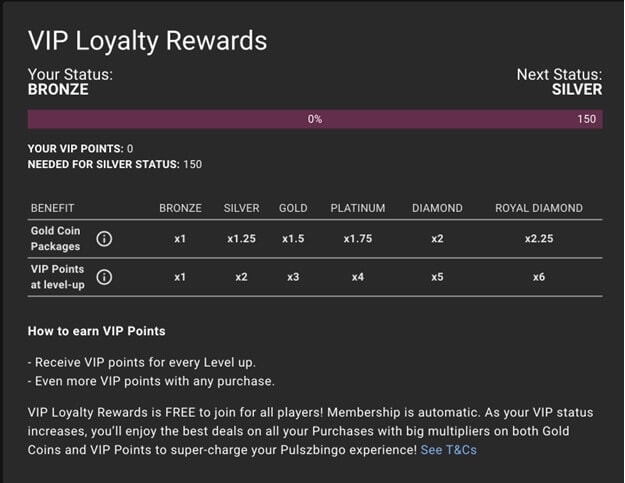 Done claiming the welcome bonus? Pulsz Bingo still has numerous promotions you can claim as an existing player. These promotions offer free coins you can use to purchase tickets to enter bingo rooms or even as free spins on slot games.
Daily Prize Drop: Login and play qualified online casino games to stand a chance to win the daily prize drop offer. This offer randomly awards up to 530 sweepstakes coins to eligible players, and that player can be you!
Weekly Prize Pool Tournaments: Not a fan of randomly triggered promotions? This Pulsz Bingo promotion offers a top prize of 500 sweepstakes coins to the player with the highest single win of the week. This tournament is exciting because Pulsz rewards the top 280 players with free coins depending on your rank.
Social Media Contest: Follow Pulsz Bingo on all their social media pages to know when contests that could award players with free spins and coins are posted. Unlike other promotions you'd find on this social bingo site, social media contests have more to do with how fast you answer or fulfill the required task than your on-site activities. An example of a social media contest is awarding the first few users with the highest number of likes with free sweepstakes coins.
Route 66 Free Tickets: For every 30 minutes that you visit the Route 66 Bingo room, you'd be awarded 12 free tickets to be eligible to win a top prize of 10 sweepstakes coins. This bonus is reactivated every 30 minutes, so theoretically, you can win 576 tickets and up to 480 sweepstakes coins daily without making a single purchase.
Loyalty Program: While this is only common among real money casinos, Pulsz Bingo is one of the few social casino sites to introduce the VIP program. In this promotion, players enter the loyalty program when they sign up. Players start from the Bronze tier of the loyalty ladder and climb up to the seventh – Diamond – tier by playing Pulsz games. The reward for moving up the loyalty ladder is exclusive multipliers on your gold coin package purchases and other exclusive deals.
Always check Pulsz Bingo's promotion page to keep updated on the on-site bonuses. However, we'd recommend you always keep your eyes peeled for Pulsz's newsletter, as that is where you get both on and off-site promotions in real-time.
How to Create a Pulsz Bingo Account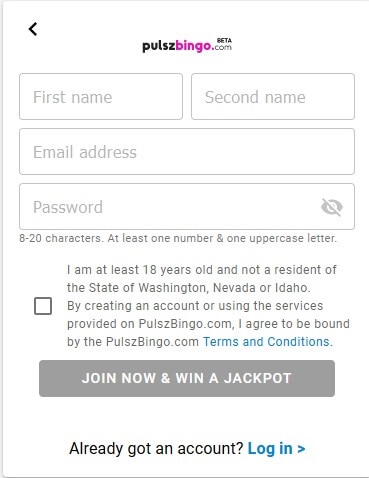 Signing up at Pulsz Bingo is very straightforward, and it takes only a couple of minutes. To open an account, here are the steps you need to follow.
Head to the Puslz Bingo website

through this page.
Click on the "Register" button at the top right corner of the homepage.
Choose between the three signup options: Facebook*, Google* (Gmail), and Email.
Fill in your full name, email address, and password.
Check the terms and conditions before clicking the "Join Now & Win a Jackpot" button.
Open the confirmation mail sent to you and click the "Verify Email" button.
Log into your account and start playing with the 5,000 gold coins + 2 sweepstakes coin welcome bonus.
*If you signup with Facebook or Google, you do not need to fill in any information as they are automatically updated to your Pulsz Bingo account.
Unlike real money online casinos and some social casino sites, you do not need to provide lots of information to play games. However, you'd need to verify your account to claim and win cash prizes.
Pulsz Bingo Mobile App
Unlike Pulsz Casino, there are no native mobile apps players can download to play Pulsz Bingo games. Despite this, the Puslz Bingo website is mobile optimized, which means you can access your account and play your favorite games on your mobile browsers.
Likewise, all casino-style games are built with HTML5, which removes the need to download extra plugins to be able to play sweepstakes games. So, whether you are using a PC, Android, or iOS devices, you'd still get an outstanding gambling experience. To make things easy below is a table showing all compatible browsers.
| Device | Compatible Browsers |
| --- | --- |
| Android (version 6 upwards) | Chrome, Firefox |
| iOS (6 upwards) | Microsoft Edge, Safari, Mozilla |
If logging in every time you want to play casino games is much work, you can add your Pulsz account to your phone's home screen. With this, your favorite bingo game is just a click away. Take this from someone with their account at their fingertip; this would significantly improve your online gaming experience. Follow this step to add Pulsz to your home screen.
Log into your account
Go to the page menu of your browser
Click "Add to home screen"
Tap the Pulsz icon from your home screen whenever you want to access your account
Is Pulsz Bingo legal in the US?
The short answer is yes! You must have seen me mention sweepstakes and gold coins a couple of times and wondered what they meant. These two virtual currencies are used to play casino games at sweepstakes sites. In short, the virtual currency model is what makes social casinos legal in the US, Pulsz Bingo inclusive.
US online gambling laws are still in their infancy, with most states still declaring bingo and casino games illegal. However, with the sweepstakes model, social casinos can bypass this law by adopting two things: Real money isn't needed to play casino games, and you do not need to purchase or deposit to play or win cash prizes. This is also the principle that Pulsz Bingo is built as instead of actual money, you can play bingo, and slot games using virtual currencies – gold and sweeps coins.
The gold coins serve as a free-play currency used to access online casino games. While you wouldn't get any real-life reward from using it, it serves as a good training ground for players looking forward to real money gaming whenever traditional online casinos are legal in their state. Even though they offer the same benefit, the sweeps coins have an extra advantage over gold coins: You can win real money from playing with them.
Players don't need to purchase these coins to enter any bingo rooms at Pulsz, as there are several promotions to keep gaming free. However, if you decide to make a purchase, you can only buy gold coins, while sweeps coins will be added as a purchase bonus to make winning real money easier.
How to Purchase Gold Coins to Play at Pulsz Bingo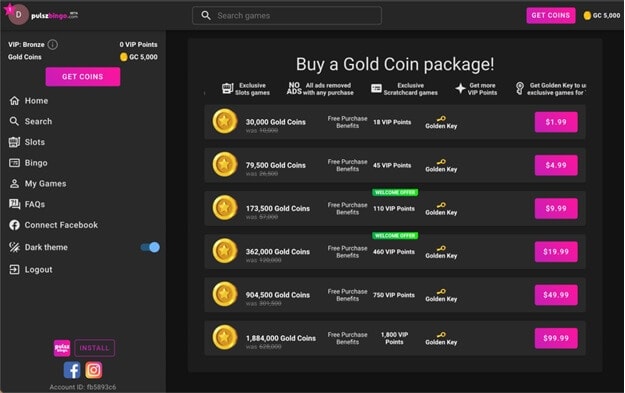 Don't forget that Pulsz Bingo is a sweepstakes casino, which means the ability to play bingo and other online casino games isn't based on you making a deposit or purchase as you would in traditional online casinos.
Nevertheless, players who want to enjoy more free games are allowed to purchase gold coins. Unlike in legal online casinos where you can deposit a certain amount, gold coins are sold in packages, so you buy a bundle for a price. To do this, you can take the following steps.
Log into your account
Click the "Get Coins" button
Select your preferred gold coins package
Pick one of the available payment gateways
Fill in the payment form with the relevant details
Click submit to finalize your purchase
Once you fill in your payment method when you purchase gold coins for the first, it will be stored for quicker access. Gold coins price range between $1.99 to $99.99, and there is a first purchase bonus of 200%, which gives extra free gold coins.
Regarding payment methods, players can purchase gold coins using the following instant options:
Online Banking (Trustly, Wells Fargo)
Debit Card (Visa, AmEx, Discover)
Skrill
Google Pay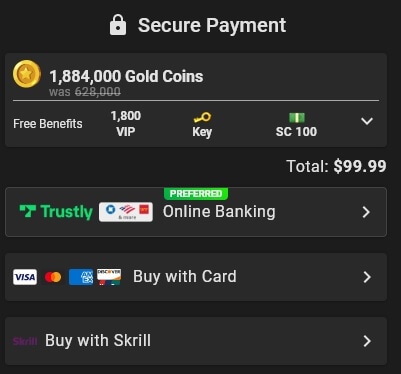 How to Redeem Cash Prizes at Pulsz Bingo
Players who have made enough sweeps coins from playing games can redeem them for cash prizes at Pulsz Bingo. To start the process, players need to click the "redeem" button beside "get coins." There are two available redemption options – redeem as Gift Card or Redeem Cash Prize – to choose from, and they all have different requirements.
To redeem sweepstakes coins as a gift card, players need a minimum of 25 sweepstakes coins in their account, after which the gift card codes will be sent to their mail. While this option has limitations, especially on how to spend it, it has the lowest minimum redemption requirement.
There is also an option to get real cash prizes for your sweeps coins at Pulsz Bingo. This method requires that you redeem your prizes in your bank account or Skrill. If it's your first time using any of these methods, 72 hours is required to verify all the information you provided, after which your cash prizes will be processed into your account. However, if you've Skrill or your bank account when purchasing gold coins, you would skip the verification and only have to wait for 3 to 5 working days to get credited. To use this method, you need a minimum of 100 sweeps coins.
The dynamic redemption system is one of the benefits of playing at Pulsz Bingo, as you are allowed to redeem prizes regardless of if you are a casual or high roller. Also, the 25 sweepstakes coins are the lowest you'd find among sweepstakes sites similar to Pulsz.
Pulsz Bingo Account Verification
As we've said before, verifying your account to play Pulsz Bingo games is not mandatory unless you want more access to what the social casino offers. Some of the perks of verifying your account are that you'd be able to purchase more gold coins and even redeem sweeps coins for real money.
To verify your account, you must submit two documents showing proof of identity and residential address not older than 3 months. Verification takes about 24-72 hours, and below are the available options you can choose from
Valid government-issued ID: Passport, Driver's license, or State/National ID
Residential Address: Utility bill, social security card, bank statement, credit card statement, phone bill, council bill, or lease agreement
To submit these documents for verification, click on redeem, and select which redemption option before pressing the "Submit Documents" button. All documents are handled and secured by an independent security company, so your data is well protected. Likewise, your information isn't stored and will be deleted shortly after you pass the verification.
Pulsz Bingo Web Interface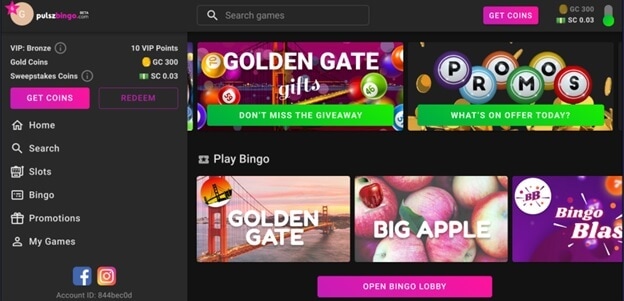 If you are like me and have tried out Pulsz Casino before, you will be met with the same design and structure at Pulsz Bingo, although it has a little more functionality. If, on the other hand, this is your first time playing at any of Yellow Social Interactive platforms, you wouldn't have any trouble navigating through the sweepstakes casino's website.
You can view all the available bingo games and other casino games like slots and scratchcards on the homepage. The casino games are also categorized adequately, with a short review written for each of them when you click them. Some games, especially bingos, have a concise guide on how to play, making playing easy for newbies. You can access this by pressing the "i" icon on the games.
Other essential options available at Pulsz Bingo are the get coins, redeem, promotions, and FAQ sections where you can purchase coins, view current promotions, and convert winnings to cash prizes.
Pulsz also adds the most recent games you played to the My Games section so you can access them easily. One exciting thing that I find about the Pulsz Bingo website is the inclusion of a dark theme. This allows you to customize the look of your account by either retaining the bright white background or activating the dark theme for a more stylish outlook. This is something I haven't found on other sweepstakes casino sites like LuckyLand Slots, but it can significantly improve the user's experience.
While you can play three bingo games and an online slot minigame simultaneously, if you are playing on a PC, you wouldn't have access to this feature when playing from your smartphone.
Pulsz Bingo Software and Games
There are over 200 casino games at Pulsz Bingo. While this number is nowhere near what you'd find in traditional online casinos, Pulsz takes pride in offering similar Las Vegas-style games for free. To ensure players are not missing out, most Pulsz games are powered by top software providers in the iGaming industry. Game studios like Pragmatic Play, Boongo, NetEnt, and Playtech are some of the brains behind the games you'd find at Pulsz.
While all bingo rooms are in-house built, much effort was made to ensure that it's up to the same standard you'd find anywhere. All the casino games at Pulsz Bingo can be played with gold or sweepstakes coins which means you can win real money when you play slots and bingo games. In addition to these two main game options are a few Scratchies and exclusive games. Although games under these two categories are interesting, they are far less popular since they can only be played with gold coins.
Since there are a massive number of casino games at Pulsz, games are well categorized, and if you are looking for something in particular, there is a search bar where you can search for games based on a few keywords.
Pulsz Bingo Rooms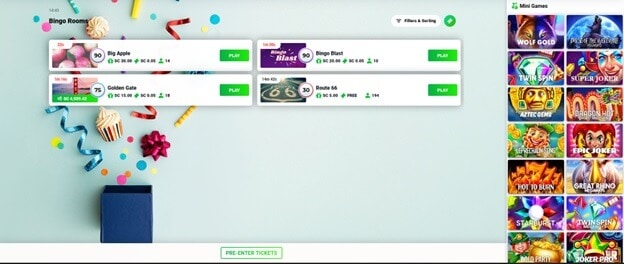 Four main bingo rooms are available at Pulsz Bingo, with Empire State and Hollywood Bingo soon to be launched. While this is fewer than what you'd expect in a social bingo site, the available options are more than what you'd find in alternative sweepstakes casinos like WOW Vegas and GoldenHearts Games. You can play Pulsz bingo games for free with gold coins and sweepstakes coins. But remember that only sweepstakes coins can offer you real money winnings.
In addition, the entry fee for each bingo room varies, but most of them can be entered with as low as 1 GC or 0.01 SC. Each of the bingo rooms you'd find at Pulsz Bingo have different features, speed, and ways to win, and this keeps things exciting for all bingo lovers. Depending on your preference, jackpot prizes are also attached to some of the bingo games, and unlike some jackpot slots, which are triggered randomly, you need to be skilled to stand a chance at winning this.
Want to learn more about the bingo games at Pulsz? Here are our short reviews and guides.
Big Apple Bingo: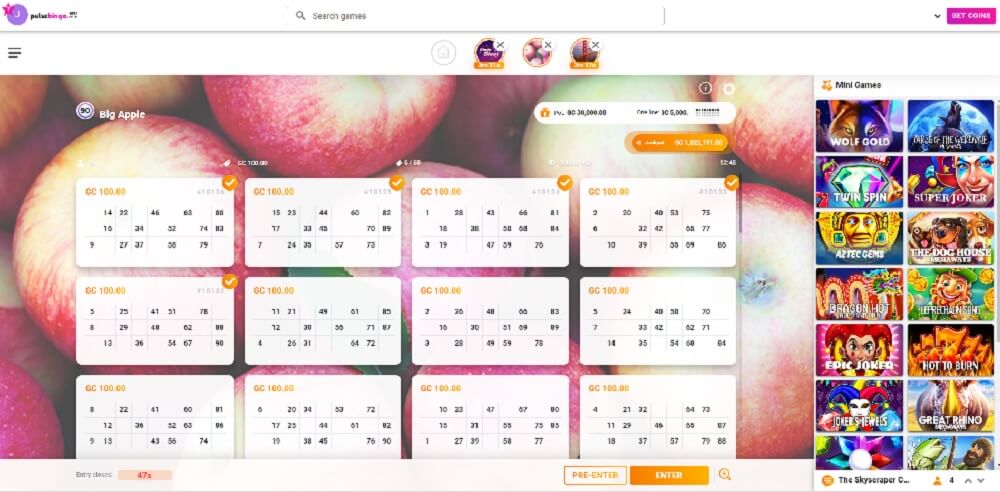 This is one of the most exciting online bingo you can play at Pulsz Bingo. Played on 90-ball bingo tickets that consist of 90 numbers randomly spread across the bingo cards.
There are three ways to win a Big Apple game, and it involves you matching any one or two rows or every row to get a full house. Aside from the massive 500,000+ gold coins you can win, Big Apple is also one of the progressive jackpot games at Pulsz Bingo, whose pot prizes increase the longer it stays unclaimed. To trigger the jackpot, all you need to do is win the game within a predetermined number of calls.
While the Big Apple offers bingo players interesting rewards and gameplay, its slow-paced nature and the fact that you can only play it between 4 am-midnight PST makes it unpopular among bingo lovers. However, you can use this to your advantage if you are a newbie, as you wouldn't have many competitors while playing.
Bingo Blast: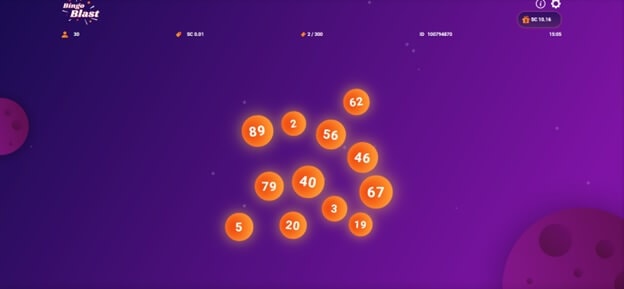 Is the Big Apple too slow for you? Well, why not crank the heat up a notch with Bingo Blast? If the name doesn't already tell you it's a rapid-fire game, then the two huge blasts eliminating 18 numbers to make it harder for you to win should. After the elimination, numbers are called rapidly, and you need to make a full house within 30 seconds of the game.
Even though Bingo Blast does not have a jackpot prize, players can join the bingo room any time of the day to play for free or with sweepstakes coins.
Route 66 Bingo:
While it owes its prominence among Pulsz Bingo players to the free ticket offered every 30 minutes, Route 66 bingo is in a league of its own when it comes to rewards and speedy gameplay. Route 66 is a 30-ball bingo – the hardest of all existing types of bingo cards. Coupled with the fact that this game has the highest number of players at any given time, you need to be an expert to win.
Also, to win this game, you need to get a full house, meaning mark off on the numbers in your ticket. Route 66 bingo is super competitive and is only available to play between 3 pm-7 pm PST. However, there is a top prize of 10 sweepstakes coins if you manage to win.
Golden Gate Bingo:
This is yet another progressive jackpot bingo game where you can win massive sweepstakes coins to convert to real cash prizes. Golden Gate is a 75-ball bingo with numbers up to 75 randomly placed across the tickets. Players have five winning chances involving matching numbers in any custom shape or winning a full house.
If you are aiming for the jackpot prize, you only need to get any letter from "H" to "Haunted House" or take a massive pot of gold when you get a Shamrock during the game.
Online Slots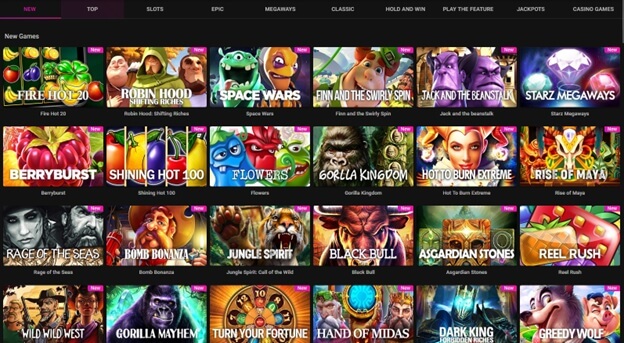 Pulsz Bingo might be a social bingo site, but it also has some of the best slot collections of any sweepstakes site. There are 180+ Pulsz slots, with more being added by the day. Like its sister promotional sweepstakes casino – Pulsz Casino – all available slot games are powered by game developers in the iGaming industry. This allows players to have the same online gambling experience as they would when they play in real money online casinos like DraftKings or PointsBet.
Even with the vast array of slots available at Pulsz Bingo, they are all properly categorized to make it easy to find a game that would cater to your current desire. For example, there is a megaways category where you'd find slot games with over 100,000 possible winning combinations making it perfect for consistent winnings. If you care more about the amount you win than how frequently it comes, then the Epic Slots section has got you covered with games with high RTP and Volatility.
Regardless of the type of player you are, you'd be sure to find something to suit your style, and if you feel lady fortune is smiling on you, you can try out any of the numerous fixed or progressive jackpot slots available at Pulsz.
All Pulsz Bingo slots can be played with gold coins for free, and if you want to win real cash prizes, you can use your free sweepstakes coins. Want to play slots but not sure which one? Here are a few recommended slots you should try out.
| Classics | Diamond Strike, Fire Hot 5, Shinning Hot 100, Ultra Burn |
| --- | --- |
| Hold and Win | Hot to Burn, Money Cart 2, Little Gem |
| Play the Feature | Buffalo King, Wild Hop And Drop, Book of Golden Islands |
| Megaways | Madame Destine Megaways, Buffalo King Megaways, Medallion Megaways, Wild West Gold Megaways |
Other Games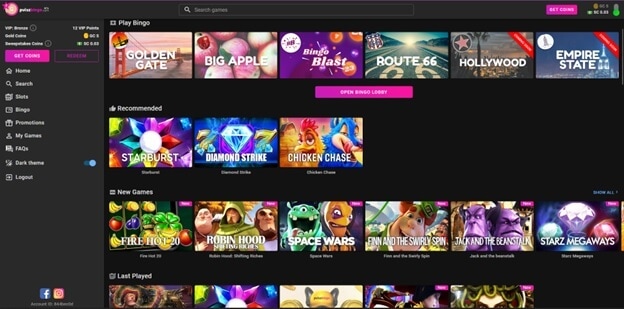 Unlike Pulsz Casino and alternative sites like Chumba Casino, you wouldn't find card and table games or other casino game options at Pulsz Bingo.
Regardless, there are a few scratchcards games to choose from. While these simple-to-grasp games are exciting and could be used as a break from the usual bingo and slot games, you can only play with gold coins, so there is no possibility of winning cash prizes.
Customer Support Channels
Pulsz Bingo has a comprehensive support channel, with the FAQ section being one of the best among other sweepstakes casino sites. The FAQ section answers questions on registration, redeeming cash prizes, account verification, and how to purchase gold coins and play games. In short, you'd find that this section covers everything to make playing casino games easier.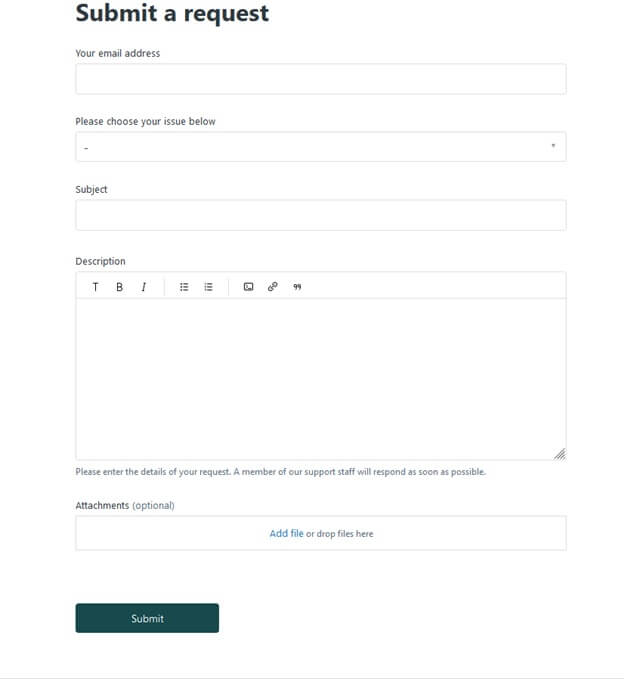 For players unable to get solutions to their inquiries, Pulsz Casino customer support is available round the clock and can be reached by clicking the "contact us" button at the base of the page. By clicking it, you'd be required to fill a ticket, after which one of the support team would get in touch with you within 24 hours. Alternatively, if you don't want to open a ticket via the Pulsz Bingo website, you can send customer support a mail directly.
Although Pulsz Bingo is still relatively new, its social media pages have garnered over 10,000 followers. So, if you are ever at a dead end or want to join a community of bingo lovers, the over 8,000 followers on Pulsz Bingo Facebook and 3,000+ on Instagram would be the right place to be. Their social media support responds to messages quicker, so you can go through this channel if need be. If the issues you encounter are payment-related, you can contact support through their toll-free number.
While Pulsz Casino customer support is still lacking as there isn't a phone or live chat channel, the few available ones are pretty effective.
Last Thoughts
There is not much to say other than Yellow Social Interactive has outdone itself with Pulsz Bingo. While social casinos are popping up daily, not many cater to the bingo lover's demographic, making Pulsz Bingo a trendsetter. Even though the site is relatively new compared to sister sites like Funzpoints and Fortune Coins, Pulsz Bingo is one of the few sites where players can play free online bingo games and win real money in the US.
Having said this, the only downside I can see about Pulsz Bingo is that there are only a few bingo rooms, with some available ones only open at particular times of the day. Aside from this, Pulsz Bingo is the place for me as an online bingo fanatic. Want to join me? Use the links on this page to grab your starter bingo pack.
FAQs
Is Chumba casino free?
Yes, Chumba can be 100% free to play. That's the whole premise of social and sweeps gaming – free games that you can play without stressing over your bankroll. You can play a slot game or any other sweepstakes casino games you like the look of without the worry of losing cash.

Daily promotions and offers must be offered with free sweeps and gold coins with a "no purchase necessary" disclaimer.
Is Chumba casino legal?
All casinos like Chumba are perfectly legal to operate. Keep in mind that these aren't strictly gambling sites. They are not regulated by a governing body and don't need special permission to operate since they do not offer "real money" gambling.

The sweepstakes model is a novel workaround to play using alternative currencies, while real money cash prizes can be redeemed by playing with the sweep coins.
Are social/sweeps casinos like Chumba common?
Yes, they are. Social casinos have no legal constraints to operate in any jurisdiction. They offer no real prize rewards, which keeps them under the gambling laws' radar.

Sweeps Casinos operate similarly by adding Sweeps coins that can be redeemed for real money prizes.
Can I play social/sweeps games on the go?
All sweepstake games online can be played on the go. You don't need the latest iPhone or Android to play mobile games at sweeps cash casinos. As long as you install an app or use the mobile website, you're good to go. All sweeps game work flawlessly on most mobile devices.
Can I win real money at sites like Chumba casino?
Yes, sweeps casinos like Chumba offer real money prizes for playing their games. The process of winning money however involves playing using the sweeps coins currency, winning on the slots, and then redeeming the sweeps coins for real money prizes.
What games do sweeps casinos like Chumba offer?
You can play various games at casinos like Chumba, including online video slots, blackjack, roulette, poker, and baccarat.

All of these can be played with either gold coins or sweeps coins.
Can I earn bonuses at Chumba casino or BetRivers.net?
Many social and sweeps gaming sites like Chumba casino will offer a welcome bonus that will give you a bag of virtual coins to start with and in the case of sweepstakes casino, you may get some free sweeps coins too.

There are plenty of other ways to keep getting free coins though, including daily login bonuses, competitions, and mail-in offers.

5,000 Gold Coins +2 Sweeps Coins No Purchase
Get Bonus