Sites Like Pulsz You Should Know About in the US
As you may already know, the rules for casino games are not the same in the US as in the rest of the world. Hence, the need for sweepstakes casino sites like Pulsz. These are very similar to the online casinos you're already familiar with but comply with the existing laws.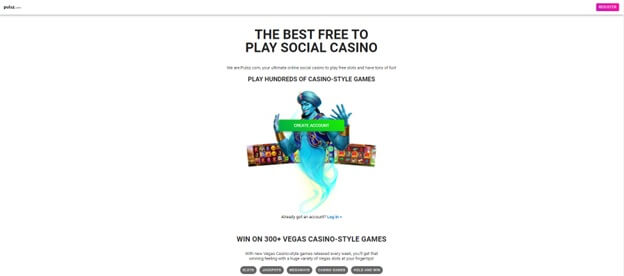 As it happens, online casino games are legal in only a handful of states. But sports betting has expanded its wings quite well all over the country.
So, we can surely hope that casino games will become just as much available as well, if not more. After all, the most popular gambling destination in the world is located in this very country! For the time being, stick to sweepstakes casino sites.
Pulsz Casino is one of the sweepstakes casino sites if you haven't caught on yet. In this guide, we're going to do a number on Pulsz casino as well as the similar sites like Pulsz Bingo to get you up to date with your options.
Pulsz Sister Casino Sites
From here on, we're going to cover the real money online casinos that are very similar to our base model. There's no particular reason behind it.
It might be that you're bored with Pulsz casino games or you might just want to explore some mini sweepstakes contests. Whatever it is, we've got you covered.
Here are some of our picks before we go into the details of these online casino sites. Additional details follow for the most popular Pulsz sister casinos:
Gambino Slots
LuckyLand Slots
Chumba Casino
Funzpoints Casino
LuckyLand Slots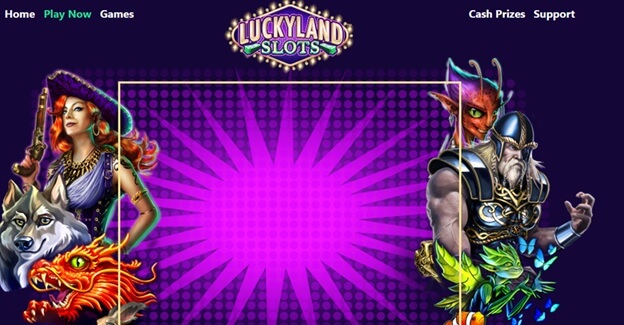 LuckyLand Slots is probably the closest one when it comes to sweepstakes casino games in the US. When you first land on the homepage of LuckyLand slots, you can see a video that explains the operations in layman's terms.
This legal online casino gaming platform has been around since 2018 and it offers 10 free sweeps coins to the new players.
You can start playing the best online casino games by buying a whopping 50,000 Gold Coins for $4.99 only. For this purchase, you'll get another 10 sweeps coins as a bonus.
The number of games is somewhat limited at LuckyLand Slots, which is a sweepstakes site like Pulsz. It amounts to 40 slot games, instant win games, and multiway win games.
The best thing is that you get to receive the cash prize right in your bank account.
As for drawbacks, LuckyLand Slots doesn't offer any table games, video poker games, or live dealer games at the time of writing.
Also, the mobile online gaming interface is not properly optimized. Needless to say, there are no sports betting components such as horse racing, football, or NBA betting.
Chumba Casino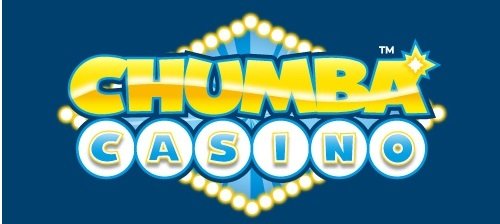 If the popularity of social casino sites is something to go by, Chumba Casino surely comes near the top. Pretty much all players know it for over 100 casino games including table games.
It also claims to be America's No.1 Social Casino Experience. We'll let you be the judge of that after you're done reading this section.
In the game library, you can sort between slot games, jackpot slots, video poker, and a few exclusive online casino games. Interestingly, Pulsz Casino is one of the many sites like Chumba Casino.
You can play slots right away after depositing from your bank account or credit card. You need to buy gold coins to play online casino games, if you run out of free ones or you might want to compare how Chumba Casino compares to the newest sweeps casinos.
However, if you've been looking for poker sites, Chumba Casino is not one of them. It also doesn't offer any live dealer games for real cash prizes.
On the bright side, Chumba Casino has done a fantastic job of offering a welcome bonus. The Chumba Casino bonus is a massive 2,000,000 Gold Coins and $2 worth of Sweeps Coins.
Sweepstakes sites are generally not this generous. Considering it markets itself as one of the free online casinos in the country, the services are phenomenal.
As for payment methods, Chumba Casino mostly encourages users to use PayPal. You may also use credit cards that are linked to your bank account.
Funzpoints Casino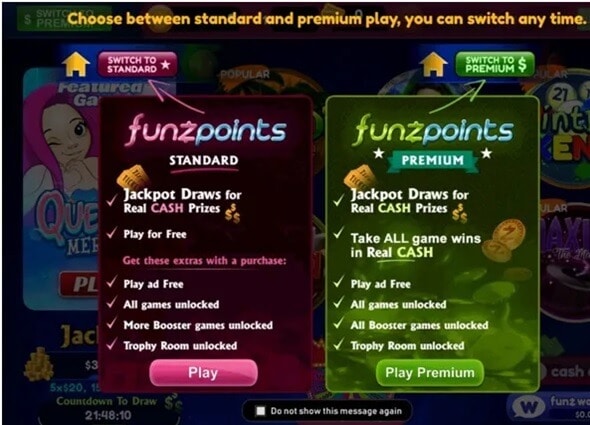 Like Chumba Casino, Funzpoints Casino is also very similar to Pulsz Casino. The similarity is, of course, that both of them are sweepstakes casino sites. It means playing online casino games is going to be an identical experience for most players.
However, if you're excited about the usability that these sweepstakes casinos offer, we believe Chumba Casino will take the win. It doesn't mean the rest of them are bad. It just means Chumba Casino is the best in this regard. Also, it has the biggest gold coins bonus.
Coming to Funzpoints, it launched back in 2019 as an online sweepstakes site. It's actually owned by a Canadian company with a license. It has 2 different modes.
The "Standard Mode" works similar to free slot apps and the "Premium Mode" gives you unlimited access to play money games like jackpot slots, jackpot draws, video poker, and slot variants of Keno.
Unfortunately, there are no table games like Pulsz casino here. It means you can't play online casino games like Roulette, Blackjack, Poker, or Baccarat.
Similar to all the other sweepstakes casinos on our list, you play with gold coins for cash prizes.
The welcome bonus at these sweepstakes sites might not be as good as Pulsz Casino, but it's still worth your time. Get a $20 free bonus and more on your first deposit, which feels like a Funzpoints hack since you only need to signup to receive it.
If you want to go over $20, the amount will be added as funzpoints. You can redeem every 100 points for $1.
How Do Cash Prizes Work at Sweepstakes Casino Sites?
That's a fantastic question you've asked right there. Sweepstakes casino sites are also known as social casinos in the US. While you're spending real money and getting it back as well, it's not as direct in sweepstakes casinos as other online gambling sites.
Rather, you need to deal in real money cash prizes to bypass the law.
So, you buy "sweepstakes coins" or "gold coins" at social casinos and play casino games with them. Think of them as virtual currency. In return, you win cash prizes. That's all there to it.
However, the operations of all the gambling sites are not going to be the same. Hence, our guide regarding the online casinos that follow this modality.
Pulsz casino is our base model here. So, let's start there. Then, we're going to move on to similar online gambling facilities in the country. Once again, keep in mind that you won't find any sports betting activities at most Pulsz sister sweepstakes sites – except with BetRivers.net and Rush Games.
Pulsz Casino & Its Free To Play Games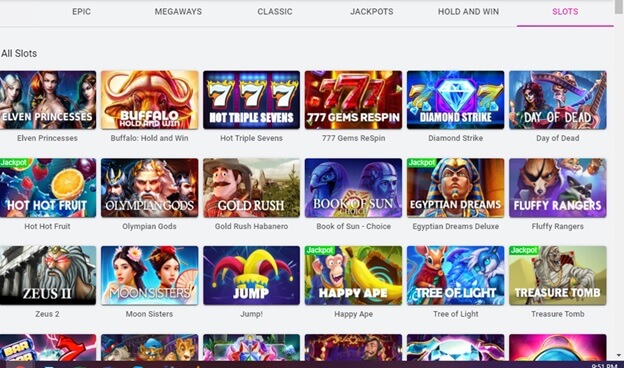 Apparently, Pulsz Casino has one of the largest libraries of casino games in the country including online slots, table games like Blackjack, Roulette, and Poker with sweeps coins.
According to the website, you can play casino games including 300+ Vegas-style online slot games, traditional games on the table, and whatnot.
None of the games give you the chance to win real money, like with DraftKings slots or FanDuel slots. Rather, it allows you to exchange coins for cash prizes.
Pulsz Casino also offers 24/7 customer support, no ads on the sweepstakes site, and a very minimal interface for the casino games.
How to Play Free Casino Games with Gold Coins?
The important distinction when you play legal online casino games or progressive jackpot slots is that you understand what sweeps coins and gold coins are.
We understand why it's very normal to confuse them but they're not the same.
Gold coins are what you buy with real money. It's a virtual currency that gives you access to online sweepstakes casinos.
When you play games, you may or may not win a cash prize pegged to the gold coin.
Sweeps coins, on the other hand, not only let you access sweepstakes casino sites but also redeem them for real money cash prizes.
That's where the term "sweepstakes games" have been derived from in the first place. What we're trying to say is that you can't buy these coins for money.
So, how do you get them at a sweepstakes casino? Well, mostly through bonuses. If you notice our free casino sites reviews we did previously, most of them offer a small bonus when you sign up for sweepstakes games credits. They also become available through regular promotions and as a free bonus for any gold coin purchases.
You get to use them for online gambling. Namely, games like video poker, play money slots, progressive jackpot slots, etc.
Then, you get to redeem the sweepstakes coins you earn after you play games with sweeps coins. Sweeps coins will only come to your possession if you use sweeps coins to play games in the first place.
So, no, sweeps coins and a gold coin are not interchangeable.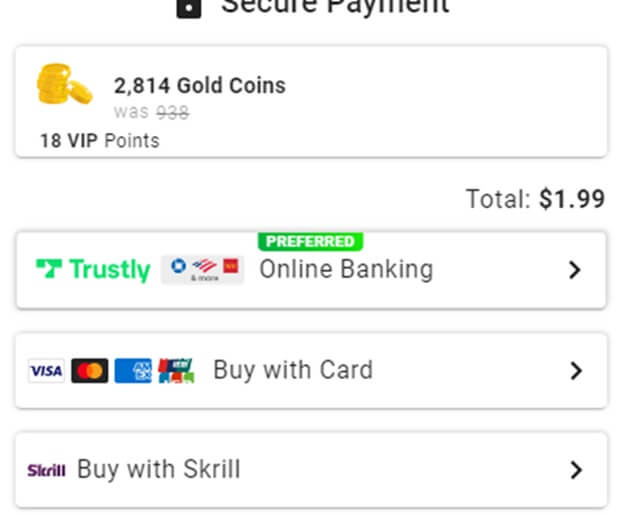 How to Redeem Sweeps Coins for Cash Prizes?
A valid concern when playing at social casinos is how can you redeem the sweepstakes coins you win from sweepstakes games. While direct cash prizes are not a thing at sweepstakes casinos, you can convert these sweepstakes coins into cash prizes.
Note that it's only possible for sweepstakes casino site bonuses and not for gold coins.
When you try to request cash prizes withdrawal at legal sweepstakes sites, the operator will ask for your credit card numbers, bank transfer information, or e-wallet addresses.
Once your ID is verified, you can expect the cash prize to reach your account within 5 to 10 days. We know it's a slow process but that's essentially how sweepstakes casinos work.
If you're not aware, several of the Pulsz sister online casinos that use the sweepstakes casinos modality are owned by VGW Properties, a Maltese Company.
This means all of them are licensed by the Malta Gaming Authority as well. The KYC Process is going to be similar to what you're familiar with already.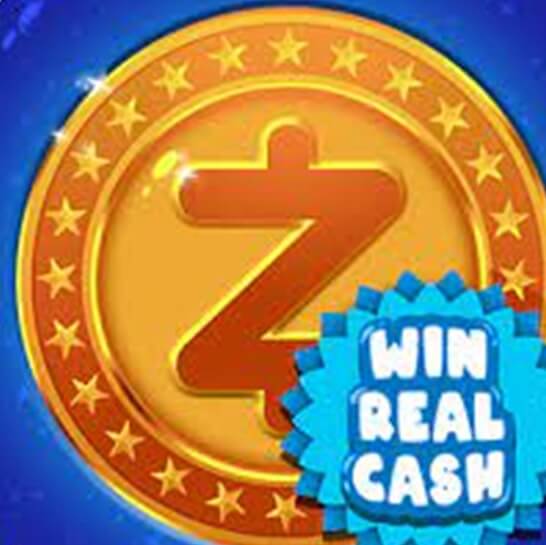 Best Online Casino Games for Sweeps Coins
Before we wrap up our sweepstakes casino guide, we know you're not satisfied with the games we've discussed so far.
So, let's work on that so you have a precise idea of what sweepstakes casinos offer actually.
Slots
Online slots are the largest category of casino games. Games like 3-reel classic slots, 5-reel video slots, and Megaways slots all belong to the same category.
Needless to say, these are the games you can most commonly play at sweepstakes casinos like Chumba Casino, Rush Games, LuckyLand Slots, or Fortune Coins.
Also, you can play these games for sweeps coins, gold coins, or as free casino games at social casinos. Remember, you can't redeem a gold coin. But sweeps coins you can. Pulsz Casino covers over 300 slots, BetRivers.net about 400, and sites like Funzpoints are limited to 40 – 80 games.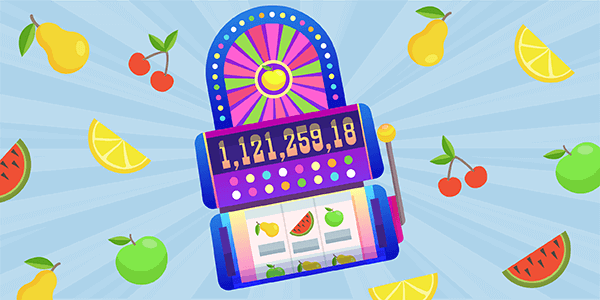 Table Games
Technically, the games that are not slots can be considered table games at sweepstakes sites. You can't win cash prizes just like you can't win cash prizes for slots. But if you're playing with sweeps coins, you later redeem them at online casino sites.
Most Pulsz sister casino sites offer roulette, blackjack, poker, keno, and scratch games.
Live Dealer Games
Finding games like live roulette, live blackjack, or live anything else is going to be a challenge at LuckyLand Slots, Chumba Casino, Rush Games casino, or any other sweepstakes sites. But it doesn't mean these games are off-limits.
If you look into the sweepstakes casinos we've reviewed on this page, you can certainly find games like the ones we mentioned. If you are up for hints, check BetRivers.net and Rush Games.
Video Poker
Last but not least, video poker is a very popular form of games at sweepstakes sites. You already had to spend coins in these games but now you have to purchase gold coins. So, the modality more or less remains the same at sweepstakes casinos.
Sites like Funzpoints, Chumba, and Pulsz provide a minimal range of video poker games, such as Jacks or Better and Bonus Poker.
Don't confuse free poker with Global Poker. Global Poker is a sweepstakes casino owned by the company behind Chumba Casino. There, you can play poker games, but it's not like video poker. In fact, this is the only form of real money poker legal in the country, in the form of tournaments and live tables.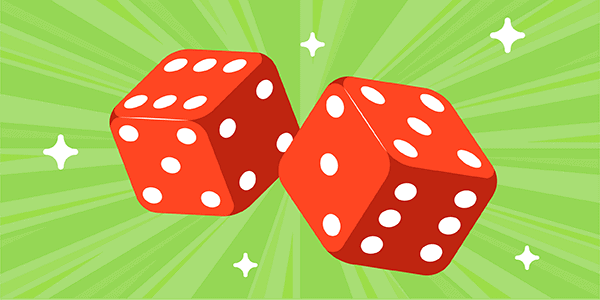 Benefits of playing as Sweepstakes Casinos
As we have mentioned above, sweeps casinos allow you to get used to playing your favorite casino game online without worrying about losing money. But there are several tangible benefits to playing at sites like these. Before you even get to the state of collecting your free sweepstakes coin or fortune package, you must register which is a straightforward process that will take under a minute. Once you have entered your details, you can play some of the most advanced and enjoyable jackpot slot games around.
If you have never visited or played at a social casino before and you have any worries or questions surrounding how you play, the sites listed on this page have an excellent customer support team. If you contact one of the customer service team members, you will get a prompt response. All of the lines of communication are also open 24 hours a day, seven days a week.
Ultimately, playing at social casinos can improve your slot game skills, your blackjack skills or poker skills for free. The thought of losing money can be concerning for new players who are unfamiliar with how the process of online gambling works. Signing up for an account at sites like Pulsz casino removes that worry.
Wrapping Up
We're aware that understanding sweepstakes casinos are a little harder with all the gold coins, sweepstakes coins, and whatnot. But sweepstakes casinos are the best there are if you want to play real money casino games in the country.
Until regular online casinos are legalized all over the country, you must stick to the sweepstakes casinos and their gold coins as well as sweepstakes coins.
You might be playing for gold coins but the games are essentially the same. They're developed by the same software providers and come with the same RTP and volatility.
All you have to do is buy gold coins for real money or win sweepstakes coins through bonuses to get started with any Pulsz sister casino.