Live Dealer Casinos Indiana
Live dealer casinos in Indiana may not be here just yet, but they are going down a storm in states that allow online casino games.
Indiana Casinos are some of the best in the country and they are visited by millions of players throughout the year. Offering an evening full of entertainment at the tables interacting with different players and dealers.
Online casinos can now simulate this experience in their live casino offerings. These live casinos allow you to watch the action unfold in real-time, make your bets on your desktop or mobile device, all while interacting with the other players at the table via text or voice chat.
While they will not ever be able to recreate the casino experience perfectly – a live casino offering is a lot more fun and refreshing than the old, outdated software online casinos used.
Up To $500 2nd Chance Bet
Easy to use app & site
Top welcome bet offer
If online gambling laws are ever passed to allow casinos in Indiana to operate online, we expect to see the inclusion of live dealer table games. Our guide takes the live games available in states such as New Jersey and Pennsylvania – and show you how they work. It has been suggested that online casinos could become legal in the Hoosier State in 2021 so watch this space.
Live table games are immensely popular worldwide; once you have experienced them just once, standard online games will begin to feel more outdated.
What Is The Difference Between A Live Dealer & Standard Online Casino Games?
It was long ago since players needed to download dedicated software to play casino games on their computers. Nowadays, the best online casino games are readily available via the website or mobile app.
Blackjack was the first casino game to appear in an online format. Microgaming launched a simple software version in 1994. Under three decades later, you can watch a dealer in real-time deal the cards – and even bet remotely via clicking or dragging and dropping virtual chips.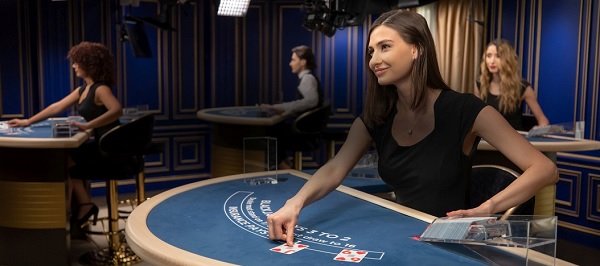 For live dealer Blackjack, the live casino tables have seven seats. You will be dealt with your hand of two cards and decide on your actions.
Games such as Ultimate Texas Hold 'em are built in the one-to-many format. The dealer will deal a single 'player hand.' The other players will then bet on the outcome of this player vs. dealer game. Hands are played right to the end to accommodate those players that decided on different actions.
To keep the games moving along, live games are timed. You will typically have 15 seconds to decide on your actions, whether that be to bet, fold, double, or to simply not bet on that hand.
When you are playing at a 7-seat blackjack table, this can slow the game's pace down – especially on those hands where players can make multiple decisions.
If you happen to disconnect from the live game, live dealers will not wait for you to return to the table. What happened to your hand is based on the game you are playing.
Live Dealer Casino Games Available
The most popular classic table games are spread in live dealer rooms. You will regularly find a selection of tables with different live dealers – some of which high limit and others for $0.50 bets and up.
The most popular online live dealer games played worldwide are:
Online Blackjack: Blackjack is the most popular game found at live dealer casinos, just as it is at land-based casinos.
Online Baccarat: Baccarat played at online live dealer casinos is in the one-to-many format mentioned above where players bet on a single player's hand vs. dealer basis.
Online Roulette: There are a few variations of roulette available at live dealer casinos with a live dealer and either a live wheel or a simulated wheel. Online casino live roulette is one of the most fun and engaging games to play onine.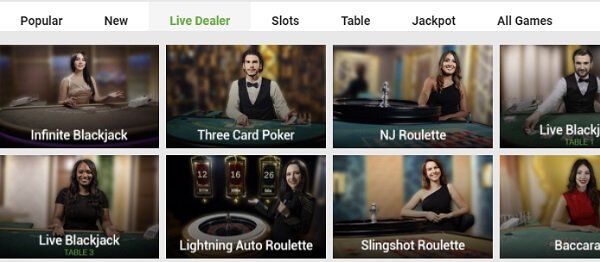 We have explained how each of these casino games operates in a live dealer casino scenario:
Live Blackjack
When you see the lobby menu of a live dealer casino, you will immediately be greeted by a plethora of Blackjack tables. Many tables have the same rules, with the main difference being the minimum and maximum stakes. Expect minimum bets to start at $1, and maximum bets are going into the $1,000's.
Live Blackjack games have seven seats at each table, and your first task is to find an open seat at the right stake level for you. If you happen to join part-way through a hand being played, you will have to wait for the next hand to be dealt.
The game will start with a line of chips across the bottom of your screen. You will need to drag and drop the chips of your chosen denomination onto the betting surface to equal your total bet. If you do happen to make a small mistake when placing your chips, you can click the 'undo' arrow to remove the last placed chip. You can also place chips separately on side bet slots. These bets will vary on the live dealer game you are playing, but it will usually be perfect pairs and 21+3.
You will see your options overlaid on the table once your two cards have been dealt, and need to decide whether to hit, stand, double, or split before 15 second time limit expires; this timer is shown on-screen as well.
This repeats for all players before the dealer reveals their cards and hits/stands according to the rules. Most table's rules are that the dealer must hit on any card total under 17 and stand on any card total 17-21.
The software will automatically pay winning bets while the dealer removes all the player cards.
You will see the chips appear once again – this time with the option to re-bet the same stake as your last hand – or double your stake that you bet last time.
Live Roulette
Roulette really shines in its live dealer offering. It comes with several game variations – with the US wheel being used as the default.
While roulette is a hugely popular option, fewer tables are operating when compared to Blackjack. This is because a lot of players can bet on the same wheel spin without affecting each other.
You will see the chip denominations on the bottom of your screen, and you will need to click on the denomination you wish to use.
The roulette betting table will allow you to place bets on single numbers, two numbers, corners, or the outside bets such as black/red, odd/even, and 1/3rds. Again, you will be timed; If you do not get your bets placed before the countdown ends, then the wheel spin will take place without you.
You can press the "undo" arrow any mistakes or press "clear all" to remove all your chips and start again. After you have set your pattern, you can then repeat it on every spin of the wheel with a click.
The live croupier will then spin the wheel and start the ball rolling. When the ball stops, a plastic dolly will be positioned on the felt in the studio – just like in a land-based casino.
Winning bets are paid automatically via the software. At some online casinos, you will see a list of winners and how much they won pop-up on the side of your screen.
Live Baccarat
With having one of the lowest house-edge percentages of any casino table game – and easy one-to-many gameplay, Baccarat is a natural fit for live dealer casinos.
There are only three options for the main bets. These are Player, Banker, or Tie. Experienced players avoid the tie bet. While the pay-outs are more significant, the house edge is significantly larger than the player or banker option.
The only decision in live dealer Baccarat that you need to make is how to place your bet and how much to wager. To do this, press your desired chip denomination, found at the bottom of your device's screen, and place the chips on the bet you want to gamble on, at which point the dealer will finish dealing the hand.
As with all the other live casino games, bets are settled automatically, and you can 're-bet' if you wish to repeat for the next hand.
Benefits Of Playing At A Live Casino
So, let's take a look at some of the advantages of playing online using a live casino.
Increased Social Aspect
Classic table games are enjoyable; the main downside is that it is a lonely experience; there is no social aspect or interaction. When you can finally play at a live dealer casino in Indiana, you will have a text chat feed available in all games.
This chat is visible to the dealer and other players. While some gamblers use it to complain about bad beats, most of the people are fun.
The dealers will be working, not chatting through the text chat; they can and will respond to your messages, but they do not need to do so.
Seeing the cards cut and dealt in real-time and sharing the casino experience. For example, when the dealer hits a Blackjack makes for an entertaining response in the chat.
Fair Gaming Experience
Seeing the cards being shuffled and dealt right in front of your eyes means any doubts about the fairness of the live dealer casino games will disappear.
Better Variety of Games on Offer
There are many tables to choose from. Switching tables or games is as easy as clicking your mouse.
Drawbacks of a Live Casino
Nothing beats the feeling of playing a real casino, and a live online casino is as close as you can get. There are however a few small disadvantages of playing at a live casino online.
Risk Of Timing Out
Unlike software-based games, the live dealers will not wait for you to reconnect to the table. You will need a stable internet connection before you play.
Slower Gaming
Waiting for others to act does dramatically slow down the action a little; this could also be a benefit to players with a smaller bankroll who want to extend their time at the table.
Mobile Phone Compatibility
Although these live games are made with mobile in mind, they still are not perfect. If you have the option to play on a desktop or tablet, we recommend using them as you will most likely experience a dip in performance using your mobile device.
Whilst we are missing online mobile casinos in the state, there is a range of IN sportsbooks apps for anyone wanting to bet on their favorite sports.
Summary
Many hope that the expansion of online sports betting in Indiana is just the start. Online casinos in the USA are already up and running in other states and could come to casinos in Indiana sooner than we think after a phenomenally successful launch of online sports betting.
If so, you will have a vast choice of online slot machines, table games, and live dealer casino games at your fingertips. You can only expect the Indiana Grand Casino to be the first name to offer this service, followed by the
The live dealer format is well established internationally, already running in other regulated states. You will be able to find the most popular table games running throughout the days and evenings. Out of hours, limited options run.
Adding the social element to your real money online casino gaming does make a huge difference. This alone is the reason why live dealer games are quickly becoming the go-to for most online casino gamblers. By seeing those cards dealt in real-time, you can be sure your games are fair.
If you want to play against a real live dealer, then head over to the Indiana Grand Racing & Casino in Shelbyville. Here you can find an amazing choice of Indiana grand live casino games to keep you entertained and playing for hours. The casino table games have something to suit every taste. You can play everything from slots and video poker to a variety of electronic table games as well as classic table games like Blackjack, Roulette, and Craps.
We really hope that live dealer blackjack online and other real live casino games will be available in the future in Indiana, but for now, watch this space.
FAQs
Can I Play At Online Casinos In Indiana?
Currently no. Although Indiana recently passed a law allowing online sports betting, gambling at an online casino is still illegal. Due to the success of online sportsbooks, it is only a matter of time for online casinos to be given the green light.
Are Live Dealer Games Fixed?
No, Live Dealer Games are not fixed. It is required by law that licensed casinos offer players a safe and fair playing experience. You should check whether the online casino you are looking to use is licensed by its state's official gambling commission.
Which Online Casino Offer Live Dealer Table Games?
Due to licensing and state regulations, no casinos are operating online in Indiana now. It is no question that one of the first names to offer its online services is the Shelbyville Casino – the Indiana Grand.