WOW Vegas Casino
If you are looking for a fun social casino with hundreds of popular games from reputable software developers, look no further than WOW Vegas. This social casino is legal for US residents (except in the states of Michigan, Idaho, Nevada, and Washington) and Canadian customers (except in Quebec under Canadian sweepstakes laws).
You can play 300+ casino games, including slots, roulette, and blackjack, FOR FREE! That's right, WOW Vegas offers the best of both worlds. You can get free coins daily and play for fun. Additionally, if you want to game even more, there are coin packages available; therefore, regardless of how you enjoy gaming, this platform should suit you. Cash prize redemptions are also supported if you get lucky. If you're looking to get into sweepstakes, WOW Vegas should be on the top of the list of sweeps cash casinos you check out.
In this WOW Vegas Social Casino review, I take an in-depth look at what this revolutionary platform offers. You will learn about epic games, any available bonuses, how the virtual currency works, and details about the good and bad points. You can then decide if you want to give WOW Vegas a try!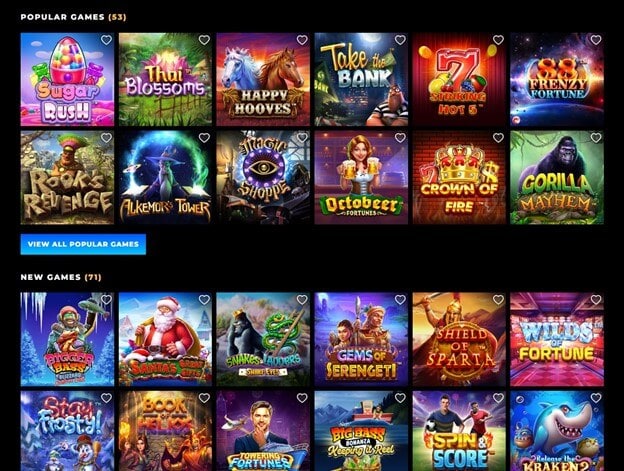 WOW Vegas Casino Bonuses
As WOW Vegas is largely free to play, it does not have a huge range of bonuses. However, we discuss what promotions are available below.
WOW Vegas No Deposit Bonus Code
WOW Vegas does not have a no deposit bonus code. This is because there isn't a deposit system. Instead, customers can purchase coin packages. Additionally, all the casino games are free to play, and you accumulate WOW Coins (the virtual currency of WOW Vegas Social Casino) via various methods.
However, customers are given free WOW Coins and SC simply for signing up without purchasing. So this could be classed as a type of no deposit bonus. For example, when I registered my account, I was credited instantly with 5,000 WOW Coins so I could start playing and enjoying the games immediately.
Welcome Bonus
If you decide to treat yourself and spend a little money, there is a discounted coin package for first-time buyers.
$9.99 for 1.5 million WOW Coins and 30 Sweeps Coins
This coin package is typically charged at $29.99, which means you are effectively getting a 200% welcome bonus on your first purchase. This is only a one-off promotion for your first WOW Vegas purchase.
How WOW Vegas Casino Works
WOW Vegas is a social casino. Social casinos are incredibly popular in the US as they offer casino-style games that you would find at online casinos but in a free-to-play, user-friendly manner.
WOW Vegas achieves this by having two types of currency – one for gaming and one to redeem real cash prizes. It is free to play if you wish, and there is no obligation or need to buy coin packages. As you will see below, you accumulate free WOW Coins daily for doing various things.
Therefore, as a bare minimum, WOW Vegas is essentially a fun casino gaming platform. To give more info, let's discuss the two currencies – WOW Coins and SC Coins.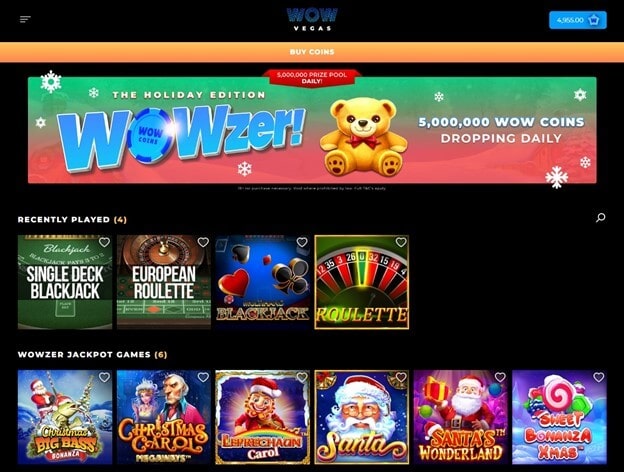 WOW Coins
WOW Coins are the lifeblood of WOW Vegas. These coins are virtual currencies and have no real money value. They cannot be redeemed. However, they are used to play games – all of the WOW Vegas games.
You can see your current WOW Coin balance in the website's top right-hand corner. Essentially, think of WOW Coins like USD at an online casino. You use your WC balance to play games instead of spending USD – simple.
The benefit is that you can get WOW Coins in many different ways. For example, you get 5,000 WC just for registering an account! Other sites call this currency gold coins, practically doing the same thing.
SC Coins
SC Coins can be redeemed for cash prizes. This secondary currency potentially allows customers to benefit in some way. SC can be used to play games, but you cannot purchase them directly.
However, you can get free SC in various ways, which we detail below. Think of SC as a bonus – you can build up SC over time and potentially cash out prizes by redeeming them.
How to Get More WOW Coins and SC
One of the great things about WOW Vegas Casino is that you can play for free and continue to play for free due to the various ways you can get free WC and SC. It makes this social casino incredibly accessible and enables any legal US resident to enjoy it daily for fun.
The following are some of the current ways that you can earn free coins:
5,000 WC and 1 SC for registering an account
Entering social media competitions
As a daily login bonus (1 SC)
Sending a mail request
Purchase WOW Coins to earn free SC (no purchase necessary)
Through WOW Vegas Casino promotions
As you can see, both virtual currency and redeemable SC can be obtained in numerous ways. Additionally, you can buy WOW Coins any time which we discuss below.
WOW Vegas Software and Casino Games
I love trying out different casino games with various themes and mechanisms, so WOW Vegas was a nice surprise. Some social casinos have limited game selections and develop in-house variants, which often aren't as good.
WOW Vegas doesn't do this – they have partnered with Betsoft and Pragmatic Play and even feature Megaways Slots. Additionally, their game catalog includes over 300 titles, so you can have hours of fun. Below we take a look at their main game categories.
Best Betsoft Slots on WOW Vegas Casino
Betsoft has some sublime slots that will keep you entertained. Their games typically have superb graphics and unique gameplay features compared to most classic slots. Some of the best titles available at WOW Vegas Casino include:
The Hive
Hat Trick Hero
Return to Paris
Tower of Fortuna
Wild Drops
Take Olympus
The Hive is one of my favorites – this has a unique reel layout in the shape of a honeycomb from a beehive! The music is jolly, and you can play with as little as 24 WOW coins per spin. As you play, a jar of honey fills up on the left-hand side and unlocks cool bonuses when it fills up.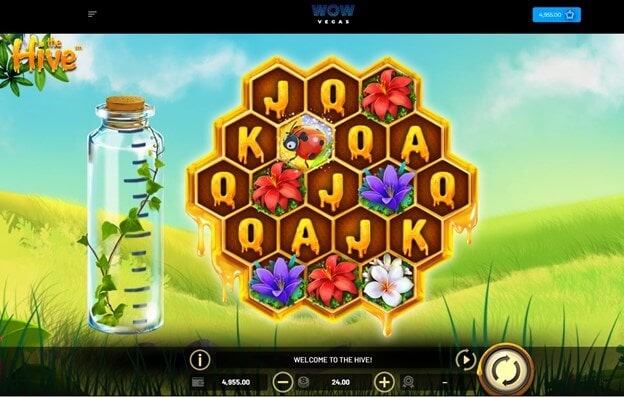 Another brilliant WOW Vegas game to try is Tower of Fortuna. Playing this slot can win up to 3200x your bet value! It has a standard 3×3 reel layout but an interesting game feature of endless recycling. Each time you spin without a win, you climb the Tower of Fortuna, and your bet multiplier increases with no maximum level. When you finally win, this resets, so there is never a negative. Either you win or don't win, but the next win you get is bigger!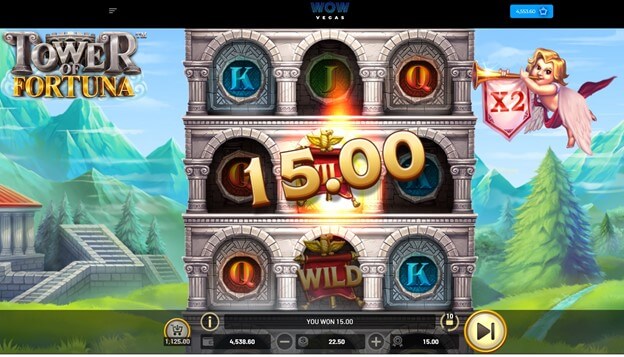 Top-Rated Pragmatic Play Games on WOW Vegas Casino
If you want to play WOW Vegas games with amazing graphics, fun gameplay, and epic features, look no further than their Pragmatic Play slots. Pragmatic Play is a top-rated software developer for the casino industry, and their games are well-known.
Some of the top titles available at WOW Vegas Social Casino include:
Candy Stars
Shield of Sparta
John Hunter and the Book of Tut
Mustang Gold
Buffalo King
I love Buffalo King, and it's considered a classic now. The great thing about WOW Vegas is that you can play either the standard or Megaways slots versions! It has cascading reels where if you get a winning combo, the symbols disappear, and new ones fall into place, which can lead to some cool SC prizes. The wild west theme and music are superb too.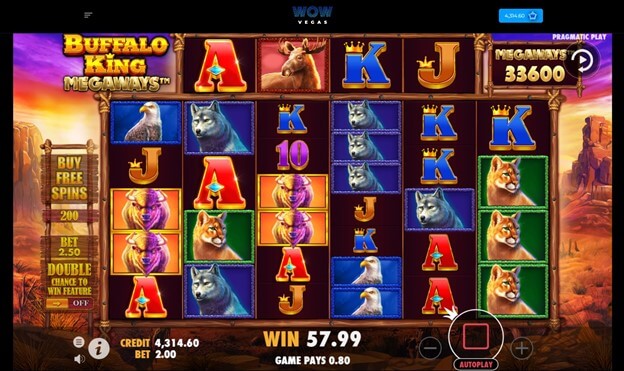 I'm a big Indiana Jones fan too, so the John Hunter series of slots that Pragmatic Play has are perfect! You can play five titles from this series at WOW Vegas, including John Hunter and the Book of Tut. This has a cool ancient Egyptian theme with epic music and a background showing the glorious river Nile. You can win up to 5000x your bet value, and there is the chance to win free spins too!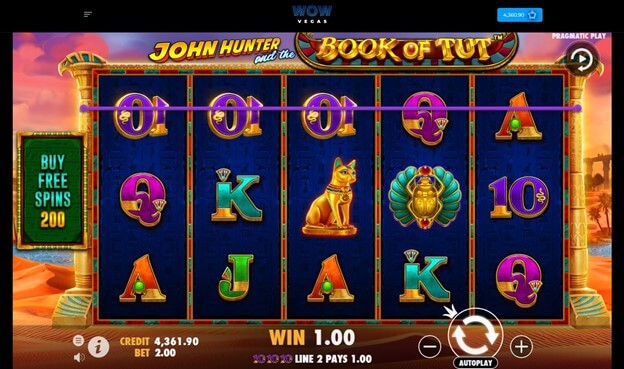 Table Games
This platform offers casino-style games, including a limited number of table games. Currently, there are only seven table games to choose from, which is admittedly tiny compared to most real money online casinos.
However, some sweepstakes casinos don't have any table games at all. Therefore, we would say this is a positive. The current table games you can play include:
American Blackjack
Multi-Hand Blackjack
Jacks or Better Video

Poker

American Roulette
European Roulette
Baccarat
Single Deck Blackjack
The table games are provided by Pragmatic Play and BetSoft, so you can count on smooth graphics, simple playing instructions, and realistic casino gameplay.
Some of the games do look a little basic, like American Roulette. However, others, like European Roulette from Betsoft, look much more realistic. This game has a 3D roulette wheel that looks more like a traditional wheel, and it's easy to choose your combinations.
Single Deck Blackjack also offers a fun experience and is generally less complex than multi-hand blackjack. You can play up to three hands at once per deal, giving you a greater scope for winning. However, remember that the minimum play amount is 500 WC or 0.5 SC, so be careful!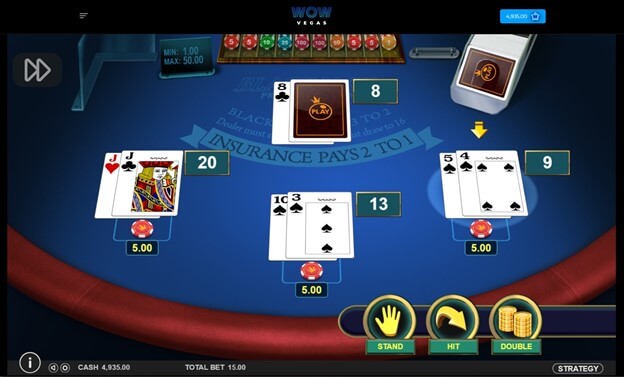 If you want to go for it and try to outsmart the dealer, you can play Multi-Hand Blackjack which is quite fun too! You can play three hands at once, but it has the bonus of smaller minimum play values. You can play with as little as 2 WC or 0.1 SC per round for more conservative fun.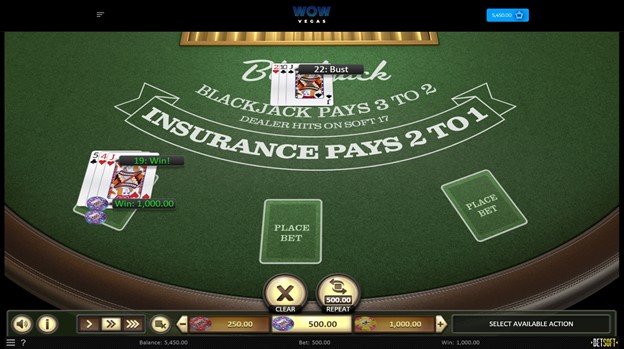 Account Registration
To create a WOW Vegas Casino account, the registration process is incredibly simple. Just follow the steps below:
Click on the

Sign-Up or Register

button on the website.
Complete the registration form (Username, email, password, date of birth).
Tick the first checkbox and the second if you want to receive promotional emails.
Click the sign-up button.
Check the email address you entered in the form.
Click on the verification link in the email.
We advise making a note of your username and password somewhere, not on your computer or smartphone, as you will need these to log in afterward.
It's important to note that you have to check the first tick box to state that you are of legal age and a resident of one of the legal states where this social casino can be played. The second box is optional, and you don't have to receive promotional emails.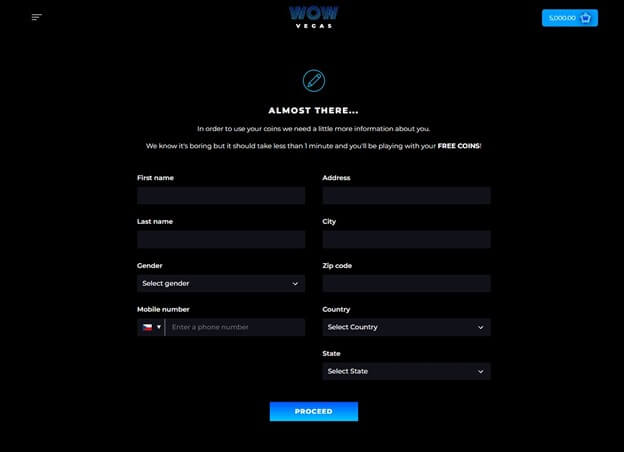 Once you have completed the initial registration process, you have full access to vegas casino free play games with either SC or WC. However, if you want to buy WOW Coin packages, you must provide some additional information for verification purposes.
You will be prompted to do so if you click on any of the buy coins links, and the required info includes:
First Name
Last Name
Gender
Mobile Number
Address
Other than that, your registration is complete, and you can enjoy everything this fun platform has to offer!
Mobile Casino and App
Unfortunately, there currently isn't a dedicated WOW Vegas Casino App for the WOW Vegas Social Casino. This is disappointing, but that doesn't mean you can enjoy WOW Vegas promotions and free sweepstakes coins on your smartphone!
The WOW Vegas Social Casino website is optimized for mobile use. This means that you can use a mobile browser like Google Chrome on Android or Safari on Apple Devices and still use the platform.
The navigation and layout are automatically adjusted to suit the smaller screen size. Everything is easy to access, and there isn't any annoying horizontal scrolling. You can still play casino-style games and benefit from the full game library as with the desktop browser version.
WOW Vegas Casino Purchase and Redemption Methods
Let's first state that if you do Join WOW Vegas, it is completely free to play. You do not need to make any purchases to have fun or play their wide variety of games.
However, if you do want to treat yourself, you can indulge. This is done by purchasing coin packages from WOW Vegas social casino. Compared to other social casinos, the coin packages seem to have great value, and you don't have to spend a lot to get a large number of WC and free SC. The following are the currently available WOW coin packages:
| 🟡WOW Coins | 💵Price |
| --- | --- |
| 5,000 | $0.49 |
| 250,000 | $2.49 |
| 500,000 | $4.99 |
| 750,000 | $7.49 |
| 1,000,000 | $9.99 |
| 2,500,000 | $24.99 |
| 4,000,000 | $39.99 |
| 5,500,000 | $49.99 |
| 10,000,000 | $99.99 |
| 15,000,000 | $149.99 |
| 25,000,000 | $249.99 |
| 50,000,000 | $499.99 |
| 100,000,000 | $999.99 |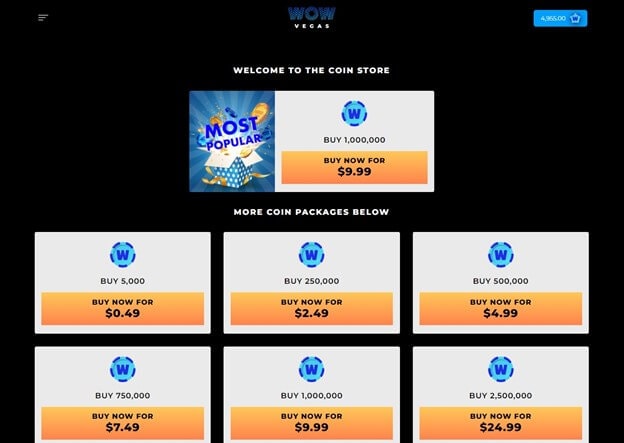 As you can see, there is a great variety of coin packages with some excellent value. Each purchase of WC will provide the equivalent amount in free SC. Often, WOW Vegas Casino introduces discounts, where you get even better SC and WC deals.
The payment system is also easy, and they currently accept Visa, MasterCard, AMEX, Apple Pay, Skrill, and Trustly.
It's important to note that you are not making a deposit – unlike traditional online casinos, you are not depositing and withdrawing money. Instead, you are purchasing coin packages more like a mobile game.
Redeeming SC Cash Prizes
As mentioned above, WOW Vegas Social Casino has two different currencies – WOW Coins and SC Coins. WOW Coins are non-redeemable and are purely used to play at WOW Vegas and use their incredible range of games.
In contrast, SC Coins can be redeemed. They can be redeemed at a rate of 1 SC:1 USD on request to the customer support team. SC Coins are earned in a variety of ways, including promotions, mail requests, social media competitions, and as a daily login bonus. You can also use them to play games and win more if you get lucky.
Support Channels
We don't think that you will need to contact the customer support team. However, if you do, there is a contact page and a comprehensive support ticket available.
The customer support team is available 24/7 and contactable via an email support ticket system. If you head to the contact page, you can start a support ticket once you have ticked the two checkboxes.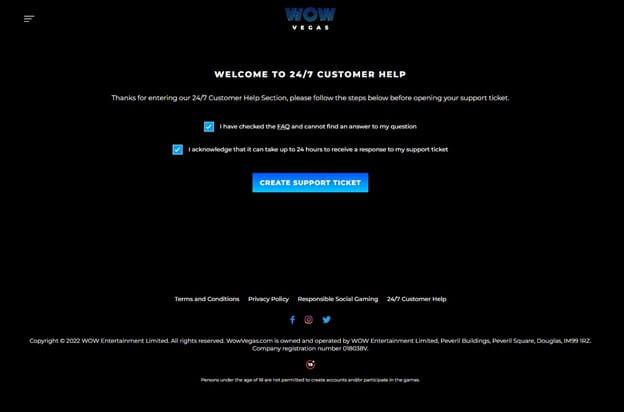 It does state that it may take up to 24 hours to get a reply from WOW Vegas promotional sweepstakes casino, but from our experience, it has typically been quicker than this.
WOW Vegas also has social media profiles on Twitter, Instagram, and Facebook; however, we would not recommend these for support.
WOW Vegas Social Casino Hits and Misses
You should now have a clear idea of what WOW Vegas Casino offers. But let's condense this and summarize with its hits and misses. There is undoubtedly a heap of things that this social casino does well. However, there is some room for improvement too!
Hits
Game Choice: The game choice is THE best part about WOW Vegas. I have not seen many other social casinos that have 300+ games to choose from. When playing on this platform, you should never get bored, and you should always have fun and find games you enjoy. Betsoft and Pragmatic are also yet to be introduced in state-licensed casinos, so WOW Vegas is a unique proposition.
Game Quality: Not only are there hundreds of games, but the quality is superb too. You can use your free sweepstakes coins to play some of the most popular Pragmatic Play and Betsoft slots the industry has to offer. The titles are all easy to play, too, and offer a range of options in terms of play amounts and bonus features.
Free Coins: I like that you can get free sweepstakes coins in numerous ways too. This means you can easily keep having fun and trying out the brilliant game catalog. If you don't want to, you don't have to spend money which, for many, is a huge positive.
Ease of Use: The website is incredibly easy to use. Even if you have minimum experience using social casinos, you shouldn't struggle to understand what to do. The games are clearly labeled, and you can easily see your WOW coin balance. Additionally, the purchasing options are easy to find too. It's certainly one of the better-designed social casinos available.
Misses
Missing Games: While there are hundreds of games, there are some missing categories that I would like to be added. These include

live dealer games

. Currently, you can only play table games and slot games which some people could find limiting.
Poor SC Explanation: I have trawled through the website, and the information on free SC, including how to obtain them and how to redeem them, is a little vague. I would like to see more clearly labeled information on SC – more than just the terms and conditions.
Payment Options: While the main payment options like Visa and AMEX are supported, there are some missing methods like PayPal and Google Pay that could make purchasing coin packages a little easier.
No Mobile App: Currently, there is no WOW Vegas mobile app, and you can find better free casino apps via other platforms. It would be nice if there was a downloadable app for Android and iOS. That isn't to say that the platform isn't mobile accessible – it is just via a mobile browser version.
WOW Vegas Social Gaming Overview
I hope you have enjoyed reading this WOW Vegas review – I certainly enjoyed testing the platform and playing the games!
I think this is one of the better social casinos available. It feels polished, and the website itself looks fantastic and is easy to use. This is complemented by the fact that you can just have fun – for free! There are plenty of ways to get WOW vegas coins, and you should always be able to keep your virtual currency balance topped up. Still, if you find the sweepstakes casino lacking, take a look at WOW Vegas sister sites.
For me, the best part is the game variety, and I think you will enjoy it too. Pragmatic Play and Betsoft have some classic slots, and the hundreds of titles to choose from really make for an engaging experience.
Add to that some classic table games, and you have a definite winner. If you are looking to relax and play some different casino games, then WOW Vegas is certainly a good option, so why not register an account today and see for yourself?
FAQs
Is WOW Vegas Casino Legal in the USA?
Yes! WOW Vegas falls under sweepstakes laws and thus is legal for anyone over the age of 21 in every US State except Michigan, Idaho, Nevada, and Washington.
Can I Win Real Money Playing at WOW Vegas Casino?
You can redeem cash prizes in the form of SC coins. SC coins are available in a myriad of ways and can be redeemed at a conversion rate of 1 SC = 1 USD. All SC coins must be played through once before any redemption is made.
What Games Can I Play at WOW Vegas Casino?
WOW vegas casino games are incredibly versatile compared to many other sweepstakes casinos. While other platforms often use in-house titles, WOW Vegas casino games are provided by developers like Betsoft and Pragmatic Play. As a result, they have hundreds of video slots and table games to choose from.
Do I Need a WOW Vegas Casino Bonus Code?
No. The welcome bonus only applies to those who want to spend real money and buy additional WOW Coins. Otherwise, this social casino is free to play, and the WOW Vegas welcome bonus is completely optional.
Is WOW Vegas Casino Legit?
Yes! WOW Vegas social casino is 100% legitimate and available for any US resident over the age of 21 to play except for those living in Michigan, Nevada, Idaho, and Washington. It is free to play at WOW Vegas, and no purchase is necessary, as you can get free coins daily.

No Deposit 1 Sweeps Coin & 5,000 WOW coins
Get Bonus