Best IN Basketball Betting Apps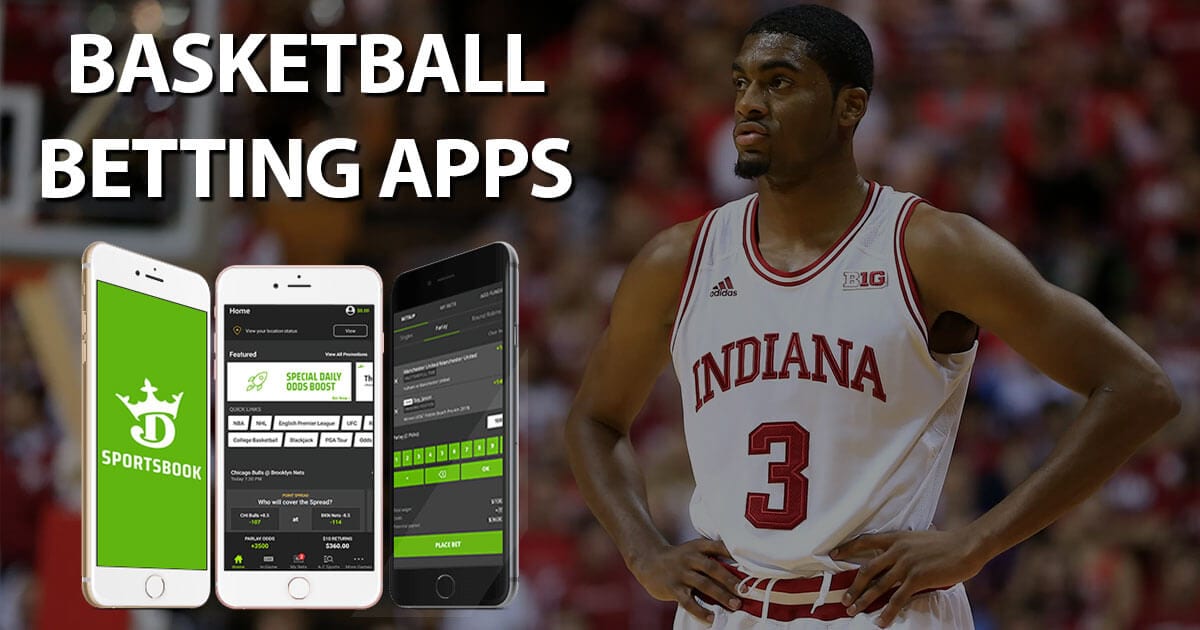 If you are looking to find the best basketball betting app, there is now a lot of choices available to bettors in the US. Nearly every sportsbook offers basketball betting markets, but some apps are better than others.
If you love fast-paced, drama-inducing sports, then I'm sure you are already a massive fan of basketball. Millions of Americans love the NBA for its true athleticism as the league boasts the best players in a domestic basketball league across the globe. The dynamic nature of basketball and the well-structured governance system of the NBA make the league ultra-competitive and hard to predict. All this excitement makes the NBA a fantastic sport to bet on, which is reflected in the nation's engagement with NBA betting apps.
With a multitude of ways you can bet on the NBA, whether in-game, before a game, or even out of season with draft picks, NBA can be one of the most lucrative sports available on online betting sites.
We have been searching, testing, and compiling research to find the best NBA betting apps and the best NBA betting apps for you to play on from the comfort of your own smartphone. With the launch of betting apps around the US, you no longer need to be in New Jersey to bet on the NBA. Just download the app from the App Store or the Google Play Store and away you go.

It doesn't matter if it's the NBA, March Madness (NCAA Tournament), or an All-Stars game, if you are serious about betting on basketball, you need a reliable mobile betting app. We have picked out the 5 must use apps for hoops fans to bet on.
Top Rated Basketball & NBA Betting Apps
All of these suggested apps are available to download on both Apple and Android devices.
#1 FanDuel Sportsbook App
Are you looking for the nation's favorite app to bet on NBA games? If there's one thing that the rest of the nation and we have in common, it is that FanDuel is hard to put down. Outstanding NBA betting odds and a great selection of features make, In our opinion, FanDuel the best app to bet on NBA games.
We have never encountered any problems with the FanDuel sportsbook app or sportsbook site; both are visually appealing, easy to follow, and straight to the point.
The selection of NBA betting lines is excellent; you'll find all your usual betting selections, including NBA live betting.
Parlay odds are incredible at FanDuel; we've always tipped them to provide the most competitive odds for basketball parlays out of all the sportsbooks. Create cool same game parlays, regular parlays, and even season-long parlays! Loads of fun to be had! One of the most talked-about features is the NBA over/under on FanDuel. FanDuel offers a great option to bet over / under points in a fixture; we love using this in a parlay when we can't decide on a winner for the tie.
Another reason for FanDuel ranking highly in our best basketball betting app is the fantastic free-play basketball fantasy sports. Fantasy sports have always been paramount at FanDuel; find the best fantasy NBA betting and win cash prizes on fantasy sports here at the home of fantasy betting.
Act fast! FanDuel is currently offering up to $1,000 as a risk-free bet for any new users! There is no bonus code required to claim this offer.
Download the app at fanduel.com/sportsbook
#2 DraftKings Sportsbook app
DraftKings sports betting is elite; they are always at the top of the pile when it comes to sports betting in the USA; No wonder they have made it into our best NBA betting app.
The DraftKings app never fails to please; it is ultra-reliable, and its user-friendly layout makes your betting experience extremely easy. Our friends have tipped us that this is their favorite NBA app for android; get to it, Android users!
Out of all the sports betting apps available, Draftkings is the best for basketball betting selections. You will find all your favorite NBA lines and great over/ under options to build the perfect parlay bets.
DraftKing is at the peak of NBA betting sites due to its massive selection of prop bets. We love to bet on the race to 5 or 10 points in a quarter, as this is one of the most lively bets you can place; on the other end of the spectrum, DraftKings also offers odds for conference seeing predictions.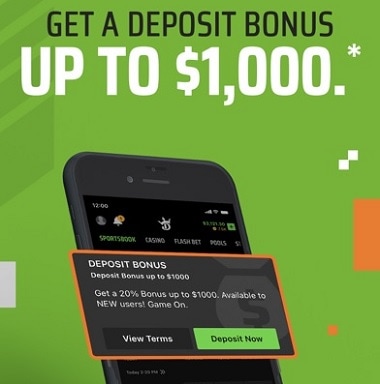 The selection of future bets on DraftKings is unbelievable! You can wager on a massive amount of player futures and team futures; dive into season-long selections such as MVP, most improved player, coach of the year, most rebounds, and more! '
Wait… There's even more! To solidify that DraftKings is the king of basketball betting lines, you can even bet on the WNBA, college basketball, and a wide range of leagues, including the Euroleague, Pro A, and the Bundesliga.
DraftKings is offering a massive $1,000 deposit bonus for any new customers to keep up with the competition!
Download the app at sportsbook.draftkings.com
#3 PointsBet Sports betting app
PointsBet is an Australian-based, top-class global sportsbook operator. Their relationship with the NBA is strong, so it would be silly not to see them as one of the best NBA betting apps.
PointsBet signed an official partnership deal with the NBA back in 2020, allowing them to integrate the first-ever win probability metrics across some NBA platforms; you can ensure PointBet provides very competitive odds. It's no surprise that PointsBet has a fantastic sport betting app and site, both of which are easy to use.
PointsBet plays host to a crazy amount of promos, NBA betting features, and NBA specials; inside the PointsBet app, you will see substantial parlay boosts alongside odd boosts from your favorite teams.
The biggest USP of PointsBet is their name a bet feature; this gives you the option to request your own bet! So if you have a wave of inspiration or just want to bet on something ridiculously uncommon, then head to PointsBet and get your idea valued with real-time odds.
Another helpful feature that you will find on PointsBet is the partial cash-out feature. If you can't decide whether to cash out of not, then why not cash out some of your bet and let the rest run! Perfect for those of us who can't let a bet go the whole stretch.
PointsBet also offers another unique feature called PointsBetting, a feature that is especially great for NBA betting. If your bet goes over the threshold you have set, you can continue winning more and more! This is not a fixed bet; the more significant the outcome, the better the prize.
Points bet have one of the best sign-up offers for new customers! New players will be able to claim two risk-free bets up to $2,000: this won't be around for long!
Download the app at pointsbet.com
#4 BetMGM Sports app
Without a doubt, BetMGM is one of the most fantastic sportsbooks available for you to use right now on the market. BetMGM Sports app is an awesome sport betting app and a simple to use sports betting site, making BetMGM one of the nation's favorite online NBA sportsbooks.
If you're looking for solid betting selections, including WBNA options, BetMGM is perfect for you to get started. If you dig deep enough, you will find basketball betting from all across the world, including countries like Uruguay, Slovenia, Lithuania, and more.
BetMGM currently has a tasty section featuring the NBA awards; you'll find a vast selection of predictions for the top dogs in all aspects of the game.
BetMGM is one of the best College basketball betting apps you will find on the market; this is our go-to when checking out the NCAA. If you are getting ready for March madness, you should definitely have this app under your sleeve; their promos are great all year around.
Parlay betting options are outstanding at BetMGM; combine all your favorite sports into one bet with solid odds. We personally love the same game parlays at BetMGM as there are usually some great promos surrounding them, like odds boosts and parlay insurance.
The biggest USP that BetMGM has to use on NBA games online is the edit my bet feature. Gain more control over your bets; if the cash-out feature is available, you can add or remove selections or edit your wager size. This is literally perfect for those with a sharp eye who love parlay betting. If you know your NBA team inside and out, you will know when something is going wrong or if you have missed something! Get straight to it and edit your bet in your favor!
If you are yet to sign up to BetMGM, then you can claim a $1,000 risk-free bet to use across the whole online sportsbooks!
Download the app at betmgm.com
#5 Caesars sportsbook app
Not the first name that may jump to your mind for the best NBA betting app? Caesars is more commonly associated with casinos and hotels across the USA but make no mistake; they are causing a stir in the sports betting world.
Caesars took over the William Hill US department and is now pushing to become the top of the online sportsbooks market. This can only mean one thing for us sat at home: amazing promotions.
Caesars sportsbook app is one of the best all-around mobile betting apps, and its NBA betting selection is strong! NBA live betting, NBA future bets, and all your regular NBA bets can be found in one easy-to-use section.
Although the sportsbook app and sportsbook site leave some room to desire aesthetically, we have already seen a flurry of unique promos from Caesars sportsbook, and we can assure you there will be more to come! Make sure you have this app downloaded and ready to play.
As we said, you can expect to see lots of rolling promos! It's common to see some excellent odds boosts on NBA games on Caesars; their signature boosts usually are that good that they have to limit them to a $100 max bet.
Caesars online sportsbook currently boasts the biggest and best welcome bonus of a first bet on Caesars up to $1,250. This is staggering, being 5x more than the average sportsbook is offering! Don't sleep on this one!
Download the app at caesars.com/sportsbook-and-casino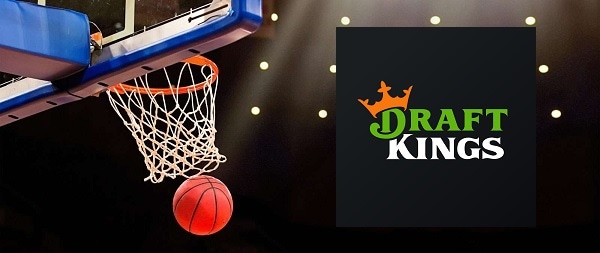 NBA Bet Types
The best NBA betting site will provide all of the significant types of wagers and NBA bettor would expect to find including some niche offerings. The best sports betting app will allow you to wager in multiple ways on the NBA playoffs alongside other events such as the NCAA basketball tournament. The NBA odds can vary depending on which online sports platform you choose so make sure you do some research on the odds for your NBA game before betting.
NBA Team Props
A prop bet can be used in different ways and the best NBA betting sites will offer numerous prop wagers. A prop bet will ask you to wager on things that may happen during the game and not the outcome itself. Everything is related to the team performance rather than an individual player.
Common team proposition bets include the number of fouls, number of rebounds, which team will score first, number of assists and several other options. For example, Boston Celtics could be team A and you may think they will score first against team B and so use a prop bet accordingly.
NBA Player Props
Like team props, you will bet on events during the game but with a player prop it will be the actions of a specific player rather than the team. The NBA is full of stars who have a massive influence on every game. With the likes of LeBron James and Steph Curry involved, there will be endless highlights.
The best betting site may even allow you to create your own prop bet, choosing the players and stats you want to wager on.
NBA Point Spread
The point spread is one of the most common wagering options in the legal sports betting industry. With a spread, you are betting on how many points a team will either win or lose by. These are highlighted with plus and minus signs next to each team.
NBA Futures
Futures bets offer large payouts as you are betting on something that will occur in the distant future. These wagers relate to both individual and team performances. For example, in the off-season, you could bet on who will win next season's NBA Finals of the season MVP.
NBA betting tips
Now that you know what app is best to use for betting on basketball, we want to give you some handy pointers to get the most from your agers. No matter if you are backing the Bulls or the Lakers, its always handy to get some tips.
Multiple accounts
For any bettor, whether you are an amateur or a complete novice, we always recommend that you open an account with more than one online sportsbook.
If you want to get the best out of your NBA betting apps, you need to open up accounts with 3-5 sportsbooks. To put it simply, having accounts with multiple sportsbooks will ensure that you get the best odds for your desired NBA bet. Online sportsbooks constantly run promos for a limited amount of time, so having a good set of betting apps in your armory will allow you to switch between sportsbooks and find the best promos to add value to your NBA betting odds and NBA betting.
Prepare and research your selections
The key to placing the correct NBA bet on the most fitting NBA betting app all comes down to preparation. The best NBA betting players will make informed decisions with ample time to ensure you are using the best betting apps.
Give yourself enough time to shop around for the best NBA apps at the time, odds boosts and parlay insurance are two promos that we always keep our eyes out for.
Alongside having enough time, to get the most from your NBA betting experience, you should do your research. Make sure to keep your eyes on; team and players forms, stories in the news, and even things happening inside a game for live betting!
Basketball Betting Apps FAQs
What does NBA stand for?
NBA stands for National Basketball Association.
What can you bet on in basketball?
There are a variety of things that you can bet on in basketball. The most common is the winner and the number of points scored by a team. If you dig deep enough, you will be able to find hundreds of things to bet on in basketball, including prop bets and stat-based bets, including; most rebounds, most points scored, most MVPs across the season, etc.
How can I bet on the NBA?
You can bet on the NBA on all of our recommended sports betting sites either on your computer/ laptop or mobile!
How can I bet on NBA games?
Sign-up for one of our recommended sportsbooks, deposit funds, and head over to the basketball section. Inside you will find a variety of options for NBA betting. Choose your bet, place your wager, and boom, you are all good to go.