Fix DraftKings Sportsbook App – Got issues? Here is how to fix them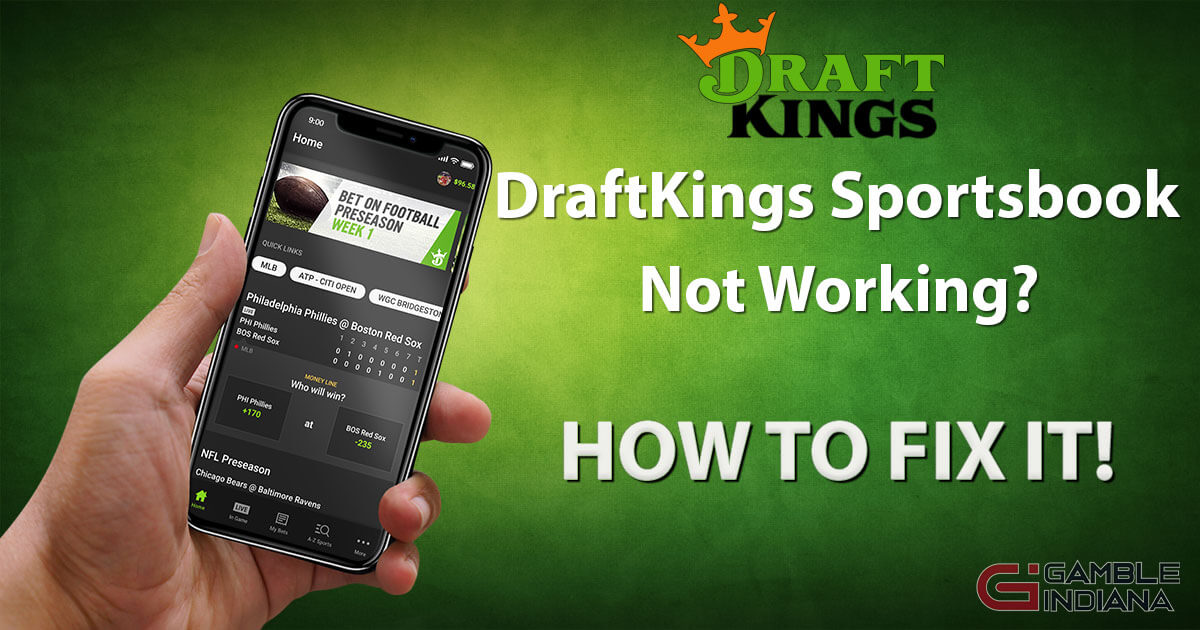 The DraftKings sportsbook app is one of the best mobile betting apps available to US bettors. As good as it is, occasionally, you will have technical issues and see that the DraftKings sportsbook app is not working and, in some cases, crashing.
In this guide, we are going to run you through some fixes to get you back betting. There is nothing more annoying than watching the game and wanting to place a bet, pull out your mobile and try and place your wager, only to be hit with the DraftKings location not found error message.
DK puts out great promos in the app and is always good for a free bet or bonus offer, but the operator is not without their problems. So what are the main DraftKings sportsbook app problems on Android & iPhone, and what can you do to fix them? Let's take a look.
First Bet Offer Up To $1,500 In Bonus Bets
Massive range of sports
Extensive banking options
What to do when the DraftKings sportsbook app stops working
First of all, you're not alone. This is quite common, and you can get a similar problem with the FanDuel app not working. If you find your DraftKings app keeps crashing, try these quick fixes below.
Step 1 – Have you got good internet coverage?
Check you have got good WiFi or cell coverage. Try and browse the web or maybe try browse Twitter to make sure your cell is sending and receiving data. It may be that you are in a blackspot or that you have disconnected and are unaware.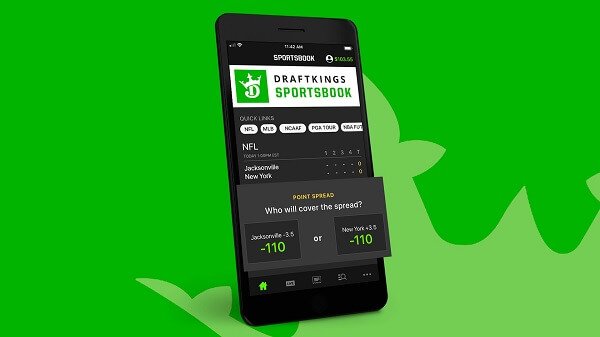 Step 2 – Is DraftKings Sportsbook available in your state?
DraftKings sportsbook is available in more states than any other legal US betting operator, but they are not available in every state (yet). Some states only allow in-person wagering at a retail sportsbook, some only allow 1 operator, some sports betting is still not legal, and some are yet to introduce mobile betting. Whatever the reason, check you are in a legal state at sportsbook.draftkings.com.
DraftKings Sportsbook legal states: AZ, CO, CT, IL, IN, IA, KS, LA, MD, MI, NH, NJ, NY, OH, PA, TN, VA, WV & WY.
Step 3 – Is DraftKings down today?
The problem may not be unique to your DK betting app. DraftKings whole site and app may be down. Like any website or technology product, outages can and do happen. DraftKings may be having server issues, and if this is the case, you may just have to wait it out. For this reason alone, it's always good to use 2 or 3 sports betting apps, so if you have an issue with one, you always have a backup. Caesars Sportsbook & PointsBet are both great alternatives to DraftKings if you want a backup.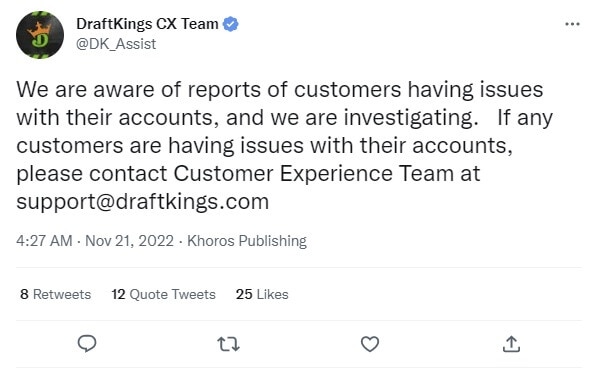 Step 4 – Are you having location issues?
If you are seeing the DraftKings location error, then geolocation could be your nemesis here. Geolocation is the technology used to pinpoint your location and prove you are physically in a legal betting state. If you are in a legal state and having these issues, we have a separate guide on fixing geolocation sportsbook problems that you want to check out.
Step 5 – DraftKings app not working on apple watch
This is a very common problem and can be caused by not having the latest iOS update on the app, your watch, or your iPhone. Make sure you are using the latest version of all 3, restart your devices, and try again. iOS devices can be problematic with DraftKings, especially if you have jailbroken your iPad or iPhone.
Step 6 – Is your DraftKings account in good order?
There may not be a problem with your DraftKings mobile app not working, the problem may be with your betting account. Can you login into the mobile site or regular desktop site? If you can't, then you need to reach out to customer services. Head to sportsbook.draftkings.com and use the contact page.
You may have used an old or nonexistent DraftKings sportsbook promo code which has caused issues with your account. If this is the case, your best bet is to contact customer support.
Step 7 – Are you using the right username and password?
Let's face it, we all have hundreds of usernames, emails, and passwords floating around in our heads. If the DK sports app is not working, it may be that you are entering the password and username wrong. Try and do a password reset and see if that works.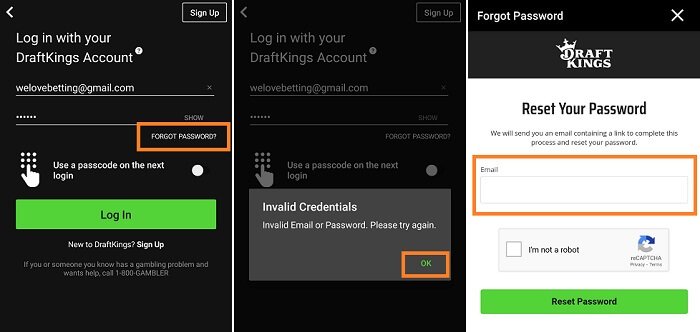 Step 8 – Is your app up to date?
Are you using the latest DraftKings Sportsbook Android or iPhone app? Head to the iTunes app store and make sure you are using the latest iOS app. For Android users, you can check the version of the app on the mobile site at sportsbook.draftkings.com. If your mobile app is running slow, this is usually the main reason. If this happens, download the latest version of the DraftKings app, and that should sort out the problems.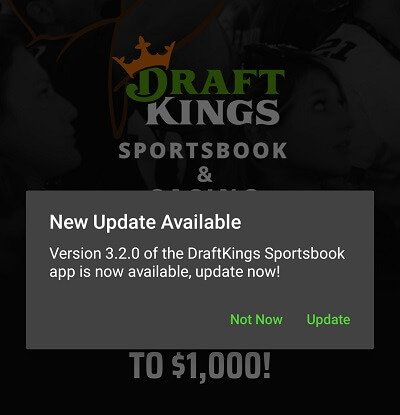 There may be instances where you are trying to perform an update, and no matter what you do, DraftKings won't update. We have come across this problem on the iOS app and several versions of the Android app. It can be down to memory on your phone (not having enough free space) or that there is an issue with the updated software. The best plan of attack is to uninstall the current version, then download the latest app from  sportsbook.draftkings.com.
Step 9 – Do you have money in your betting account?
If you have both a DFS and sports betting account with the sportsbook, it could be that all your funds are in your DFS account and not in your betting wallet. Log in and move your funds over,
Step 10 – Can't get past the login screen
If you can load up the app and get to the login page, are entering your right details, and the app won't let you past the login page, it will be an issue on DraftKings side, and nothing you can do. You just need to ride it out and wait.
This may also happen if you are trying to use a VPN to try and access DraftKings. The operator has technology in place to spot if you are using a VPN to try and spoof your location. If you aren't in a legal state, then you can't bet. Trying to force this through can result in your DraftKings account being suspended, and you begin being banned from betting with the sportsbook.
There is no official DraftKings Sportsbook status page to check if the site or app is not working. The team does put up any know issues on the Twitter page, so they are worth a follow on there – @DKSportsbook
DraftKings Sportsbook alternatives
First Bet Offer Up To $1,500 In Bonus Bets
Massive range of sports
Extensive banking options
No Sweat First Bet Up To $1,000
Massive sports betting options
Trusted name
Second Chance Bet Up To $500
User friendly app & site
Boosted odds & promos
You may be at the end of your patience with DraftKings and tried everything to fix the sportsbook app, and it still doesn't work. If that's the case, you can always use BetMGM and Caesars sportsbook, both come highly recommended by us at Gamble Indiana. Both books are available in most US states that allow online sports wagering.
Some alternatives to consider:
| 🏈DraftKings Sportsbook Alternatives | 🎁Bonus Offer |
| --- | --- |
| BetMGM | Get a $1,000 Risk-Free Bet |
| FanDuel | Get a $1,000 No sweat first bet |
| Unibet | $20 Completely free bet & $250 Risk-Free Bet |
There are a lot of DK users on reddit and other forums who have tried everything to fix the mobile app, but no matter what they do, the DraftKings app keeps crashing. You can check out our comparison of the two most popular US betting apps when we put the DraftKings and FanDuel apps head-to-head.
Can't place a bet with DraftKings
If you are struggling to place a bet with DraftKings (either on the app or the desktop site) you may have a restricted account. Sportsbooks do this regularly on winning bettors' accounts to limit losses. If you have been able to rack up some nice wins and have pocketed a good amount of cash, you may find your account has been restricted. When this happens, you won't be able to bet on certain markets or sports. You may also only be able to bet a maximum amount on each wager.
So what can you do if this happens? Other than using another sportsbook, not a lot, unfortunately. Take a look at the alternatives listed above for operators who will be happy to take your bet on.
Problems with not being able to bet with DraftKings can happen on all bet types, but the most common seems to be when DraftKings parlays are not working. Parlays seem to be notoriously difficult to place with DraftKings (we have always found FanDuel sportsbook better for Parlays anyway). The book does limit you to what selections you can bet a parlay on. If you are a fan of betting parlay, you may want to read our guide on the best parlay sportsbooks.
In a scenario where the outcome may be mutually related, the sportsbook can and will restrict betting on those outcomes. For example, a wager on the Buffalo Bills to win the AFC East parlayed with the Bills to win the AFC and make the Super Bowl would be deemed as too closely related for a parlay to be accepted, and you won't be able to place it as a bet.
One of the latest issues to come up on the app is having a Frozen Cash out button. This effectively makes cash out useless as you can't push the button to cash out the bet. DK is aware of the issue and has implemented a fix in the next app update.
DraftKings not sending code
If you are trying to sign up for a new account for DraftKings and you aren't receiving the SMS code to confirm your number, it's very annoying. We have experienced this quite a lot lately when members of the team have been setting up a new account. You put in your number, double-check the number, and hit send, but the text never comes through. Without this text, you can't confirm your account. Yep, it sucks. The only explanation we can think of is that the mobile provider thinks the text is spam, and it doesn't deliver. Up until now, we haven't found a workaround (other than using another mobile number, but who has 2 mobile numbers, really?).
So without the text, you can't confirm or create an account. At this stage, we gave up and created an account at betmgm.com and claimed the welcome bonus there.
DraftKings app running slow
As good as any app is, sometimes it just doesn't work the way we want and need it to. If your DraftKings app is running slow, there could be a few reasons why this is happening. DK has millions of customers all over the US, and when a big game is on, there will be thousands using the app, and this puts pressure on the servers, which can cause the app to lag and become sluggish. Hopefully, this is only temporary, and as customers leave the site and app, traffic drops and speed picks up again.
If you have a bad cell signal or poor wifi coverage, this can also cause the app to run slower than normal. Make sure you are on a stable connection (you can do a speed test on your device). If your signal is not great, nor will be the speed at which the app works at. Make sure you are using the latest version of the app as well as there are normally improvements to speed made with each update.
You may also have some problems with other operators' apps. If you do, we also have guides on how to fix the FanDuel sportsbook app and troubleshooting guides for the BetRivers app.
Hopefully, our guide above has fixed any issues you may have so you can get back to placing that winning wager and enjoying the game.
DraftKings Sportsbook App FAQs
Is DraftKings Sportsbook legal in Indiana?
Yes! DraftKings is legal in Indiana state. You can bet on your favorite teams without any problems in the state of Indiana.
Where is DraftKings Sportsbook legal?
For the DraftKings Sportsbook app to work, you must be located in one of the following states:



Arizona


Colorado


Connecticut


Illionois


Indiana


Iowa


Kansas


Louisiana


Michigan


New Hampshire


New Jersey


New York


Oregon


Pennsylvania


Tennessee


Virginia


West Virginia


Wyoming


How to fix DraftKings Sportsbook Error Code 502?
Several reasons can cause this error. To resolve the 502 error from DraftKings, you need to check the following:



Check your internet connection - You may not be connected to the internet.


Check the location - You may not be in a state where DraftKings Sportsbook works. States where DraftKings is legal are: AZ, CO, CT, IL, IN, IA, LA, MI, NH, NJ, NY, PA, TN, VA, WV, and WY.


Check whether the app version you are using is the latest one - The DraftKings app must be updated to the latest version to work.


Reinstall the app - If none of the solutions above worked, you must reinstall the app.


Make sure your account is active - Check if your account is active and has not been deactivated for a specific reason.


How to fix DraftKings Sportsbook Error Code 0-12-0?
DraftKings error 0-12-0 is a network error caused by overloading people who want to connect simultaneously. To solve this error, you must wait a few minutes to be able to enter the app, and if the error persists, you must contact the support team at DraftKings.