Free Bets Existing Customers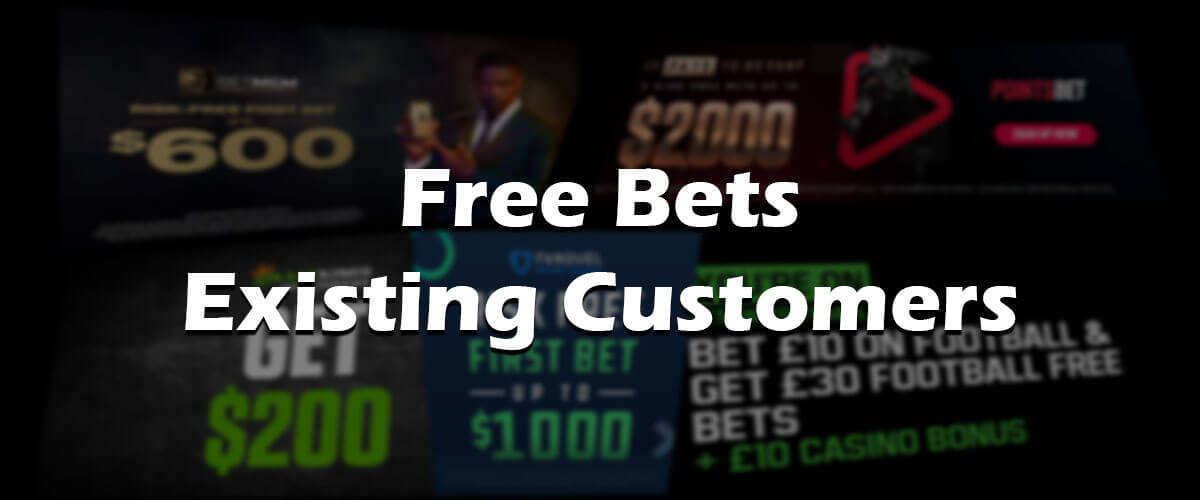 Free Bets for existing customers are a bit of a rarity, but some sportsbooks do offer free bets or promotions for existing players as a way to reward their custom and loyalty.
Generally speaking, sportsbooks go all out to get new customers, then when they have them signed up, the offers seem to dry up. It's kind of like a relationship in a new way. When you meet a new girl, you buy her chocolates, drinks, nice meals, then after a few months, you don't feel the need to splash out as much. Hey, that's just how it goes.
Very rarely, sportsbooks operators offer free ways to play and bet on your favorite sports if you have already signed up with them and claimed the new patron welcome bonus. But, a lot of operators do run promos for existing customers. These may not be as lucrative as a new player free bets, but it's nice when existing customers get rewarded. We have delved into the best sports betting operators to see what free bets they offer existing customers.
Most of the free bet promotions available on the market are for new customers only; please be careful of how the operators are wording their promos, its most common that offers are for new sign-ups only. It's like getting insurance for your car, generally, the best offers are for new customers.
We have done the hard work for you below; we have only included existing customer promos meaning that you can access these whether you are a new or returning customer.
Without a doubt, the best free bet promotions are for new customers only. To get the most out of these opportunities, we would always recommend that you sign up to multiple betting operators and take the new sign-up offers that are available.
We have an account with pretty much all the legal sports betting operators in the US; we made great use of their welcome bonuses for new customers and would highly recommend that you do too! I mean, what's the point of sticking with one operator when you could place the same bet somewhere else and earn risk-free bets or deposit matches to maximize the cash you get to play with. For example, if you are going to wager $500 on your team this weekend, split your $500 budget across five operators and claim $100 worth of bonuses on each!
When it comes to bonuses for existing customers only, they are often only available for a short period so keep your eyes peeled. To ensure you have the best chance of claiming all of these promos, make sure you are prepared and have an account with the leading sportsbooks.
Best New Customer Offers
As we touched on above, free bets for existing customers are never as good as the offers for new customers. So before we delve into the offers for existing customers, you should really check out these new sportsbooks and offers.
Free Bets For Existing Customers
So now let's take a look at some of the best offers and promos for existing customers. These offers do change all the time and its important to always check the promos tab or page on any sportsbook to find the latest offers.
DraftKings Sportsbook
Refer a friend to sign up to DraftKings and get up to $100 as a free bet.
A great promo for you and your friends. Use your unique link and send it to your friends. If your friend deposits $25-49, you get $25; $50-99 you get $50; $100+, and you get $100
Up to 5 referrals!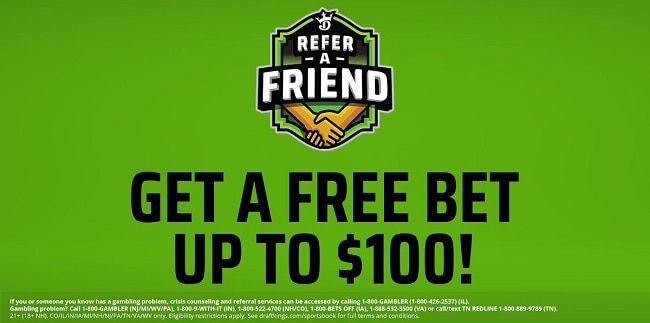 Daily Free to Play Pools
The DraftKing free-to-play pools are available every day. Take advantage of your chance to climb the leaderboards and win cash prizes every day. Let's see if your betting expertise can outdo others in this competition-style format.
Claim offer: sportsbook.draftkings.com
Read more: DraftKings sportsbook app
BetMGM Sportsbook
Free $10 bet when you bet $50
Get a $10 free bet every week when you place a total of $50 of qualifying wagers the previous week. Obviously, this is not a completely free bet, but it's sure worth it if you are betting $50 every week anyway. Make sure that you opt-in for this; otherwise, you will not be rewarded your free bet.
Claim offer: betmgm.com
Read more: BetMGM Sports app
FanDuel Sportsbook
NFL Risk-free same game parlay
Place a 3+ same game parlay wager with cash (not free bets) on any NFL game between 9/23 and 9/27 and get your money back as site credit if you lose! Max bet and refund $10
Refer a friend give $50 and get $50
Invite your friends using your referral link found on the app or site. Once they sign up, deposit, and place a bet of $10 or more, you will get $50 each!
There is a maximum of 10 referrals available for the promo.
Million Dollar Picks
FanDuel offers an excellent football-based free-to-play game. Start with 1,000,000 tokens and spread them across each Sunday NFL match-up. For each contest, place your tokens on either spread, money line, or total points scored in each match-up to build up your bet slip, and at the end of each week, the players with the most tokens share the prize.
Hi LO
Another free-to-play game! Pick the highest and lowest-performing NFL teams across stat categories; the closer you get, the more points you get! $5,000 available every Sunday! Win $1,000,000 if you get every pick correct!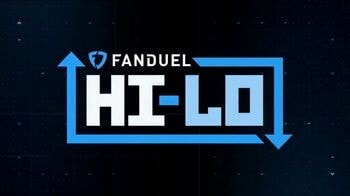 Claim offer: fanduel.com/sportsbook
Read more: FanDuel sportsbook app
PointsBet Sportsbook
$20 risk-free same game Parlay
Get a risk-free same game parlay on the Carolina vs. Houston game! Place a 2+ leg same game Parlay and receive up to $20 back in free bets.
College football Risk-free Parlay
Place any 4+ leg parlay on college football risk-free! Get your money back as free bets if you lose! Up to $20. Valid between 9/23/21 – 9/25/21
Refer a friend- a $100 free bet for you both!
Send your friend your unique link; once they sign up and deposit $50, you both get a free $100 bet! Awesome!
Claim offer: pointsbet.com
Read more: PointsBet app
Unibet Sportsbook
MLB Double Parlay
This weekend (09/25/21- 09/26/21), place a minimum of $20 on a 2+ legged parlay in the MLB and receive a $10 free bit to use live during a game.
Unibet Sports club
Get $10 in bonus money every week when you place five live sports bets of $10 or more!
Bets must be placed between Monday and Sunday on odds of at least -300. The free bet is credited the following week!

Claim offer: unibet.com
Read more: Unibet sportsbook app
WynnBet Sportsbook
Magic Monday
Bet $50+ on any parlay on a Monday and receive a $10 free bet. Odds between -150 and +10,000 only).
Your $10 Free Bet cannot be settled using the cash Out feature. Free Bet cannot be used on Boosted Parlays.
WynnBet Wednesday
Bet $100+ on sports from Monday- Sunday and get a $20 free bet on Wednesday.
Odds between -200 and +10,000 only
Please remember to opt-in on the site!
The free bet must be used on parlays only. When using the free bet, you can not use boosted parlays or the cash-out feature.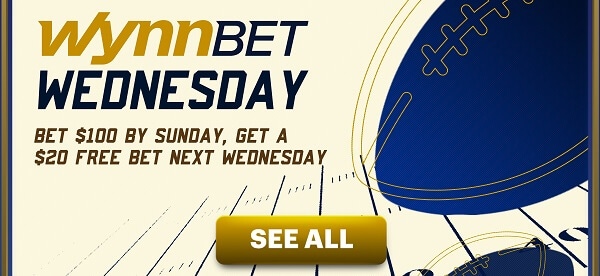 Claim offer: wynnbet.com
Read more: WynnBET sportsbook app
Free Bets Existing Customers FAQs
Why haven't I got my free bet?
Please ensure that you have read and understood all of the qualifying components to receive your free bet. Often there are some factors that you may not have met. Please get in touch with your sportsbooks customer services to find this out.
How long does it take to get my free bet?
Free bets can take up to 72 hours to come through. If you still haven't received your free bet, then don't hesitate to get in touch with your sportsbooks customer services.
Can I withdraw my money as soon as I deposit and receive my free bets still?
No, nearly all sportsbooks require you to wager a certain amount to unlock your free bets.
Can I always access the same promos, no matter what state I am in?
Not always. Is it prevalent that promotions are specific to the state that you are in. If you struggle to find the same promo after moving states, then the promotion is likely to be location-specific.
Why can't I use my free bet on some selections?
Free bets are often restricted to specific requirements and usually can not be combined with other promos. Check your sportsbooks t's and c's with free bets to find this out.
Why didn't is I win as much money as I thought from my free bet?
Free bets are not a physical amount. This means that you will not get your stake back like you would in a standard bet.

For example, you place a $5 free bet on a +300 bet. Usually, you would win $20 back, including your stake; however, your stake is not included with a free bet there for your winnings are $15.