Drew, Baylor Win National Championship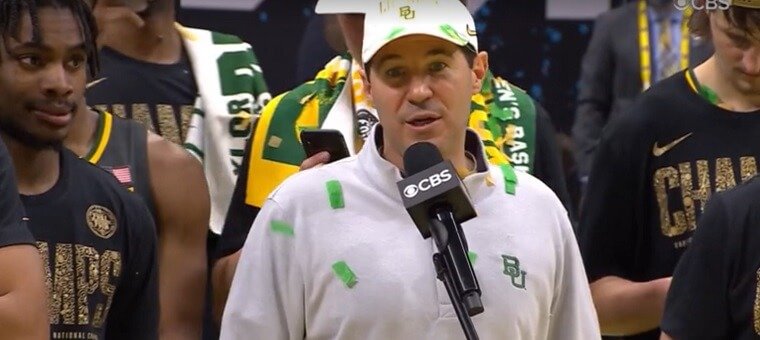 The Baylor Bears won the 2021 NCAA Men's Basketball Championship on Monday night, knocking off previously undefeated Gonzaga in convincing fashion.
Baylor was a 4.5-point underdog heading into the game but wasted little time taking control of the game.
The entire NCAA Men's Basketball Tournament was played in the state of Indiana, and Indianapolis was once again a terrific host. Lucas Oil Stadium was not filled to capacity for the National Championship Game, but there was enough of a crowd to add to the atmosphere.

Baylor's win not only ended a historic run for the basketball program, but it was also a historic win for head coach Scott Drew. Drew's coaching career began in the state of Indiana at Butler University and then at Valparaiso University.
Drew is a 1993 graduate of Butler University, and he was a student assistant for his final two years on campus. While Drew was not a varsity basketball player at Butler, his coaching roots began with the Bulldogs.
After graduating, Drew went on to join the coaching staff at Valparaiso, where he worked under his father, Homer. Scott eventually took over for his dad at Valparaiso but only lasted one year before taking the job at Baylor.
When Drew took over the Baylor program, it had been hit with a number of major NCAA violations, including a non-conference ban. Drew believed that Baylor could turn into a powerhouse in college basketball, and he did it by becoming one of the best recruiters in the country.
Drew has won the Big 12 Coach of the Year Award in back-to-back seasons and will return a terrific roster next season. The Bears will be a preseason pick to win the NCAA Championship again, but it will never compare to the feeling of winning that first title.
IU Record Still Stands
The win by Baylor means that the record held by the Indiana Hoosiers men's basketball team still stands. Gonzaga was looking to cap off a perfect season by winning the title, and it would have matched it with the famous Hoosiers squad from 1976.
That Hoosiers team was led by legendary coach Bob Knight, who was in his fifth season at the helm at Indiana. Indiana defeated Michigan by a score of 86-68 in the National Championship Game to cap off a perfect 32-0 season.
There have been a number of teams that have reached the Final Four with a perfect record, but they have all fallen short since that 1976 season. Lucas Oil Stadium was also the site of the last undefeated team to reach the Final Four with a perfect record before losing.
The 2014-15 Kentucky Wildcats were a perfect 38-0 before the Wisconsin Badgers beat them in a semifinal game that season.
In losing the National Championship Game, Gonzaga did join a category highlighted by another popular team from the state of Indiana. The 1978-79 Indiana State Sycamores team also entered the title game with an undefeated record before falling to Magic Johnson and the Michigan State Spartans.
For more sports news and legal sports betting in Indiana, check out more stories on our blog.
Relevant news