Hard Rock Facing Hardships in Indiana
Categories:
News
|
Published by:
Corey Scott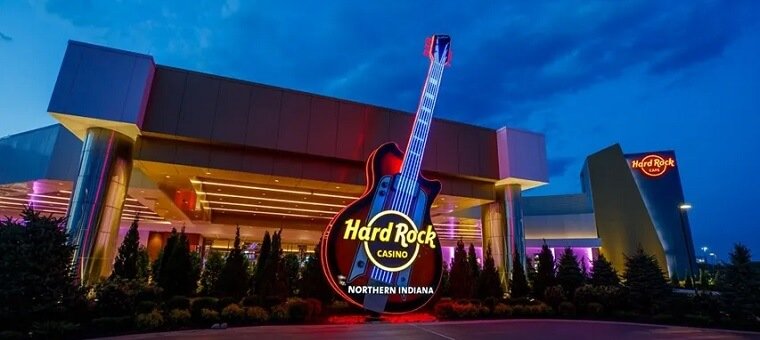 The Indiana Gaming Commission is set to meet next week, and the fate of Hard Rock Casinos in Indiana will be determined at these meetings.
The renewal of casino licenses will be approved next week, and there is some drama brewing between Hard Rock investors and the IGC.
There is a new law in place in the state of Indiana requiring all casino operators to disclose financial background information when seeking renewal or applying for a new license. The majority owner at a pair of Hard Rock properties is fine with the new rule, but the minority owners are not.

In Indiana, the Hard Rock Northern Indiana had its grand opening last month, and that could become one of the biggest casinos in Indiana state. A new Hard Rock Casino is scheduled to be built in Terre Haute, and groundbreaking is planned for sometime in July.
Spectacle Entertainment is one of the big investors in Northern Indiana, and this company is unwilling to share financial information with the IGC. Lucy Luck Gaming plays a large role in the Terre Haute property, and it also isn't playing along.
Owners of Spectacle Entertainment have filed a lawsuit against the IGC so that they can keep the financial records under wraps. They argue that they have nothing to do with the day-to-day operations and should not be required to give up any information.
The official deadline to submit the financial information is June 21, and a decision on the lawsuit is not going to come by then. Spectacle and Lucy Luck can either submit the proper paperwork, or they will risk losing their licenses.
Greg Gibson is the majority owner at both of the Hard Rock Casino properties, and he has been trying to convince his investors to turn in the paperwork. If this is not done, Gibson could be stuck with two casinos and in need of new partners.
Terre Haute Project a Mess
The project in Terre Haute is actually considered a "rocksino," but it is a project that has faced hardships since day 1. The construction was actually supposed to start way back in 2020, but problems with Spectacle Entertainment kept that from happening.
The IGC has been investigating Spectacle Entertainment due to improper campaign donations. Spectacle has seen some changes in its leadership group because of this investigation, but it still wasn't enough to get the construction underway.
After Gibson was looking for a new financial partner, Lucy Luck came into the picture, but that company now needs to re-file its application before the June 21 deadline. Without the proper paperwork, the IGC will likely deny the funding request, and the project will be shut down altogether.
The IGC has already extended the deadline for companies to turn in the financial background information, and it has no plans of changing the date once again. The final decision is expected to be made on June 24, and the results will have major impacts on the Indiana casino gaming industry.
For more sports news and updates on legal sports betting in Indiana, check out more stories on our blog.
Relevant news