Indiana Derby Set For July 7
Categories:
News
|
Published by:
Corey Scott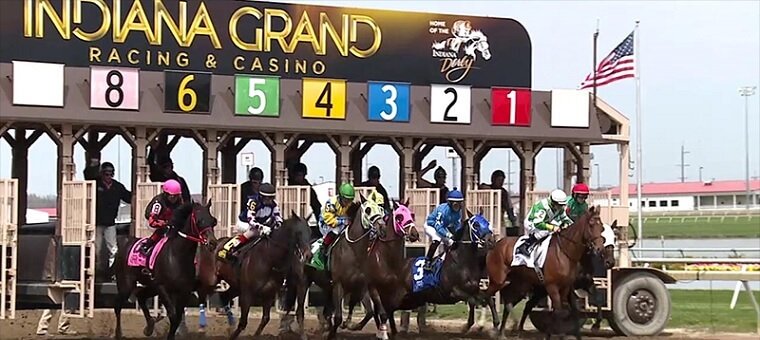 The Indiana Grand Racing & Casino will host the Indiana Derby on July 7, keeping with the same format used a year ago.
COVID-19 restrictions moved this race off of the weekend a year to go, and the race track wanted to keep that tradition alive for a second straight year.
The first running of the Indiana Derby was held in October 1995, and it has become the signature event for the horse racing scene in Indiana. This is a race for three-year-old thoroughbred horses, and the purse was bumped up to $300,000 a year ago.

The dirt track race covers 1⅛ miles and routinely attracts some of the top horses from across the Midwest. This race used to be a Grade II event, but it was bumped back down a level nearly two decades ago.
Fulsome is the overwhelming Indiana Derby favorite at 4-5 just one day before the race. O Besos was expected to challenge Fulsome this week just as the horse did at Churchill Downs, but he has been scratched from the race.
Fulsome is trained by Brad Cox, and the horse has won three straight victories. Cox is also the trainer of Mandaloun, and he could be celebrating a Kentucky Derby title based on the results of the doping scandal that has rocked sports betting.
There are some major gambling incentives available for the Indiana Derby, which will attract a large number of wagers this week. There is an All-Stakes Pick 4, with bettors making an outright wager on the final four races of the day. Horse racing in Indiana has been a mixed bag over the last few years with fan levels dwindling.
This Pick 4 promotion will also be offered on the other eight races taking place throughout the day. Indiana Grand was unable to offer full in-person gambling packages a year ago due to the COVID-19 pandemic.
Eric Halstrom is the VP and GM at Indiana Grand, and he acknowledged the effort to increase wagering this year. Halstrom stated, "Our Pick 4 has really taken off this season with the reduced takeout of 15%, so by adding a guaranteed pool to the wager, it will give bettors added incentive for those final four stakes races on our card."
Indiana Oaks Kicks Things Off
Before the Indiana Derby is run on Wednesday, the Indiana Oaks will kick off the festivities. The Indiana Oaks field is made up of 11-year-old horses, and it is always an exciting race.
In the Indiana Oaks, Will's Favorite is the betting favorite at this event. Dallas Stewart is the trainer of Will's Favorite, and the horse won three straight races this past Winter.
Indiana Grand is not selling tickets for this full day or racing, and parking will be free as well. Seating will be available on a first-come, first-serve basis, and there will be several other events taking place prior to the races.
A community food booth will be set up throughout the day, and live entertainment will also be available. For those of age, a cigar rolling tournament will also be taking place.
For more sports news and updates on legal sports betting in Indiana, check out more stories on our blog.
Relevant news